Does Viewsonic PX701HD rival BenQ's TH585? Though, both projectors share most features and technologies when it comes to home entertainment. Let's see what's special there in ViewSonic PX701HD.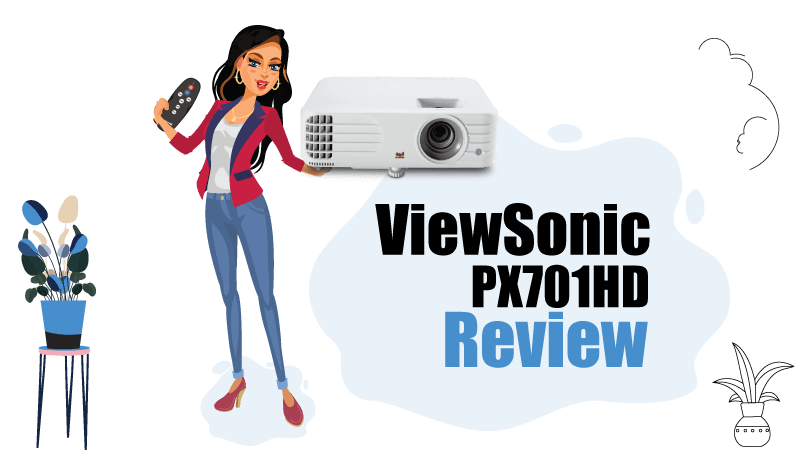 The PX701HD is another mid-range home theater projector that supports native Full HD 1080p resolution. Since most home entertainment projectors can be used for home and office, ViewSonic also claims the PX701HD to be an ideal option for both office and home.
Pros & Cons: The PX701HD
What I like:
Affordable, low price
3D-ready
Low input lag & fast response time
It's contrast
Bright & sharp image
What I don't like:
It doesn't come with a carrying bag.
No HDR support
Verdict: Is ViewSonic PX701HD worth the money?
The ViewSonic PX701HD is a good option for watching movies as well as gaming. However, it might need some minor tweaking to achieve the best color accuracy. On the other hand, it is bright enough to handle the ambient light or a large room with lots of windows.
Amazon: Check the Latest Price Of PX701HD
Brightness: Can you use the PX701HD projector in a room with ambient light?
The PX701HD is rated at 3,500 lumens of brightness. This high brightness comes from its six segments of the color wheel (RBGCYW) or (red-blue-green-cyan-yellow-white). The additional white color segment helps the projector to deliver a more bright image. As a result, the PX701HD doesn't struggle to work with ambient light well.
According to SMPTE (Society of Motion Picture and Television Engineers), you can create up to 270 inches of 1.0-gain screen size with a 16:9 aspect ratio. For ambient light, it's 150 inches image using a 1.0-gain screen. Though, You might not need to use the brightest mode for the moderately bright ambient light.
For a dark room, the projector's movie mode is bright enough to fill a 90-inch screen. However, if you have a room with many windows, the movie mode can light up an 80-inch screen. If it's a daytime viewing case, projectors' colors will likely be less saturated.
Unlike 2D picture modes, the PX701HD offers only one 3D picture mode, designed for working with DLP-link glasses only.
Picture Quality: Available different modes for different types of content
The PX701HD includes a dedicated picture mode for watching movies, delivers better contrast and more dramatic dark scenes. Besides, the projector's RBGCYW color wheel achieves precise and best color accuracy. Its white panel is responsible for high brightness; the Cyan and yellow panels also add more flexibility to its color accuracy.
DLP projectors work better in a dark room; therefore, projectors without white panels can't deliver high brightness because their main goal is color accuracy. That's why expensive DLP projectors include white panels to make their projectors bright enough to handle ambient light and direct sunlight in the backyard.
Even though the quality we get from its default picture settings is above the bar, it requires a few tweaks to achieve the best accuracy. One of its brightest picture modes results in greenish-blue, which makes it a bit distracting. Still, the brightest mode on the projector is the best option for occasional use.
As with the brightest mode, the other modes, such as Sports, Gaming, and Standard modes, are also blue-shifted. However, not as much as the brightest one. For me, these color modes are okay when it comes to casual viewing. Also, chances are most people might find them usable with default settings, even for regular usages.
Like Benq's TH585, the PX701HD is also good at brightening up dark scenes on screen. As a result, gamers might find them easier to see dark areas with better shadow detail. The shadow details in dark areas are considered okay for gaming; however, it opposes entirely in the case of 3D.
Moreover, you'll find a movie mode, delivers stunning color accuracy and dark scenes. Still, with a few tweaks, the movie mode can also be improved. As a primary and secondary color, you also have settings to adjust saturation, hue, and gain separately using its color management system's settings.
Gaming: What about the gaming on the PX701HD projector?
With Full HD native (1920x1080p) resolution, the PX701HD also offers low input lag and fast response time for gaming. Besides, it has a picture mode designed for gaming to brighten up the darkest areas of your favorite game scenes. In my testing, I found its response time 16.4ms @1080p ~ 60Hz.
Design: What about the design of the PX701HD?
The PX701HD measures (4.4×12.2×8.7) inches and weighs around 5.7 pounds. The dimensions are enough to declare the projector small and light, making it more portable. In addition, you won't have any problem carrying the projector from one room to another.
Sound: Does PX701HD produce sufficient volume?
The ViewSonic PX701HD has a built-in 10-watt speaker, produces good sound to handle small-sized to medium-sized rooms. However, when it comes to a big-sized family room, it requires you to use an external sound system.
Image Correction: How do you adjust the image on the PX701HD?
Even though the projector has a compact design, it offers a digital image shift and a 1.1x zoom. Though, you'll find the same on its rival – BenQ TH585. However, the PX701HD is slightly on the advantage side, offers extra pixels on the 1920×1200 chip, allows the image to be adjusted up and down from the centered position.
Moreover, when it comes to square off the image, you have keystone +/-40 degree vertical keystone control.
Connectivity: Inputs/outputs – Available ports on the back panel of the PX701HD?
As with many modern projectors, The PX701HD also includes two HDMI 1.4a ports. In addition, next to the HDMIs, It has In/Out audio jack. Then, you'll find a vertical-aligned USB port rated 5V/1.5A out. Next to the USB port, you have a computer In and monitor Out. And, finally, the last port on the back panel of the projector is RS-232.
Testing: What did my testing include?
I created a 90-inch image projection, 1.0 gain white, keeping the projector 9 feet and 4 inches away from the screen. Then, I adjusted the color; the out-of-the-box projector's color behavior is not good in terms of color accuracy; therefore, I introduced the projector to a realistic range, especially those blue skies, while keeping other colors unchanged; though, I adjusted the Hue setting for Cyan.
Tips & Guide: Where do my tips fit the PX701HD?
As with most projectors, lower down the brilliant color setting improves color accuracy and lowers the brightness. However, the PX701HD has its own plans, lowers the brightness without any noticeable change in colors.
Issues: Things to be improved, The PX701HD
While testing 3D picture mode with DLP-Link glasses, I found some 3D-related motion artifacts. However, they were minor motion artifacts to notice. Unfortunately, though, its rainbow artifacts are enough to notice – red, green, blue flashes.
Conclusion: What do I think about the PX701HD?
If you want under the budget projector for video, watching movies, and gaming, you have the PX701HD projector. Moreover, the projector is bright enough to fill a gigantic-sized screen with ambient light.
Still, if you want a more powerful unit, you can think of buying the GT1080HDR—Optoma's native 1080p projector designed for true home entertainment, such as movies, videos, and gaming. Check out the full review of GT1080HDR.
Another close match to the PX701HD is the BenQ TH585, which delivers better picture quality and offers more features at a slightly higher price.
Still, for the price, I think the PX701HD is still one of the best home theater projectors under 500.