Best Projectors under 200 Bucks: I'll get you a high-quality projector at an affordable price.
You already know that these days projectors are larger than your life. They are everywhere, whether it is your home or office. No one likes a small display anymore, especially in 2023. Therefore, buying a projector—let's say, the best projector under 200—can give you a better viewing experience at your home and office. And you don't have to spend much money on it.
However, you can't expect all those fancy features and technologies from a $200 projector. Still, you can expect a high-quality display and essential features. So when it comes to buying a good projector, there are many things you need to consider. For example, the resolution, compatibility, throw distance, keystone, contrast ratio, and lumens are critical factors to take into account.
This is What I want from you?
200 dollars in your pocket
Trust in me
That's it!
I know there are many technicalities in the projector. But never fear! I am here. I've gone through all of the hard work and thousands of reviews so that I can recommend you the best projectors under $200 available on the market in 2023.
I also have a quick buying guide and in-depth reviews. This guide will help you choose the best projector for your requirements within minutes.
So without wasting any more time,
Comparison Chart of the TOP Five 200-Dollar Projectors For 2023
1. YABER Y21 – Best home theater projector under $200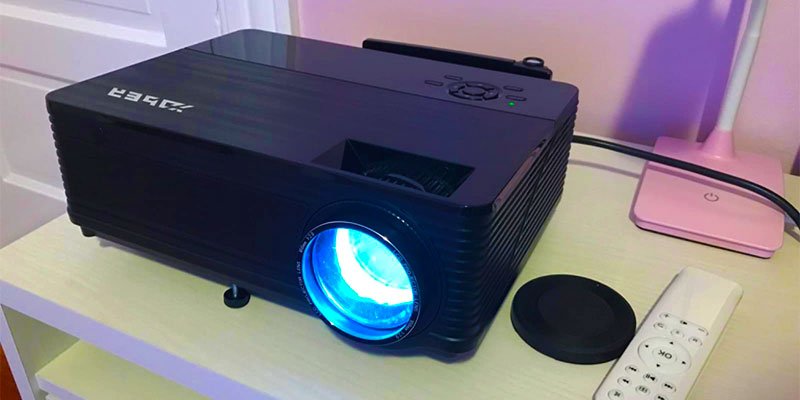 Overview:
YABER Y21 is a feature-packed projector ensuring realistic, clear, crisp, and high picture quality in your budget. Compared to others, you'll get accurate color impressions with the projector, making it a better choice for home theater projector.
The y21 projector is using an advanced technology called optic coating. It is a very high-quality lens using six layers in order to provide superior light penetration. So without a doubt, you can enjoy Full HD content with excellent clarity.
Yaber Y21's Highlights:
Resolution:
With a native 1080p resolution, it offers the screen projection size from 45 inches to 300 inches. However, it depends on the distance between your projector and screen—10 feet is the recommended distance for optimum viewing; however, the maximum distance is 29 feet. Besides, it supports 4K Ultra-HD videos.
It is always better to look for a projector that offers more pixels so that you can enjoy more detailed and more crisp images. For example, any projector that offers (1280 * 800) resolution will be four times lower in definition than the projector that offers (1920 * 1280) resolution. That is why YABER Y21 is on my list.
Note: When looking for a home theater projector, it needs to be higher in resolution.
Brightness (lumens):
When it comes to brightness, YABER Y21 offers 7000 lux—projector achieves it using LCD technology and LED light technology. I found Y21 over 30% more bright compared to other mini projectors and performed well in dark environments and other low light conditions.
Focus & Keystone Correction:
One of the projector's highlighted things is its watching experience, which it achieves after adjusting focus and keystone correction manually. In other words, you'll have to adjust the focus and ±15° keystone correction manually in order to see clear and crisp picture quality.
Cooling System:
The YABER Y21 using an advanced double-sided cooling system in order to be quiet. Besides, it is equipped with intelligent temperature control technology in order to improve its fan's heat dissipation. That' is why the projector offers an incredible enhanced 100000 hours of lamp life.
Pros & Cons:
What I like:
Its native 1080p Full HD resolution. It supports 4k media by connecting the USB flash drive.
It comes with all the necessary accessories.
Color Accuracy is very impressive for the price.
No overheating issues at all, even at high resolution.
Amazing 10,0000 hours lamp life.
I don't like:
I didn't find any for the price under $200.
Verdict:
I highly recommend this projector for home entertainment and outdoor movies. You can also use it for everyday presentations, not business presentations, though. Its built-in speaker is very satisfying and loud. I don't think you'll need to buy it separately.
I also love the fact that YABER is providing three years of repair support and lifetime professional help for the projector. So, yes, the YABER Y21 is the best projector under $200 for you in 2023.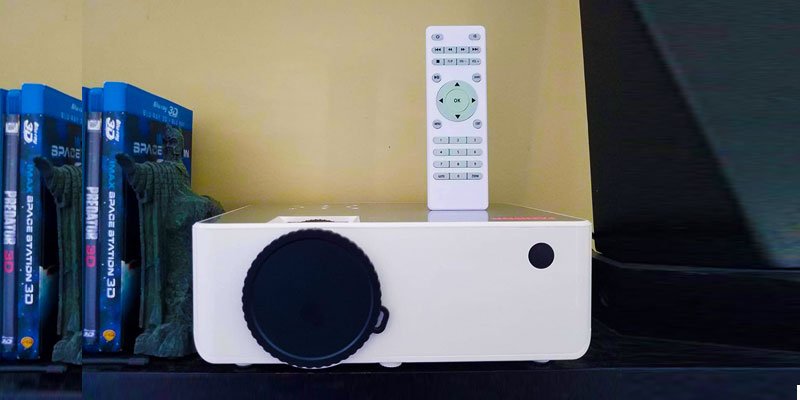 Overview:
The third projector costing less than 200 dollars is FANGOR offering 1920 * 1080p FULL HD native resolution, 6000:1 contrast ratio, and six layers high-refraction lens, 6500 lumens in order to give you a theater-like video experience.
The FANGOR offers a wireless WiFI connection so that you can connect your WiFi-enabled devices with the projector. Besides, you also get the support of Bluetooth with the projector for wireless connectivity to Bluetooth devices, such as Bluetooth speakers.
Projector's Highlights:
Noiseless design:
Projector uses a new design called Air Duck to reduce the noise by 20% and measures at 50dB, which is quite impressive compared to the competition.
Connectivity & Compatiblity:
Like other high-end projectors, you also get all the necessary ports with this budget-friendly projector, such as HDMI, VGA, AV, SD card, etc. This projector works with PCs, TV Box, Fire TV Stick, Chrome Book, Blue-ray DVD player, Media player, Micro SD card, laptop, and other modern devices.
Screen size:
Another important thing about the projector is its maximum screen size that goes up to 230 inches. Yes, with recommended distances from 7 feet to 20 feet, it can create different screen sizes from 60 inches to 230 inches.
Pros & Cons:
What I like:
Native 1920 * 1080p Full HD resolution.
Its Touch-sensitive panel works pretty well.
Wireless WiFi and Bluetooth connectivity. It supports wireless screen mirroring.
Its design is quite arrogant and impressive.
The interface of the projector- relatively easy and user-friendly.
What I don't:
Its power plug cord is short compared to other models on my list.
No horizontal keystone.
Verdict:
The projector is good when it comes to indoor movies and PowerPoint presentations. I was quite satisfied with this projector because of its features and performance for its price. However, some things could be improved, such as fan noise and a built-in speaker.
On the other hand, there are so many good things about this projector, like WiFi, Bluetooth, sharp picture quality, accurate colors, touch-sensitive panel, and user-friendly interface. Therefore, it is my third pick and deserves the third position on my list of best projectors under 200 dollars.
3. VANKYO Leisure 470 Mini
Overview:
VANKYO Leisure 470 mini projector is another excellent option for a $200 budget. With a maximum giant 250″ screen size, it supports 1080p Full HD resolution—Its native resolution is 1280 * 720p. The Leisure 470 is compatible with most gadgets out there, whether your TV stick or Nintendo switch. Moreover, you can connect it directly to your laptop or smartphone using a USB cable.
When it comes to viewing sizes, you have options to choose from 39 inches to 250 inches. However, it requires recommended distances between 4.27 feet to 26.57 feet for a better viewing experience. It has a 3W built-in stereo speaker, which is loud enough to enjoy your favorite content.
The VANKYO Leisure's Highlights:
Brightness:
VANKYO Leisure 470 mini is using LED display technology. When it comes to preventing stray light from interfering with the picture, an LED display is the best option. It also gives you better sharpness compared to other display technologies, especially LCD.
Here VANKYO adopts the same technology so that your viewing experience can enhance.
Connectivity & Compatiblity:
The projector offers a wide range of connectivity options for you, such as 2x HDMI ports, USB port, AV port, VGA port, etc. Moreover, it'll take care of your modern devices; meaning, you connect it with your latest Chromecast, TV Sticks, TV Box, PCs, Macs, PlayStation, DVD player, external speakers, and many more. Besides, it also allows you to connect your smarphone directly to it as long as your device supports it.
Cooling System:
One of the drawbacks of buying a projector than a TV is the fan noise of the projector. However, VANKYO has done an excellent job for it. Yes, they use an advanced Dual Cooling Fans system, reducing the noise and that annoying airflow problem from overheat.
Pros & Cons:
What I like:
Its HD wide-angle Lens enhances image sharpness.
Its maximum screen size goes up to 250 inches while keeping the quality top-notch.
It works very smoothly and quietly because of its noiseless friendly design.
Setup is super fast and doesn't require any manual adjustments for an optimal viewing experience, such as focus and keystone correction.
Value for money, portable, nice looking, and comes with a carrying case.
I don't like:
Built-in speak is not as good as Y21 offers.
Verdict:
In terms of features, performance, and price, The VANKYO Leisure 470 mini is unbeatable. The quality Leisure 470 delivers for the price is very surprising. However, I will never recommend this projector for PPT or business presentations.
So if you ask me, Leisure 470 is the best projector under $200 for home entertainment and deserves the second position on my list.
A Quick Buying Guide: How to choose the best projector under $200 for your needs?
The main problem with most people is that they don't know the basics of a projector. They don't have any idea about contrast ratio, lumens, displays, etc. That's why they struggle a lot and end up buying the wrong product. In this section, I'll share some of the critical factors of a projector with you so that you can find the perfect projector in no time.
Brightness: How bright a $200 projector can be?
Most people think that a brighter display is always better. But it is not. It all depends on the location you'll be using your projector—is it a well-lit room or a dark room.
For example, a darker area requires a dimmer projector with at least 1,000 lumens. In comparison, a brighter place requires more lumens, at least 2500+ lumens.
That's why I am saying it all depends on your needs. Whether it is your indoor projector or outdoor projector, pick wisely and spend on your requirements.
Contrast: What Contrast ratio can you expect from a $200 projector?
The higher the contrast ratio, the better the image quality. The contrast ratio of a projector is a ratio between dark and light. So it is always better to go for a projector that offers a high contrast ratio.
It ensures better picture quality and vividness of an image. Whenever you buy a projector, make sure it is adjustable and fits your viewing experience with excellent clarity.
Resolution: What is an ideal resolution for a $200 projector?
Like contrast ratio, it is recommended for you to go for a high-resolution projector as well. A high-resolution projector produces a better quality picture.
In other words, if your projector can handle higher resolution without losing its quality, you have invested in the right projector. Most projectors work on a fixed resolution system; therefore, your input resolution doesn't matter anymore. So it is better to look for a projector that comes with a variety of resolutions.
Keystone: A 200 bucks projector offers the keystone correction feature?
Before you start watching your favorite content, playing games, giving presentations, you need to adjust the projection. The keystone correction feature allows you to adjust the image digitally.
In other words, this feature lets you use your projector everywhere, wherever you want with clarity. Moreover, this feature comes in handy when you use your projector above the screen or below the screen.
Throw distance: $200 projector are good at throw distance?
Similar to Keystone, the throw distance is another important factor to keep in mind. It is the distance between the projected wall or screen and the projector.
The throw distance of a projector can be from a few feet to over 40 feet. For instance, an outdoor projector requires greater throw distance than an indoor. Therefore, always check whether your projector good at throw distance or not. However, a good projector under $200 can give you a good throw distance. Meaning, you don't need to spend more just because of throw distance.
Note: don't forget to measure your throw distance before making any final decision.
Screen size: What will be the maximum optimum screen size of a good 200 projector?
Most of the time, people get confused with the term 'screen size.' A projector is not a smartphone that has a screen. It is the maximum screen size that your projector produces for optimal viewing.
Before you buy a projector, make sure you figure out your screen size, throw distance, and surface for better picture quality.
Compatibility: What compatibility options can a good $200 projector offer?
You should check the projector's compatibility with several devices, such as PC, Mac, Xbox, smartphones, and PS4. Since these are modern gadgets, our projector should be compatible with them. However, I recommend you pick the one that offers your requirements.
Connectivity: What connectivity options to expect from a 200-dollar projector?
Connectivity is very important. However, HDMI is a standard connectivity option for most projectors. It is because HDMI provides better picture quality and sound compared to old VGA and RCA cable. That's is why you should always look for an HDMI connectivity option.
Conclusion: Which projector will be best for me?
Out of Five, My favorite and the best projector under 200 is the YABER Y21 video projector. I found this projector overall best in brightness, resolutions, contrast ratio, and other features. 
When it comes to portability, My pick would be Vankyo Leisure 430. As you know, portable projectors are not that bright and can't produce a high-quality resolution compared to other projectors. Despite being portable, Vankyo Leisure 430 Mini offers plenty of value.
The third projector, FANGOR HD, is best for business presentations. It is a perfect projector for those who want something in the budget. With FANGOR, you can have a quality viewing experience and can't find any better than this in this price range.
So this is all for now; I want to hear from you guys. What do you think about the article? If you wish to share something related to the article, please let me know in the comment section below. I'd love to answer your questions and update my article accordingly.
Thanks, have a nice day!