You've worked so hard to build your backyard. Now, it's time to set up the best outdoor movie projector there. An outdoor projector that is portable, durable, reliable, and comes under your budget. Read on; I have the three best outdoor projectors of 2023 for you.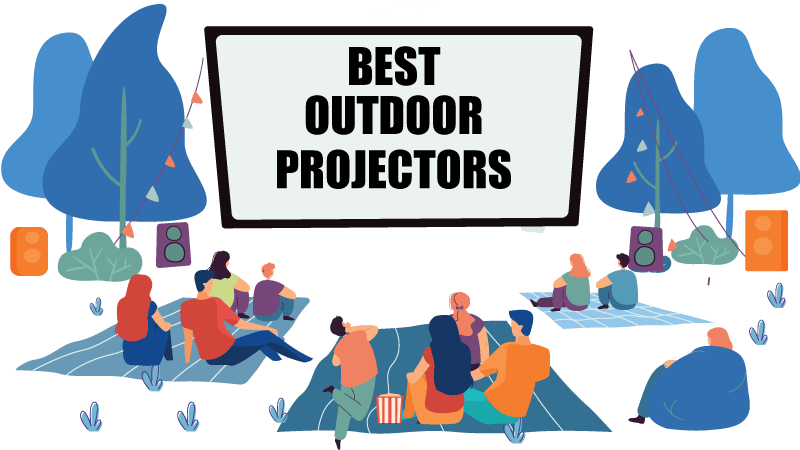 People with a great backyard can't imagine true entertainment until they place an outdoor movie projector there. Moreover, you can create memories with your lovely family and friends. Once you find the right projector for your outdoor, you're all set to enjoy great movie nights there with your loved ones.
However, it's a bit difficult these days to find the right projector as per our needs. That's because of numerous projector brands and their widely available projectors. Anyway, I am glad that you're here reading this guide containing three top outdoor projectors, a quick buying guide, and the FAQ section.
Top 3 Outdoor Projectors Of 2023
Key Features
Native Full HD Resolution (1920x1080P) With HDR support
1.3x Zoom
Low input lag for gaming
8.3ms Fast response time
3500 lumens of Brightness
15,000 hours of battery life
Pros & Cons: BenQ TH685
What I like:
Amazing color accuracy
Overall picture quality & Contrast
Low input lag & fast 8.3ms response time
HDR with HLG support
3D capability
Customized gaming & sound modes
What I don't:
Sound Quality
Verdict: My thoughts
The BenQ TH685 is an ideal choice for outdoor movies with ambient light. Furthermore, it is perfect for gaming because of its fast response time and low input lag. Besides, the picture quality is impressive with color accuracy and Contrast. For me, it is the best home entertainment projector under 1000.
Overview: Benq TH685 – All you need to know about the projector
With a fair price tag keeping features in mind, the projector can outrank all the projectors coming in its way. The model TH685 is the latest projector from BenQ, designed for true home entertainment. Moreover, it is a native Full HD projector and supports 1920x1080p resolution.
Even though the projector is 1080p supported, it welcomes 4k contents with folded hands. Therefore, When you feed 4K content (3820x2160p) using your laptop or similar device, it utilizes HDR technology and downconverts the image to fit 1080p resolution. Besides, the HDR support it has designed to work with HLG—the growing standard for broadcast TV.
The BenQ TH685 is equipped with a six-segment (RGBWYC) color wheel, which results in more bright image production. Plus, Extra segments of colors also affect the color accuracy of the projector. Besides, it comes in white color, measures 4x12x9 (HWD), and weighs around 6.2 pounds.
When it comes to image correction, it has a 1.3x zoom lens and digital image shift feature for image positioning. Moreover, you have keystone (+/- 30 degrees vertical) control to square off the image. For connectivity, the TH685 includes two HDMI ports (2.0b): both HDMI ports can be used for 4K Blu-ray discs, as they support HDCP 2.2.
As far as outdoor use is concerned, the TH685 projector boasts 3,500 lumens of brightness and a contrast ratio of 10000:1. Moreover, its display technology—Equipped with a DLP Chip—lets you enjoy sharper and brighter images, even the ambient light and direct sunlight.
2. Optoma GT1080HDR – Best outdoor short-throw projector
Key Features
3800 Lumens of Brightness
Native Full HD 1080P
(+/- 40 degrees) Vertical keystone correction
15,000 hours of lamp life
50,000:1 contrast ratio
HDR10 & Short throw projection
Pros & Cons: The Optoma GT1080HDR
What I like:
HDR10 support
It is 3D-ready, Native 1080p resolution support
Amazing picture quality
Fast response time for gaming
Its short-throw projection
What I don't:
It doesn't support HLG
Verdict: My Thoughts
The Optoma GT1080HDR is a fantastic pick for ambient light. Besides, It is bright enough for outdoor use. It delivers incredible picture quality with solid color accuracy. You also have short-throw projection with HDR10 support.
So I recommend the Optoma GT1080HDR to everyone for outdoor movie nights and gaming.
Overview: The GT1080HDR
Another great pick for outdoor use, the Optoma GT1080HDR. It is an entry-level Full HD projector like the Benq TH685. Both projectors share most of the same features and technologies. However, the Brightness on Optoma GT1080HDR is better and rated at 3,800 ANSI lumens. That's why I recommend GT1080HDR for a well-lit room with ambient light and your backyard with direct sunlight.
Coming to the picture quality, the offers an excellent contrast ratio of 50,000:1. Moreover, you can enjoy 4K content with a true 4k resolution (3840×2160) pixels; like BenQ Benq TH685, it also downconverts 4K to its native resolution. There is no doubt saying the projector is designed for gamers, as its low input lag, fast response time, and dedicated gaming modes say a lot.
When it comes to the projector's design, it measures (4.5×12.4×9.5) inches (HWD) and weighs around 7.7 pounds. Since the projector is designed for short-throw projection, it lacks lens shift control (useful for image correction). As an alternative to the lens shift feature for image adjustment, you have digital zoom control.
One of the noticeable features of the projector is its short-throw projection. There is no doubt that its short-throw projection adds more flexibility to the projector when it comes to outdoor use. Although it's not all about backyard use, you have the advantage of using it at any location with a tight space.
Key Features
Native Full HD resolution
3,500 ANSI lumens of Brightness
Cinematic Colors & Super Color technology
Vertical Lens Shift
20,000 hours of lamp life
Pros & Cons: ViewSonic PX701HD
What I like:
It is affordable
Contrast is up to the mark
Low input low and fast reaction time
It is 3D-ready
Bright and sharp
What I don't:
It doesn't support HDR.
Verdict: My Thoughts
There is no doubt that the projector is a solid entry-level home theater projector. It is packed with enough features and technologies to deliver a high-quality image. Moreover, since it boasts 3,500 ANSI lumens of Brightness, you won't have any issue using it in your yard.
For me, it's an ideal choice for gaming and home entertainment under budget. However, If you want a powerful one, you have options such as BenQ TH685 and Optoma GT1080HDR.
Overview: All you need to know bout ViewSonic PX701HD
The Viewsonic PX701HD is a multiple-purpose projector; you can use it for both home and business. Like the BenQ TH685 and Optoma GT1080HDR, it is also a native Full HD projector and supports 1920x1080p resolution. However, the projector utilizes a single DLP 1920x1200p chip In order to achieve that promised Full HD resolution.
Coming to the projector's design, it weighs only 5.7 pounds and measures (4.4×12.2×8.7) inches. Compared to the TH685 and GT1080p, the ViewSonic PX701HD is smaller and lighter. It means you can carry it with you wherever you go. However, the projector doesn't come with a carrying bag; you might need to buy it from the market.
The sound of the projector is decent, though it has a built-in 10 watts speaker. Still, it is okay for small-sized to medium-sized rooms. However, you have to have an external sound system for immersive sound when it comes to outdoor.
Guide: How & What to look for before buying your first outdoor Movie projector?
Projectors that fall into the outdoor category are no different from our usual home theater projectors. All the projectors share the same features and technologies. Therefore, in this buying, I've brought you the only crucial outdoor projector buying factors.
Brightness: One of the main factors for an outdoor projector
Brightness, or better say, the brightness rating of a projector, is a factor that we can't skip when looking for an outdoor projector. You might have heard of a term called ANSI lumens before. ANSI lumens are used to measure the brightness of a projector.
Why is the Brightness of a projector so important? Especially in outdoor unit case?
It's quite common to use a projector in the backyard or outdoor after dark. However, when it comes to evening and twilight, things start becoming challenging. Why? Because we can't control the ambient light at any cost. Can you?
The ambient light or whatever lights are present around the screen directly impact the Brightness of the projector. Therefore, the picture quality we get after dark is far better than what we get during the twilight hours.
Don't worry; I have a solution. I'll tell you how you can opt for enough bright projector for your backyard. You don't need to deep dive; just look at the brightness rating of the projector. If there is a chance of controlling the lighting levels or it's dark where you wish to use your projector, the brightness rating should be at least 2,000 ANSI lumens.
However, when it comes to the twilight hours or evening, you have a brightness rating of 2,500-3000 ANSI lumens. Therefore, I always recommend choosing at least 2,500-3000 ANSI lumens projectors for their outdoor purposes.
Resolution: Is it as important as Brightness for an outdoor projector?
Yes, the projector's resolution is another crucial factor to consider for your outdoor projector, as it determines the size of the projected screen when picture quality is concerned. The popular and very common resolutions among projectors are 1280x720p (HD), 1920x1080p (Full HD), and 3840 x 2160 (4K) Ultra HD.
For an outdoor projector, I never advise you to pick an HD (1280x720p) projector. At least a (1920x1080p) Full HD resolution will be an ideal resolution for you. Another reason for choosing the Full HD projector is content availability. Most of the video content is available in Full HD and Ultra HD.
Moreover, 4K or Ultra HD content availability has been increasing at lightning speed. Therefore, choosing the best 4k projector for outdoor can be a wise decision for you. However, 4K projectors are very expensive compared to Full HD. So, if your budget allows, go for 4K.
In a nutshell, I advise you choose a projector with a native resolution of 1920×1080 pixels. There is no problem considering a cheap projector with native 720p resolution if you're on a budget.
Throw Ratio: Don't forget to consider the throw ratio of your backyard movie projector
After Brightness rating and resolution, the third important thing to consider is the throw ratio. The throw ratio is responsible for the size of the projected image. There is always a recommended range of distances (10~12ft, 12~14ft, etc.) for optimum viewing with specific screen sizes, such as 100″, 120″, 150″.
However, the throw ratio of a projector may vary from a projector to a projector. Therefore, you'll find projectors with different throws and types, such as short-throw projector, long-throw projector, and Ultra-short-throw projector.
Short-throw projector
It can create a 100-inch image just from 3~8 feet from the projector. So a short-throw projector is well-suited for a tight space. However, you'll have to spend more on a short-throw projector than a long-throw projector. Check out top short-throw projectors.
Long-throw projector
A projector with a long-throw ratio requires at least 6 feet between the projected screen and the projection area to create a 100-inch image. These are standard projectors and are cheaper than short-throw projectors.
Ultra-short-throw projector
An ultra-short-throw projector requires a few inches from the projected screen. Moreover, an ultra-short-throw projector is very expensive and a great alternative to your TV, as it sits very close to the screen.
Therefore, it is all up to you what suits you the most. Remember, for smaller backyards, your decision should stick to either short-throw or ultra-short throw.
Portability: Your outdoor projector should be portable
There is no way to avoid the portability of your outdoor projector. The portability factor is as important as others because nobody loves carrying heavy or bulky things. The pain increases when you try to install that bulky guy in your backyard.
Therefore, I highly recommend you go for a small and portable outdoor projector. When camping and traveling are concerned, your might need an ultra-portable projector equipped with a built-in battery.
Connectivity: Connectivity options on your outdoor projector?
There is no doubt that your home is full of modern smart devices, such as streaming devices (Amazon Fire TV, Apple TV, Chromecast), laptop, DVD player, and many others. Naturally, therefore, good connectivity options are essential.
Since HDMI is a standard connectivity option for most modern devices, your projector must have an HDMI port.
Related: Best streaming devices for projectors
Built-in Speakers: does your outdoor projector have a powerful built-in speaker?
It is a common factor but considerable, especially when outdoor projectors are concerned, as you can't carry an external sound system all the time. Hence, I won't let you pick any projector with decent in-built speakers.
However, we can't avoid the fact that most projectors come with weak speakers. Finding an outdoor projector with adequate sound can be a daunting task, as it's really hard for a projector to cover a large group of people.
Still, I tried to find the best outdoor projectors with good sound quality and ended up with three top picks. You can read the reviews above.
Image correction: Your outdoor projector must have image correction features
The image correction feature is very handy; moreover, a must-have feature. Otherwise, you'll end up with distortions caused by proportionally incorrect image appearance.
Most budget-friendly projectors generally come with the keystone image correction feature. However, expensive ones include the Lens Shift feature for image correction.
So make sure your outdoor projector at least has keystone correction.
FAQs: Some common questions about outdoor projectors
What is streaming capabilities when it comes to an outdoor projector? 

Streaming your content using a projector is one of the best things; it becomes more valuable when it comes to an outdoor projector. Therefore, a projector with streaming capability is very handy. 

However, media streaming requires a fast internet connection with a strong Wi-Fi signal in your backyard. If the Wi-Fi signal is strong enough in your projection area, you can connect your favorite devices to the projector, such as laptops, streaming sticks, and Blue-ray players. So make sure your projector has streaming capabilities. 
An outdoor projector screen is necessary for an outdoor projector? 

There is no problem using that old-fashioned sheet tacked to your favorite side of your house. However, you can't imagine the best viewing experience on that sheet. 

Instead, you should spend some money on a proper projector screen. Moreover, you can find the best outdoor projector screen for under $200., these projector screens also include their own stands. So for me, buying an actual projector screen is a wise decision. 
Should I buy a separate sound system for my outdoor projector?

Yes, you should. Since most projectors come with weak speakers, buying a separate sound system is essential. 
How an outdoor projector works?

There is nothing special in your outdoor projector. It works the same as a standard projector. A projector utilizes a transparent lens to shine the light on the screen to create an image. If it is a laser projector, then the image will be created by lasers. 
How many lumens are recommended for an outdoor projector for visibility? 

Brightness is a crucial factor for an outdoor projector. Since it is measured in lumens, you have to pay attention to its ratings. Moreover, the Screen size of your projector plays a significant role in it.

For example, A projector with around 2,500-3000 lumens can project a sharp image for a 9×5 foot screen size. However, if you wish to use a bigger screen, such as 16×9, your projector must have at least 3,500-4000 lumens. 
Which are the best outdoor projector brands? 

There are many projector brands on the market. However, there are very few that are trustworthy. It includes Benq, Viewsonic, Optoma, Epson, LG, and Sony. 
Can I use a standard projector outside? 

Of course, you can. You can use all the projectors outside too. However, since projectors don't offer water resistance and weatherproofing functionality, they should not be left outside. 
What to look for in an outdoor projector?

There are many buying factors, such as display technology (LED, DLP, Laser), lumens (Brightness), contrast ratio & aspect ratio, throw ratio, projection size, lamp life, warranty, and of course, price. 

I recommend you read the buying guide above to know more about each of them in detail. Further, I want you to assess your needs for the projector, like how many people will be using the projector, lightning conditions in the projection area, and your purpose (party, gaming, presentation, etc.).
Using a soundbar is a better option for outdoor movies? 

Well, It all depends on you. However, your soundbar should be powerful enough to cover a group of people in your backyard. 
Conclusion: What is the best outdoor projector according to ProjectorWar?
In this guide, I've tried to include everything, from the buying guide to FAQs. Besides, the three top outdoor projectors picked keeping all sorts of people—From an average user to a pro gamer.
I want you to pick the one that is most suitable for you according to your needs. If you have doubt, leave a comment below. I'd love to answer it as soon as possible with regards.