Like fat human beings, no one likes fat projectors too. We all want everything slim-trim; a light, small, and compact projector is everyone's choice, as these qualities are crucial for portability. And, great portability is only possible when you have the best portable projector. That's why you're here reading this article; I have reviewed the top three portable mini projectors for you in this guide.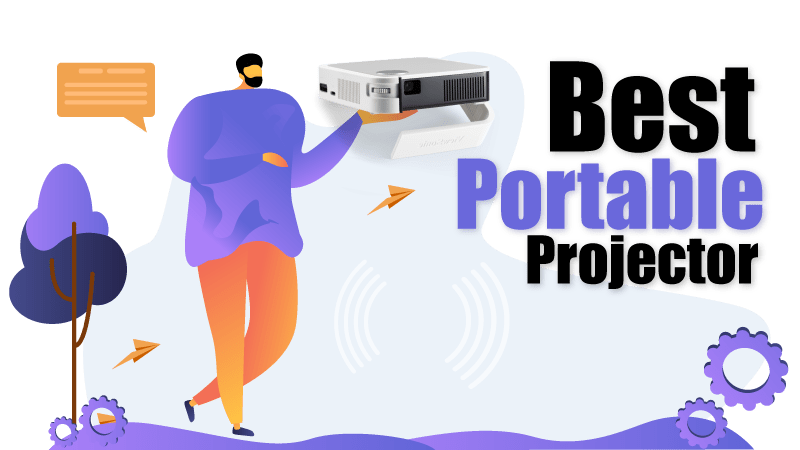 Undoubtedly, portable projectors are great for business professionals and people who love to watch things wherever they want, rather than sticking to a particular place, like a hallway with a fixed TV, a TV that takes up the entire place.
However, choosing a portable projector is not a simple task, as it has a wide range of sizes. Moreover, their technical factors include brightness, contrast, display technology, light source, etc.
Since portable projectors are designed to carry, the size of a projector should be our main concern. There are three types of portable projectors on the market, according to different sizes.
1. Portable Pico or pocket projectors
As they suggest, these projectors are tiny, like your smartphones, and therefore, such projectors are considered super portable. However, these projectors struggle to give you what you expect from an actual projector—low in brightness. However, a pico projector can be a good option for classroom presentations and business charts. Still, you'll have to compromise the quality.
If you're interested in pico projectors, take a look at the best pico or pocket projectors.
2. Portable Palmtop Projectors
Palmtop projectors are also small in size but larger than pico projectors. Pico projectors can easily be held in hands, while palmtop projectors are a little larger to fit in your palm. As far as size is concerned, a palmtop projector may take up your full hand.
Compared to Picos, Palmtop projectors have better brightness and other features; overall, you have a better image.
3. Portable Mini Projectors
Mini projectors are a bit larger than palmtop projectors; they offer better brightness, high resolution, and more physical ports, as they have larger frames.
Since portable mini projectors are more lightweight, thinner, compact, and smaller than standard projectors, they're also portable. You can carry them along with you and enjoy your favorite content anywhere you go with better picture quality. Check out the best Mini Projectors
In this guide, I've included all three types of portable projectors mentioned above. I advise you choose the one that fits your needs.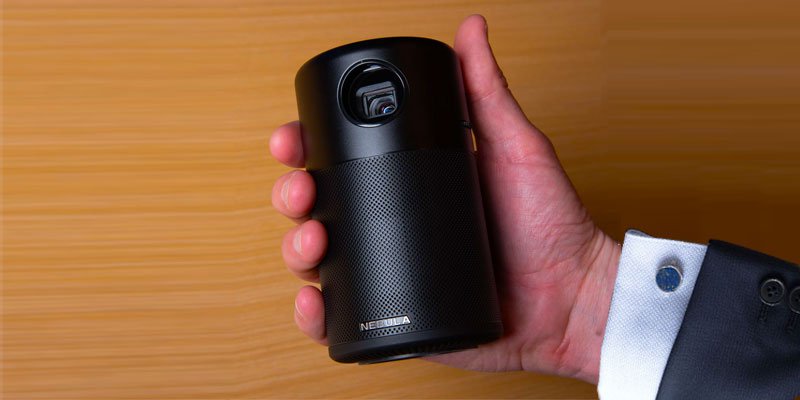 Anker Nebula Capsule is a top-notch projector when it comes to portability. It's a soda can-sized pocket projector packed with lots of advanced features and technologies. You can easily put the projector on a table or use a tripod to mount this little pocket projector.
It's very lightweight and small, measures only 2.68×2.68×4.72 inches and weighs around 1.04lbs. You have two different colors: black and red, and the red edition model is a bit more expensive than the black model.
Unlike most portable projectors, the Nebula Capsule offers wired and wireless connectivities to feed the content. It runs on the Android-based operating system and has a customized UI with Nebula Manager Store for downloading apps.
You can enjoy up to 100 inches projection size just from 9.42ft. Nebula also recommends other sizes and distances, such as a 40-inch image @1.14m, 60-inch @1.72m, 80-inch @2.29m. The projector boasts 100 ANSI lumens of brightness and offers 854×480 native resolution with a 16:9 aspect ratio.
Since the projector carries a can-sized design, you get an immersive 360° sound experience all around as it is equipped with a 5w 360° omnidirectional speaker. The projector has a built-in battery that can run up to 4 to 2.5 hours, according to different modes.
Pros & Cons: The Nebula Capsule
What I like:
It's lightweight, tiny, and solid
The picture quality is incredible
The overall design is perfect
It is super portable
Auto vertical and manual horizontal keystone
What I don't:
Focus adjustments
Who needs a portable projector?
If you're a college-going student or a working professional, or lives in a small apartment, or want big entertainment in a small-sized space, or travel a lot, then you fall in the portable projector category.
Moreover, parents who want to buy a projector for their kids for learning or other purposes should also consider a portable mini projector.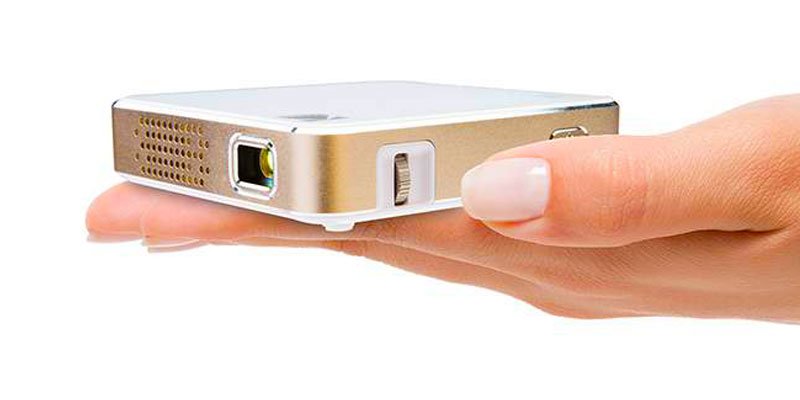 The Luma 150 Ultra is a next-level portable projector by KODAK. It's the smallest portable projector that brings high-end projection features. You can carry it in your pocket like your smartphone. And you can use it as your smartphone because it has a built-in battery, adding more flexibility to its portability—you get around 2.5 hours of battery backup. It means a couple of movies in one go.
The KODAK Luma 150 supports 1080p resolution and utilizes DLP (0.3″ EM DMD chip) display technology to produce a bright, sharp, and vivid image. Even though the native resolution is 854x480p, it accepts Full HD (1080p) and 4K content without any issue.
It can project up to 150 inches large image with a 16:9 aspect ratio. This pico projector has 60 ANSI lumens of brightness and a 1000:1 contrast ratio to fill this large screen. With over 16.7 million display colors and high contrast ratio, you can enjoy 4K gaming and dark-scene-rich movies.
Moreover, this portable projector is a smart projector. Therefore, with wired connectivity, you'll also be able to make a wireless connection using Wi-Fi and Bluetooth. It has an HDMI, a USB, and a MicroSD card slot to feed the content to the projector. Alternatively, you can screen mirroring using its integrated Miracast casting and Airplay mirroring features.
Pros & Cons: The KODAK LUMA 150 Portable Projector
What I like:
Screen Mirroring: Airplay & Miracast
Its design is very attractive
Very easy to use
Portability
Built-in battery
What I don't:
Its sound quality
3. XGIMI MoGo Pro – Best Portable Projector For Outdoor Movies
The XGIMI MoGo pro is a high-end smart portable projector. It's designed for home entertainment; you can use it indoors and outdoors. It packs 300 ANSI lumens and supports Full HD native 1080p resolution; therefore, the overall image quality is incredible – vivid, sharp, and color accuracy.
As a portable projector, it carries a built-in high-power battery. You can enjoy up to 3.5 hours of video playtime on a single charge because of the 10400mAh battery. It's a nice-looking projector and very lightweight, measures 6.9×6.9×10.2 inches and weighs around 2 pounds; you won't have any problem carrying it with you.
The XGIMI MoGo Pro offers Autofocus and auto keystone correction features—Manual 4-point and 40° Auto Keystone Correction—for image correction. When it comes to recommended screen sizes, you can enjoy up to a large 100-inch image projection from 2.66m (~8ft), an 80-inch size from 2.17m (6.5ft), a 60-in image from a 1.59m (4.77ft) distance.
Even though it's a small projector, it has two 3W speakers designed by Harman Kardon. The overall sound quality is good; it's loud enough for a small group of people. If you're partying outdoor, pairing with an external sound system would be a better option—wired and wireless both possible on this projector.
It supports dual Wi-Fi bands: the 2.4GHz and the 5GHz bands. You can easily mirror/cast your smartphone to the big screen without any internet speed issues. This mini portable projector runs Android TV OS; therefore, you can download up to 5000+ supported Android Apps directly from the Google Play Store.
Pros & Cons: The XGIMI Pro Portable Projector
What I like:
Full HD resolution
Dual-band Wi-Fi & Bluetooth
Easy to setup
Android OS
Built-in Chromecast
What I don't:
No Native apps for Netflix & Amazon Prime
Buying Guide: What to look for when choosing the best portable projector?
Size: Size is everything for a portable projector
Everyone knows why we buy portable projectors; so that we can carry them wherever we want. Therefore, a portable projector should be as tiny as possible. However, apart from the size, you'll also consider other factors, such as brightness and resolution, as the size of your portable projector won't give you a high-quality image.
So the first thing you should be looking at is the size of your projector when portability is concerned.
Brightness: Do you need to think of the brightness of your portable projector?
Of course, you should. Whether it is portable or not, the brightness of any projector is a crucial factor to take into account. As I said earlier, Pico projectors come with very low brightness; they hardly qualify as projectors when it comes to brightness.
Even if you had the best portable projector, the brightness would be unmatchable over the standard projector. For example, Pico projectors can't project enough bright images because of their small sizes. Moreover, they have low resolution, ~480p.
However, the ones I have picked, mentioned in this guide, are the best for brightness. They're low too compared to other category projectors but are the best ones on the market.
Multimedia: Smart portable projectors are on-trend?
Undoubtedly, A Multimedia projector is like a one-man-army; it has multiple functionalities. Compared to a standard projector, a multimedia projector looks like a typical speaker; however, with Bluetooth functionality. Once in Bluetooth mode, it works as a Bluetooth speaker and accepts Bluetooth-enabled devices with no hassle.
Once in projector mode, you have a small portable projector with excellent projection capabilities. Most multimedia projectors offer Wi-Fi, smart connectivity to stream media from a Wi-Fi-enabled device. Generally, such projectors run the Android TV OS to let people download apps directly from the Google Play Store in addition to their pre-installed apps.
For example, The Anker Nebula Capsule II, the very first portable projector on my list. It's a multimedia projector offering Bluetooth and Wi-Fi, looks the same as a standalone Bluetooth speaker.
Related: Please check the projector buying guide for other technical factors.
FAQs: What do people usually ask about portable projectors?
What are the advantages of a portable projector? 

One of the top advantages of portable projectors is their portability; you can carry them anywhere you want. Another great advantage is their built-in batteries. If you had the best portable projector, you'd get around 2.5 to 4 hours of battery backup. 
What are the disadvantages of portable projectors?

As a display product, a portable projector struggles to produce a high-quality image. Such projectors also offer fewer lumens of brightness; it ranges from 50 to 200 lumens, depending on the projector. Plus, most portable projectors provide a low native resolution, 480p or 720p. 
Conclusion: So, Which is the best portable projector for me?
You have three great portable projectors in this guide to choose from; however, I suggest you choose the one according to your purpose and the space you'll be projecting in.
If you're a business professional and want a projector for PowerPoint presentations, make sure you check the projector's contrast and brightness in the first place. Or, if you're a business traveler, add another factor, 'portability', to the list.
If you have any doubt about portable projectors, please let me know in the comment section. I'd love to answer your questions.