Get ready to host an amazing movie night with your friends and loved ones, as I will share the five best Bluetooth projectors with you. I picked these projectors, keeping all types of people in mind—for example, mini, portable, smart, gaming, outdoor, and home Bluetooth projectors.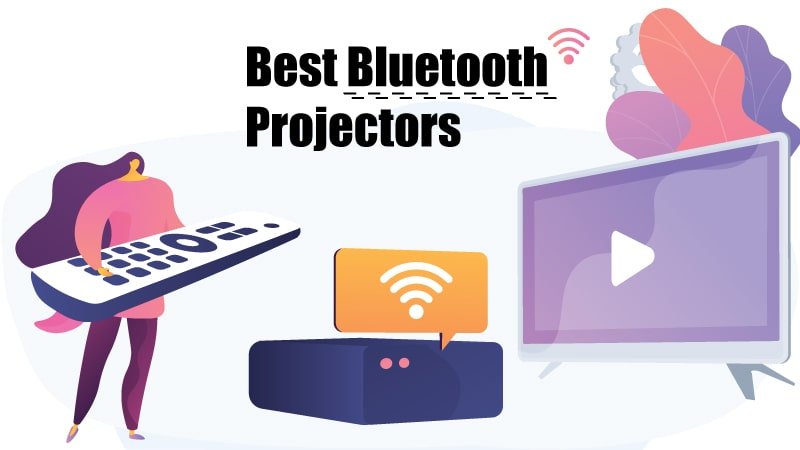 Believe it or not, we all enjoy going out and locations where we can spend memorable time with our family members or friends. However, we should make a few changes to make these moments more memorable. You guessed it right. I want you to make a Bluetooth projector a part of your next outdoor plans.
If you organically have landed here and want to know the best Bluetooth projector, you're in the right spot. I have tested 20 different models and listed the top five mini portable Bluetooth projectors for 2023.
Top 5 Bluetooth Projector Reviews 2023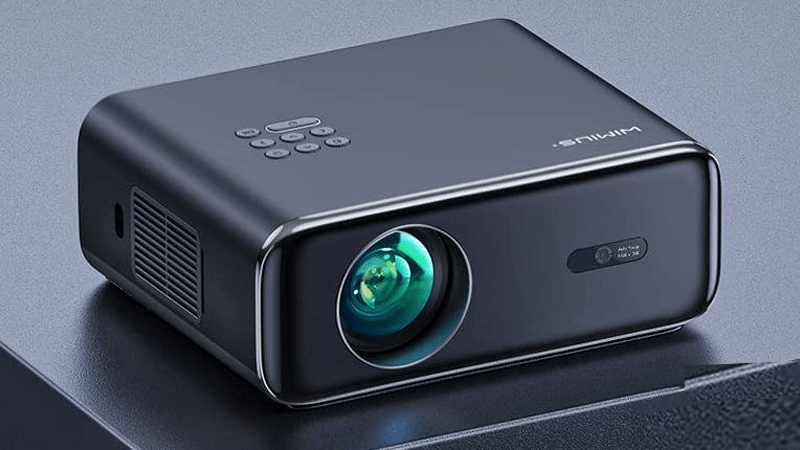 Key Features:
Bluetooth: 5.2
Resolution: Native 1080p (1920x1080p)
Brightness: 480 ANSI lumens
Contrast: 20000:1
Connectivity Options: 2xUSB, 2xHDMI, 1xVGA, 1xAV
Projection Size: 30~400 inches
Unique/Special Features:
Wi-Fi 6 dual-band (5GHz + 2.4GHz)
Smart screen options (Auto 6D Keystone & Auto Focus)
Pros & Cons: WiMiUS Bluetooth Projector
Pros:
Keystone & Focus Features
Built-in fast Wi-Fi
Picture quality (clear and sharp)
Its carrying case
Easy setup
Cons:
The power chord is a bit short.
Review: WiMiUS Bluetooth Projector (features, price, design, and overall value)
The WiMiUS is a smart Bluetotooth projector with built-in Wi-Fi. It offers dual-band Wi-Fi connectivity options with a maximum speed of 1800Mbps (the 5GHz band offers up to 1200Mbps and the 2.4GHz up to 575Mbps). Therefore, mirroring and HD streaming are very smooth and stable.
The router supports native 1920x1080p resolution, packs 480 ANSI lumens, and has a 20,000:1 contrast ratio. With true 1080p resolution, the WiMiUS also support 4K content partially.
The highlights of the router include its image correction features, such as keystone and focus. It has Auto 6D keystone and Autofocus.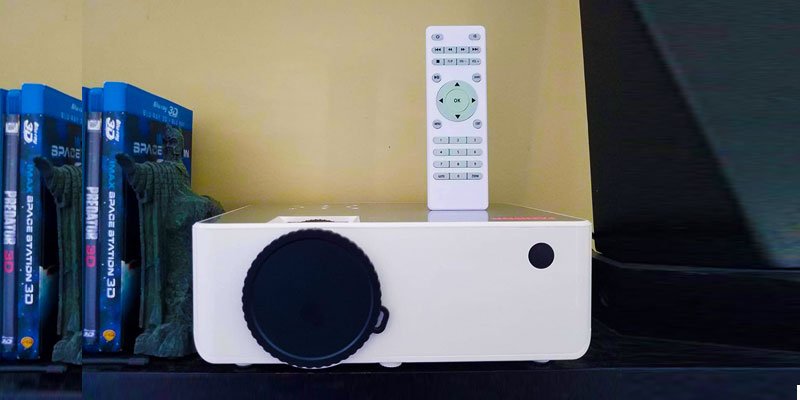 Key Features:
Bluetooth: 5.0
Resolution: Native 1080p (1920x1080p)
Contrast: 10000:1
Connectivity Options: 1xUSB, 2xHDMI, 1xVGA, 1xAV, Wi-Fi, Bluetooth, Micro SD, Audio
Projection Size: Max 230 inches (30~160 is the recommendation)
Unique/Special Features:
Wireless Mirroring
Backlit remote control
Pros & Cons: WiMiUS Bluetooth Projector
Pros:
Picture quality
Wi-Fi & Bluetooth
Easy to set up
Mirroring options
Backlit remote control
Cons:
Decent sound
Review:
FANGOR is a good and affordable projector brand known for its features at low prices. It's a 1080p projector and natively supports true Full HD resolution (1920x1080p). You don't need to hesitate to feed it 4K content as it partially supports 4K media directly from your client's device.
You can enjoy your favorite content at a 16:9 or 4:3 aspect ratio on a large screen of up to 230 inches. However, the FANGOR recommends from 30 to 160 inches image projection size for peak image quality. It has a good lamp lifespan of 65000 hours because of its LED light source and LCD technology.
The projector can project a high-quality image with over 16.78 million colors and a contrast ratio of 10,000:1. Regarding sound, it has a 5W speaker that supports stereo surround; however, the sound is decent. You might need to buy an external sound system for better sound.
Conclusion: FANGOR 1080P Bluetooth/Wi-Fi Projector
The FANGOR is a good portable Bluetooth projector for indoor and outdoor use. Its picture quality is amazing for the price, produces bright and sharp images. Therefore, you won't have any problem using it outdoors; however, it requires dark environments for the optimum image.
Wireless mirroring is also a huge advantage, regardless of your device: iOS or Android.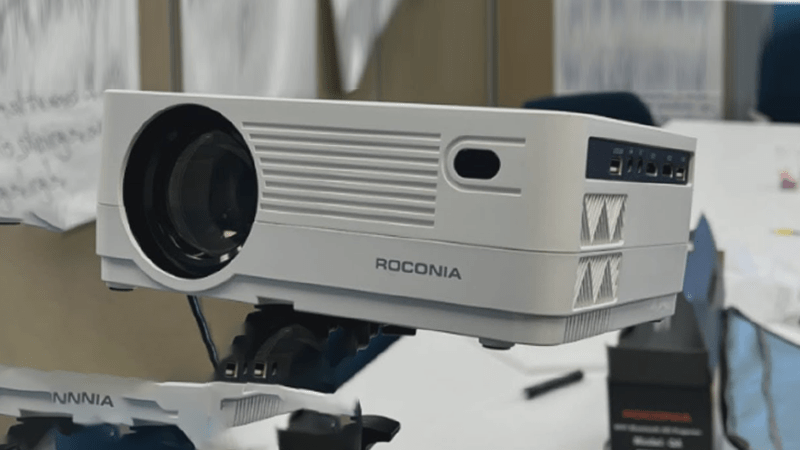 Key Features:
Bluetooth: 5.0
Resolution: Native 1080p (1920x1080p)
Brightness: 12000 Lux
Contrast: 10000:1
Connectivity Options: HDMI, USB, AV, USB-SM, VGA, and 3.5mm Audio Jack
Projection Size: 300 inches
Unique/Special Features:
Screen Mirroring
Fast Wi-Fi & Bluetooth
Pros & Cons: WiMiUS Bluetooth Projector
Pros:
Incredibly bright
Native 1080p
Connectivity options
Streaming
Cons:
 It doesn't allow copyrighted content.
Review:
The Roconia is not a new projector company and has been in the field for a long time. It makes affordable video projectors ranging from $50 to $500. Despite being on the lower side, it never disappoints regarding features and quality.
This is the company's latest model that offers native 1080p resolution (also supports 4K content by upscaling), a 10,000:1 contrast ratio, and a maximum projection size of up to 300 inches, diagonally. The smart model has dual-band Wi-Fi and 5.0 Bluetooth, fast enough to handle Full HD wireless streaming. However, it doesn't allow copyrighted content due to HDCP copyright issues for the Apps, such as Netflix, Hulu, Disney, ETC.
In order to use such apps, you'll have to use a streaming device—check the best streaming device for your projector.
Conclusion: The Roconia Wi-Fi/Bluetooth Projector
The projector is very bright and thus suitable for outdoor purposes. However, you must use it in a dark environment for the best picture quality. Another thing I liked about the projector is its multiple connectivity ports; it includes all the essential ports from HDMI to VGA.
So overall, this projector is a good option for both indoors and outdoors as long you set it up in the right location with proper lighting. 
Buying Guide: How to choose the best Bluetooth projector for your needs?
Here are some crucial features your Bluetooth projector must include at any cost. Or, at least include some of them if you want the most out of your projector.
Display
Always remember the projection display technology is responsible for brightness, resolution, contrast ratio, and even for the price. Traditional projectors use various displays, such as DLP, LCD, LCoS, Laser, ETC.
On the other hand, Bluetooth projectors are limited to a few display options, such as LCD, DLP, and LED. LED-based Bluetooth projectors are better because of their excellent performance and lamp life. Both displays have their own advantages and disadvantages.
LCD: Advantages & Disadvantages
LCD Projectors' working:
Its lamp's job is to produce white light; other counterparts (filters & mirrors) split this white light into red, green, and blue colors. Further, the projector combines these colors to create an image and projects it onto the wall/screen.
Advantages:
Since the lamps are cheaper, the LCD projectors are more affordable.
They're comparatively brighter and offer higher brightness levels.
This type offers better color accuracy.
The biggest advantage is the 'rainbow effect.' LCDs have no rainbow artifacts.
DLP workings:
Unlike LCDs using mirrors and filters to split the created white colors into the main colors (RGB), the DLPs use a chip. This chip (made up of many tiny mirrors) tilts forth and back to reflect the created light toward the projection screen.
Advantages:
Unlike LCDs offer higher brightness levels, DLPs offer higher contrast ratios. The higher contrast ratio is good for dark shadows and dark scenes. DLPs are good for gamers.
DLPs are away from the 'screen door effect.'
Verdict: LCDs Vs. DLP Projectors
Choose LCD projectors if color accuracy and saturation are your primary goals. Choose DLP projectors if high contrast and resolution are crucial.
Not convinced yet about Bluetooth Projectors? Here are the advantages of buying A Bluetooth Projector.
Wireless Connection:
One of the top features of a Bluetooth projector is its capability to kick out those wires and to keep the connections between devices neat and clean.
Portable & lightweight:
Bluetooth projectors are always lightweight and portable. Therefore, they're generally marketed as traveling and camping projectors.
Easy Operation:
Bluetooth devices are like plug-and-play. You just need to pair your device (smartphone, tablet, laptop, ETC.) and enjoy a large image projection right away.
Some high-end Bluetooth projectors also allow you to directly control their volumes, brightness levels, and picture modes from your device. In short, you can operate Bluetooth projectors more easily than non-Bluetooth projectors.
Built-in Battery:
It's pretty common for Bluetooth projectors to include built-in batteries. Depending on the projector model, some come with rechargeable and some with non-rechargeable batteries. Moreover, these Bluetooth projectors offer good battery backup, enough to watch a couple of movies on a single charge in case of a rechargeable battery.
Easy Setup:
Setting up Bluetooth projectors is always easier than traditional projectors because of their ability to pair with Bluetooth-enabled devices, such as laptops, smartphones, tablets, ETC.
FAQs: Frequently Asked Questions
How to set up a Bluetooth Projector? 
Start by reading the user manual that comes with your Bluetooth projector. Now, find the location where you intend to use your projector and projection area, such as a wall or a projector screen. Once these essential steps are done, turn on the projector and follow the screen prompts until the home screen appears. 

Additionally, you can use an external sound system for better sound quality and a streaming device with your Bluetooth projector.  
Do all Bluetooth projectors come with a battery? 
Not at all. It depends on the projector. However, most media-type projectors (primarily designed for sound and built-in streaming features) and built Bluetooth projectors offer a built-in battery.
What is the best portable Bluetooth projector for outdoor movies?
The WiMiUS Bluetooth Projector is an incredible projector for outdoor movies. It offers native 1080p resolution, a 20,000:1 contrast ratio, and built-in Wi-Fi 6 & Bluetooth 5.2. It has everything that fulfills an outdoor movie projection criteria.
Conclusion
All the Bluetooth projectors mentioned above have the potential to deliver amazing picture quality, resolution, sound, ETC. Since their highlighted feature is Bluetooth, allowing a wide range of compatibility with most Bluetooth-enabled devices, such as Headphones, soundbars, ETC.
However, If you're still confused about which Bluetooth projector to consider in the first position, let me help you.
The first Bluetooth projector, WiMiUS Bluetooth Projector, is on another planet. There is no competition when it comes to resolution, picture quality, image correction features, and sound quality. It has everything that a good outdoor Bluetooth projector requires. So, the WiMiUS is my favorite Bluetooth projector. 
The Runner-up Bluetooth projector for 2023 is the FANGOR Portable Bluetooth projector. It's an affordable model with high-end features. It allows up to 230 inches of image projection, comes with a Tripod & a carrying case, supports 4K, has a 5W stereo surround speaker, and offers up to 65000 hours of lamp life. 
Other Bluetooth models are also good and offer great performance. You won't need to think twice, provided you assess your needs while choosing.