Your wish to find the best projector under 300 only be possible if you go through the buying guide below. That's because different types of projectors are designed differently, keeping different types of users with their different types of purposes in mind, such as home theater indoors/outdoors, business presentations, gaming, offices, and many others.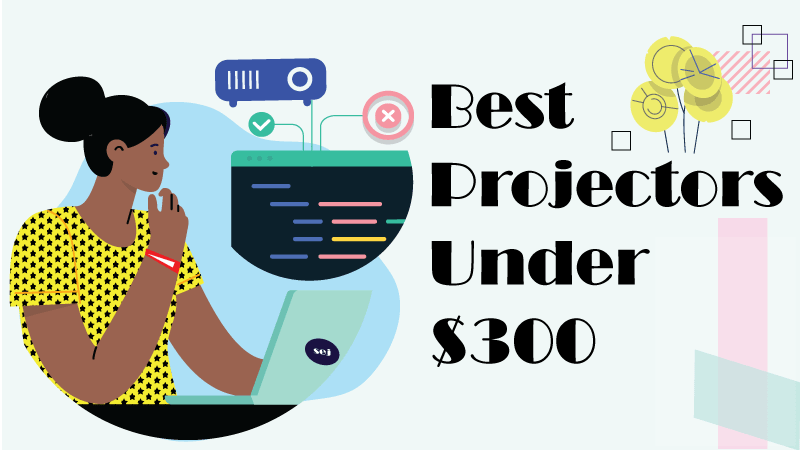 I don't know why most people buy expensive projectors for their business presentations and entertainment. Is it because they don't know about projectors? You're right, I think so too.
What if I say I can share with you a projector that costs less than $300. And you can use it for all purposes, such as outdoor movies, business presentations, and even home theater.
Yes, you heard it right.
Not one projector. But, it is a list of the three best projectors under 300 dollars for 2023. I picked them after screening the entire market. 
Here are the parameters of my screening:
Moreover, you'll see in-depth descriptions of these projectors covering pros, cons, and final verdict. I also tried to answer the most frequently asked questions in a comprehensive buying guide below. I am 100% sure after reading the given information in this article, you'll be able to pick the best projector for under $300.
Top 3 projectors under $300 For 2023
YABER Y31 (1080p) 7200L – For Home Theater
VANKYO V630W – For Indoor/outdoor Movies
WiMiUS P28 LED projector – Wireless projector For home theater
1. YABER Y31 – Best Home Theater Projector Under $300
Overview:
YABER Y31 is a fantastic projector offering many high-end features so that you can enjoy the next level viewing experience at your home. Two of its main features are 4D vertical and horizontal keystone correction and one-click brighten. Both are really innovative and work as they advertised.
The Y31 comes in white color and is made of very high-quality materials. With fantastic image clarity and color accuracy, it can project up to 300 inches large screen for you.
YABER Y31's Highlights:
Keystone Correction:
Unlike others, YABER Y31 offers both horizontal and vertical keystone correction, making that irritating image alignment task very simple. Most projectors' keystone correction range, under $300, are up to ±15, while YABER Y31 goes up to ±50°.
Furthermore, you also get an auto vertical correction feature along with a one-click restore function. It comes in handy while adjusting the image using the remote control.
Resolution:
It is a Full HD projector, natively supports 1920*1080p. The higher-resolution display ensures more detailed and more precise images, making the projector an ideal home theater choice. It is because FullHD resolution is four times particle HD (1280 * 720p) resolution.
Note: Always remember, the higher the resolution, the crisper the projector image will be.
Lumens:
Your projector brightness is measured by lumens. The Y31 is equipped with LCD technology and utilizes an LED light source. With over 7200 lumens, it provides 60+% brightness than any standard or mini projector.
Note: Any projector with 5000 lumens is suitable for a dark environment. But, low light conditions require a higher lumens projector, such as YABER Y31.
Contrast Ratio:
Who doesn't know about the Contrast Ratio of a projector should know it is a ratio between the brightest areas and the darkest of an image. Like resolution and lumens, a high contrast ratio projector ensures more detailed shadow and deeper black levels, making it more vivid and bright.
With over 10000:1 high dynamic contrast ratio, The YABER Y31 is ready to give you the next level of image quality with more sharpness and vividness.
Pros & Cons:
What I like:
Its 4D keystone correction along with a one-click brighten feature.
The native support of 1920*1080p resolution with 4K UltraHD video support.
High contrast ratio (10000:1) and brightness (7000 lux).
It is super easy to install.
Amazing 10,0000 hours lamp life.
Three years of professional help with six months money-back guarantee.
I don't like:
Speakers could be improved.
Verdict:
So without a doubt, YABER Y31 is going to be and should be your last search for the best projector under $300. The picture quality it delivers is incredible.
However, there is only one thing that could have been improved is its built-in speakers. Other than that, It is a perfect choice for both home and business.
2. VANKYO V630W Projector – Best wireless projector under $300
Overview:
VANKYO V630W is another option for your budget. However, it costs more than YABER Y31 because of its ability to connect wirelessly. It offers dual-band Wi-Fi (2.4GHz and 5GHz) so that you can enjoy HD streaming and online gaming without any lag.
Moreover, you don't need to move this projector as it comes with the zoom function, allowing easy adjustment of projection size. Unlike the previous model V630, This upgraded V630W model offers more value. Let's take a look at its highlights.
VANKYO V630W's Highlights:
Resolution:
VANKYO V630W is a Full HD projector. Yes, it is 1920×1080 supported, natively. Therefore, it becomes easy when enjoying full HD content with vivid images. Compared to other projectors, I found this projector more bright with fantastic color accuracy.
Keystone Correction:
Unlike others, VANKYO V630W is featuring auto electronic technology for keystone correction. Since the projector is native 1080p supported, this auto keystone correction technology allows vertical and manual 4D ±50° keystone correction.
Compatiblity:
With all the modern multimedia connectivity options, such as HDMI, USB, VGA, SD, and AV, the projector offers flexible compatibility with multiple devices, including TV Stick, PS4, Laptop, Android and iOS device, and many more.
Pros & Cons:
What I like:
Its FullHD Native 1080p (1920*1080) support
Screen mirroring is really fast, supporting Android and iPhone
It is easy to set up and offering a wide range of connectivity options
Supports dual-band Wi-Fi functionality (2.4GHz & 5GHz)
Customer service is amazing and very responsive
I don't like:
The sound of the built-in speaker
Verdict:
The VANKYO V630W is an excellent Wi-Fi projector for under $300. With the capability of dual-band Wi-Fi, it offers a number of inputs and outputs. Keystone correction works excellent when it comes to perfect angles.
I didn't find any distortion and blurriness while testing. Even I found it better than my TV. I also used TV sticks with it; it was working perfectly over full HD resolution.
3. WiMiUS P28 FullHD – Best for Outdoor movies and home theater
Overview:
The third projector on my list is coming from WiMiUS. Its WiMiUS's P28 model supports Native 1920×1080 resolution and 4K videos, partially. Moreover, you can brighten up the projector using its ONE-KEY brighten feature. Also, the company claims the projector 30% brighter than the previous model 7200LM.
It also offers Dual 10W built-in speakers, produces stereo, loud, and clear sound. Therefore, you might not need any external speakers. With up to 400 inches projection size, you can enjoy its 100% to 75% zoom out feature.
WiMiUS projector's Highlights:
Eye-Friendly:
The projector uses advanced LED technology, which is considered better for the eyes than other sources. In other words, diffuse reflection imaging protects your eyes even more.
Resolution:
It is a native 1920×1080 resolution projector. Additionally, it can display 4K videos using your smartphone or any other device. However, you might have issues while playing 4K @60Hz. It handles Full HD resolution 1080P @60Hz without any lag anyway.
Keystone Correction:
If you have used any projector before, you might know how vital keystone correction can be. Therefore, WiMiUS P28 has a smart 4D keystone correction. And its 4D ±50° Keystone Correction can make projected image rectangle in no time.
Pros & Cons:
What I like:
The picture quality is fantastic, with crispy and clear details
Its balanced brightness and contrast
Full HD (1920*1080) native resolution and UltraHD (4K) supported
Four different projection modes, including front, rear, and front & rear projection on the ceiling.
100,000 Hours LED Lamp life
I don't like:
Its fan noise is noticeable.
Verdict:
I can recommend the WiMiUS for home theater and outdoor movies. You won't have any picture quality issues, such as blurry images and pixels loss, in the ambient lights. However, if used for outdoor purposes, you might need external speakers since built-in speakers are not that loud.
So overall projector is incredible and another good option for you for under $300.
Buying Guide: How to choose the perfect projector for under $300 for your needs?
This buying guide will discuss all the projector's parameters, which helped me create the top three projectors' list. So let me answer all the broader questions people ask before their first purchase.
Display: What display can I expect from a 300$ projector?
These days, there are several types of technologies on the market: DLP, LCOS, D-ILa, LCD, and SXRD. However, you'll see that LCD and DLP are widespread types. There is also a combination of LED and LCDs, creating a more bright and vivid picture.
High-end projectors use DLP display because they're expensive compared to LCD and LEDs. Therefore, there is no DLP projector on our list.
If you wish to buy, check out my article: best DLP Projector under 500.
Brightness: How many lumens are ideal for a $300 projector?
Without enough brightness, you can't imagine any bright and crisp image. Things become more challenging when your projector light output is too low, resulting in, blur or dull appearance.
It's nothing but the projector's ANSI lumens rating that tells you how bright your projector will be. So first check for you is the ANSI lumens rating of the projector.
If you ask me, I'd advise you to buy a projector that at least offers 1,000 lumens; otherwise, it won't be able to produce bright images even in a dark room, let alone a well-lit room.
And ideal brightness lumens for a $300 projector should be 2,500+ in order to enjoy a bright and crisp image.
Contrast Ratio:
Another buying factor to look out for is the contrast ratio of a projector. It is as important as the brightness of your projector. It tells about black and white portions of an image. If it is low, the projected image will be low or washed out.
An ideal Contrast ratio for your $300 projector should be more than 2,000:1.
Resolution:
The resolution of your projector primarily depends on brightness and contrast. If your projector is good at brightness and contrast, it will be high in resolution as well.
Since most projectors come with fixed resolutions, the distance between your projector and screen also matters.
For under $300, your projector should be native Full HD 1080p supported.
Keystone Correction: Is under $300 projector can be good at keystone correction, will it be manual or digital?
If you place your projector screen on an angled surface, then you'll know how keystone correction is important. And this correction can be done using two methods: digitally and manually.
Manual Keystone Correction:
As it says, something that can be adjusted manually. In other words, the manual keystone correction of a projector is a physical adjustment directly to the lens. However, using this method, you won't be able to eliminate horizontal angles. It also requires enough space between the projector and the projected screen or wall in order to achieve optimum results.
Digital Keystone Correction:
On the other hand, you have digital keystone correction that automatically detects the suitable angle to avoid distorted images. Most modern projectors offer both digital and manual options, such as my list of top three.
Additional Features: Extra features that you can expect from your $300 projector
It is also essential to pay attention to the extra features of a projector. It includes portability, compatiblity, Fan noise, cooling, lamp life, connectivity options, mounting capability, etc.
Conclusion
After going through this in-depth projector buying guide, you won't have any doubt while picking the best projector for under $300. If you're still confused and don't have much time to read this projector's technicality, you have three recommended projectors in this article.
In a nutshell,
The very first projector on the list is YABER Y31. With the fantastic pricing tag (less than 300), its brightness, picture quality, adjustability, and speakers are unbeatable. The company is providing a three-year warranty with lifetime professional support.
I recommend this projector for indoor and outdoor movie entertainment. You can pick this Y31 for your backyard movies and gaming as well.
The second great option under $300 is VANKYO V630W. It is a Wi-Fi projector; therefore, it is expensive than YABER Y31. It also offers excellent features with wireless capability. One of the key features of this VANKYO V630W is its contrast, brightness, keystone correction, and of course, Wi-Fi connectivity.
I recommend VANKYO V630W for indoor/outdoor entertainment. Since it is a future-proof projector, you won't be disappointed.
The third projector on the list costing less than $300 is from WiMiUS called P28. Similar to VANKYO V630W, it offers dual-band Wi-Fi and supports 4K media content when you connect it with your smartphone and PC.
Compared to VANKYO V630W, there is not any significant difference. Both are sharing the same features and technologies with the same prices.
If you're still confused, please let me know in the comment section below. I'd love to help you out. Thank you!
Also check my other budget-friendly projectors: