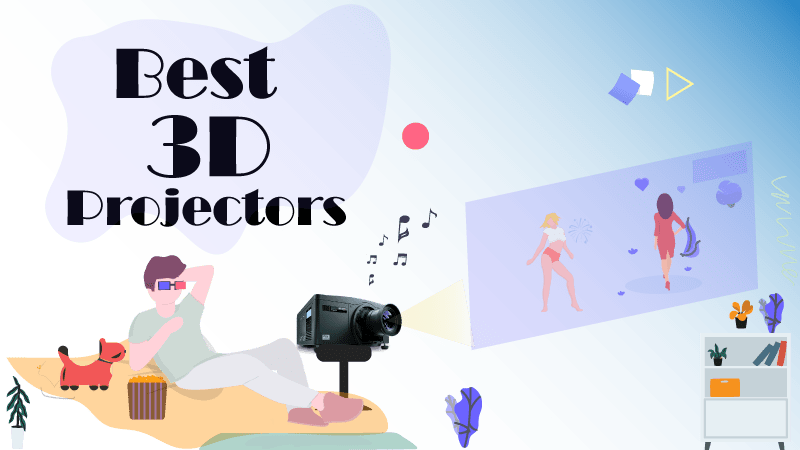 Did you know when the first 2D film was released? It was "Fantasmagorie," the first-ever 2D movie that was released in 1908 by Emile Cohl. Meaning, it's been almost 113 years to the 2D animation now since 1908. Those days 2D projectors had been rocking the world in movie theaters.
Then, in 1922, we came across the first confirmed 3D film, "The Power Of Love," Now, by 2023, content makers have explored all the possibilities of 3D and taken it to the next level. However, In order to watch such 3D content with all its glory, you'll need the best 3D projector. That's why you're here reading this article,
1. ViewSonic PX703HD – Best 3D Home Theater Projector
Key Highlights
Brightness 3500 lumens
Native Full HD (1920x1080p) resolution
Dual 3D-ready HDMIs
30 ~ 300″ screen projection
100″ from (3.3 ~ 35ft)
1×1 Optical Zoom
10W speaker
Overview
The first projector for the true 3D viewing experience is from one of the popular brands. Yes, you guessed it right. The ViewSonic and its model PX703HD. The projector comes with 3500 ANSI lumens and supports Full HD native 1080p resolution. It utilizes the latest technology called Supercolor, produces amazing colors with accuracy.
Moreover, the projector offers an energy-saving SuperECo+ mode; it improves lamp life by reducing power consumption. Using the mode, you can extend the lamp life of up to 20,000 hours. Other features, such as digital lens shift and keystone correction, are also up to the mark. You can easily set the projector up in no time.
For connectivity, you have dual HDMI input giving you the flexibility to use two 3D-ready devices. Compared to other projectors, The PX703HD offers three times faster inputs, meaning without any delay, you can enjoy your gaming as it reduces video lag to 16.4ms.
Pros & Cons:
What I like
Amazing picture quality with color accuracy
Low input latency, 16ms response time
Projection size up to 300 inches
Dual 3D-enabled HDMI ports
Dedicated gaming modes
Full HD Native resolution 1920x1080p
What I don't
I wish its remote had backlit
Verdict
The projector is overall amazing when it comes to true home entertainment, especially 3D viewing. Places from small-sized to medium-sized, the projector is the best option for you.
Since the projector offers high ANSI lumens and contrast ratio, you can use it in any room with ambient lights or in the backyard with broad daylight. However, there is room for improvement, such as its remote.
Key Highlights
True Ultra HD (3840x2160p)
HDR10 support
2x dual HDMI ports
10,000 hours of lamp life
3000 Lumens of brightness
Overview
The BenQ TK800 is another good choice for you when 3D is concerned. Moreover, it is a complete 4K solution for your home theater. True 4K means 3840×2160 resolution; you get distinct active 8.3 million pixels. One of the good things about the projector is its projection in ambient lighting; It throws a balanced brightness in order to achieve defined details with awesome clarity.
The Tk800's HDR10 support is also a greater plus for the brightness and contrast range. It doesn't hesitate to enhance the overall picture performance and bring out every detail of your 4K media content on the projection screen. For projection correction and adjustment, you get 1.2X Zoom with the Vertical Keystone function in order to adjust the image.
Another noticeable thing about the projector is its various picture modes, allowing you to choose as per your favorite content: bright, Vivid TV, cinema mode, football, and sports modes. Besides, it wins the portability test; compared to others in the same range, I found TK800's lighter and sleeker in design, you can carry along wherever you want.
Pros & Cons:
What I like:
True 4K resolution (3840x2160p)
HDR10 support
Picture quality, even in ambient lights
3D-ready dual HDMI ports
Design and portability
Its sound, very loud audio
What I don't:
No horizontal keystone
Verdict
The TK800 is primarily designed for rooms with ambient lights; If you can't control the light in your room, this projector is the best fit. Moreover, it is a 3D-ready projector; your experience with 3D content will be amazing.
For the price, the TK800 is unmatched. You can't go wrong when 3D viewing is concerned. Therefore, I recommend the projector for people looking for the best 3D projector for home theater under budget.
3. Optoma EH200ST – Best 3D projector for business
Key highlights
3000 Lumens of brightness
DLP display type
20,000:1 contrast ratio
Projection distance (4.3 ft ~ 120″)
10 Watts built-in speaker
Full HD (1920x1080p)
Overview
Optoma EH200ST is another incredible 3D projector in 2023. It projects a 120-inch image just from 3.5 feet. It boasts 3000 lumens of brightness and ensures a 20,000:1 contrast ratio. Therefore, expecting the incredible picture quality for your business presentation while keeping 3D above the bar is not a big thing for the projector.    
When it comes to 3D, it supports all 3D formats, such as frame pack, top-bottom, and side-by-side. However, you'll need 3D glasses to watch 3D-ready content. If you use a 3D-compatible player, both RF and DLP Link active shutter glasses will work.
The projector is very portable and compact to carry; it weighs only 6lbs. Moreover, Optoma offers a good quality carrying bag with the projector.
Pros & Cons:
What I like:
Deep black levels, incredible Vivid color
Short throw
VESA 3D sync port
Portable, comes with a carrying bag
Easy to set up
What I don't:
Sound from the built-in speakers could be better.
Verdict
Optoma EH200ST is very popular among people because of its short throw capability. For over 120 inches projection size, it requires only 4.3 feet distance.
I recommend this projector for people looking for the perfect 3D short throw for their places, such as meeting rooms, conference rooms, and other medium-sized environments.
Buying Guide: 3D projectors want you to read the following guide
Before we move toward projector considering factors, let's understand the 3D technology first.
Starting with the most common ones;
What is 3D ready?
When it comes to identifying whether a projector supports 3D viewing, take a look at the display technology used by the projector. It could be anything, such as LCD, LED, DLP, LCOS, 3LCD, and many others. It is the easiest way possible at the first step towards identifying the 3D support of any projector. However, it becomes very difficult to wade through the burden of fake marketing used to sell 3D projectors with non-3D displays—for example, LCDs. The type never supports 3D viewing.
Another simplest way to know is to check if it is labeled as 3D-ready. Though, the most expensive 3D-enabled projectors mention the association that approves the 3D viewing. So using these three factors, you can easily identify if the projector is 3D-ready.
Now, you have a basic understanding of 3D projection. Let's dive into some 3D projector considering factors. Since these are very basic and non-technical aspects, you don't have to be tech-savvy. However, you can read the technical part of 3D projectors down below in the FAQ section.
So without any further ado, let's me walk you through the most important aspects now,
1. Budget: Budget for your 3D projector?
Everything in the world starts with a specific budget that we set for a particular thing, be it a projector or any other thing. As money talks, the more money you spend, the better you'll be able to buy. For example, your budget can get you the best 3D projector, a projector that will ensure astonishing image quality and advanced features.
For the entry-level 3D experience and entertainment, you can buy the best 3D projector under 500. Moreover, I'll suggest you assess your requirements first and then pick the one accordingly. For that, I've included the top three different projectors to meet every different budget on the list mentioned above.
2. Location: The location of your 3D projector
Sometimes the location of a thing becomes the primary reason for buying a specific or type of thing. The same goes with projectors too, the location of your projector can determine required specifications and the type of projector. For example, let's say you choose a small room for your 3D projector setup, then any projector between 1500 lumens to 2000 lumens will work for you.
Moreover, the lighting conditions of your rooms also affect the quality of the projection. So don't forget to consider light and projection conditions, as the darker the location, the better the image quality.
3. Screen Resolution: Your 3D projector and its resolution
Another aspect of your 3D projector that you should take into your consideration is the screen resolutions. The screen resolution means the maximum size of the projection without losing the picture quality. It can be anything, such as HD, Full HD, Ultra HD resolution. The highest resolution is 4K (3480x2160p). Moreover, the screen resolution of a projector determines the overall cost of a projector. That's why 4K projectors are expensive compared to HD and Full HD projectors.
FAQ: The following questions are very common among 3D aficionados.
Why should I pick a 3D projector?
3D projectors are known for their incredible 3D viewing experience, as long as the 3D media is of high quality or high standard. Compared to 2D viewing, the 3D viewer enjoys more and has a better experience of the object's dimensional characteristics with a greater reality. 
Watching 3D movies on a normal projector is possible?
Yes, you can, as long as your projector supports 3D viewing. However, you should know how to identify which projector is 3D supported. 

It is very common among DLP projectors to offer 3D viewing, even they work great with flat-screen displays. 
What is Full HD 3D? 
Most projector brands use this phrase to impress their customers. Though, in reality, there is no such term used for 3D viewing. Therefore, if your desired projector's brand uses the same term, that means the projector is Full HD and supports Full HD 3D. 
In other words, 'Full HD 3D' has nothing special to offer when it comes to 3D technology.  
What is Stereoscopic vision in a 3D projector? 
Stereoscopic vision is the experience of seeing a different image by each eye. You can recreate the same vision with the best 3D projectors as they utilize frame-sequential 3D technology. Though, in order to experience stereoscopic vision, you'll need 3D glasses. 
What is the 3D signal format? How it relates to the 3D projector?
The 3D signal format is a technology used to transmit a 3D video from the output source by the 3D projectors. Let's say you connect any media output source to the projector; the process comes into play after determining how each video frame is transmitted from that source. Therefore, the 3D signal format utilized by the content (video) affects the overall 3D image quality.
 
However, there are many 3D signal formats for 3D-ready projectors, such as Side-by-Side, Over-and-Under, and Frame Packing. 
The location of a projector can affect 3D projection? 
Not really. If your 3D projector is placed correctly using the recommended settings, the projector's location won't affect the projection or 3D projection. However, for the matter, you must understand your projector's specifications, such as projection size, throw distance, aspect ratio, screen resolution, and lighting conditions of your room. 
Do 3D projectors require more maintenance?
The maintenance of a 3D projector is no more different than any 2D projector. In fact, all projectors require maintenance. However, the maintenance cost varies from a projector to a projector, depending on the type. There is no doubt that expensive 3D projectors require more maintenance than the cheapest 3D projectors. 
Do I need 3D glasses to see 3D images?
Yes, true 3D viewing requires the best and right 3D glasses. I suggest you buy 3D glasses from the same brand. If you find it expensive, then look for generic 3D glasses of other popular brands. 
Conclusion: Your decision and the best 3D projector
All projectors listed above are up to the mark when it comes to 3D viewing. They offer the widest 3D options, be it installation or enjoying favorite content. As 3D requires 3D, these 3D projectors will need you to buy compatible 3D glasses.