The real test of any projector is the performance over the daytime because bright light can easily wash out projector images. Therefore, your projector has to have high lumens or enough lumens to tackle daylight. In this guide, I have reviewed the best daylight projector for you. So ready to get surprised with its capabilities.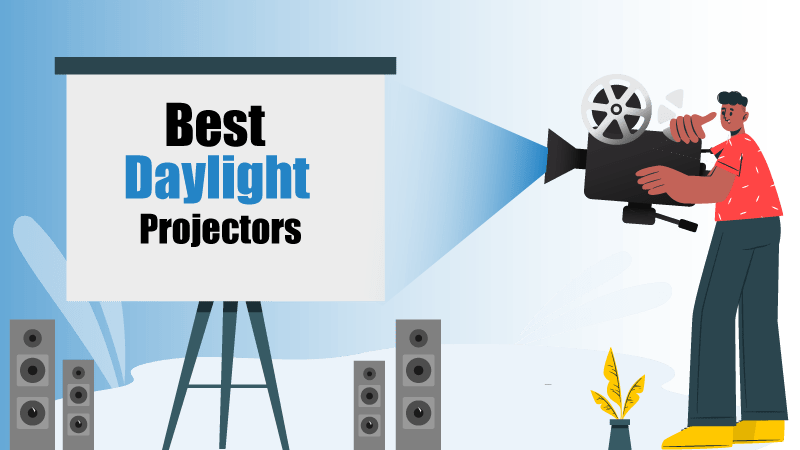 Since the brightness of any projector is a crucial factor to consider, most new or cheap projector manufacturers make people fool by showing them wrong lumen ratings. Therefore, it's important you know the difference between lux, lumens, and ANSI lumens of a projector.
Daylight doesn't only mean outdoors, but also high levels of ambient light that come directly from your windows. In both cases, we need a high-lumen projector, with at least 3000 lumens or more. If you're curious and want to know more about the different lumen ratings required for different circumstances, please check the guide below.
In this guide, I have included five high lumens projectors:
Here are the five best projectors for daylight viewing in 2023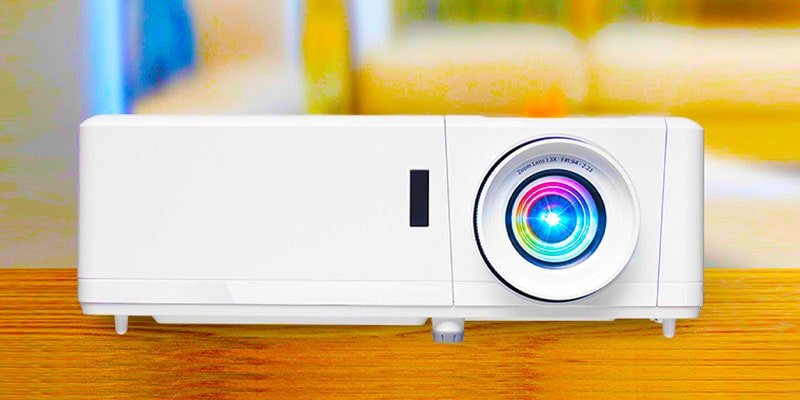 The Optoma HZ39HDR Laser projector can handle a lot of ambient light because it is designed for it. It slams the brightness of up to 4000 lumens and utilizes lamp-free operations technology called laser promises up to 30,000 hours of life.
One of the highlights of the projector is its ability to play HDR 4K content, even though the Optoma HZ39HDR is a 1080p projector. Besides, the HZ39HDR uses HDR10 & HLG technologies to enhance your viewing experience when it comes to brighter whites and deeper black levels.
Another noticeable thing about the projector is its 120Hz refresh rate with an 8.3ms response time, ideal for streaming and gaming. You can enhance your viewing experience by feeding it 4K HDR content using the video source.
Pros & Cons: The Optoma HZ39HDR
What I like
Laser light source
4,000 lumens of brightness
Low input lag and fast response time
3D support
Easy to setup
What I don't
It doesn't include horizontal keystone correction.
Why good for daylight?
Since the projector boasts 4,000 ANSI lumens, it handles well-lit spaces very well. It's perfect for indoors with lots of ambient light, and you can use it outdoors too but after the sunset.
Overall, the Optoma HZ39HDR is an excellent home theater projector for daylight.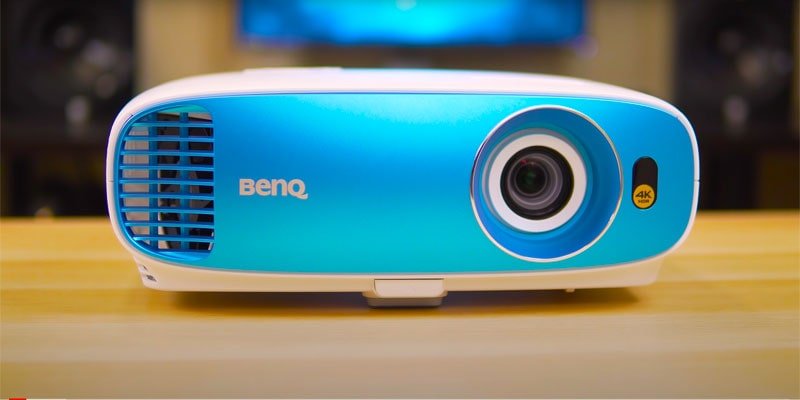 BenQ TK800M is an Ultra HD 4K projector that offers 3000 lumens of brightness. Unlike most projectors claiming to be 4K, The BenQ TK800M is a true 4K projector with distinct 8.3 million pixels. To achieve this 4K resolution, TK800M utilizes a DLP display technology that delivers detailed and pixelated image quality with 3D capability.
When it comes to brightness, the BenQ TK800M offers enough lumens to tackle ambient light. Additionally, you have different brightness modes, allowing you to choose one according to the content, such as movies, games, sports, etc.
Pros & Cons: The BenQ TK800M
What I like:
Very bright and comes with different brightness modes
4K HDR input
Native 4K resolution
Easy to setup
Incredible picture quality
What I don't:
Deep blacks in dark scenes
Why good for daylight?
The BenQ TK800M undoubtedly is a great pick for daylight, and it has 3000 ANSI lumens to overkill the ambient light in your room; moreover, it's a great combo of brightness and colors.
It's okay to have the projector for outdoor usages. Though in outdoor daylight, you might need a higher lumens projector.
3. LG HU810PW 4k UHD – Best Laser Projector for Daylight Viewing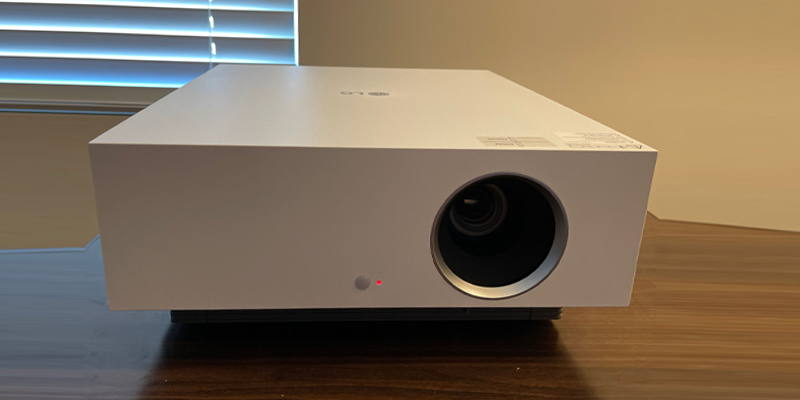 The LG HU810PW is another next-level projector for daylight viewing. It boasts 2700 ANSI lumens and utilizes Smart Dual Laser CineBeam technology for a top-notch visual experience. You can throw a large 4K image of up to 300 inches on the screen with the projector.
Unlike most laser projectors, LG HU810PW has Dynamic Tone Mapping technology, known for frame-by-frame signal range. Moreover, it has HDR10 & HLG support, while the HDR10 adjusts color tone according to the content, and HLG handles backward-compatible HDR standards.
Pros & Cons: LG HU810PW
What I like:
Native 4K UHD resolution (3840x2160p)
300 inches projection size
HDR10 & HLG support
Laser technology
Amazing picture in ambient light conditions
Wireless connectivity
What I don't:
It doesn't support 3D playback.
Why good for daylight viewing?
There is not even a single reason not to put this projector in the daylight projector category. It packs features and technologies that are designed to handle all types of environments or lightening conditions.
In my testing, I found it beating my 65 inches OLED tv in my home theater. However, it was all possible because of the ALR projection screen I used for the test. Therefore, I highly recommend you get a compatible ALR projector screen for the projector for the best visual in the daylight.
Related: Best ALR Projector Screens
4. Optoma UHD38 – Overall best for the price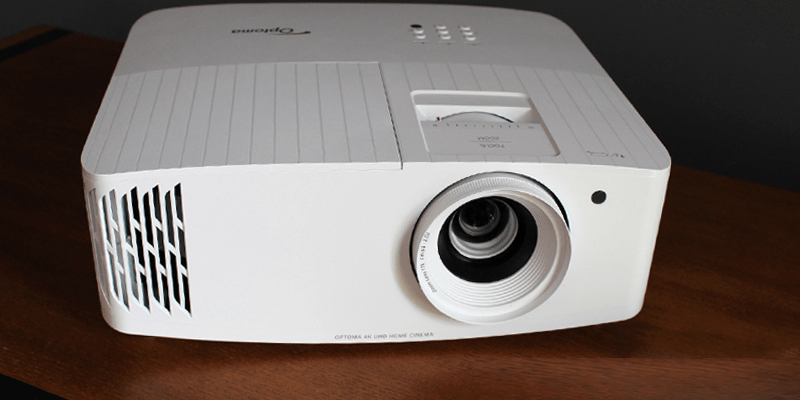 Optoma UHD38 is another daylight projector for brightness; it doesn't matter in what environment you use it; it ensures you get a bright picture. Since the projector has 4000 lumens of ANSI brightness and a contrast ratio of 1,00,000:1, you can expect a clear image in any lighting conditions.
This Optoma UHD38 projector is also an ideal choice for gamers. It has a 240Hz refresh rate and the lowest input lag down to 4.2ms, so gamers won't have any issues while playing their favorite games. Unlike the previous Optoma UHD30, the UHD38 supports HDR & HLG and offers better contrast and brightness.
What about movie lovers looking for a large screen? Well, they can enjoy up to 300 inches of screen size. Moreover, Optoma recommends 33″ to 300″ screen sizes with their optimal distances. You also have a good lamp life on this projector; it promises up to 15,000 hours.
Pros & Cons: The Optoma UHD38
What I like:
Amazing clear, bright, detailed picture quality.
Low Input lag
Setup is quite easy
Fan is quiet
4K resolution, 15,000 hours lamp life
3D compatibility
Sound quality
What I don't:
4K HDR streaming could be better.
Why good for daylight?
Its overall performance is meant for daylight viewing. It delivers a perfect bright picture in all environments. Moreover, its sound quality is good; it produces clean sound with balanced loudness. I also loved its performance for gaming; its low input lag and fast refresh rate.
5. BenQ TH685 – Best For Outdoor Viewing
BenQ TH685 is an ideal option for your outdoors. You have 3,500 lumens of brightness and Full HD (1920x1080p) resolution on this projector. The TH685 ensures a screen size of 30″ – 380″, 15,000 hours of lamp life, and a contrast ratio of 10,000:1. These specifications are perfect for your home entertainment; you can also play games on this projector as it has a decent low input lag(8ms) for normal gaming.
The BenQ TH685 is equipped with integrated speakers that produce enough loud sound for a small group of people. Moreover, you have different sound modes to enjoy various types of content. Even though the TH685 is a native 1920x1080p projector, it also partially supports 4K resolution.
Pros & Cons: The BenQ TH685
What I like:
Picture quality
Sound is amazing
Low input lag and fast refresh rate
Android-based TV OS
3D compatibility
Dedicated display and sound modes
What I don't:
There is no horizontal keystone support.
Why good for daylight?
Its ability to deliver a bright picture on a large screen is amazing. I didn't see any projector with the same price tag offering this many features, whether low input lag or sound. After testing it in various spaces, I found this projector to be an ideal option for outdoor because of its overall performance and design.
What is the best option for daylight viewing: A TV or a Projector?
It's always better to have a big-screen TV for daylight viewing as it delivers better picture quality and a more vivid image than any projector. Moreover, expensive Televisions with advanced technologies, such as built-in backlighting, display technologies (OLED, QLED, etc.), deliver bright pictures.
However, TVs are not that big and inexpensive compared to projectors. So if you want a theater-like viewing experience at your home, you'll need a projector.
On the other hand, you have a projector that is bright enough to handle ambient light and daylight. Still, struggles in daylight because of the screen. Projector screens are designed to reflect the light, but they also reflect other light besides the projector's light.
However, choosing the right projector with enough brightness (lumens) and a screen with ALR technology can solve this problem.
Buying Guide: Factors that need to be taken into account before buying your daylight projector
The following buying factors are crucial when choosing the best daylight projector, and I request you to go through them patiently and pick the perfect projector accordingly.
Brightness: Don't forget to check whether they're ANSI lumens
Two measurement units determine your projector brightness: Lux and Lumens. When choosing the projector for daylight use, you must pick the one with more lumens, as the more the lumens, the better the brightness.
You must be wondered to hear that the direct sunlight has around 120,000 lux of brightness. Therefore, projecting an image under daylight is nearly impossible for any projector, even hard for expensive TVs with backlighting technology to make an image visible.
To make an arrangement for your daylight projector to project a bright enough image on the screen. Read below how to get the most out of your daylight projector.
In a nutshell, for outdoor or daylight viewing, you'll need a projector that has at least 4,000 to 6000 lumens. In the case of ambient lighting, it's okay to have at least a 3000-lumen projector.
How to improve the performance of your daylight projector?
1. Using ALR projector screen
If you have read how to get better performance from your daylight projector above, you might already know how effectively a projector screen can combat ambient light. I highly recommend you buy a suitable ALR screen for your projector.
2. Time of the day
It's simple to understand that your projector will be in the brightest mode settings during the day. Therefore, considering the time of day can help you improve the performance of your projector. However, it is impossible to avoid daylight viewing all the time.
In the case of watching content in the middle of the day, I advise you to go for some smart light management.
3. Choose a better Area
It's always possible for everyone to close windows or take control over lighting. You can do some light management or choose a darker/shaded area for the job if you're outside. The same goes with indoors; you can block those areas throw which light comes into your space.
FaQs: The following questions people frequently ask about daylight projectors
How many lumens are required for a daylight projector? 

Make sure your daylight projector offers a minimum of 3000 lumens of brightness. You can buy the best daylight projector offering 3000 lumens and more in the $500-$1000 range.
How many lumens do I need to project outdoor?

Your daylight outdoor projector should be more bright and sharper in colors with better contrast. Therefore, for daylight outdoor viewing, make sure you pick a projector that offers at least 4000 lumens
Why do projectors struggle to produce enough bright images in the daylight? 

Compared to the brightness (around 100,000 lux) of sunlight, no projector can compete with this number. It may be silly to even think of it, let alone a bright image. However, if you could control this sunlight, chances are you'll be able to project enough bright images on the screen. And, make sure you have a powerful projector that has at least 3000 lumens. 
What is the ideal number of lumens for daylight? 
It all depends on your taste. There is no rocket science in understanding that a projector with high lumens will deliver a bright image. It's simple, the more the lumens, the brighter the image. However, I can recommend 2,000 lumens for a 100″-120″ screen if there is no ambient light. Otherwise, you are good to go with a projector offering more than 2,500 lumens for daylight viewing.
Can Any projector handle outdoor daylight viewing? 
Outdoor daylight viewing for a projector is possible but a bit tricky. It will require many arrangements as well as a powerful daylight projector. You'll also need to consider whether the projector has dedicated brightness modes to produce enough bright images in bright environments.
Does a projector screen also play a role in daylight viewing? 
Yes, it does. Moreover, it becomes crucial to have a good projector screen when you use your projector outdoors in contact with direct sunlight. Don't use any matte white-finished screen for outdoors. Instead, go for a black or grey finish projection surface for your outdoor use.
Conclusion: Which projector on the list is the best for daylight viewing?
It's difficult to recommend any projector directly without knowing your needs. Though, all the five projectors on the list are excellent for daylight viewing. Also, I don't want to ignore the fact that projectors don't perform well in direct sunlight, as they are not designed that way.
Even projectors with higher lumens can't produce enough bright images in outdoor daylight. That's why I can't recommend any projector for daylight right away without knowing your purpose of use.
However,
You can find the best daylight projector for your needs using the guide mentioned above. Or, read the quick summary below.
In a nutshell,
Dark Cinema Rooms: At least 1000
In the case of the darkness, I suggest at least a 1000-lumen projector. Undoubtedly, a projector with 1000 lumens of brightness will let you enjoy your movies in a dark room. Take a look at these top 100 dollars projectors offering 1000 and more lumens.
A bright room with lights on
If you want to set up your projector in a bright room with the lights on, go for the projector that offers at least 2,500 to 3,000 lumens. A projector with such numbers can fight the ambient light and deliver a sharp and vivid image on the screen. You can pick any one of the top two: LG HU810PW 4K UHD and BenQ TK800M.
Daylight Viewing
The number of lumens should be at least 3000 to 4000 for daylight viewing, depending on the daylight. Remember, the higher, the better. Also, make sure you have an ALR projector screen to deal with daylight. In this case, you have two options, BenQ TK800M with 3000 lumens and Optoma HZ39HDR with 4000 lumens.
Daylight outdoors
It's the highest level when it comes to the brightness of the projector. Daylight backyard requires at least 5,000 or more, and if it's early in the morning or afternoon backyard parties, you'll need at least 4,000 lumens. You can go for the Optoma HZ39HDR laser projector.
Still, if you have any doubt about the daylight projectors, leave a comment below. I'd love to answer your question. Thank you so much. Have a nice day!