Buying a mini projector can result in productivity; it's a must-have thing for your business presentations. Since mini projectors are portable and compact, you carry them anywhere you want. Moreover, if you have the best mini projector in your hand, you'll enjoy a clear, sharp, and vivid picture. However, finding the best one is a daunting task. Why?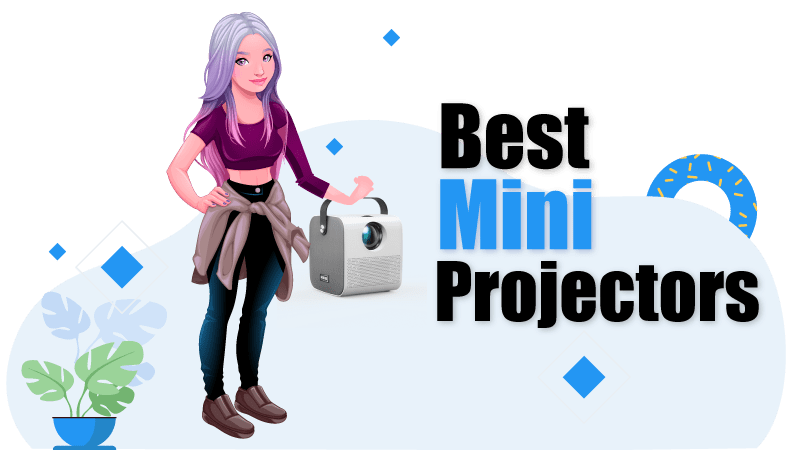 In this guide, I'll share the best mini projectors of 2022. These mini projectors offer excellent brightness, high contrast, and high resolution, just like typical projectors. Moreover, they're compact, lightweight, and super portable to carry.
All three mini projectors serve different purposes, or say, I picked them keeping other uses in mind. It means you won't have any problem choosing the best one for your needs.
Please, take a look at – why you should choose a mini projector rather than a pico projector. Also, The buying guide, packed with crucial buying factors. And, Quick Tips to avoid common mistakes while purchasing. For confusion and doubt, check the conclusion where I've explained everything in a nutshell.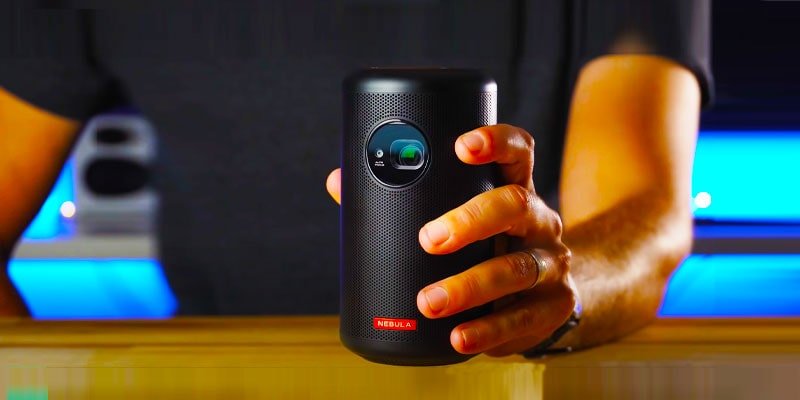 The Nebula Capsule II is a can-sized mini projector; it's very portable, measures only (5.9×3.14) inches (Height x Diameter), and weighs 26.1oz. The projector is primarily designed for portability; it has a powerful built-in battery with 4 hours of battery backup—you can enjoy your favorite content for up to 2 hours in battery mode and 2hrs in standard mode. Besides, it has a built-in 8W Dolby Digital+ speaker. Its sound is excellent; loud and clear, perfect for a small group of people.
You can connect an external sound system using its 3.5mm audio output port as a wired connection. Also, You have Bluetooth to connect any Bluetooth-enabled device to the projector. Besides, the projector has dual Wi-Fi band support (2.4GHz & 5GHz) and adopted the popular wireless standard 802.11n.
The projector uses DLP display technology to display the image; it boasts 200 ANSI lumens of brightness and offers native 720p native resolution (1280x720p) with a 16:9 aspect ratio. You can enjoy up to 100 inches projection size just from 2.87m. Other recommended screen sizes include 80″ from 2.29m, 60″ from 1.72m, and 40″ from 1.14m.
Since Capsule II is a multimedia-type projector, it has two working modes: a Projector mode and Bluetooth Speaker mode. When it comes to its physical ports, you have an HDMI, a USB Type-C port, an Aux out, and a USB Type-A port.
The Nebula Capsule II is a smart projector; it runs Android TV OS so that you get the support of up to 5000+ Apps, including Youtube, Twitch, Hulu, and others. Though, for Netflix, you'll need to download the Nebula Manager App. Overall, you have the best multimedia mini projector in your hand.
Pros & Cons: The Nebula Capsule II
What I like:
Android-base OS & its customized UI
Its design
Excellent Picture quality
Lightweight and compact; super portable
Easy to setup
What I don't:
It doesn't include a lens protection cover.
2. Optoma ML750ST – Best Mini Projector For Business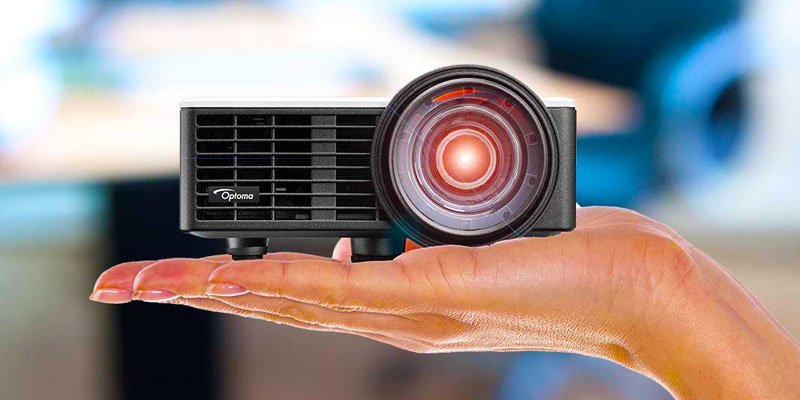 The Optoma ML750ST is another projector with great portability; however, more suitable for business professionals than Anker Nebula Capsule II. It's a palm-sized mini projector, measuring 4.4×4.8×2.2 inches and weighing under 1 pound (0.88lbs); you can hold this mini projector in your hand like your smartphone. Therefore, carrying it or traveling with it is going to be very convenient for you.
This Optoma ML750ST mini projector offers short-throw projection. It requires only 6 feet from the wall or screen to project a large 100-inch image. To fill this large image size, the Otopma ML750ST millions of pixels; it offers native (1280×800) WXGA resolution. Also, a high-contrast ratio of 20,000:1 to bring you top-notch picture quality, especially PowerPoint presentations.
The ML750ST is well-equipped with brightness; you have 700 lumens—enough for projecting an image in meeting rooms, classrooms, training rooms, conference rooms, Etc. You can feed the content using its HDMI/MHL ports—it also accepts screen mirroring when a WUSB adapter is connected to the HDMI port. However, you'll need to buy it separately as Optoma doesn't include it in the box.
Pros & Cons: The Optoma ML750ST
What I like:
Bright; works well in lower light
Very portable: light & small
Easy to setup
Build quality
Short-throw projection
Tripod mountable
What I don't:
No zoom feature
3. WEMAX DICE – Best Mini Projector For Outdoor Movies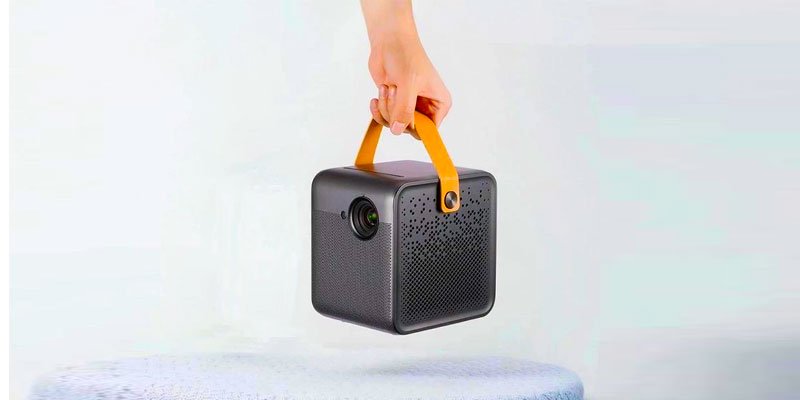 As it suggests, The WEMAX is a dice-shaped smart mini projector. Unlike most portable projectors with SD resolution, the WEMAX DICE is a native Full HD projector and supports 4K Ultra HD input. It promises 700 ANSI lumens of brightness to produce a vivid image in Full HD 1920x1080p resolution with a 16:9 aspect ratio.
The DICE runs on the Android TV OS; you can easily download your favorite apps, such as Amazon Prime, Youtube, HBO, Hulu, Netflix, and many others from the Google Play Store directly. Since this mini projector is smart, you have the option to mirror your phone's screen to the projector wirelessly.
You have some advanced options for the image correction, such as an Autofocus and 4-point keystone correction. Besides, this mini projector lets you project projection sizes between 48 and 120 inches at true Full HD resolution (1920x1080p).
You also get the support of Dolby Audio; it has two 3W speakers that produce enough loud and immersive audio. In the case of an external sound system, you have an Audio out port and Bluetooth. This mini projector also includes a built-in 16000mAH rechargeable battery that promises a couple of full-length movies.
Pros & Cons: The WEMAX DICE
What I like:
Lightweight and portable
Autofocus and keystone correction
Android-based OS
Full HD resolution
Easy to setup
Good sound quality; supports Dolby
What I don't:
Native Netflix and Prime Apps support
What to choose? A pico projector or a portable projector?
When it comes to portable projectors, you have two different options to choose from, you can either buy a pico projector or a mini projector.
Pico vs. Portable Projectors: The key differences
A pico projector is super portable like a smartphone; however, it struggles to give a good quality image because of its single panel LCD—responsible for projecting images. If you're interested in pico projectors, take a look at the best pico projectors.
On the other hand, you have an actual portable projector; it qualifies as a projector equipped with better brightness and delivers excellent image quality because of its DLP panel. Remember, Only the best portable projectors use DLP technology.
Buying guide: What are the essential factors for a mini projector?
1. Brightness: Brightness is very crucial for a mini projector
Since most mini projectors work excellently in the dark, the brightness of your mini projector makes the difference. In other words, you can't see a bright picture on the screen unless your projector has a good number of lumens—lumens measure the brightness of any projector.
A high brightness also plays a significant role when there is a lot of ambient light or you don't have control over the lighting. So I advise you to always go for a projector with high brightness.
2. Contrast Ratio: Don't forget to check the contrast ratio of your mini projector
The contrast ratio of your projector is responsible for the brightest and the darkest colors. The higher the contrast ratio, the better the brightest/darkest colors. If you buy a projector with a low contrast ratio, you'll see a washed-out image on the screen, or maybe too dark. So always go for the higher number when it comes to contrast ratio.
3. Battery: Your mini projector must include batteries
Batteries make the projector super portable. It is the primary benefit of getting a mini projector. Like your smartphone, a battery-powered projector can be carried easily anywhere you care to go. For example, the Anker Nebula Capsule II offers 4 hours of battery backup. Meaning, you can enjoy a couple of movies on a single charge.
So you can consider this factor if you want to get the most out of your portable projector.
FAQs: What do most people ask about Mini projectors?
Do I need a projector screen for my mini projector? 
Undoubtedly, an actual projector screen will give you a better picture than a wall or projector paint. So it's all up to you; you can use a wall or an actual projector screen for the purpose. However, make sure your wall color is white or black; otherwise, the image quality won't be up to the mark. 
Should I buy a TV than a min projector? 
If you have the best mini projector, you don't need to buy a TV. Your TV won't give you that flexibility that you get from a projector; you can carry your mini projector anywhere you want. There are other advantages too of a mini projector, such as a large projection size, portability, price, Etc. 
Tips: Tips to buy the best mini projector
Tip 1: Projectors' Misleading Metrics
When it comes to mini projectors, it's pretty common to find projectors with misleading metrics, such as Lux, lumens, LED lumens, brightness at the source, lamp brightness, ANSI lumens, etc. It's just a marketing strategy for companies to promote their products.
Remember, ANSI lumens or lumens measure the brightness of any projector. If you're confused about Lux, ANSI lumens, and lumens, check out: Lux vs. lumens vs. ANSI lumens.
Tip 2: Lifespan of your mini projector
Unlike TVs, most projectors require regular maintenance. If you want to extend the lifespan of your mini projector, make sure you place it in a dust-free space and keep the counterparts clean. And, If you use your projector outdoors or in dusty areas, make sure you clean the air filter and vents regularly.
Conclusion: Which mini projector out of three is the best for you?
Mini projectors mean portability, and this is what everyone should expect from the best mini projector. Besides the portability, built-in batteries, the operating system, built-in speakers, and the price should be on the list of mini projector buying factors.
Pick 1: The Anker Nebula Capsule II – Who's it for?
The Anker Nebula Capsule II is what you're looking for; a perfect and the overall best pick that offers everything just mentioned. It is super portable, lightweight, and cost-effective, moreover; a multimedia-type projector that can be used as a standalone Bluetooth speaker. It has Wi-Fi to screen mirroring, be it Android or IOS devices. Besides, you can access all the content and control over Voice command: it supports Google Assistant.
Pick 2: The Optoma ML750ST – Who's it for?
The second mini projector, The Optoma ML750ST, on the list is ideal for business professionals and education purposes. Why? This mini projector utilizes a 0.45″ WXGA DMD DLP chip—An advanced technology designed to produce high brightness. It packs 700 ANSI lumens of brightness, 2000:1 contrast ratio, native HD 720p resolution (1280x800p), LED light source (~20,000 hrs of life), and wireless screen mirroring capabilities via its HDMI port.
One of the best features of this mini projector is its short-throw projection; it doesn't require much distance from the screen to produce a large image. So, The Optoma ML750ST is an unbeatable mini projector for business and education.
Pick 3: The WEMAX DICE – Who's it for?
The third mini projector on the list is from WEMAX, WEMAX DICE. It's a dice-shaped mini projector with an excellent design. It supports 4K UltraHD HDR10 input and offers a native 1080P Full HD resolution. It can project up to a 120-inches image for you in 1080p resolution with a 16:9 aspect ratio.
Apart from its high-end projection features, it's very portable, ensures easy carrying, measures 6.1×4.9×6.3 inches, and weighs only 4.8lbs. You have a built-in 16000mAH rechargeable battery that allows up to 3 hours of non-stop entertainment. Moreover, you can charge other devices, such as your smartphone, tablet, or other USB-enabled electronic devices, via its USB 2.0 input port.
So overall best mini projector for outdoor movie nights, traveling, camping trips, school/business presentations, and gaming/movie marathons.
If you doubt these mini projectors, let me know in the comment section below. I'd love to answer your questions. Thank you so much for reading the entire article.