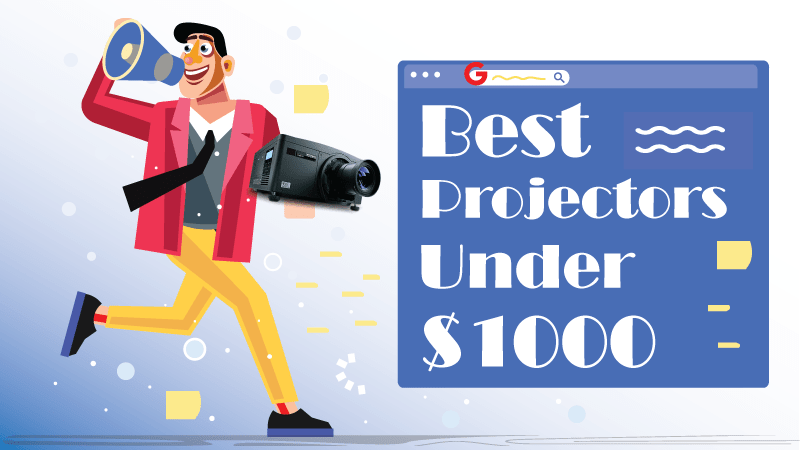 If you're all set to spend $1000 on a projector, you're most welcome to the article. I can ensure you that you'll be able to enjoy a movie-theater-like viewing experience at your home, be it watching movies or playing video games. Since there are many different popular brands and their projectors under 1000 available on the market offering the same features and technologies, making it a daunting task to choose the best one.
Therefore, I've reviewed and compared many of the popular projectors carrying the same price tag for you to find the perfect projector for your needs. However, You might ask the criteria of my testing that differentiate the best projectors from others.
Let me walk you through,
Throw Distance
Connectivity & Compatibility options,
and the process of testing ends up by checking the overall quality of the picture displayed. You can read each factor in detail in the buying guide below. Moreover, there is FAQ sections covering essentials you'll need while choosing a projector.
Now, for those who are still confused about whether to buy a projector or not.
The benefits of the best projector under 1000 are:
Your projected screen will be highly adjustable; however, the only limitation might be the size of your wall.
It is will a cheaper option than buying any OLED smart TV for the same picture quality.
You can easily enjoy a 4K resolution on a big screen.
Without a doubt, a box-office feeling at your home.
You can take it with you anywhere wherever you want because of its portability.
Here are the best three projectors for under $1000 of 2023
Optoma HD39DARBEE – Best Home Theater Projector Under 1000
Epson Pro EX922 – Best Business Presentation Projector Under 1000
BenQ HT2150ST – Best Gaming Projector Under 1000
Key Highlights
3D display technology
3500 Lumens
32,000:1 Contrast rtio
1920x1080p native Resolution
1.4 to 2.24 Throw ratio
From 51 inches to 370 inches screen sizes
Lamp life of up to 15,000 hours
A 1-year limited warranty
Price under $1000
Overview
The Optoma HD39DARBEE uses DLP display technology that enables you to watch 3D movies. With over 3,500 lumens of brightness, it offers the perfect contrast and a ratio of 32,000:1. Comparing to other projectors, I found its brightness more accurate and sharp even in a well-lit room. It means your desire to watch your favorite movies and playing games will be the next level.
Compared to others from the same category projectors, Its lamp life is better; it promises up to 15,000 hours of lamp life. As a primary and expensive projector component, it is always better to have a projector that has greater lamp life.
Pros & Cons
What I like
Its high brightness (3,500 lumens) and contrast ratio (32,000:1)
Lamp life (15,000 hours)
Its maximum projection screen size (370 inches)
DLP display (3D-enabled)
What I don't
There is no Horizontal keystone adjustment.
Who's it for?
Everyone who wants it for home theater entertainment or outdoor movies and entry-level gaming. Even though it comes with an input lag time of 32 milliseconds, it struggles to play fast-paced video games. Therefore, for serious gaming, I'd suggest the BenQ HT2150ST.
Verdict: Optoma HD39DARBEE
I had some issues with extreme gaming, long-throw, and lack of horizontal keystone adjustment. Since it was a small room around 14 feet, facing the long throw issue was normal. Optoma recommends the projector for a place that is at least 15 feet or more. Hence, it is my advice too for a better viewing experience.
However, The Optoma HD39DARBEE is the best projector for under $1000 for a home theater setup. Moreover, you'll enjoy watching your Full HD favorite stuff on its maximum screen size of 370 inches.
Key Highlights
3LCD display technology
3,600 Lumens of brightness
15,000:1 Contrast ratio
1920x1200p Resolution
3 to 30 inches Throw distance
29 inches to 300 inches screen sizes
A 1-year limited warranty
Overview
The Epson Pro EX9220 can take your presentation skills to the next level. Since the projector is designed for business presentations, it has to offer 3,600 lumens of brightness. Even though it leans toward presentation, its high brightness and contrast ratio is enough for watching movies and gaming. With a whopping 3,600 lumens of brightness and a 15,000:1 contrast ratio, it ensures the projected display to be seen even in well-lit rooms.
I love that it supports the wireless mirroring feature that enables you to connect your mobile device or a laptop directly to the projector using Miracast. However, the feature is only for Windows and Android devices. If you own an Apple device, you'll have to connect it via an HDMI cable. Unlike other wireless projectors in this price range, I found its wireless setup incredibly faster, especially for mobile devices. It can be done using QR codes.
Compared to other presentation projectors, its lamp life is quite better offers 10,000 hours of lamp life. It is backed by a 1-year limited warranty.
Pros & Cons
What I like
Perfect contrast ratio and brightness for presentations
Lamp life (10,000 hours)
Fast Wireless setup and mirroring (possible using QR codes)
Its design & carrying case
An array of connectivity & compatiblity options
Maximum screen size (300 inches)
What I don't
Its FAN noise while heavy-duty tasks
Who's it for?
As far as the maximum size of the screen is concerned, It is more suitable for those who give presentations to a large group of people, even for hosting large movie viewing parties.
Verdict: Epson Pro EX9220
There is no doubt that a 3LCD projector should be equipped with a better contrast ratio than the Epson pro offers. Relatively, it is low for detail and clarity for movies and gaming. Therefore, I advise you to pick the projector for presentation purposes, rather than movies and gaming.
3. BenQ HT2150ST – Best Short Throw Under 1000
Key Highlights
DLP display technology
2200 ANSI Lumens of brightness
15,000:1 Contrast ratio
1920x1080p Native Resolution
100″ ~ 4.9 ft Throw distance
300″ maximum screen size
7000 Hours Lamp Life
Price under 1000 dollars
Overview
The previous HT2050A had been my favorite projector until HT2150 arrived. Comparatively, it is more expensive and shares the same design. Since it is more powerful and packed with more advanced features and technologies, it is my go-to projector for gaming for under 1000 bucks. So the HT2050A is equipped with 3D DLP display technology, 2,200 ANSI lumens of brightness, and a 15,000:1 contrast ratio.
Like Optoma HD39DARBEE, it has the same 16 milliseconds lag time input, making it more suitable for gaming. It can produce the maximum screen size of up to 300 inches, while the short-throw distance is 3 feet for a 100-inch screen size. Compared to Optoma HD39DARBEE, in the short-throw ratio, the HT2050A is unbeatable.
Full HD 1080p gaming with HDR details is amazing since it features the Game Mode designed for greater picture quality and better visual precision. A low 16ms input lag and extremely fast response is enough for smooth and lag-free gaming. Moreover, the sound quality of its built-in 2×10 watts speakers is also good; you might not need external speakers for the same.
Pros & Cons
What I like
Short Throw distance (100 inches from 3 feet)
Contrast ratio, Rec.709 (Cinematic color production)
Fast Response time (~16ms low input lag)
1.2x zoom and Vertical keystone collection
A 3-year limited warranty
What I don't
Lamp life
Who's it for?
If it is a small room setup, go for it. On the contrary, you have HD39DARBEE for a large room setup. As I said above, the short-throw ratio and low input lag time have been my primary reasons for taking this projector on the list for gaming.
Verdict: BenQ HT2150ST
The BenQ HT2150ST produces accurate colors because of a 6x speed RGBRGA color wheel. Its cinematic quality is impressive. I love the fact that its minimum throw distance is just 1 foot; however, I recommend you projector at least 100 inches screen from an optimal distance of 3 feet for a better viewing experience, especially for gaming.
Buying Guide: Features to consider before buying spending $1000 on a projector
1. Display Technology: Which display technology is good for an under $1000 projector?
Modern projectors offer two types of display technologies: An LCD and a DLP. However, other expensive displays, such as LCoS and Laser, that we can't expect under $1000, better off forget them. Let's stick to LCD and DLP types. DLP projectors are sharper and 3D-enabled.
You can enjoy 3D-ready movies using 3D glasses as they incorporate 3D technology. They contain a set of mirrors; thus, projecting more detailed videos and images becomes easier. However, they are expensive and create the rainbow effect.
On the other hand, LCD technology is more common in televisions because of its high brightness capability. It is cheap and has no rainbow effect compared to DLP.
Verdict: Both are good. It entirely depends on your purpose. It is not always about display technology but the overall specifications of a projector. For example, You should pick the LCD type for home theater setups and business presentations, while the DLP for gaming and 3D purposes.
Brightness: The ideal number of lumens for a 1000 projector?
It is a very important factor that everyone should check before buying any projector, be it the cheapest projector or an expensive projector. The brightness of a projector, measures in lumens, determines the overall picture quality of an image.
For example, a room with ambient light requires a brighter projector that offers at least 2,500 lumens, depending on the lights and numerous windows in your room. If you want to watch movies in a dark room or backyard, even a 1500-lumen projector will work.
Verdict: I advise you to figure out the ambient light of your desired space, then pick one that fits in.
Contrast Ratio: Is it important for the home theater?
Like brightness, the Contrast of a projector is another important factor to consider. A number expresses it. Let's say your projector offers a 2000:1 contrast ratio. It means the brightest white is 2000x brighter than the darkest black of an image.
When it comes to crystal-clear detail, a high contrast ratio comes into the field. Why is it important for the home theater? You can't see rich cinematic projected content if there is not enough contrast ratio.
In other words, if you want your projector to produce a crystal-clear image, it will need a higher contrast ratio for a broader dynamic range of colors.
Resolution: Can I expect a 4K resolution from the best 1000 projector?
The resolution, more precisely a native resolution, of a projector plays a big role in the projector industry. The resolution of an image of a projector is the number of pixels – The higher the resolution, the finer the projected image detail.
Make sure your $1000 projector offers the native FullHD resolution 1920x1080p. As you can see, all of the projectors listed above come with the same native 1920 x 1080 resolution.
Note: You can't find any projector in this price range that offers 4k resolution. However, most projectors support 4K resolution from the connected media devices, such as your mobile phone, USB, laptops, PCs, and many others.
FAQ: Frequently Asked Questions About Projectors
It's my well-lit room, what type of projector will be the best for me? 
You can't expect the best picture quality even from expensive projectors if ambient light is in your room. Whatever projector you have will operate well only in a darkroom rather than a bright room. You can still go for a projector that offers a higher brightness (at least 3,000 lumens) to overcome ambient light much better. 

As you said, your room has a lot of ambient light. Your priority should be looking at the number of lumens your projector offers. I advise you to choose a projector that offers at least 3,000 lumens. All the projectors that I have reviewed in this article come with more than that.  
I have an Apple laptop. What projector will be compatible with my Apple laptop? 
You don't need to think of it much as all modern projectors these days are compatible with Apple devices, be it Apple laptops, Apple phones, iPads, or iMacs. 

However, Most Apple users face a common issue: the projector's standard connectivity option – HDMI port. Since all modern Apple laptops come with the thunderbird port, the connection between them becomes challenging. 

In that case, you can buy a thunderbird to HDMI adapter. If it is your iPhone, you can buy The Lightning Digital AV Adapter. 
I want to buy the best 3D projector for under 1000. Possible? 
Yes, a $1000 projector can have the 3D capability as long as it uses 3D technology. These 3D projectors are designed with DLP display technology. 
Most native 3D projectors require you to use 3D glasses and, of course, 3D media stuff to produce separate images for the right and the left eyes.
Is it possible to increase the brightness of the projected image if you have a low brightness projector? 
It is only possible if you shrink the image size. It might increase your projector brightness to some extent. Also, make sure there is no ambient light in your place. 
Can you recommend any projector under $1000 with the longest lifetime of the light source?
You can buy the Optoma HD39Darbee. It has 15,000 hours of lamp life. Since it the recommended number, you can go for it. 
Conclusion
Still, do you have a problem finding the best projector for under 1000? Don't worry, let me help you.
In a nutshell,
For those who want the best short throw projector under $1000, go for the BenQ HT2150ST. If you are looking for your home theater setup and large areas, buy the Optoma HD39DARBEE. For those looking for business presentations under your budget, go for the Epson Pro EX9220. If it is for gaming & backyard outdoor movies, go for the BenQ HT2150ST.
Please let me know how helpful was the article for you. You can ask your queries in the comment section below; I'd love to answer each of you. Have a nice day!
Check other budget projectors: