If you have been longing for a projector screen, this projector screen buying guide will do the handholding.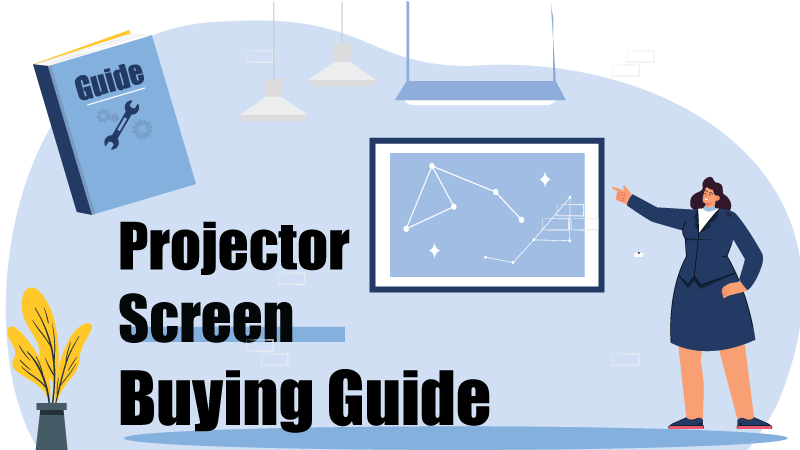 Most of us have seen a white screen in our office board rooms on which the projector displays the image. This white surface is called a projector screen. It is commonly used in classrooms, corporate offices, and outdoor occasions like a bridal reception or a prize distribution ceremony.
Today, because of the pandemic, people have started building a home office for themselves, increasing sales of projector screens. If you are setting up an office at home for the first time, you might need to invest in a projector screen where you can display PowerPoint presentations.
Some common questions that crowd a person's mind when stepping out to buy a projector screen for the first time are the appropriate size, how much you should spend etc.
Considering all of this, I bring a complete projector screen buying guide that tells you what you should look at while buying a projector screen to make sure you do not land up spending lousy money after good.
Why should you buy a projector screen? What are the benefits of buying a projector screen?
Before I walk you through the essential factors that need to be considered while buying a projector screen, let me first throw some light on the benefits of a projector screen.
When does someone tell you to buy a projector screen? Of course, the first question that comes to your mind is why should I buy a projector screen?
Listed below are a few benefits when you use a proper projector screen. Also, some limitations or issues you might encounter while using the projector screen.
1. Projector Screens ensure you get to see true-to-life images.
People prefer using projector screens instead of reflecting images on the wall because projector screens give a high resolution to the pictures. After all, the photos are clear and accurate to life. However, if you are not using a screen, then the projector cannot portray high-quality images even if it has the potential to do so. In addition, when the projector illustrates embodiments on the wall or cloth, the pixels tend to distort, which does not happen when a screen is used to reflect the ideas.
However, projector screens are also available in different shapes, sizes, and quality based on which the quality of the image is determined. Therefore, I recommend whenever you are thinking of investing in a projector screen, try buying a high-end screen. Even if it is a little expensive initially, it proves to be beneficial in the long run.
2. A good projector screen ensures all the colors are in their place.
Colour distortion is a promising sign that tells you a problem with the picture quality. When you see colors fading away or piling onto one another, be rest assured there is a problem in the projection. Whenever you are projecting your projector on a rough surface where light cannot pass quickly, the colors of the image seem to leap over one another or fade away. It's a clear sign that there is a problem with projection. A good projector screen ensures the color balance is not distorted. The images are clear, bright and the colors are in their place. Therefore, if you wish to enjoy looking at the projector screen, make sure the screen you buy maintains color balance.
3. A good projector screen ensures you can control image quality.
Today, projector screens are not just mere screen that displays images; they also decide how you would see the pictures. The screens have controls to increase or decrease brightness and contrast at your convenience. If you feel the images portrayed on the projector screen are too hard on the eyes, you can reduce the intelligence, and if you think it's too dull, you can adjust the contrast and brightness to ensure you can enjoy looking at the images. These controls also provide your eyes do not get tired when looking at the screen.
4. A good projector screen is easy on the eyes.
I spend hours looking at the projector screen, figuring out a presentation, or watching a live program. Buying a high-end projector screen is that your eyes don't get strained. The images you see on the screen are smoother than the regular images. You can look at a projector screen for hours.
You must be feeling by now. Is a projector screen all that good? The answer is yes, a projector screen is a necessity if you need to use a projector but similar to other gadgets projector screen also has its limitations.
The Limitations or Disadvantages: What are the limitations of your projector screen?
It takes a while to align the screen with the projector, so whenever you are putting up a projector screen, you need to spend the time required to ensure the screen portrays the images flawlessly.
Another limitation of projector screen is that it is a bit expensive. However, you do get a wide range of projector screens in the market, but if you are one of those people who do not wish to compromise in quality, then you need to buy a projector screen that is a little expensive. But the benefits you can reap from a good projector screen are worth the bucks spent on it.
Now that you are aware that a projector screen is a must when using a projector, listed below are a few pointers you need to consider when buying a projector screen. Even if you are purchasing a projector screen for the first time, I am sure these pointers will help you buy a quality projector screen without any hassles.
Key pointers to keep in mind while buying a projector screen for yourself
1. Compatiblity: Make sure your projector screen is compatible with your projector.
When we buy a projector screen, we already have a projector at home. However, since projectors are of different types, the projector screen we purchase must be compatible with the projector.
For example, if we have a 4k projector, we believe the screen should not be a standard projector screen and should be compatible with a 4K projector.
The easiest way to figure out which projector screen will be compatible with your projector is to identify the model number of your projector and tell it to the person who is selling the screens. They have adequate knowledge and experience. Then, you can either refer to this proper projector screen buying guide or trust their judgment.
2. The Material: What things make you decide the material of the screen?
The projector screen material should be decided on the ventilation of your room. When I went to buy my first projector screen, I was utterly confused when the shopkeeper introduced me to the different variants of projector screens. I was amused to see the other materials projector screens are made of, and it was challenging for me to choose which one was for me.
What helped me choose the suitable material for the need?
If you are facing issues trying to choose the material, I will tell you an easy way out. Analyze the amount of light passing through your room and, based on that, choose a projector screen for your room. The light dramatically influences deciding which screen would be suitable for your space.
3. The Size: How will you know if the screen fits your space?
Calculate the size of the room before finalizing the projector screen. Generally, projector screens are more significant because they are designed for viewing objects from a distance. Therefore, calculate the space available first whenever you plan to buy a projector screen. We must place the projector at a distance to not obstruct the viewing.
Therefore, it's crucial to gather information about the size of the room or venue where the projector screen is supposed to be placed. Based on the size and space of the room or forum, the projector screen size depends.
The projector screen size also decides where the screen should be placed. Therefore, we can say that size and location of a venue where the screen is supposed to be recognized is directly related to one another.
Other essential features that should be considered
The features listed above are some of the basics that should be looked at while buying a projector screen, but apart from them, a few additional features should be considered while buying a projector screen.
Consider buying an acoustically transparent projector screen.
Choose a projector screen that has a rear projection. This is important if you feel there is an obstruction in the front. These screens are designed to display images from the back end or backside. It works best to say ideas in a place where you have a moving crowd. For example, an outdoor seminar, a movie hall, etc. Because of the rear projection, the pictures displayed on the screen are more explicit as there is minimum obstruction.
You can also use a manual projector screen that is connected through wires. If you are comfortable handling old technologies, the electrical or manual projector screens are best. These screens are connected through cables. These screens are required if you wish to watch 4K videos. Surprisingly electrical or wired projectors can handle high-resolution videos better than any other projectors.
If you have a scarcity of space, you can think of investing in an ultra-short-throw projector screen where the projector is kept at a shorter distance, and the images portrayed on the screen are relatively brighter.
Finally, some projectors reflect images and give them a curved edge because of which the hardness of the images decreases, and the photos are soft on the eye. These screens are most suitable if you have a home theatre and wish to have your cinema hall. Curved edge projector screens give peripheral vision to your screens, making viewing a delightful experience.
FAQ: What do most people ask about projector screens?
Can I make a Projector Screen out of a Bedsheet?
In principle, a projector can function without a screen. However, you will not get the most out of your projector. Using a dedicated video projector screen can assist you in doing this. A bed cover is considerably worse since every ripple and wrinkle will be visible. Furthermore, most light will pass through the cloth, resulting in a washed-out image.
How do you determine the size of the screen?
It's impossible to compare the height or breadth since many distinct aspect ratios exist. As a result, the diagonal is commonly used to measure projector, television, computer, and even phone displays. This also makes it much easier to compare different surface areas. The easiest way to know the size of the screen is to either ask an expert like the person who is selling the net or refer to the manual provided with the projector screen. If you buy a screen online, you can view the screen size in the specifications of the product you are purchasing and other technical details. 
What screen size should i get for my projector?
The application determines the size of the projector screen you should buy.
Some individuals desire the giant screen, while others choose a screen with the best size-to-distance ratio. Depending on why you wish to buy a projector screen, the screen size is determined. Therefore, if you ask me what screen size you should believe, I'll tell you first to figure out why buying a projector screen. 
Final Takeaway: What else is to be taken into account?
Apart from thee features the screen format is also one of the significant aspects to consider when buying a projector screen. Some standard screen formats are HDTV, Wide Screen, Video, Square, etc. If you have little or no knowledge about screen formats, I recommend investing in a projector screen that works on multiple forms.
As for the size and cost of a projector screen, you need to remember two things.
Firstly, if you want to use it in your home theatre, you'll need a widescreen between 100 and 150 inches. Of course, this depends on the size of your media room and the location of your seats.
If you're going to utilize it for a more prominent place, such as a church projection screen or another large venue, a screen larger than 150 inches is recommended.
Secondly, a projector screen can cost anywhere from $50 for a low-cost model to $4000 for a high-end model.
The cost of projector screens can help you choose which one is the finest. A brand that offers more expensive screens will provide a superior product.
It's crucial to remember that your projector screen's worth is what you're genuinely searching for.
Related: Best Projector Screen 2023, Top Motorized Projector Screen 2023, Best Outdoor Projector Screen 2023