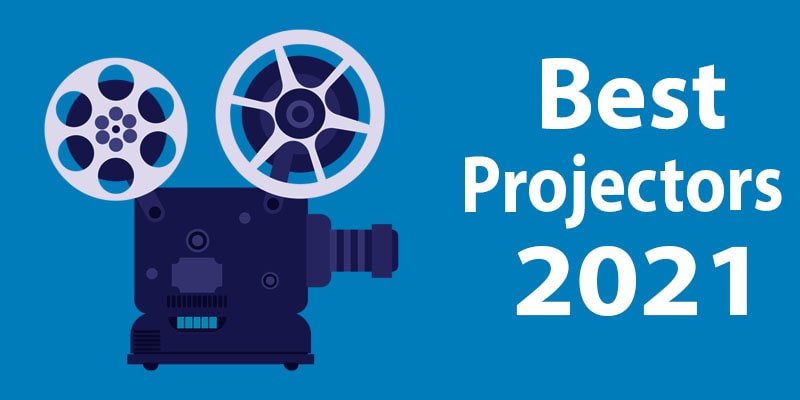 Life is not possible without a big-screen presentation for business and hosting a movie night on a giant-screen. If you're a gamer or a movie lover, there is no worst way to enjoy something on a small television as a projector offers more screen size than any TV out there. So, today, I'll take your entertainment to the next level by getting you one of the best projectors for your need.
So, let's understand what we can expect if we have the best projector of 2023? 
It will help you lead your business —a big-screen presentation. It requires the best projector for business.
You'll enjoy your 4k movie better on a projector than a television. It requires the best home theatre projector.
You can take your projector anywhere you want because of portability. It requires the best portable projector. 
You'll love playing UltraHD games on a big screen. It requires the best projector for gaming. 
You don't need to worry about the space as you can carry a projector in your briefcase too. It requires the best pico projector. 
You can take your movie experience far away by installing the best outdoor projector in your backyard. 
The most importantly, you don't have to spend much money on a projector. It requires the best cheap projector. 
Wait, what If I divide these projectors into your budget. For example,
Those who're interested in in-depth reading about projectors want to find the best projectors on their own.
Then, I have the ultimate projector buying guide for you that will help you to learn about different types of projectors and find the perfect one for your needs.
The projector buying guide includes projector types and projector technologies — such as light sources, brightness, contrast ratio, resolution, throw ratio, lens zoom, and keystone correction.
I'll also let you know about some optional features of projectors that include 3D technology, wireless projectors, projector screens, and adapters.
Now, how can I forget about projector accessories, including projector mount, universal remote, sound system, and warranty protection?
Related: How to mount a projector?
Take a look at reviews of the Two best projectors in 2023
1. VANKYO LEISURE 3 – Best Portable Mini Projector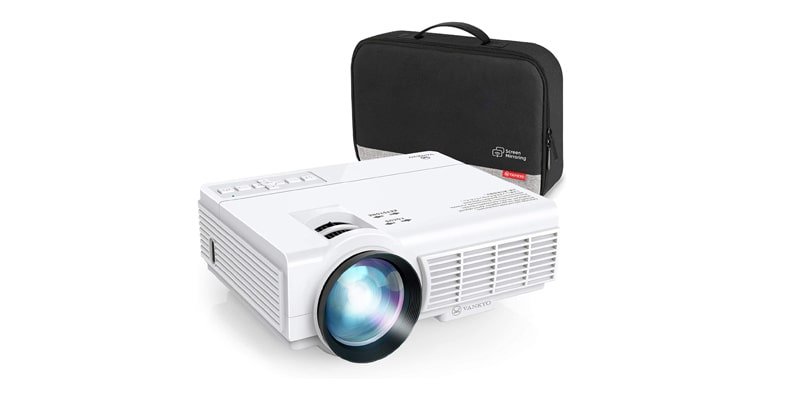 Projector's Highlights:
Contrast ratio: 2000:1
Throw Distance: 4.9~16.5 ft.
Native Resolution: 800*480 (1080p Supported)
Hardware Interface: HDMI, USB, VGA
Lamp Life: 40,000 Hours
Overview:
The first projector on the list is Vankyo Leisure 3. In my testing, I found Leisure 3 one of the best portable projectors on the market.
The projector faces no issues when it comes to high-definition projection; it gives you a watching size of 32 inches from 16 feet and 176 inches from 16 feet.
Resolution:
It is supporting Full HD resolution 1920×1080 resolution. However, its native resolution is 800×480. The company claims the Leisure 3 projector is powered by an advanced color Engine called MStar.
Contrast:
Vankyo leisure 3 offers a 2000:1 contrast ratio. For a mini projector, the contrast ratio is acceptable and its ability to provide a bright and colorful projection.
Brightness:
It boasts up to 3,6000 lux of brightness. Comparatively, it is brighter than the competition. With the optimum screen display sizes, it produces the overall best picture quality.
Pros & Cons:
What I like:
It comes with a customized carrying bag.
No problem while connecting multiple devices such as TV stick and gaming consoles.
Equipped with FAN noise suppression technology and runs really cool because of the cooling system technology.
Excellent lamp life of up to 40,000 hours.
It is super fast to set up and comes with all types of connectivity options, such as HDMI, VGA, USB, AV, and SD.
I don't like:
The built-in speaker has decent sound. You might need to buy externally.
Verdict:
Vankyo Leisure 3 is worth the money. This is the best projector under $100. Therefore, I took the projector on the list of the three best cheap projectors of 2020.
2. ViewSonic PA503S – Best for small business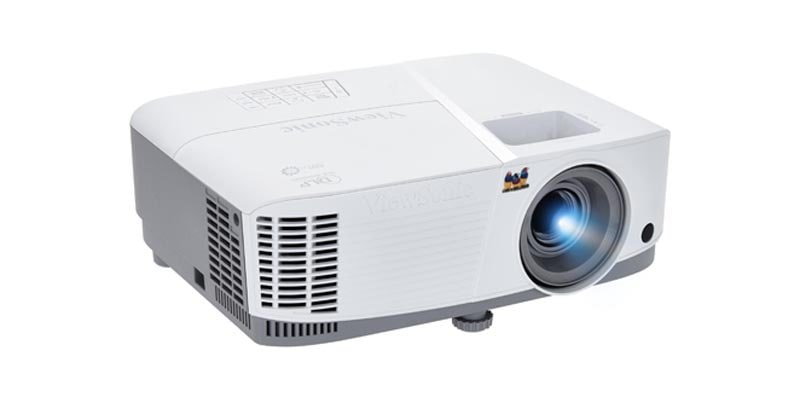 Key Highlights:
3,800 Lumens
22000: 1 Contrast Ratio
Lamp Life up to 15,000 hours
2W internal speakers
3.9 – 43ft Throw Distance
30 – 300 inches Display Size
Overview:
The Viewsonic PA503S is excellent when it comes to visual performance. It offers a wide range of features and comes with different modes such as ECO mode and Super ECO mode to extend the lamp's lifespan. Both modes can switch to each other automatically when power saving is on.
Brightness:
The projector is really bright and equipped with 3,600 ANSI lumens. It delivers a fantastic color accuracy using its SuperColor technology designed to display more realistic and vivid colors in all environments.
Contrast Ratio:
It offers a 22000:1 contrast ratio that produces beautiful images with accurate color, even in a bright environment, without sacrificing the image's quality.
Resolution:
The ViewSonic PA503S supports 640×480 VGA resolution with the capability of producing a full HD 1920×1080 image. In other words, it is full HD supported.
Pros & Cons:
What I like:
Great lamp lifespan of up to 15,000 hours.
Its Automatic Sleep Timer and Auto Power Off work perfectly.
Excellent visual performance with amazing color accuracy.
Its multiple viewing Fine-tuned viewing modes.
Projecting 3D content from 3D blue-ray player via HDMI port.
I don't like:
Internal speakers don't produce enough sound.
Verdict:
The Projector ViewSonic PA503S is an ideal option for both homes and small businesses. It offers five different viewing modes: brightest mode, presentation mode, standard mode, photo mode, and movie mode. Therefore, the visual performance of the projector is unbeatable.
Conclusion: Finding the best projector for your needs in 2023
All the projectors listed above are tested and used by me for a couple of months. Therefore, when it comes to buying, there should not be any second thought in your mind.
If you can any questions regarding the article —best projectors 2023, ask me in the comment section below. I'd love to answer your query. Thank you!