Are you ready to watch your favorite content on a true 4K display; a big-giant screen that goes up to 300 inches, cinema-worthy, and of course, portable? Or still, confused whether a 4K projector can be a replacement for a 4K TV? Well, I can't promise much, but even the cheapest 4K projector under 2000 can get the job done, let alone the expensive one. How?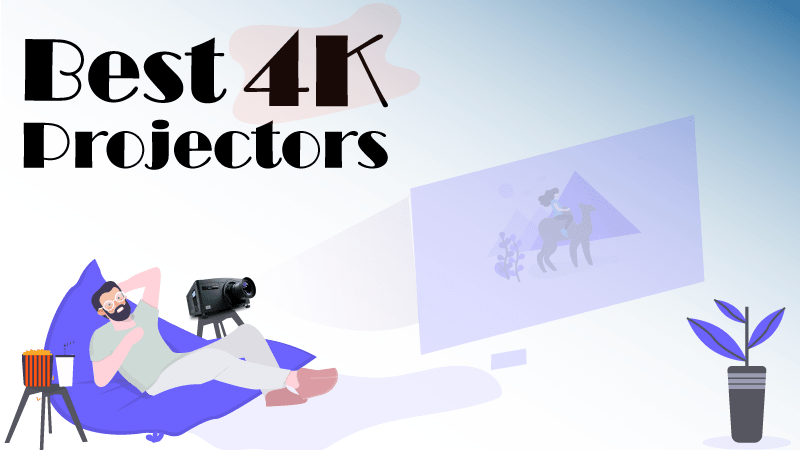 There is no doubt the demand of finding the best 4K projectors, in the post-COVID-19, has reached its peak. Everyone these days wants to build their own 4K home theater so that the theater-like entertainment will remain the same but at their favorite places. However, it is not possible until you have the best 4K projector.
Moreover, there are many components the best home theater projector requires, such as a surround sound receiver, loudspeakers with a subwoofer, and of course, your 4k projector. Moreover, it'll need some source components, such as an UltraHD DVD player, Ultra HD Blu-ray Disc player, or any other streaming device. However, we'll discuss only one component here, which is a video projector itself.
For other components, read my article 'How to Set Up a Basic Home Theater System with a video projector.'
So when 4K projectors are concerned, there are two resolution specs: 3840×2160 and 4096×2160 pixels. Remember, the more the pixels, the more vivid the picture is. So it means the true 4K resolution is 3840×2160 for your 4K projector. Furthermore, it would be best to look at the display technology of a projector, such as DLP and LCD. In the buying guide below, I've shared a piece of in-depth information.
In a nutshell, make sure you pay attention to the following criteria before buying your 4K projector.
Native resolution (ideal 4096×2160)
Total Number of Distinct Pixels (ideal 8.3+ Million)
Display technology (ideal DLP)
HDR support (ideal HDR10)
Brightness & Contrast
As manufacturers design different types of projectors, it's important you know your type. However, I've included all types on my list; you can easily pick the best one as per the type.
Take a look at the best 4k projectors of 2023
LG HU85LA – Best 4K projector Home Theater
Epson 5050UB– Best 4K projector for home cinema
VAVA 4K UST – Best Ultra Short 4K projector
1. LG HU85LA – Best 4K Ultra Short Throw Projector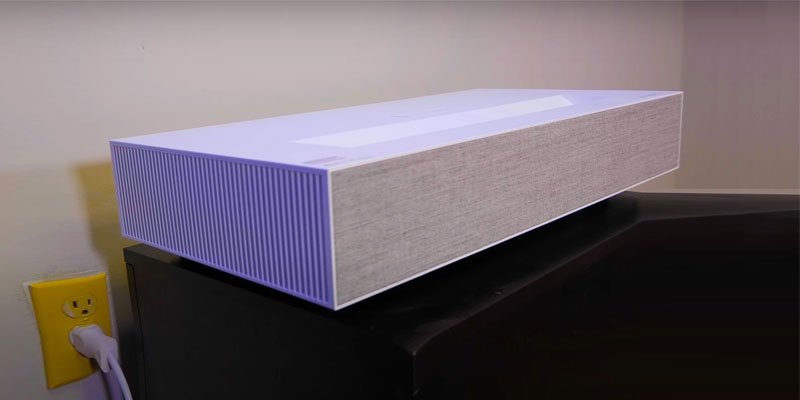 Highlights
4K UltraHD resolution (3840x2160p)
2700 ANSI lumens of brightness
Up to 120 inches display from just 7.2 inches.
LG webOS lite
Bluetooth
HDR10 supported
Tabletop mounting type
Overview: The HU85LA
The LG HU85LA is one of the best 4K Ultra Short throw projectors on the market. You get an amazing large display of 120 inches just from 7.2 inches distance. Though the projector is not for ceilings, you'll need a tabletop to experience your breathtaking home cinema with the projector.
The HU85LA CineBeam achieves the peak of 8.3 million pixels with impeccable detail and precision when it comes to visuals. Support of a true 4K resolution (3840x2160p) combined with XPR technology, the HU85LA requires a few inches of your place to produce a crisp, bright, and vivid display of up to 120 inches. In short, you'll love its realistic and ultimate color accuracy just at your first glance.
The projector doesn't use the conventional wheel-less display technology; instead, it has adapted 3 Channel Laser beam technology to reflect greater colors from single color light. Moreover, it boasts 2,700 ANSI lumens of brightness, resulting in a clear image even in a well-lit room with ambient lights; you don't need curtains or similar stuff to blackout the area.
Besides its amazing picture quality, the HU85LA has versatile connectivity options, such as wireless mirroring for Miracast, Bluetooth for external speakers if needed, USB, HDMI, Ethernet, and other standard connectivity.
Pros & Cons
What I like:
Incredible picture quality (8.3 million pixels)
Ultra short throw (120″ from 7.2″)
2,700 ANSI lumens
Dynamic tone mapping with HDR 10 support
Color accuracy
Its design and easy setup
What I don't:
A bit pricey
Verdict: The HU85LA
If you want true picture quality or a projector that can exceed your visual expectations, you have the best 4K ultra-short-throw home theater projector. In addition, you don't need to buy external speakers as its built-in speakers have the capability to create the cinematic atmosphere.
I recommend this projector for a home theater setup and users who understand a true 4K UltraHD.
Highlights
2600 ANSI lumens
1,000,000:1 contrast ratio
Max. resolution 4096×2160
3LCD Display technology
4K Pro (UHD) @ 60Hz
Pixel-shift Processor
HDR 10 support
Overview
The second best projector for home cinema lovers who want to enjoy a true 4K content at their DIY home theater setup. The projector utilizes pixel-shift processor technology to enhance the actual resolution and achieves 4K with precision.
In addition to the 4K resolution, its 3LCD display technology catches 100% RGB colors and displays an exceptional 4K image on the screen. Since the projector's resolution is the result of its enhancement technology, the maximum resolution you get is 4096×2160, though it supports other resolutions too, 3840×2160, 1920x1080p, 720p, 576p, and even 480p.
The brightness of a projector is on the next level, as it boasts 2600 lumens of ANSI brightness combined with HDR 10-bit technology. Further, the contrast ratio is also carrying a six-digit number of 1,000,000:1.
When it comes to the maximum size of the projection, you have the maximum number of 300 inches, though ranging from 50 inches to 300 inches. You can adjust the screen according to the content being played by using HDR adjustment controls.
Pros & Cons:
What I like:
3LCD display technology, no rainbow effect
The picture quality is incredible
Motorized precision lens & Lens memory
4096×2160 resolution
Brightness and Contrast
HDR curve adjustment
DCI-P3 color, better than REC. 709
I don't like:
No native sound.
Verdict: The 5050UB 4K Pro UHD
The projector comes under 3000 bucks, which is the fair price range for the features it offers. It can be an incredible choice for a 4k home theater setup under budget. However, it doesn't have native sound; you'll need an external sound system for that.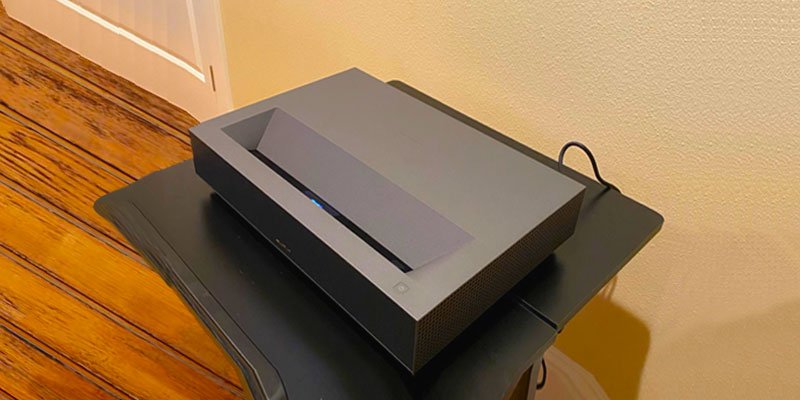 Highlights
2500 ANSI lumens
4K UltraHD resolution (3840x2160p)
DLP display technology
25,000 hours of Lamp life
Projection size up to 150 inches
REC. 709 color Gamut
Ultra Short throw (7.2″)
Overview
Another best choice for your home theater setup is VAVA 4K projector. It is an ultra-short-throw projector that projects up to 150 inches of screen size just from a 7.2-inch distance away. When it comes to other projection sizes, you have a range from 80 to 150 inches. It means you can adjust its projection size according to your favorite movies, shows, and games.
The projector offers a dynamic contrast ratio of 1,500,000:1, which is higher than most projectors with the same prices. Besides, the projector supports a maximum 3840x2160p resolution with HDR to ensure vivid and clear picture quality.
Unlike LG HU85LA, it utilizes a three-segment color wheel for light projection. That said, it has adopted an NTSC range of 85%+ color Gamut to display more accurate colors. Besides its picture quality, the sound of the projector is top of the line; it supports DOLBY audio and produces cinematic sound through its powerful Harman Kardon stereo speaker containing two 30W drivers.
Pros & Cons:
What I like:
Its picture quality
Lamp life, 25,000 hours
Amazing design
Connectivity options
Easy to setup
The sound is balanced and loud
What I don't:
Its remote could be improved.
Verdict: The VAVA 4K UST
For the price, I think it is the best 4K ultra-short-throw projector. I highly recommend this projector for your home theater. You just need to place it on your tabletop and enjoy watching your favorite content on a massive screen of up to 150 inches.
What is True 4K? What about resolutions: 2160P, WUXGA, 1080P, 720p?
Consumers Technology Association says a true 4K or UltraHD must deliver at least 8.3 million distinct pixels while projection. It means the image you see on the screen has to have 8.3 million active pixels. If it doesn't, your 4K projector is no more true 4K; instead, it will be considered as a partial 4K projector. Therefore, for true 4K, make sure your projector is four times the 1080p Full HD resolution.
Now, the resolution: 2160P, WUXGA, 1080p Full HD, and 720p HD
2160p
It ensures the resolution 3840×2160 and 4096×2160 Horizontally and Vertically of pixels, respectively.
You get around 8.3+ million distinct pixels, the total number of active pixels on the screen.
The 2160p is also known as 4K, Ultra HD, Ultra-high-definition, and UHD.
Mostly Projectors and TVs adopt it.
WUXGA
It ensures 1920 horizontal and 1200 vertical pixels of resolution.
The total number of distinct pixels on the screen you see is around 2.3 million.
It stands for Widescreen Ultra Extended Graphics Array.
Devices such as projectors and monitors utilize it.
1080p
It offers 1920 horizontal pixels while 1080p vertically.
The 2.1 million distinct pixels can be seen on a screen.
It carries other names, too, such as Full HD and FHD.
Generally used by Projectors, TVs, and monitors.
720p
It boasts 1280p pixels horizontally and 720 pixels vertically.
The total number of distinct pixels reaches 0.92 million.
People name it HD and High Definition.
Projectors, TVs, and other similar devices utilize this resolution.
What is XPR technology in 4K projectors?
More precisely, DLP XPR technology. It comes from Texas Instruments and refers to pixel-shifting technology. Moreover, a projector adopts it to achieve 8.3+ million distinct pixels with true 4K resolution. Now you might ask, how does it do it?
As you know, the DMD chip, utilized by a projector, offers a certain number of native pixels. If the DMD chip is equipped with 4K resolution and 8.3 distinct pixels, then consider yourself and your projector to be at a safe place. On the contrary, if it is partially 4K and offers resolutions like 2716×1528 pixels (0.66″ chip) and 1920x1080p (0.47″ chip), a projector struggles to achieve true 4K resolution and, of course, 8.3 million pixels.
This is where the XPR technology takes place; it doesn't care about the DMD chip's native pixels and helps a projector achieve the optimum true 4k resolution with 8.3 active pixels. In other words, XPR technology doubles the native 2716×1528 resolution of the 0.66″ DMD chip and quadruples the resolution 1920×1080 of the 0.47″ DMP chip. That's why it is pixel-shifting technology.
The difference: XPR technology Vs. 4K enhancement technology
Even though both are pixel-shifting technologies, their mechanisms are entirely different and thus produce different projection results. However, XPR technology is for only DLP projectors, while other projectors utilize 4K-enhancement technology. So let's figure out the real difference between the two.
XPR: What is XPR Technology?
Regardless of the DMD chips' native resolutions, a projector with XPR technology still achieves 8.3 million pixels with true 4K resolution by doubling or quadrupling their native resolutions, such as 2716×1528 pixels of 0.66″ DMP chip and 1920×1080 pixels of 0.47″ chip. Moreover, it is Texas Instruments' pixel-shifting technology.
4K-Enhancement: What 4K-Enhancement technology?
The 4K-Enhancement technology can't produce the required 8.3 million distinct pixels; instead, it has the capability of producing 4.1 million pixels by doubling the native Full HD resolution (1920x1080p). As a result, you have only half the number of 8.3 million pixels.
Moreover, as far as its mechanisms is concerned, the 4K-Enhancement technology struggles to generate true 4K 8.3 million pixels because of its slower pixel shifting speed.
FAQs: Commonly asked questions about 4K projectors and their technologies?
What devices do I need to enjoy true 4K HDR? 
When true 4K HDR is concerned, you'll need a 4K Blue-ray player, an excellent native 4K HDR projector that offers 3840*2160 at 60 Hz, a 4K supported HDMI cable (HDMI 2.0 or above), and of course, 4K HDR videos or movies. 
Which HDMI cable version should I buy for my 4K projector? 
It's is true that most HDMI cables can't support Ultra HD HDR resolution. Therefore, you'll have to make sure that the HDMI cable you choose is certified for 4K at 60Hz fps. The HDMI version you should go for is 2.0 and above, such as 2.0a/b. 
Can I stream 4K content with any good 4K projector? 
Of course, you can, as long as it is a true 4K projector. However, you'll need compatible HDMI cables according to the content being streamed. For example, your Netflix content protected by HDCP 2.2 requires the same 2.2 HDCP compatible HDMI cable. 
Buying Guide: How to choose a 4K projector?
No doubt buying a projector depends on many factors and your preferences; it also boils down to your budget. Since cheap projectors cant offer 4K projector resolution, you'll have to spend at least 2000 dollars for a true 4K projector with HDR support. However, projectors that partially support 4K resolution can be bought for under 500 bucks and even 200. If you don't believe it, check out my list of the best 4K projectors under 200 and the best Ultra HD projectors under 500.
Anyway, In this buying guide, we'll look at the primary considerations of a 4K projector.
1. Throw Distance: What is better for your 4K projector: short or long?
The throw distance determines the optimal range between the projector and the screen to create an optimum image size, though different projectors offer different screen sizes with their recommended throw distances. In other words, throw distance is just the range between your projector and the projection screen.
However, mid-range projectors, such as projectors under 1000, offer long throw distances compared to expensive projectors. Short throw projectors don't require long distances for a big picture. Therefore, short-throw projectors are considered the best for small rooms. When the recommended projector to screen distance is concerned, you can place your projector from 4.5 feet to 8 feet away from the screen to project a 100-inch picture.
On the other hand, you have long throw projectors known for projecting a big image from any distance. Therefore, a long-throw projector offers better and much-improved flexibility with more installation options than a short-throw projector. Moreover, you don't have to spend much on the types of projectors. The recommended throw distance for large rooms is from 8 feet to 13 feet for 100 inches projection size.
2. Lighting conditions
Everyone knows projectors are well-suited for dark locations; otherwise, one will end up watching low-quality images with blurriness and distortion on the screen. Modern and expensive 4k projectors offer different custom brightness modes and levels to maintain the image quality up to the mark according to the light conditions. However, if you don't want to buy expensive projectors, make sure you have better control over your room illumination.
Moreover, I suggest you choose any dark location or place with fewer windows.
3. Display technology
When it comes to modern and popular display technologies, you have two types of displays to choose from, DLP type and LCD type. The DLP technology means a DLP chip containing millions of mirrors, responsible for the projector's resolution by its intricacy and size.
For example, most 4K projectors use a DLP chip for providing true 4K by achieving the ideal number of pixels, 8.3 million pixels. In addition, such projectors use an advanced color wheel called 'RGBRGB", hex-color wheels instead of 'tri-colored wheels. It helps the wheel spin faster as its primary colors, "RGB," can get two segments.
Therefore, the display technology of a projector leans more toward DLP than LCD. However, LCD has some advantages or say DLP has some disadvantages.
Unlike millions of mirrors, LCD utilizes a few mirrors in order to project light. Therefore, it is very common for LCD projectors to show saturated projection on the screen while using projection applications. However, utilizing small LCD panels deliver a more bright and much jaggier image compared to DLP.
Having said that, I recommend a DLP type display when 4K projectors with true 8.3 million distinct pixels are concerned.
4. Resolution
Since the article is about 4K projectors, we should stick to the 4K resolution, too, 3840x2160p or 4096x2160p. Again, it's the matter of counting the total number of pixels on the screen, totaling 8.3 million distinct pixels.
The only noticeable point here is to avoid pixel-shifting technology known for generating duplicates of any projected frame. That's why most projectors struggle to project a true 4K image on the screen. Unfortunately, it isn't easy to figure out whether it is true 4K or generated one, as it happens at lightning-fast speed with zero flickering and side effects.
On the other hand, true 4K projectors without any marketing terms only offer up to 8.3 million active pixels per frame. So avoid projectors using technologies, such as 4K enhancement and pixel shifting.