Who doesn't like watching movies and favorite web series at your campsite? It requires nothing but the best mini projector for Camping—that can be carried everywhere wherever you go. For that, I've reviewed three portable camping projectors for you.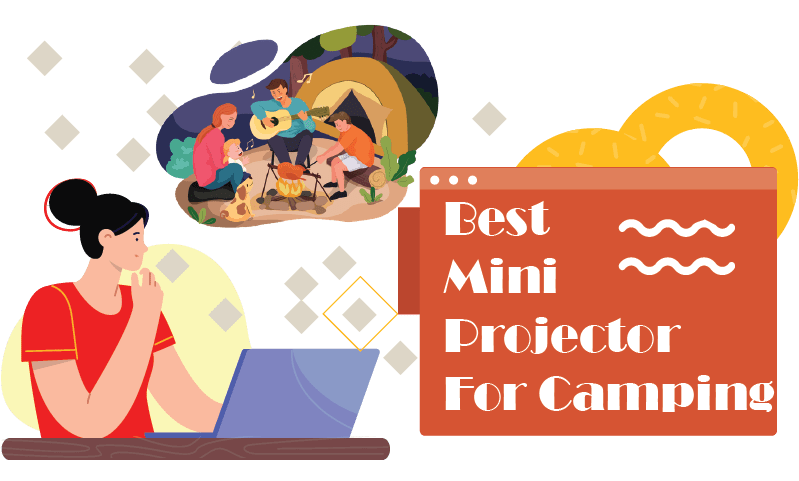 Technology is changing the way everything is done, and Camping is not left out of the mix. The good old way of Camping, which involved sitting around campfires and telling stories, does not suffice for today's tech-savvy generation.
One of the many ways you can spice up your camping experience is by watching movies. Don't think it's impossible. All you need is your USB drive (which would be full of film, of course). Alternatively, you could get an excellent internet connection and stream Netflix or any other movie streaming service.
Since it's camping, I recommend you don't bring your TV along. As a better alternative, a mini projector would be ideal for the best outdoor viewing experience.
What is a Mini Projector?
A mini projector is like your regular everyday projector. The only difference (which counts as an advantage over the standard sized projector) is its size. Mini Projectors are small in size. Some are so small they could fit into your pocket.
This does not, however, reduce the quality of performance that they offer. They offer better visuals and are more flexible. With something this little that could fit into your pocket, you can have all of the movie fun you should have left at home.
What's the best portable projector for Camping?
With so many options in the market, making a choice on the best mini projector for Camping is where most people get stuck. But no need for that.
I will review three of the best mini projectors in the market, and in the end, I would give our Verdict.
Best Three Projectors For Camping 2023
If what you desire is a mini projector that could serve you the best of quality at home and is also portable enough to go on a camping trip, then your desire is the Nebula Mars II 300 Ansi. It combines a beautiful design with great functionality.
Nebula Mars II comes with DLP technology and has its OS (Android 7.1). It has a video playtime of 4 hours and offers up to 30000 hours of lamp life. It is equally suitable for gaming and has a wide range of compatibility. Unlike others, It has a double 10-watt speaker that serves pretty well.
Portability
The Nebula Mars II 300 Ansi may not look as small as the other two on the list but can also be classified as portable. It weighs 3.09 pounds. That's less than the Vankyo Leisure 3 weighs.
Resolution
The Nebula Mars II 300 Ansi has a DLP display. It has a 720p resolution, which is neither the least nor best on our list. It has a contrast resolution of 400:1 and an image brightness of up to 300 Ansi lumen with display ratio of 16:9.
Mars II can display images from 30 inches up to 150 inches and still achieve clarity, although the video's quality also has a part to play. It has an automatic focus and a vertical keystone correction of +40. While the Nebula will work in the presence of light, it is best used in the darkest of places.
Compatibility and connectivity
This is one place where the Nebula Mars II 300 Ansi excels much. It offers excellent compatibility and connectivity. Also, It has its own OS, and as such, you can install apps like Netflix, Hulu, Amazon Prime, and the likes.
The Mar II can also be used to connect to Spotify and other music streaming sites. It has a dedicated app that can be used to maneuver the mini projector. Besides, It supports wireless connection, USB, Bluetooth, and HDMI. It can also connect to a range of devices, including Android, iOS, USB, fire stick, DVDs, and even game consoles.
Affordability
The Nebula is the most expensive mini projector on our list. It cost around $400, or consider it the best Mini projector under 500. The price is worth it if you plan to use it at home as well, or if you can spare the money. However, it might be too much of a luxury for just camping. But like we earlier said. It's up to you.
Pros
It is a lightweight and nice looking projector.
Sufficient sound system
No, doubt! It has a more extended playtime.
Cons
It is costly.
Verdict
The Nebula is an excellent option for anyone in any circumstance. If you are seeking something that could serve on all fronts, then the Nebula Mars II 300 Ansi would fare just fine.
2. Apeman M400 – Best Budget Camping Projector
The Apeman M400 is another mini, lightweight wonder. When you talk about small, sleek, and beautiful, you are referring to this Apeman. This little black mini projector is easy to use and comes with some really cool features.
Apeman M400 has a touch-sensitive function and offers a brightness of around 80-120 ANSI. It comes with a small but sufficient stand. It also features dual 1-watt loudspeakers. With a 5000 Mah battery, it offers a 50,000-hour lamp life and 2.5 hours of playtime. It also provides two different modes, including an eco mode.
Portability
The Apeman M400 takes portability to a whole new level. It weighs 12 ounces (now that's pretty lightweight). It is so small it could fit into your pocket in real-time.
Resolution
Apeman M400 uses DLP technology. It offers vivacious and vivid colors. For a projector it's size, this is nothing short of a marvel. It has a resolution of 480p and a contrast ratio of 2000:1.
Its brightness starts at 80 ANSI lumens and can go as high as 120 ANSI lumens. It can project between 30 inches to 100 inches.
When it comes to UltraHD content, It can display both 4K and HDR content. While they may be a little bit downgraded, they would still show a lot of color and beauty.
The Apeman M400 can produce great images, even at a distance of 8.5 feet! Now that's a powerful throw distance for a projector this small. It has an autofocus function with a +40 keystone slider button, which is much easier to control. It works better in the absence of light. So it favors dark places.
Connectivity and compatibility
The Apeman may not offer many connectivity ports like the Vankyo Leisure 3, but it has its peculiarities. It has a USB port, but it is for output. It can be used to power other little devices and charge your phone.
The only input port is the HDMI port. So if you fancy other methods of input, you may not like the Apeman. However, the HDMI is sufficient enough to connect a lot of devices.
The Apeman M400 offers excellent device compatibility. It can connect to different devices, including Laptops, TV boxes, DVDs, tablets, Cameras, mobile devices(Android and iOS), and gaming consoles.
Affordability
The Apeman M400 crosses the $200 threshold, pitching its price around $200, or consider it the best projector under 200. That's relatively high but worth the goodies it brings to the table.
Pros
It is lightweight and portable, making it easy to carry.
Its setup and installation is straightforward.
Easy to operate and cheap to maintain.
It offers eco mode, which reduces lamp brightness and fan noise and saves power and lamp life.
Cons
It offers minimal input methods
Verdict
The Apeman M400 is a great option to go camping with, as it seems to be made for such purposes. You can keep up with your Netflix shows while you are in the wild. It's not your regular everyday projector, so do not expect the best of cinematic luxury. After all, the lack of luxury is part of the camping experience.
3. Vankyo Leisure 3
Vankyo Leisure 3 is a top budget mini projector you could get around. While on the outside, it looks like a toy. However, you would be shocked by what this little toy could accomplish. It offers excellent features and has a lamp life of 40000 hours. It comes with built-in speakers, which are, however, not incredibly loud.
Portability
Vankyo Leisure 3 is super light and weighs in at about 4 pounds. It's also about 8 inches wide. Yeah, That's how small the Leisure 3 is. It comes with remote control, a standing tripod, and a custom bag that makes it easy to carry about. You don't even need to make special arrangements as to where it would sit; it could be placed on a tabletop or floor, which makes it perfect for camping time.
Resolution
This would refer to the overall picture quality that the Leisure 3 can offer. It supports a 1080p HD resolution and can project an image up to 170 inches across. This means it can display very colorful images. Its aspect ratio is 16:9 by default with a contrast ratio of 2000:1, which is relatively high for a projector with this price tag.
It can project between 32 inches to 178 inches. However, keep in mind that the producer recommends an optimal throw distance of 1.6m – 5.0m from its screen. Also, remember that you begin to lose quality the more you increase the screen size for projection.
The display quality of the Leisure 3 is more impressive when it's really dark. This is the way you can enjoy it. If you want to see all of the colors I've talked about, use it in a really dark space. Also, it has a keystone feature of +15 degrees and a focus feature too.
Connectivity and compatibility
The leisure 3 offers a wide range of connectivity features that makes it easy to connect it to different devices. It features a VGA input and HDMI.
Also you'll find a USB input function, which makes it easy to connect a simple USB device. It also offers a plug and play.
While the Leisure 3 has many other ports, these are the ones that would mostly prove useful. The sound port is also available. You can equally connect speakers through Bluetooth. When it comes to compatibility, the Leisure 3 is compatible with a range of devices, including mobile devices (Android and iOS), smart TVs, and game consoles.
Affordability
The Vankyo Leisure 3 comes around &90 tag price, or consider it the best projector under $100, which is fair enough for the variety of features it offers.
Pros
It is super easy to set up and install.
Affordable and very cheap.
It is portable and easy to carry about.
Exceptional viewing quality, especially when it's thoroughly dark.
Cons
Its built-in speakers are not loud enough; the extra cost is incurred in procuring external sound devices.
Verdict
The Vankyo Leisure 3 is perfect for a stringent budget and is also somewhat useful. It's an excellent choice for anyone who's unwilling to break the bank on a mini projector. Spend some cash and get something decent. That pays, I guess.
Final Verdict: How to choose the best Mini projector for Camping for your needs?
In all different categories, there are different winners. If you are interested in resolution, you can choose any of the three as they would all offer clear pictures.
But if you are headstrong for the best in that category, then it would be the Vankyo. If it's the cost you are concerned about, you would definitely want the Vankyo as it's the cheapest on the list.
For connectivity and compatibility, the Nebula comes out tops as it offers more features and functions in that regard. Lastly, if you seek something that could serve you at home and camp, you need the Nebula.
Conclusion
It's different cards for different people. Whatever it is your camping needs may be, these mini projectors are up to the task. Go get yourself one and have fun at camp.
Happy camping lovelies!.