It's no doubt that projectors have completely replaced TVs when it comes to true home theater entertainment. However, it's also true that projector technology is at its peak these days when it comes to innovation. What has changed? Why are more and more people leaning towards short-throw projectors than conventional projectors? Let's understand.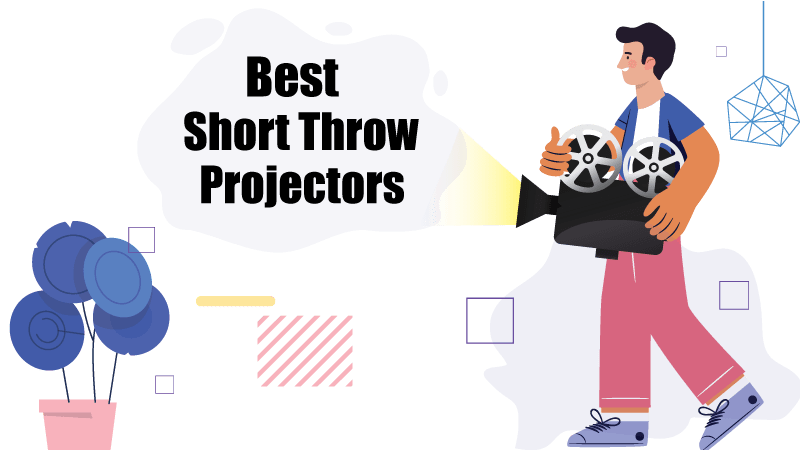 Search volume for the keyword 'best short throw projector' has been increasing day by day. It shows that people are now more interested in projectors and its advanced technologies. And, as for the advanced projector technologies, you have short-throw and even ultra-short throw.
These shorts throw projectors have been the best choice for owners because of their short throw distance from the screen, ranging from 3 feet to 8 feet from the screen. If it's ultra-short-throw, it ranges from 0 to 4 feet from the screen.
We can't ignore the fact that TVs have been known to be well-suited for tight spaces. However, we've now alternatives, short-throw projectors, and ultra-short-throw projectors. In this buying guide, we'll only discuss some of the best short-throw projectors of 2023.
Are you ready to place the best short-throw projector in the tightest possible space in your home? If so, then let me walk you through this buying guide.
In this guide, I've covered some of the crucial factors of a projector, such as:
Further, I've also answered some common questions about short-throw projectors in the FAQ section below.
Here are three top short-throw projectors of 2023
1. BenQ HT2150ST – Best-in-class short-throw projector
Key Highlights
0.69~0.83 throw ratio
DLP display technology
Native Full HD (1920x1080p) resolution
2200 lumens
15,000:1 contrast ratio
Maximum screen size up to 120 inches
Three years of warranty
Overview
BenQ is a trendy projector brand that offers all types of projectors, from affordable to expensive ones. It also includes short-throw projectors. Yes, I am talking about one of its popular models called HT2150ST. It is a gaming short-throw projector offering tons of advances features and technologies.
It natively supports Full HD resolution (1920x1080p) and utilizes DLP imaging technology. With over 2,200 ANSI lumens, it is well-suited for low-lit to well-lit rooms. What else? Its contrast ratio of 15,000:1, stunning deepest black and brightest white colors ratio.
When it comes to bulb life, it is around 3,500 to 7000 hours. However, the bulb life expectancy entirely depends on the usages of the projector. Since the projector is built with DLP display technology, its 3D image projection is up to the mark without any deterioration issues.
The picture quality is very sharp and bright; you can't miss out on any detailed scene of your favorite movie or show. Besides, it is equipped with CinematicColor technology that enhances the color resolution to meet the realistic visuals.
The projector offers ultra-fast response time and low lag input for gaming. If you're a serious gamer, you have a 16ms low input lag on this projector. Besides, a dedicated game picture mode takes your viewing experience to the next level.
Moreover, you'll love its sound quality from its two built-in speakers. It utilizes Cinema Master Audio technology, produces the more realistic sound. However, there are some drawbacks too, as with most projectors. Its deepest black level could be better, and it runs hot sometimes while on heavy-duty tasks.
Pros & Cons: The BenQ HT2150ST
What I like:
Low input lag with a dedicated game picture mode and high response time
CinematicColor production
Incredible picture quality
Native Full HD (1920x1080p) resolution
What I don't:
The deep black level could be better.
Key Highlights
0.49 throw ratio
120 inches image from 4 feet
DLP display technology
Native Full HD (1920x1080p), 4K supported
3800 lumens of brightness
15,000 hours of battery life
Overview
Like BenQ, Optoma is another famous brand in the projector industry. With a broad array of features, Optoma has introduced something very robust called GT1080HDR- a short throw projector. It's a Full HD, native 1920x1080p resolution projector and supports ultra HD 4K resolution too.
In addition to the 4K resolution, the Optoma GT1080HDR is openly compatible with HDR10 technology, allowing the projector to produce accurate color while keeping the deeper black and brighter whites levels up to the bar. Besides, it has a 6-segment color wheel (RYGCWB) working with REC.709 color profile to take the improved and color accuracy to the real world.
Gamers enjoy the projector more, as its fastest response time and low input lag hold its back tight to give you a smooth gaming experience. To the numbers, its response time is 8.4ms with a 120Hz refresh rate. Moreover, its short-throw distance is a great plus to the projector, enables to project a large image of up to 120 inches just from 4 feet away from the screen. In addition, it supports the shortest possible distances between 1.3 feet and 11.3 feet.
The overall picture quality is fantastic; it boasts 3,800 lumens of brightness and a contrast ratio of 50,000:1. The six-segment color wheel helps the projector achieve the optimum picture quality with incredible sharpness, detail, and clear image.
The Optoma GT1080HDR has a lamp life of up to 15,000 hours. Let me introduce the math; it's almost four hours of viewing every day for the next ten years. Moreover, You don't have to worry about connectivity, as it is compatible with all sorts of smart devices, be it your gaming console, Fire Stick, Apple TV, Chromecast, or media player. Besides, it includes two standard HDMI 1.4a inputs that allow 3D support.
Pros & Cons: Optoma GT1080HDR
What I like:
Its HDR10 support
Fast response time and low input lag
Its short-throw projection
Dual HDMI inputs
Easy to setup
Long lamp life
What I don't:
A bit of a Rainbow effect
3. ViewSonic PJD5553LWS – business/presentation short projector
Key Highlights:
0.53~2.64 meter throw distance
120 inches image size from 4 feet and 2 inches
3200 lumens of brightness
20000:1 contrast ratio
10,000 hours of lamp life
a 3-year warranty
Overview: ViewSonic PJD5553LWS
Viewsonic PJD5553LWS is my third pick for top short-throw projectors, boasts 3,200 lumens and a contrast ratio of 20000:1. Since the projector requires only a couple of feet, It's an ideal option for tight spaces. In addition, it can create a large image size of up to 120 inches just from 4 feet and 2 inches. Moreover, the ideal throw distance is between 0.53 to 2.64 meters.
The ViewSonic PJD5553LWS offers a wide range of features that you can expect only from high-end models. Even though the projector is under budget, it is powerful enough to project a 3D image and delivers impressive visuals. Viewsonic primarily has designed the projector for watching movies or complete home theater entertainment.
You can directly connect the projector to a 3D Blue-ray player via HDMI ports to enjoy 3D projection. However, it requires you to use compatible 3D glasses for better details. Like BenQ HT2150ST, it also has SuperColor technology, which results in sharp colors and a clear image.
When it comes to the picture, you have five different modes. They help you choose and control the brightness levels according to the room lighting and environment. Besides, Viewsonic designed the projector to keep it clean and neat. So, for example, those annoying cables that we generally use for connecting devices can be stored at the back using its dedicated cable holder.
The projector can produce a very loud sound from its built-in speaker using the SonicExpert sound technology. Therefore, You might not need an external sound system for regular usages. However, consider buying a good sound system if you plan to use it as a home theater projector.
Pros & Cons: The ViewSonic PJD5553LWS
What I like:
Its 3D capability
Incredible picture quality
Its lamp life
five different viewing modes
Amazing sound quality
What I don't:
Its height adjustment legs
Buying Guide: What to consider before jump upon any short-throw projector?
It's quite common among most people to buy the wrong stuff without any research. However, You can't ignore that a little bit of research can make you an intelligent buyer without spending much. Anyway, I am happy that you're here reading this guide to avoid those silly mistakes that most people make while purchasing a projector.
In this buying, I've combined some essential short-throw projector buying factors. I request you go through these features and make the right decision.
Resolution: Why do people get confused when it comes to projector resolution?
Projector resolution is very confusing for most people, even for pro buyers. It is because there is a difference between native resolution and supported resolution.
What is resolution? The number of pixels of an image displayed by the projector on the projected screen is called projector resolution. Moreover, the resolution of a projector is entirely responsible for a clear and sharp image.
In simple words, a projector with a high resolution delivers an incredible picture. So before you purchase any short-throw projector, make sure you check its native resolution, not supported resolution. Always remember, the higher the resolution, the better the picture will be.
Note: Make sure your projector is at least Full HD (1920×1080)p.
Display technology: Your short-throw projector's projection depends on its display technology.
There are some standard displays on the market; it includes DLP, LCD3, and Laser. Unfortunately, laser displays are very expensive. However, DLP and LCD or LCD3 are affordable and very popular among projectors.
Therefore, I mostly suggest people choose DLP over LCD, as DLP technology supports 3D projection. If you're rich, then spend on laser display without any second thought.
On the other hand, if you want good display technology under budget, you've LED imaging technology, more durable and reliable.
Throw ratio: Why throw ratio of a projector is everything?
When it comes to short-throw projectors, the throw ratio of a projector is crucial to consider. Take it as a backbone of the projector. The upper limit for the throw ratio is 1.0:1; you can't go above. So your projector's throw ratio should be under 1.0:1.
I generally recommend a projector with a throw ratio between 0.4:1 to 0.8:1. However, I never suggest you go below 0.4:1 as many factors depend on the projector's throw ratio.
Brightness: What is an ideal number of lumens recommendation for any short-throw projector?
The brightness of a projector is another essential factor to consider. However, most people have a misconception about the projector's brightness, and they usually think that the more the brightness, the better the picture quality. However, It is not always true. That is because the brightness of a projector depends on the lighting of your room.
For example, if you live in a low-lit room, the lumens (we measure the brightness of a projector in lumens) requirement should be around 1000 to 1500. On the contrary, a well-lit room requires more lumens, from 2,500 to 3000.
Now to the question, how many lumens for a short-throw projector? Generally, short-throw projectors come with at least 2,000-3,000 lumens. If your projector (a short-throw projector) is below 2000 lumens, you'll have a problem controlling the light settings. So I advise you choose a short-throw projector with at least 3000-3,500 lumens.
Contrast Ratio: What about the contrast ratio of a short-throw projector?
Since it is the ratio between the darkest and brightest colors, the contrast ratio of a projector should always be high. Besides, the contrast ratio determines the overall picture quality of an image. So, always look for a projector with a higher contrast ratio, such as 20000:1, 22000:1, 50000:1, Etc.
Compatibility: Is your short-throw projector compatible with modern smart devices?
As you spend a lot of money on a short-throw projector, the compatiblity of the projector with all types of smart devices becomes an essential factor to consider. These devices include smartphones, laptops, PCs, streaming devices, gaming consoles, and many other similar smart devices.
Warranty: A common but considerable factor for your short-throw projector.
Everyone knows that short-throw projectors are expensive. Therefore, we can't ignore the warranty of the projector. Besides, the projector's warranty also makes the projector more trustworthy, as manufacturers have a certain amount of confidence in their projector.
So any projector with two or three years of warranty is acceptable. Please, don't miss out on this buying factor.
What is a short-throw projector?
A projector that requires a shorter distance—a distance between 3 to 8 feet—to project an image onto a screen is called a short-throw projector. With a shorter distance, these types of projectors can project a large image while keeping the picture quality clear and sharp.
Where does a short-throw projector fit the most?
If you're familiar with short-throw projectors, then you might have known these projectors are designed to be put closer to the projection screen, results in a user being unaffected by the glare of the projector. It means short throw projectors are great for tight spaces, such as conference rooms, classrooms, Etc.
FAQs: Some common questions and their answers about short-throw projectors
Is a short-throw projector the perfect choice for my conference room?
Of course, it is. You can't go wrong if you choose one. Short throw projectors are best for small rooms with tight spaces. Since these projectors are expensive than the conventional ones, you should figure the size of the room out before buying the one. If there is enough space in your conference room, I won't suggest you waste your money on such a short-throw projector. 
I'm looking for the best show-throw projector for gaming. Which model do you recommend? 
First of all, it is a wise decision to buy a short-throw projector for gaming. These projectors are excellent for serious gamers who love playing on a larger screen while keeping the projector as close as possible to the projector screen.   
For the gaming recommendation, I'd suggest the Optoma GT1080 Short Throw projector. 
I live in a well-lit room. Which short-throw projector will be best for my brightly lit room?
The number of lumens of your projector determines the brightness of your projector. So whenever it comes to brightness, you will have to look at the lumen rating of the projector. Don't fall into the trap of people saying projector lumens also determine the size of an image. It is entirely untrue. 

However, the smaller the image size, the better the displayed image will be. That is because the image quality of a projector depends on the brightness of the projector. 

To the question, for a well-lit room, I'd recommend a projector with at least 2,500 to 3000 lumens. Although all the projectors mentioned in this guide are above 2,500 lumens, you can pick one that suits you the most. 
I am looking for the best 3D short-throw projector; what do you recommend?
All the short-throw projectors I've shared with you in this guide are 3D supported. However, I personally like Optoma GT1080HDR. It will be the best option for your 3D requirement. You will even enjoy gaming, as it offers low input lag and a fast response time of 8. 4ms. 
Conclusion: What does Projectorwar think about the best short-throw projector?
I never advise people to buy or spend money on something unnecessary. Plus, Don't spend extra on the advanced features if you can't use them. Since short-throw projectors are expensive compared to conventional projectors, you better first assess your requirements. Always remember, a standard projector with long-throw would do the same job as a short-throw projector.
On the other hand, You have a short-throw projector that can be easily used in small areas. In addition, these projectors are more advanced than typical projectors in sharpness, brightness, portability, and many other high-end features. Please take a look at my recommendations below in a nutshell.
Quick Summary: Top short-throw projectors
The BenQ HT2150ST packs CinematicColor technology. Its built-in speakers, picture quality, 3D capability are very impressive. It can be a complete package for your home.
It offers an incredible picture quality. Its brightness, contrast, sharpness, and black shadows, are up to the mark. Besides, it supports 3D and low input lag for gaming.
Another projector with many advanced features. The Viewsonic PJD5553LWS is under budget and has the longest lamp life. It is a reliable and highly durable projector on the list.