I know you have the best outdoor projector in your hand, and you enjoy movie nights outside with your family. But, unfortunately, the screen you're using is not designed for the outdoors. Yes, outdoor projector screens are entirely different from the standard projector screens. Let me explain.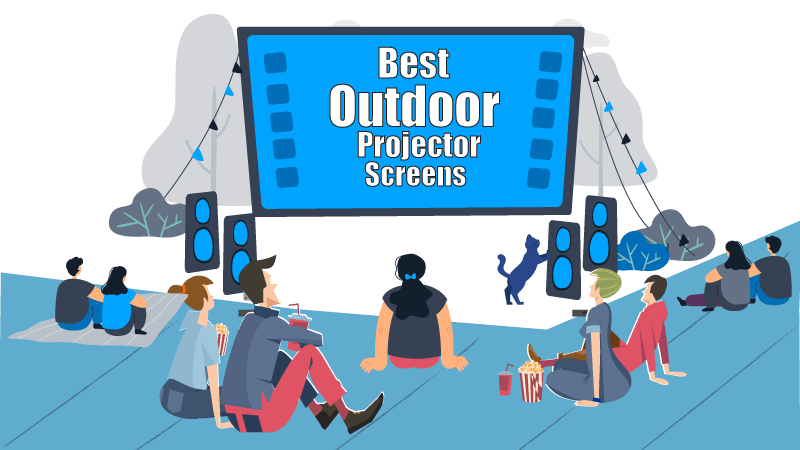 Who doesn't like spending time with family under the stars during the warmer months? However, hosting a movie night outside requires arrangements and equipment, such as an outdoor projector, outdoor wired/wireless speakers, a projector stand, a streaming device for your projector, and of course, an outdoor projector screen—the best.
As you know, projectors screens are of different shapes and sizes. Moreover, they should be compatible with your projector as different projectors, such as long-throw, short-throw, and ultra-short-throw, work with specific projector screens or are designed for a particular type.
Besides, there are different types of projector screens, such as:
Electric/Motorized projector screen
Fixed-frame projector screen
Portable projector screen
Inflatable projector screen
Manual projector screen
Rear projector Screen
Related: Best Electric/Motorized Projector Screens
Now, mount types, such as ceiling projector screens, Ground/Floor projector screens, Truss projector screens, Tabletop projector screens, outdoor projector screens, Tripod projector screens, Wall projector screens, Etc.
However, in this guide, we'll focus only on outdoor projector screens, their essential accessories, and factors that can take your outdoor movie nights to the next level.
Elite is one of the top brands manufacturing projector screens, and the Yard Master 2 is its 120 inches projector screen, designed for both indoors and outdoors. It's portable and offers a front projection with a 16:9 aspect ratio. Don't worry; you can pick its rear projection supported model too. However, it's double the price of its front-projection model.
The Elite Yard Master 2 is very light-weight and foldable, measures 88.9×109.8×36.7 inches, and has an Alumnion frame on the sides. When it comes to screen surface, it has a matte white fabric, produces excellent picture quality with accurate color. Besides, it's a 1.3 gain screen and supports ultra HD resolution with 3D projection.
You can sit wherever you want in your backyard/outdoor, as the screen offers a 180-degree viewing angle. And, you don't need to buy a stand for the screen, as it includes detachable legs, measures 24.1 inches in length from the ground. The screen setup is like child's play; you can assemble it in minutes without using those heavy tools.
Pros & Cons: The Elite Yard Master 2
What I like:
Ultra HD resolution with 16:9 aspect ratio
3D compatible
Super easy to setup
Padded carrying bag and its stand
What I don't:
None for the price
Aoxun has a range of different motorized outdoor projector screens with different aspects ratios and sizes—100″ 16:9, 100″ 4:3, 110″ 16:9, 110″ 4:3, and 120″ 4.3. These screens have a built-in electric motor that allows the screen to run smoothly with a simple press on the remote control.
For the material, screens are made of premium PVC, contain four layers of matte-finished PVC. Moreover, it is very easy to clean; you can wash it with normal water and soap. Unlike most projector screens with the same price range, Aoxun's screens come in black color—the black color is always good for eliminating light and color reproduction—to produce high-quality images.
Picture quality is top-notch on these screens; it's a 1.2 gain factor and supports a 160-degree viewing angle. In addition, they all support HDR UHD resolutions (8K & 4K) with 3D.
Pros & Cons: Aoxun Screens
What I like:
Wired & Wireless controls
Wide viewing angle
8K UltraHD, 4K, HDR, and 3D supported
Mounting is super easy
Easy to clean
High-quality material
Its quiet motor (<45dB)
What I don't:
None
The outdoor projector screen on the list is from Vamvo. An amazing projector screen with a 1.5 gain factor supports a 4K UltraHD resolution and 16:9 aspect ratio. You have three different sizes to choose from – 80″, 100″, and 120″. All three screens are designed for indoors and outdoors; you can fold them and carry them easily as they're light-weight, hardly weigh around 6.95 pounds.
These Vamvo screens come with a foldable stand, allowing easy assembling/disassembling without any tools. The screen material is natural polyester fabric; therefore, you're allowed to use an Iron to eliminate wrinkles. Moreover, you can clean and wipe them up using a damp cloth.
Unlike its competitors, Vambo screens support both front and rear projection. Besides, when it comes to portability, Vamvo includes all the important accessories with the screen, including a carrying bag and a textured aluminum stand.
Pros & Cons: The Vamvo Outdoor
What I like:
Super easy to assemble/dissemble
Amazing picture quality
Supports both front and rear projections
easy to clean and wipe
cost-effective
What I don't:
It catches folding marks easily and needs iron before use.
Guide: How to buy the best projector screen for your backyard?
1. Gain: Its Crucial to Understand the Gain of your outdoor screen
The gain of your screen describes the light reflectivity of the screen fabric. The factor – Gain, is considered one of the main measurements of any projector screen, as it determines the quality of the light reflection of the screen.
For example, a screen with a 1.0 gain means that the screen's source light will be reflected back with the same brightness. On the contrary, in the case of less than 1.0 gain, the produced image won't be as bright as the source.
2. Viewing Angle: does your screen offer a wide viewing angle?
'Viewing Angle' is another important factor to consider when shopping for an outdoor projector screen. It's common in cheap projector screens to reflect most of the light to the screen perpendicularly. Therefore, people sitting on the sides view a low-quality image. So make sure the screen you choose offers a wide viewing angle.
3. Color of the Fabric: Screen's fabric color matters a lot
The fabric color of the screen determines the contrast of an image. Screens come in four different colors: white, gray, silver, and black. Out of four, the white-colored screens are very common and considered the industry's standard; thus, they can be found easily. Moreover, such screens are good for brightness.
On the other hand, gray-colored projector screens are good for darker tones. That's why gamers love gray-colored screens than white ones because of their ability to display darker colors and deep blacks of an image.
Silver-colored screens had been popular in the past. Yes, In the early days, it was quite common among cinemas to have silver screens. Still, you can use them if your projector has low-quality light, as they produce a detailed image with a better depth of blacks/whites. However, compared to other colors, silver screens are expensive.
Black screens are also good for projecting black images. Unfortunately, like silver screens, black screens are expensive and difficult to find in the market because of their limited supply.
Verdict: Which is best for you?
If there is a lot of ambient light in your room, choose white color. Pick silver or gray color if you love high-contrast content. Black color is ideal if there is a lighter ambiance in your room.
Sound: Acoustic Transparency
You read it right; projector screens offer an acoustic transparency feature too. It lets the sound pass through the screen. Most people prefer such screens for their setups when they place speakers behind the screen.
Related: best outdoor projector speakers
FAQs: The following questions people often ask about outdoor projector screens
What is the recommended screen size for an outdoor projector? 

Depending on the area, your outdoor projector screen size should be at least 100-120 inches. A 120-inch screen is considered a perfect size for the backyard/outdoors. Undoubtedly, such a size can easily fit anywhere as long as your projector is comfortable projecting this much large image on your outdoor screen. 
Can I leave my projector screen outside?

Even though your projector screen is designed particularly for the outdoors, you can't leave it outside for an extended period of time. The first thing that can destroy your outdoor screen is the wind. If the wind is in the mood, your screen will be in someone else's house. Moreover, if your screen is made of a polymer surface, it's more likely to be prone to oxidation issues. 

Though, screens with hard materials, such as vinyl, can be left outside for long periods. Still, I never suggest people leave their projector screen outside for a longer period. 
Can I use a white sheet for my outdoor projector in my backyard? 

Of course, you can, as long as you hang it properly. It's always better to use a white-colored sheet with a projector, as white color delivers a more bright and vivid image compared to other colors. Though it's not only limited to sheets, you can use any piece of smooth cloth for the job. 
Can heavy rain damage an outdoor projector screen? 

Not only rain, everything, sun, wind, and other weather conditions can damage your outdoor screen easily if it is left out for long periods. 
Conclusion: What is the best outdoor projector screen for you?
The list above has three top outdoor projector screens. Depending on your needs, you can choose the one that suits you the most.
For example,
The first one, Elite Screens Yard Master 2, is an outstanding screen designed particularly for the outdoors. It's a freestanding outdoor screen with a matte surface and offers a 180-degree wide viewing angle. Besides, you have different sizes to choose from, 58 to 120 inches, with different aspect ratios. I highly recommend these Elite screens for your outdoor uses.
The second on the list is from Aoxun, an electric motorized projector outdoor screen. Like Elite screens, Aoxun also has different screen sizes, from a 100-inch 4:3 to 120-inch 16 4:3 aspect ratio. In addition, the screen has a powerful, very quiet (<42dB) built-in motor to raise/lower the screen with remote control. If you want something modern and automatic, the Aoxun screens are the best options for you.
The third screen on the list is from the brand – HYZ. This 120-inch outdoor screen is inexpensive yet powerful in terms of quality and features. It has high-quality material, Polyvinyl Chloride, to deliver a high-quality picture in all environments. In addition, it offers a 160-degree viewing angle and is very portable to carry with you; it comes with a carrying bag and a stable tripod stand.
So, you have all three different outdoor screen options in this guide. Now, I hope you won't have any confusion while choosing the one for your needs. Still, if there is any doubt, put your query in the comment section below. I'd love to answer as soon as possible. One more thing, read my previous article on the screens – Best Projector Screens 2023