Do you know the main difference between a TV and a Projector? – Their Portability. Since everybody is after a giant TV these days, you can't even move them an inch, let alone carry them with you. But, if you have the best battery-powered projector in your hand, you'll not only carry it anywhere but also enjoy a much larger picture. How?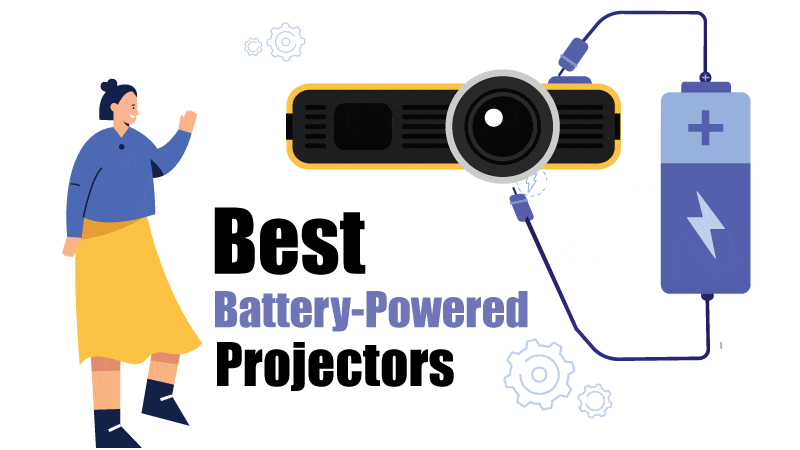 Portability doesn't mean you'll have to sacrifice the video quality. And, the great portability comes with a great portable projector. And, the great portable projector means a projector with a built-in battery. Such projectors are called battery-powered projectors. However, this type of projector has to go through many buying factors to become the best battery-powered projector, which I'll discuss in this guide.
The buying factors that make a portable battery-powered projector the best one.
Undoubtedly, there are many projector buying factors; we'll discuss only those important ones related to battery-powered projectors, such as battery life, resolution, brightness, speakers, ports, and portability.
1. Battery life
How much time you'll be able to use your projector on a single charge is determined by the battery life of the projector. However, the battery life depends on many things, such as brightness settings, resolutions, speaker volume, projection sizes, Etc.
So even with the highest settings, your projector should run at least a couple of movies per charge. In other words, a projector with at least 2.5 hours of battery life should be your goal.
2. Resolution
Here, I am referring to native resolution, not maximum supported resolution by a projector. It's very common in the projector industry to confuse buyers with this term. Most modern battery-powered projectors accept higher resolutions than their natives; however, they downconvert—It is called downsampling technology—them to their native resolutions. As a result, you see no change in picture quality.
So your goal should be looking at the native resolution of your projector; also, make sure it has at least 1080p native resolution.
3. Brightness
A projector with high brightness can tackle ambient light or light pollution. That's why you often hear, the brighter the projector, the better the image. The term lumen(s) is used as a brightness measurement; for example, 1000 lumens, 2000 lumens, 3000 lumens, Etc.
Unfortunately, projectors with high brightness are expensive; they quickly drain the battery if used in the brightest mode. Therefore, choosing the projector as per your needs can be an intelligent decision. Let's say you're planning to use your projector at night; then there is no need for a projector with lots of lumens.
4. Connectivity Ports
Battery-powered projectors are primarily designed for portability; therefore, they're typically smaller compared to standard projectors, meaning less room for ports. However, the best battery-powered projector should be including at least a USB, an HDMI, and an Audio Out port as a wired connection. Moreover, it must include Wi-Fi connectivity options: Wi-Fi and Bluetooth.
5. Speakers
Built-in speakers of battery-powered projectors also play a major role because these projectors people generally buy for carrying around with them. Also, there is no point in carrying an external sound system with you, especially when you have the portable type of projector in your hand.
So what is the goal? You can't expect the same sound that you get from a laser-type projector or an expensive projector; still, it should be powerful enough to handle a medium group of people.
6. Portability
Undoubtedly, the portability factor is what we all should be looking at when buying a battery-powered projector. It's something that we can't ignore at any cost because a battery-powered projector is known for its portability. So, make sure it is lightweight, no more than 5 lbs, and small enough to fit in a backpack easily.
Now, look at the top battery-powered projectors, picked keeping different minds in mind.
1. XGIMI Halo True – Best 4K Short-throw Battery Powered Projector
The XGIMI Halo True is a portable projector that comes with a built-in 17100mAh battery; it promises up to 2 to 4 hours of battery backup or can play a couple of full movies for you, even in the brightest mode with Full HD resolution. Moreover, it is super portable to carry around—weighs under 5lbs (~3.53lbs) and measures 4.47×5.71×6.75 inches—and accepts all sorts of mounting options, such as ceiling, Table, Wall, Floor, and of course, Tripod mount. Plus, it supports front and rear projections.
The Halo True offers Native 1080p or 1920x1080p Full HD resolution and supports the maximum 4K (3840x2160p) resolution. It accepts 4K input because of its powerful DLP 0.33″ DMD display chip, designed to downconvert the higher resolution to the native.
Besides, It is equipped with 2GB of RAM and 16GB of storage; you can download 7000+ apps directly from the Android Play Store as the projector runs the Android-based TV OS. Moreover, you get a built-in Chromecast for casting your favorite content and Google Assistant for voice control on the projector.
The physical ports include one Arc-supported HDMI, a USB 2.0, an audio port, and DC/power Ports. You have both wireless and wired input options on the projector. For the wireless connection, the Halo supports the popular wireless standard 802.11ac—supports dual bands 2.4GHz and 5GHz—and Bluetooth 5.0.
This battery-powered projector offers 800 ANSI lumens and a 10000:1 contrast ratio; moreover, you have projections sizes between 30 and 200 inches. You can position the image using the keystone correction feature: automatic ±40° vertical and manual ±40° horizontal. It also includes Autofocus, which focuses the image automatically once you power on the projector.
Pros & Cons: The Halo True
What I like:
Its design; very portable and compact
Built-in battery
DLP display technology
Native Full HD resolution, 4K input support
Front/Rear Projections
Picture quality with good color reproduction
What I don't:
2. Nebula Mars II Pro – Best Outdoor Movie Battery-powered projector
The Nebula Mars II pro is another great battery-powered projector; it's very small – 7×4.8×5.43 (LxWxH) inches, and very lightweight – 3.94lbs. Moreover, it's an amazing-looking projector with many advanced features. It includes a built-in 12,500mAh battery and boasts 500 ANSI lumens of brightness. And, the projector utilizes its battery power using different working modes—Auto, Battery, and Standard—to output different brightness levels.
This mini projector is built around a 0.3″ DLP chip and offers partial HD 1280x720p resolution. It can project a standard 100-inch image from 8.73 ft, 80-inch image from 6.99 ft, 60-inch from 5.22 ft, and 40-inch from 3.48 ft. You can position or correct the image keystone correction feature allows ±40° Horizontal and Vertical correction.
Since the Nebula Mars II is a multimedia projector, it has two working modes: a projector and a Bluetooth speaker. Moreover, it carries built-in dual 10W audio drivers, delivers immersive sound with deep bass. You can connect any Bluetooth-enabled device to the projector; it works the same as a standalone Bluetooth sound system.
When it comes to connectivity options, you can connect your device by making a wired or a wireless connection. Its dual-band Wi-Fi (2.4GHz and 5GHz) support ensures a fast internet connection between the projector and the connected device. Besides, You have one HDMI 1.4 and one USB 2.0 port for a wired input. It also has a dedicated App called Nebula Connect for iOS and Android devices.
Pros & Cons: The Nebula Mars II
What I like:
Its design; very unique, feels premium
Very portable – lightweight and small
Different brightness levels
Built-in Battery
DLP display technology
Front and Rear projections
What I don't:
It doesn't support Chromecast
3. Anker Nebula Capsule – Cheap/Budget Battery-powered Portable Projector
The Anker Nebula Capsule is the cheapest yet powerful battery-powered portable projector on the list; the model—Nebula Capsule—is popular among its competitors for its outstanding clarity and contrast. Moreover, it is a can-sized multimedia-type projector, measures 2.68×2.68×4.72 inches and weighs under 2 lbs (~1.04 lbs); it's small enough to fit in your pocket. You can surprise your friends or colleagues by showing them a 100-inch image putting the projector just 3.08m away from the projection area.
You don't need to carry the remote control all the time as you can control this mini portable projector using the Nebula Connect app. It can project a 40-100 inches image with 480p resolution and a 16:9 aspect ratio. Besides, this mini projector utilizes DLP display technology to produce a clear and sharp image——it has 100 ANSI lumens of brightness——and an LED light source that claims up to 30,000 hours of life.
Even though the projector's native resolution is 854x480p, you can feed it 1080p content via its HDMI port or wirelessly—it has dual-band frequency bands (2.4GHz & 5GHz) support and the popular wireless standard 802.11n—by streaming the content via Miracast and Apple Airplay.
The Nebula Capsule has a built-in 5200mAh battery that promises up to 4 hours of backup for movie Playtime and up to 30 hours for Music Playtime if used in Bluetooth speaker mode. It takes only around 2.5 hours to get fully charged. You can download apps directly from Google Play Store as the Nebula Capsule runs the Android-based TV OS along with its Native App Store.
Note: If you want an HD (720p) model, go with its higher model – Nebula Capsule Max. It has 200 ANSI lumens and an 8W Dolby speaker. However, you'll have to pay $150 more for this model.
Pros & Cons: The Anker Nebula Capsule
What I like:
Its picture quality for the price
very portable and lightweight
Good sound quality (supports DOLBY)
Its UI, very responsive and fast
Auto keystone
What I don't:
Buying Guide: How to find the perfect battery-powered portable mini projector for needs?
1. Types of battery-powered projectors
Portable Projectors
Pico or pocket projectors
Palm-top Projectors
Mini Projectors
Multimedia Projectors
1.1 Portable Projectors
Suppose a non-techy person searches for the best portable projectors. In that case, he'll likely come across results with different types of portable projectors, such as Pico/Pocket, Palm-top, Mini, and Multimedia portable projectors. There is no doubt they all are portable, but their portability varies from type to type. Moreover, they all may have built-in batteries.
Related: Top portable projector reviews
1.2 Pico/Pocket Projectors
These projectors are tiny; a pico projector can fit easily in a pocket and backpack. Therefore, they top the list when it comes to portable projectors. However, they struggle to give you a quality picture. In my opinion, pico projectors should not be qualified as projectors as they don't offer good brightness, contrast, resolution, and display technology.
In other words, pico projectors lack the power to deliver big-screen viewing with good image quality.
Related: Top Pico or Pocket Projectors
1.3 Palm-top Projectors
As they suggest, they can sit on your palm and are larger and packed with better brightness compared to pico projectors. After Picos, Palmtop projectors are also very portable due to their tiny size and lightweight but again with limited projection capabilities. Therefore, Pico and Palmtop projectors are useless in terms of projection power, especially outdoors use.
Related: Top Palmtop Projectors
1.4 Mini Projectors
Mini projectors are good portable projectors; they are brighter and offer higher resolution than Picos and Palmtops. Good Mini projectors utilize DLP technology—expensive movie projectors also use DLP technology— to deliver better picture quality.
Related: Best Mini Projectors
1.5 Multimedia Projector
Multimedia projectors are designed to operate in two modes: projector and speaker. You can use its built-in speaker as a standalone Bluetooth speaker, which allows pretty much all devices to pair, providing them to have a Bluetooth connectivity option. The other mode, the projector mode, packs all the projection capabilities. Therefore, the Multimedia projector type is considered one of the best types for portability.
When it comes to the main advantages of multimedia projectors over standard projectors: They're more portable, offer different working modes, and are smaller and more lightweight (under 5lbs). Besides, they offer Bluetooth and Wi-Fi connectivity options to connect compatible wireless devices, such as smartphones and laptops. Expensive models may also be found running the Android TV OS to allow users to download apps directly from the Google Play Store.
2. Display Technology
Display technologies, such as LCD, DLP, LCoS, and laser, make a huge difference when it comes to image projection. Since LCoS and Laser are very high-end display technologies, they can only be found on larger projectors. However, LCD and DLP are very common among most portable projectors, and they utilize LEDs as a light source. Therefore, LED-based projectors generally have long lifespans, more than 15,000 hours.
Both LCD and DLP have their advantages and disadvantages. Still, You can go with DLP-based battery-powered projectors as they offer better features and deliver a better image. However, you might face some rainbow artifacts.
Conclusion: What does ProjectorWar.com recommend?
So you have the three best battery-powered portable mini projector options for 2023. Let's see which model will suit you, 
Pick 1: The XGIMI Halo True
The first battery-powered projector is from XGIMI, the XGIMI Halo True; a Full HD projector smart projector boasts 800 ANSI lumens of brightness. It runs the Android TV 9.0 OS with over 5000+ app support which you can download from the Google Play Store. It has a great battery life with up to 2 to 4hrs of backup. Moreover, it can project between 30 and 300 inches projection sizes from 2.59ft to 25.9ft.
The XGIMI Halo True: Who's it for?
The XGIMI Halo True is for everyone; it's a perfect pick for home entertainment. Besides, You can take it to your office for business presentations or use it as an outdoor theater. It never gives on quality, be it visuals or sound. However, the only downside of the projector is its price. It may be an expensive option for most people, but it deserves it because of its high-end features and premium visuals.
So if you're looking for the overall best battery-powered portable projector for indoors and outdoors, go with The XGIMI Halo True.
Pick 2: The Anker Nebula Mars II
The Anker Nebula Mars II is another great battery-powered projector that offers 500 ANSI lumens and native 720p resolution, runs Android 7.1 TV OS, and has two 10W Dolby Digital Plus supported speakers. Besides, you can enjoy 1.5 to 3 hours of video content—3 hours in battery mode while 1.5 hours in standard mode. You have wireless (WI-FI & Bluetooth) and wired (HDMI/USB) connectivity options to feed content to the projector.
The Anker Nebula Mars II: Who's it for?
If you want a mid-range battery-powered projector for indoors and outdoors entertainment, the Anker Mars II is more the best option for you. It is bright enough to fill a large 100-inch image with good quality; however, it works better nighttime.
So the Anker Nebula Mars II is an excellent option for people looking for a budget portable projector for home entertainment. You can use it outdoors too, but the viewing experience won't be as good as XGIMI Halo True.
Pick 3: The Anker Nebula Capsule
It's a soda-can-sized battery-powered projector, boasts 100 ANSI lumens of brightness, can project up to 100-inch image with a 16:9 aspect ratio, offers native 854×480 resolution and supports 1080p input. Moreover, it has a good built-in battery that promises 4 hours of battery backup—4 hours in battery mode and around 2 hours in standard mode. Meaning, you can enjoy a couple of full movies in one go. You don't need to charge it separately as it gets charged while projecting.
One of its main key features is its sound, which offers a 360° omnidirectional speaker (1x5watt) to deliver an immersive sound all around. In the case of connecting an external sound system, you can use its Bluetooth.
The Anker Nebula Capsule: Who's it for?
Overall, the Anker Nebula Capsule is the cheapest battery-powered projector yet powerful enough to use indoors and outdoors. However, it is not bright enough for daylight viewing. In that case, you have better options – the Anker Mars II and the best option – the XGIMI Halo.