Your projector's built-in speakers can't produce the best quality sound with stability. They're not even close to external soundbars, available these days at budget-friendly prices.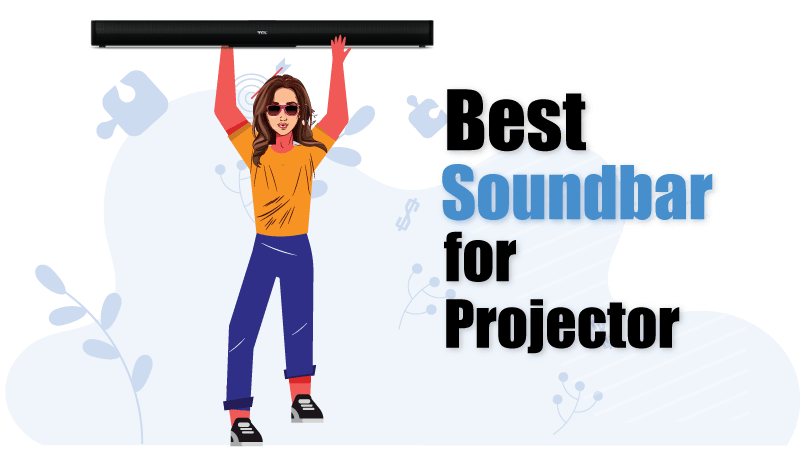 Most modern projectors come with onboard speakers loud enough to handle a small group of people inside your house, but outdoor with a noisy environment, they fight till their last breath and end up with distorted sound.
Also, the sound quality you get from them may vary from projector to projector. Though expensive projectors, such as laser projectors, include built-in soundbars, they also struggle to produce lower-range sounds. That's because such low and mid-range sounds are only possible when a soundbar offers good subwoofers and speakers.
So, if you want an immersive sound experience, you'll have to have the best soundbar for your projector. However, finding the best one is not that easy thing. There are so many buying factors that you should keep in mind before shopping for a suitable soundbar.
That's why in this guide, I am sharing with you the top five soundbars of 2023. These soundbars are compatible with all types of projectors and come with both wired and wireless connectivities.
5 Best Soundbars For Projectors 2023 
Overview
Bose—a well-known and popular brand in the sound industry, and Boss 900 is its latest soundbar, ready to provide you with an immersive sound for your projector. It's a 5.1.2-channel Dolby Atmos soundbar with built-in Alexa, comes with two upfiring dipole speakers—custom-engineered—ensures sound in every corner.
Boss has adopted an advanced technology called ADAPTiQ, an optimized audio reproduction, in order to reproduce a balanced sound profile according to your space, making it ideal for different types of audios or music genres.
Since the boss 600 offers multiple connectivity options, such as HDMI, Wi-Fi, and Bluetooth, you don't need to put extra effort into connecting it with your projector.
Pros & Cons: The boss 900 Smart Soundbar
What I like:
Its balanced Bass and Treble
Loudness
Advanced adjustments for bass and treble
Dolby Atmos Support
What I don't:
Surrounds performance is average
Who's it for?
There is no doubt the boss 600 is an ideal option for mixed usage because of its ADAPTiQ feature. Additionally, you have options to adjust its bass and treble so that you can customize its sound.
In testing with my laser projector, I also found the boss 900 to be more dialogue-centric. As a result, it localized dialogue perfectly at an exact location in the sound image. Also, it produced clear, balanced, and detailed mid-range voices.
It can handle both types of audio content: Dolby Atmos and Surround. Moreover, if you pair the boss 900 with an expensive projector, it will add an extra dimension of height to the sound.
2. Klipsch Cinema 600 – Mid-priced & powerful soundbar for projector
Overview
The second on the list, and an external soundbar for your projector from Klipsch, Klipsch cinema 600. It's a 3.1-channel soundbar designed to accept all types of audio content. Unlike the boss 900 lacking low bass, the Klipsch Cinema 600 has a dedicated subwoofer to tackle reproducing low bass.
When it comes to home theater, the Klipsch 600 is loud enough to handle a large group of people. Additionally, it offers features to customize its sound as per the content and to enhance its loudness. Furthermore, the Klipsch Cinema 600 supports surround sound and accepts content via Bluetooth and HDMI.
Therefore, whatever types of content you use it for, such as TV shows, music, movies, or other mixed usages, it'll provide an immersive listening experience for each type. Moreover, If you love movies packed with action scenes, it has a balanced sound profile and can get loud without overwhelming dialogue.
Pros & Cons
What I like:
Its loudness
Good low-bass
Balanced and clear sound
It has features to enhance the dialogue
What I don't:
No Dolby Atmos support
Who's it for?
If you want Klipsch Cinema 600 for watching TV shows or content with heavy dialogues, you're in the right director. Since dialogue-heavy content requires better mid-range sounds, The Cinema 600 exactly does the same, reproduces a clear and detailed voice. Additionally, you also have an adjustable dialogue enhancement feature on the soundbar.
Unfortunately, you don't have Wi-Fi on this model; therefore, Chromecast, Apple AirPlay, etc., are out of context. Still, the money we put on the table for the Klipsch Cinema 600 is entirely worth it.
Note: If you want a Wi-Fi-enabled soundbar for your projector, the boss 900 is waiting for you. The particular supports Dolby Atmos and offers 5.1.2 channels. However, the price is almost double the Klipsch cinema 600.
3. Sony HT-X8500 – Best budget Soundbar for your projector
Overview
The Sony HT-X8500 is a 2.1-channel soundbar bringing you astonishing dialogue and vocals sound. One of the top popular yet budget-friendly soundbars on the market supports Dolby Atmos with DTS:X certification. What about a subwoofer? It has built-in soundbar dual subwoofers for deep bass.
Unlike most budget soundbars, the Sony HTX8500 includes seven different sound modes to enhance the overall sound experience according to the content. Additionally, it includes a Voice Enhancement feature to boost different audio frequencies while isolating voices and amplifying above background noises to achieve the best sound quality possible.
Since most projectors accept 4K HDR content, the Sony HTX8500 takes care of it and handles all the latest cinema formats, such as Dolby Vision, Hybrid Log gamma, and of course, HDR 10, to bring you the home theater-like experience at your home.
With standard wired connectivities, The Sony HTX-8500 has wireless connectivity options too. Though the soundbar doesn't have Wi-Fi, its Bluetooth feature lets you connect your Bluetooth-enabled devices wirelessly. In addition, its HDMI and other optical inputs ensure easy integration for various devices, such as your set-top box, gaming console, Blue-ray player, TV, Etc.
Pros & Cons: The Sony HT-X8500
What I like:
It supports Dolby Atmos and DTS
Its EQ bass adjustment feature
Different sound modes with Dialogue enhancement feature
Bluetooth connectivity
What I don't:
Its low bass
Who's it for?
The Sony HTX8500 is a fantastic soundbar for your projector under budget. Its Bluetooth has the potential to handle all your Bluetooth-enabled audio devices while keeping the sound quality top-notch. Also, You can enjoy high bitrate surround sounds on the soundbar as it supports Dolby Atmos and DTS-X.
However, the soundbar doesn't have a room correction feature. Sometimes, it lacks low bass, too, as its surround sound feature always remains on.
Overall, for the price, the sony HT-8500 is worth every penny. If you're tight budget, the HT-8500 is the best option available for you.
Benefits of buying the best soundbar?
There is no doubt that soundbars are far better than other sound system types. They are versatile, require easy installation, look great, feel premium, and produce immersive, cinematic, richer, and crisper sound with a voice Enhancement feature.
When it comes to installation, you have options to put it in front of your projector, sit under your screen, and hang it on the wall. What else? Yes, you're right; you can mount it as well on the wall, just below the projection screen.
Guide: How to choose the best soundbar for your projector?
Location: Where will you put your soundbar?
It might sound silly to you, but the location of the soundbar is a crucial factor. It says how much space you have under your projector screen or around the projector if its an ultra-short-throw projector.
Since soundbars are versatile when it comes to installation, you can throw them anywhere you want—let them sit under the projector screens, in front of the screens, and hang on the walls.
However, the common thing among all the soundbars and a core point of the location factor is measuring the desired area. Once you're done with your location, check the specs of the soundbar before buying.
Size: What size of your soundbar is recommended?
No one wants their soundbar to be wider than the projector screen they have. Instead, you can buy a soundbar that is wide enough and have the same length as your projector screen.
Active Vs. Passive: Why is it important?
A passive soundbar requires an external amplifier to function; as such soundbar doesn't have a built-in power amp. Unfortunately, passive soundbars are not cost-effective because they need more important components to work.
On the other hand, passive soundbars can produce better sound than soundbars with built-in amplifiers because passive ones have better speakers. However, don't expect extra bass until you connect it with a traditional subwoofer.
Active soundbars are like an all-in-one pack, don't require external receivers or amplifiers to work. An active soundbar can power everything it carries inside the bar. Therefore, Active soundbars are more cost-effective than passive ones.
What do I recommend?
You should pick an active soundbar if you want to upgrade your projector's audio. On the other hand, a passive soundbar is ideal for dedicated home theaters where one wants a thundering Dolby Atmos sound system. In short, choose a passive soundbar when it's a custom installation.
Channels: How many channels should you need?
Channels are like individual speakers; it's pretty common to find movies with five different audio channels digitally embedded. It includes left, right, center, 1x left rear, and 1x right rear.
On the contrary, your soundbar packs everything (speakers/channels) in one unit. And, this is the main difference between a home theater setup and a soundbar.
So with the overall idea about the soundbar above, let's break down the channels found in a soundbar.
A soundbar with 2 channels
It means your soundbar has two speakers: left and right. A 2-channel soundbar is very affordable and produces average sound quality.
A soundbar with 3 channels
It means your soundbar has three speakers: left, center, and right—Affordable yet powerful for a small-sized to medium-sized room.
A soundbar with 5 channels
A very common soundbar, powerful enough for immersive sound quality. A 5-channel soundbar offers five speakers: left, center, right, 1x left rear and 1x right rear. Besides, five channels sound systems are the home theater standard.
A soundbar with 7 channels
More advanced to a five-channel soundbar, it offers a total of seven speakers. Unlike 5.1 soundbars, you get two extra channels/speakers. 7.1 soundbars have been growing very rapidly.
Connections: What are various connectivity options found on soundbars?
Modern soundbars come with many advanced connectivity options for both wired and wireless, such as HDMI ARC, USB, Optical, Bluetooth, and of course, Wi-Fi.
Let's discuss wired connections first,
1. HDMI ARC
ARC stands for Audio Return Channel. The feature came into existence after the HDMI standard 1.4 was introduced. Since then, every other piece of equipment—TVs, soundbars, receivers, etc., has been offering the HDMI ARC port.
Why HDMI ARC?
HDMI ARC is an advanced way of communication between devices. With a single HDMI connection, the HDMI ARC port offers two-way audio functionalities: Input and output audio, simultaneously using a single HDMI.
Now, you have an overall idea over HDMI ARC. So, it's up to you whether you want it on your soundbar or not.
2. Wireless Connectivity
Generally, a soundbar's Wireless connectivity refers to two types of wireless connections: Bluetooth and Wi-Fi. Through one of these, your soundbar streams audio via a compatible Bluetooth/Wi-Fi-enabled device.
Most cheap or budget soundbars at least come with Bluetooth connectivity. On the other hand, expensive soundbars come with Wi-Fi and Bluetooth connectivities, making it easy to stream whatever you want over your home internet network.
3. Optical Port
An Optical port is another great option to connect your soundbar with your TV or other optical-equipped devices. However, it struggles over the high bandwidth connection, such as 5.1 signal and more.
I suggest you choose an HDMI over optical for enough bandwidth to carry over any single.
4. USB Inputs
A very common input type, USB. A USB port on a soundbar is used for an external flash drive with an entire music library on it. Another common use is to update the firmware of your soundbar via a USB drive.
FAQs: Some common questions people often ask about soundbars
Can I add speakers to a soundbar? 
It completely depends on the soundbar. Some soundbars let you add speakers. Also, It is common these days for most soundbars to come with additional speakers to give you real home theater-like sound. Generally, soundbars with multi-room audio capabilities let you hook up additional speakers. So, check your soundbar's audio system capability. 
Do I need a receiver if I have a soundbar? 
If it's your passive soundbar that requires an external amplifier, then you should consider buying a receiver for your soundbar. On the contrary, an active soundbar owner doesn't need to buy any receiver. 
It's possible to add a subwoofer to my soundbar? 
Since most soundbars come with built-in subwoofers, an additional subwoofer might lower the sound quality of your soundbar. Therefore, I'd advise you to check whether your soundbar can handle an additional subwoofer. 
What are the top soundbar brands I can trust on? 
There are so many trustworthy soundbar brands on the market that make high-quality soundbars. The popular ones are Bose, Sony, Sonos, Yamaha, and Klipsch. 
Conclusion: Still not sure what soundbar to buy for your projector?
In this guide, you have the five best soundbars for projectors; I picked them, keeping different budgets and purposes in mind. 
For example,
The first one is from Bose, the Bose Smart Soundbar 900. One of the finest soundbars available on the market for your projector. It offers everything that one looks for when it comes to a real home theater experience. It supports Dolby Atmos, gets loud, and lets you adjust the bass and treble as per your taste.
The second soundbar on the list is from Klipsch, the Klipsch Cinema 600. A fairly well-priced soundbar for your projector. This 3.1 home theater system is designed for mixed usage— music, tv shows, movies, Etc. Like Bose, it also gets loud, supports different audio content, features dialogue enhancement mode, and produces surround sound with heavy bass in every corner. However, unlike Bose 900, you don't have options to adjust its bass and treble. Also, it doesn't support Dolby Atmos.
Still, for the price, you won't be disappointed. It's an awesome under-budget soundbar for your projector.
The third is another soundbar from a well-known brand, Sony. The Sony HT-X8500. This 2.1-channel soundbar is for tight-budget people, yet it has all the essential features and technologies.
The Sony HT-X8500 features a dialogue enhancement feature, supports Dolby Atmos (unlike Klipsch 600), offers easy adjustment for bass, and gives you a boxy sound profile. However, it lacks low-bass and room correction features.
Still, the Sony HT-X8500 is worth the money. You can't find any better soundbar for your projector than this for the price it carries.
I hope this was a helpful article for you. If you have any doubts about any of the soundbars listed in this guide, ask me in the comment section below. I'd love to reply.
Thank you for reading, and enjoy your new soundbar with your projector.