Everyone craves that gigantic theater-like screen experience at their home. So naturally, therefore, people are leaning more towards projectors than TVs. However, it's only possible when there is the best ultra-short-throw projector in your home. In this guide, you'll find the top three of 2023.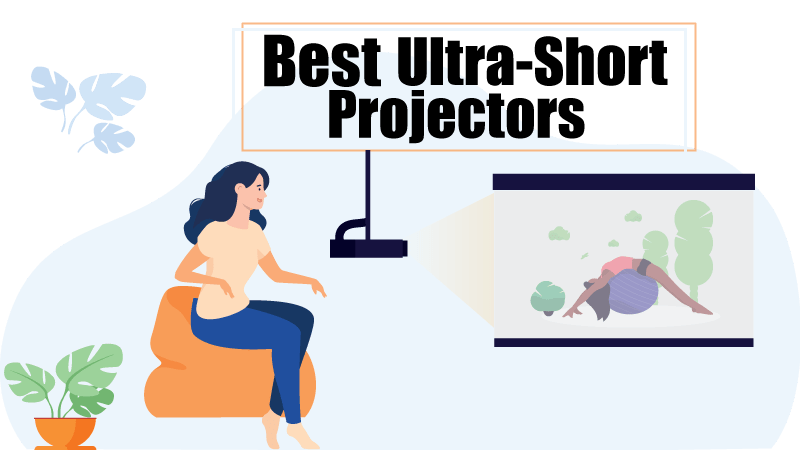 Most people think that TVs are the only option for immersive picture quality. It generally happens because of their biased comparison between a TV and a projector. In other words, they compare their high-end TVs with typical projectors with basic features. Another reason is that they don't even know about Ultra Short Throw projectors. As a result, they end up buying a TV.
You should know there are many types of projectors, such as long-throw projectors, short-throw projectors, laser projectors, ultra-short-throw projectors, and many others. These are very advanced projectors with high-end features.
However, we'll discuss only ultra-short-throw projectors in this buying guide. Any projector with UST projection capability ensures a high-quality picture on a large screen just 4 inches away from the screen. On the other hand, regular projectors are put at the back of a room, or you can mount them to a wall. That's because these types of projectors project the picture across a room. In contrast, ultra UST projectors project upwards, allows them to be placed as close as possible to a wall or projected screen.
In this guide, I've compared the top three ultra-short-throw projectors for you. Moreover, I picked them after considering some crucial factors, such as display technology, light source, resolution, brightness, and contrast ratio, and of course, throw distance.
1. LG HU85LA – Ideal UST for brightness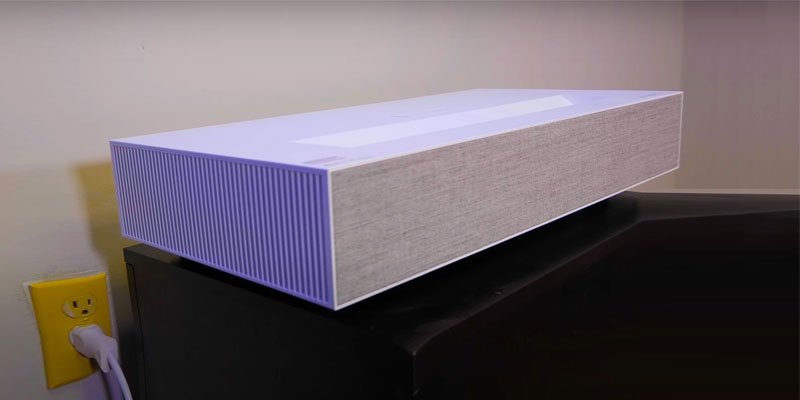 Key Highlights:
DLP display technology
2700 lumens of brightness
2,000,000:1 contrast ratio
Native 4K UHD (8.3 million pixels)
Projection size up to 120 inches
LG ThinQ AI
HDR10 support
Ultra-short-throw projection
Overview: LG HU85LA
LG HU85LA is one of the best projectors with ultra-short throw projection on the market. It is a native Ultra HD 4K projector that supports true 4K resolution (3840×2160) with 8.3 million active distinct pixels. Besides, it leverages XPR technology known for impeccable precision and detail when it comes to realistic 4K picture quality.
Most projectors with HDR tone mapping deliver above-average picture quality in each frame. However, LG HU85LA utilizes HDR10 technology with Dynamic Tone Mapping, deliver optimized picture quality frame by frame. The HU85LA also supports TruMotion technology (video processing technology), making animation more appealing.
As far as HU85LA's picture quality is concerned, it boasts an advanced laser display technology; further, to support a more comprehensive color range, it has an additional red color light source. In other words, it's a three-channel laser (1 Red + 1 Blue + 1 Blue with Static Phosphor for Green) technology to support broader color coverage. Most projectors offer dual laser display technology.
Pros & Cons: The LG HU85LA
What I like:
Incredible picture quality
True Native 4K resolution with 8.3 million pixels
Color accuracy
HDR10 support
Wireless mirroring connectivity
Built-in Alexa
What I don't: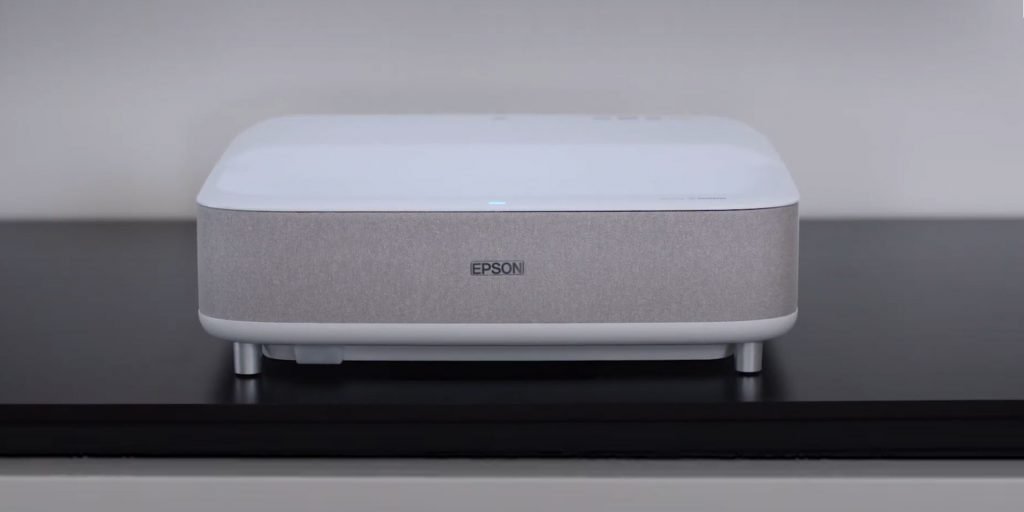 Key Highlights
3600 ANSI lumens of brightness
Max. projection size up to 120 inches
In-built Android TV
Ultra-short throw technology
Built-in Chromecast
3LCD display technology
Native Full HD (1920x1080p)
HDR and HLG supported
Overview: Epson EpiqVision Ultra LS300
The Epson EpiQvision Ultra LS300 is one of the popular projectors from EPSON using 3LCD display technology. Moreover, it is known for its fantastic picture quality, with 3600 ANSI lumens of brightness and a contrast ratio of 1,500,000:1, and is designed for true home entertainment.
It's a native Full HD projector and supports the actual 1920x1080p resolution. With a maximum screen size of up to 120 inches, you can enjoy HDR content while keeping the projector just a few inches away from the projected screen. It's recommended that you put the projector around 15.2 inches away from the screen to create a 120-inch screen. It's all possible because of its ultra-short throw technology.
Another noticeable feature is its built-in Android TV. It uses the latest Android interface and includes a very simple remote with standard buttons for better accessibility to the content, such as voice search and Google Assistant.
You also have a built-in Chromecast for your favorite content to be used wirelessly. It can be done using your smartphone (Android/iOS), tablet, and laptop. Besides, its sound quality is up to the mark; it is equipped with Yamaha's 2.1 speaker sound system.
Pros & Cons: The Epson EpiqQvision
What I like:
Incredible picture quality
Its 120 inches screen size
4K supports
Built-in Android TV
Ultra-short throw projection
What I don't like: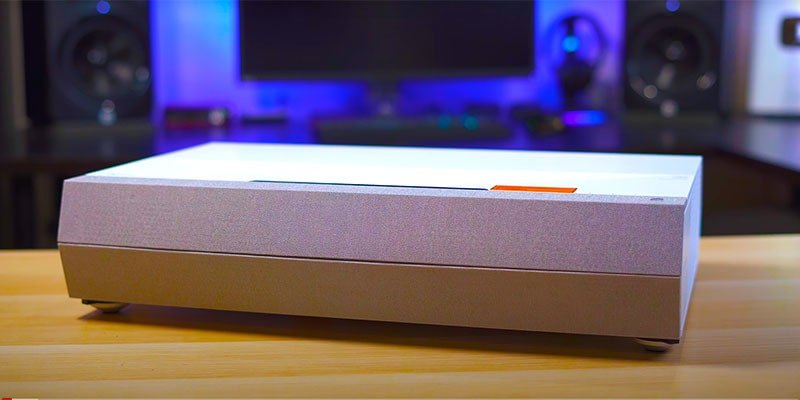 Key Highlights
Native UltraHD resolution
HDR10 Supported
6-segment color wheel
Ultra-short throw projection
Alexa & IFTTT compatible
30,000 hours of lamp life
DLP display technology
2,000,000:1 Contrast ratio
3000 ANSI lumens
Overview: Optoma CinemaX P2
Optoma CinemaX P2 is the third ideal projector for ultra-short throw lovers. The Cinemax P2 is defending itself with numerous advanced features and technologies. The native 4K resolution capability with HDR10 input support delivers a high-quality, bright, sharp, and cinematic theater-like experience at your home.
Unlike the traditional RGB color wheel, The CinemaX P2 has adopted an advanced color wheel containing three additional color segments—RGBRBB. They are responsible for enhanced brightness and more accurate cinematic color.
The Optoma CinemaX P2 can create a large image of up to 120 inches from a few inches (14.5 inches is the recommendation) away from the projected screen or wall because of its ultra-short throw projection technology. Thus, it becomes handy when a tight space comes into existence.
Moreover, the P2 utilizes laser technology as a light source. Compared to other light sources, the laser delivers more bright and better image quality. Besides, the projector boasts 3,000 ANSI lumens and a contrast ratio of 2,000,000:1. Therefore, It is an ideal projector for indoor and outdoor purposes.
If you're a sound lover, you'll love this projector. That's because it has an integrated 40W soundbar producing more precise, detailed, loud, crystal-clear vocals and deep bass with superior dialogue clarity. To achieve this award-winning sound, it uses two full-range woofer drivers, produces astonishing mid-range frequencies.
Pros & Cons: Optoma CinemaX P2
What I like:
Stunning picture quality
The advanced 6-segment color wheel
4K HDR10 input support
Ultra-short throw projection
Integrated soundbar
Compatibility with voice assistants (Alexa & IFTTT)
Easy to setup
What I don't like:
Its interface could be better.
What is an ultra-short throw projector or UST technology?
An ultra-short throw type of projector utilizes unique mirrors and wide-angle lenses to project (or throw) the image onto the projected screen while keeping the shortest possible distance (a few inches) between the screen and the projector.
Moreover, ultra-short-throw projectors are also known as Laser TVs, Laser Projector TVs, and UST televisions. So if you come across any of them or find people uttering one of these terms, they're referring to an ultra-short throw.
Then, it comes to short-throw projectors; they use the same technology as UST projectors but from a very short distance (a few feet).
Related: Best short-throw projectors 2023.
Now, the typical long-throw projectors are designed to be placed an inch away from the projection screen for every inch of the size of the diagonal screen.
Therefore, ultra-short-throw technology is costly, so are the ultra-short-throw projectors.
How do you consider your projector to be an Ultra short throw projector? Difference between regular throw, short throw, and ultra-short- throw.
1. Regular Short Throw
Everyone knows that a projector with a 1.5 throw distance is considered a typical projector. It means a projector needs to be move 1.5′ away for every 1 foot of the width of an image. So, for example, let's say you want to create an image of up to 120 inches, put your projector around 15 feet away from the projection wall or screen.
2. Short throw
The kind of projector has a throw distance of around 0.8. It means that every 1 foot of the width of an image requires you to have the projector 0.8′ away from your projector screen.
2. Ultra-short throw
A projector with an ultra-short throw built around a wide-angle lens and special mirror technology lets you have your UST projector close to your projection screen while maintaining a throw ratio of less than 0.4.
Buying Guide: What things make a projector better? Let me walk you through crucial factors for an Ultra Short Throw Projector.
Compared to typical projectors, buying an ultra-short-throw projector is confusing. Therefore, sometimes people purchase projectors with unnecessary features and technologies. So in order to save you money, I've shortlisted some of the projector's buying factors.
Throw Distance: Don't fall for anything; stick with an ultra-short throw distance
One of the main benefits of getting an ultra-short-throw projector is its ultra-short throw distance. Moreover, there are more advanced UST projectors that sit directly under the projection screen. Unfortunately, though, they require you to spend more because of their shortest throw distance.
Since short throw distance is considered an ideal option for living rooms, you should buy a UST projector that offers the shortest throw distance to create a gigantic projection size.
Display technology: does image display technology matter for an ultra-short-throw projector?
There is no doubt that the display of a projector is everything. Moreover, when it comes to ultra-short-throw, it becomes more crucial to pay attention to. It's pretty normal you see every other projector using an LCD. Most projectors offer LCD (Liquid Crystal Display) panels—a widespread display that allows easy adjustment to brightness and contrast, as they're cheaper compared to DLP and Laser. However, the LCD technology is not for 3D viewing.
When you take one step ahead, you'll get a chance to meet DLP (Digital Light Processing) technology. DLP display is very common among mid-range to high-range projectors. It supports 3D.
Now, it comes to laser technology. It's high-end display technology; only expensive projectors use it, such as short-throw and ultra-short-throw projectors. It has all the qualities of LCD and DLP, including high-contrast, lightweight, high-brightness, 3D capability, ETC. The first projector, LG HU85LA, on the list is equipped with laser technology.
Resolution: Can an ultra-short throw offer a 4K resolution?
After display technology, the resolution, or better say, a native resolution of the projector, is another essential factor to consider. Those who don't know what resolution is? The resolution of an image is nothing but the number of vertical and horizontal pixels in the frame.
Yes, it is pretty common among ultra-short-throw projectors to offers true 4K resolution. For example, The LG HU85LA is a native 4K ultra-short-throw projector.
Light source: Does it matter for a UST projector?
The light source of a projector directly targets the overall brightness of the projector. Generally, you'll find projectors with LED and Laser light sources. Looking at these two sources, you can easily identify which one will be the best. So yes, you're right; a projector with a laser light source is an ideal choice to go with.
Therefore, Most UST projectors love utilizing lasers for projection. Its advantages include A short distance, Lower maintenance, Enhanced color accuracy, Better contrast, More crisp visuals, Longer-lasting, brightness, and many others.
FAQs: Most frequently asked questions about UST projectors
How would I know whether my projector is a true Ultra short throw projector?

If your projector can throw a gigantic screen just from a few inches, let's say 0.4 inches, your projector will be considered an ultra-short-throw projector. Since UST projectors are designed to sit right under the movie screens, it's better to check the projector's throw ratio. 
What are the benefits of a UST projector? 

An ultra-short throw projector carries tons of benefits, such as ultra-short throw distance, the capability of working in bright rooms, direct sunlight in your backyard, ambient light, and last longer than regular projectors. 
How much does an ultra-short-throw projector cost? 

A true ultra-short throw projector can cost you between $2000 to $7000. There is no doubt that ultra-short-throw projectors are expensive because of their costly advanced features and technologies. Moreover, they include an integrated built-in soundbar, make them pricier. For example, Optoma CinemaX P2 offers a 40 built-in soundbar.  
An UST projector requires any different type of projector screen? 
There is no unique screen requirement for your UST projector when it comes to the projector screen. However, Getting an ALR screen with a low gain is better. Moreover, you can try your hands on the best electric motorized screens as well.
Conclusion: What ultra-short-throw projector does ProjectorWar recommend?
All the UST projectors in this guide are incredible. You can choose what suits your needs and fit the most. For example,
My first recommendation, LG HU85LA, can be an excellent pick for video games, sports, and similar brighter content. Moreover, I loved its class-leading performance with sharp image quality and native 4K resolution.
The second recommendation, Epson EpiqVision Ultra LS300, is a pocket-friendly projector. With a simple, excellent design, the projector can fit into any home decor easily. It offers all the necessary features; moreover, its setup is like child play.
The third recommendation, Optoma CinemaX P2, is a very quiet projector packed with many advanced features and technologies. It produces accurate image quality out of the box, supports HDR and 3D playback with native 4K resolution. It also has an integrated soundbar. In the end, Optoma CinemaX P2 is an incredible projector for the money.
Now, there won't be any issue while picking the best ultra-short-throw projector for your needs. However, if you have any doubt, please do let me know in the comment section below; I'd love to answer your questions as soon as possible. Thank you.