Has Optoma GT1080HDR taken an extra step toward the best home theatre projector of 2023 compared to BenQ TH585, BenQ TH685, and ViewSonic PX701HD? Let's take a close look at the review of the Optoma GT1080HDR Short Throw Gaming Projector.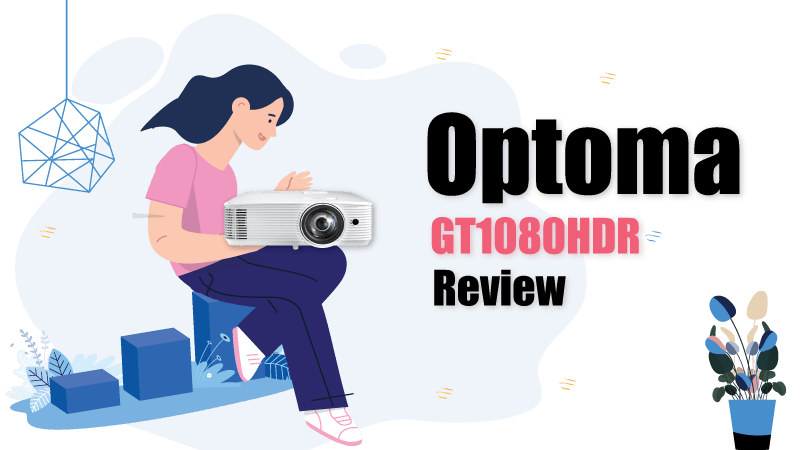 Key Features: The key highlights of the Optoma GT1080p
Full HD native 1080p resolution
50,000:1 contrast ratio
Short Throw Projection
4K & 1080p HDR input supports
0.8~2.0x Digital zoom
15,000 hours lamp life
Pros & Cons: What's good and bad
What I like:
Its short-throw projection for the price
4K & 1080P HDR inputs
Full HD 3D support
Fast response time & low input lag
Picture quality with good contrast
What I don't:
No carrying bag
Verdict: What do I think about the Optoma GT1080HDR?
You should know that the Optoma GT1080HDR is primarily designed for watching movies. Besides, gaming is above the bar because of its sharpness, great color accuracy, and low lag time. Plus, its short-throw projection for the price is also impressive.
Amazon: Check the latest price
Overview: All you need to know about the projector Optoma GT1080HDR
The Optoma GT1080HDR is an entry-level home theater projector with short-throw projection capability. Like its competitors—the BenQ TH585 and ViewSonic PX701HD, the GT1080HDR is also a native Full HD projector that supports true full HD resolution (1920x1080p). In addition, it welcomes 4K Ultra HD (3840x2160p) resolution and downconverts to (1920x1080p) resolution—its native resolution.
Brightness: The Lumens rating of the GT1080HDR
The brightness of a projector is rated at 3,800 ANSI lumens—bright enough to handle a room with ambient light. Thanks to its short-throw projection, you can put it close to the screen to create a large image.
When it comes to its color wheel, it utilizes a DLP (1920x1080p) chip and six segments (RYGCWB) color wheel. Its high brightness is a result of the white panel. The cyan and yellow panels are for better color accuracy where the white panel lacks.
The SMPTE stands for Society of Motion Picture and Television Engineers recommends different brightness levels according to projection sizes. Since the projector boasts 3,800 ANSI lumens, it can create 280 inches of diagonal 1.0-gain white screen size with a 16:9 aspect ratio in a dark room. And 160 inches 1.0-gain screen with ambient light.
Unfortunately, there is no mode available that is bright enough to create such screen sizes. Still, the cinema mode can be taken as a point of reference because it is bright enough to light up a 90-inch 1.0-gain screen in a dark room.
Its dynamic power mode is another option to create around 80 inches screen with lights on. So even you can enjoy daytime viewing with lots of windows.
Design: What about the physical appearance of Optoma GT1080HDR?
The GT1080HDR is a lightweight, easy-to-carry projector. The projector weighs around 7.7 pounds and measures (4.5×12.4×9.5) inches (HWD). Since the projector is small, you can carry it wherever you want, from room to room.
Colors Modes: Different colors modes available on GT1080HDR?
As mentioned above, you'll find the three most useful predefined color modes on the projector—movies, games, and videos. However, these color modes are comparable, deliver adequate color accuracy, and offer saturated and vibrant colors. It also includes some other ports such as 3D and HDR. There is also a mode that keeps waiting for only HDR10 input.
Among all color modes, you'll find its sRGB mode to be more accurate when it comes to a realistic color range. However, when it comes to watching movies and playing videos, I prefer Cinema mode instead. It is because it offers better brightness, contrast, and black level.
Its gaming mode delivers an average contrast and color accuracy. Besides, it gets successful in brightening up dark scenes the most. Therefore, it become easier to see black shadow details. Since this mode is designed for gaming, you can take advantage of those black details.
Moreover, If you want better black levels and contrast in dark scenes, lower the brightness and change the power setting to Dynamic. You'll find these settings to be more powerful and significantly better image quality than Eco mode and Full Power modes. Besides, you'll also get a glimpse of 3D dimensionality.
Gaming: The Optoma GT1080HDR's gaming performance
As far as gaming is concerned, our goal should be looking at the key features such as input lag and response time. And the good thing is that the GT1080HDR performs pretty well for gaming. Its gaming results over the Input-lag meter were very impressive. For example, 16.4ms for 1080p @60Hz, while with the gaming mode on, it was 8.4ms for 1080p @ 120Hz.
4K HDR: Does Optoma GT1080HDR work with 4K HDR input perfectly?
When the projector sees HDR10 input, it automatically switches to the HDR picture mode, allows the projector to match its native 1080p resolution by downconverting 4k resolution. Moreover, the projector has four different settings to adjust its HDR brightness. You can change it with an appropriate setting as per the movie being played and the ambient light level.
Sound: Does Optoma produce enough loud sound?
The Optoma GT1080HDR produces sound from its 10-watt speaker; it's a built-in speaker. The sound quality of the projector is loud enough to cover the small-to-medium-sized family room. However, the quality is not that amazing that you won't require any external sound system.
For an immersive sound quality for gaming and watching movies, I suggest buying a good external sound system for the projector.
Image correction: How do you position an image on the Optoma GT1080HDR?
Since it is a short-throw projector, you won't find any lens-shift control for correcting image position. However, As with most short-throw projectors, The Optoma GT1080HDR has a digital zoom feature to change the image size.
I am not a big fan of the digital zoom feature, as it affects the brightness and invites rainbow or artifacts. So I suggest you avoid the digital zoom if possible.
Short-throw: What about Optoma GT1080HDR's primary short-throw projection—best short-throw projector?
There is no doubt saying that short-throw projection is one of the best features you have on GT1080HDR. I created 90 inches diagonal 1.0-gain white screen just from 40 inches away. The short-throw feature becomes more enjoyable when you get it on a low-priced projector.
Connectivity: Inputs & ports on the Optoma GT1080HDR's back panel?
Projector's back panel houses all the essential ports, including two HDMI ports, a USB 2.0 port, VGA-In, a VGA-Out, Audio out/in, and an RS232 port. Coming to HDMIs, the first HDMI v2.0 supports HDCP v2.2 compatible with 4K 60Hz HDR input.
The second HDMI v1.4 supports HDCP v2.2 compatible with 4K 30Hz input. So don't use its first HDMI port as a 4K video source. Instead, use the right one or the second HDMI port for a 4k video source.
Testing: While testing the Optoma GT1080HDR
For color acceptance, I found GT1080HDR's preset colors modes to be more satisfying. The color accuracy was noticeable because of extra additional segments of color panels.
Gaming test with Input-leg mater shows 16.4ms response time at 1080p@60Hz. However, with the enhanced gaming mode is on, the response time settles at 8.4ms for 1080p@120Hz.
Improvements: What could have been improved by Optoma?
Optoma doesn't include any carrying bag with the GT1080HDR. Sometimes, it's hard to adjust the image position, and the digital zoom doesn't handle it with ease. Therefore, there is room for improvement when it comes to image correction.
There is also few rainbow artifacts (red-green-blue flashes). Unfortunately, though, it is common for single-chip projectors to introduce artifacts. Still, It's an issue and requires improvement.
Top Contenders: BenQ HT2150ST, ViewSonic PX701HD, BenQ TH585, and BenQ TH685
For under $1000, you have BenQ TH585, BenQ TH685, BenQ HT2150ST, and ViewSonic PX701HD projector. Since these projectors share the same features and technologies, the competition is very tight. I've reviewed all of them; go through them for more details.
Related: Best Full HD Home Home theater projector under 100
Conclusion: The Optoma GT1080HDR
In terms of features and performance, The GT1080HDR is up to the mark. Its high contrast with deep blacks for the brightness level, color accuracy is amazing. Moreover, you can appreciate its short-throw projection, which creates a big image from the shortest possible distance from the screen.
Therefore, calling the Optoma GT1080HDR a solid home projector won't be wrong. Its short-throw protection has been the primary buying factor so far. So people who don't need a short-throw projector should not waste their money on it, as there are many other projectors with a low price available, such as BenQ TH585 and ViewSonic PX701HD.
Still, you can consider the Optoma GT1080HDR if gaming, watching movies/videos with incredible color accuracy, and good contrast are in your mind.
If you have any doubt about the projector, please let me know in the comment section below. I'd love to answer your queries. Thank you!