I know you have the world's best projector in your home, and you're using your room's wall as a projector screen to watch your favorite content. Unfortunately, therefore, your projector is nowhere close to the actual theater-like picture clarity. So today, I have promised myself that I'll bring the best picture quality to your home—as I have the best projector screen for you.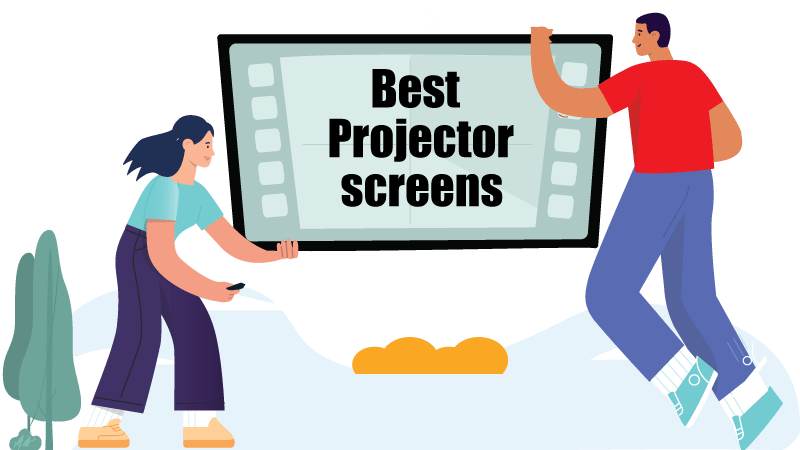 There is no doubt you can use your projector on a wall. However, the picture quality will be pathetic because your wall is not that reflective. Sorry to hurt you, but the reflective property of your wall is only one of its downsides. On the other hand, if you have the best projector screen, you'll find more accurate and better colors with an immersive viewing experience.
Before I take you through my list of top picks, let's take some crucial factors into account.
1. Size of the screen: your projector screen size matters a lot
The biggest difference between a TV and a projector is their screen sizes. The bigger the screen size, the better the viewing experience. I'll always suggest you go for a large projector screen to get an amazing experience.
Remember, the projection size entirely depends on the projector; therefore, make sure you check the specs sheet of your projector before looking at the projector screens.
2. Aspect Ratio: 4:3 or 16:9? What will you pick?
After the screen size, the aspect ratio of your projector screen is another considering factor. Compared to 16:9, the 4.3 aspect ratio is a thing of the past; it used to be a popular aspect ratio a few years ago. Therefore, I won't suggest buying a projector that only works around the 4:3 aspect ratio.
These days, most modern projectors offer both 4:3 and 16:9 aspect ratios, yet you should check whether your projector supports an aspect ratio of 16:9.
3. Types: Different types of projector screens – Fixed Vs. Motorized
There are two very common or basic screen types available on the market: a fixed-frame and a retractable motorized screen.
1. Fixed-frame Screens
As it sounds, A fixed-frame screen is something that has zero moving parts or electronic parts. So, unlike the motorized screen, it doesn't roll up and down. Fixed-frame screens are very common and popular among all types of projector screens because such screens maintain a tight and tensioned surface. As a result, you see a smooth image on the screen.
2. Motorized Screens
A motorized projector screen comes with a built-in electric motor inside a long metal case, allowing it to roll up and down. A motorized projector screen gives a clean and neat look to your place, as most of the time it is invisible; you only ask them to come out when it's your movie time, which can be done with a single touch of a button on the remote control.
Related: Best Electric Motorized Projector Screens
Apart from these factors, there are some other important buying factors too, which I have included in the buying guide below just after the screen reviews. However, the mentioned ones above were the most important factors. Keeping them in mind, you'll be able to find the best projector screen for your needs on your own.
If you don't have time for your own research, take a look at the following projector screens, including two fixed-frame and one motorized.
Overview
Mdbebrron is a 120-inch foldable Anti-crease projector screen. It supports a 16:9 aspect ratio and offers a 104″x58″ viewing size. Unlike most projector screens that lack wide viewing angles, the Mdbebbron projector screen supports a 160-degree viewing angle. It's a full HD 1080p projector screen with both front and rear projection capabilities or double-sided projection support.
The screen is very lightweight, weighs only 11.2 ounces, and comes in one piece. Moreover, you can fold the screen—you won't see any wrinkles while folding or crushing—in small size to carry with you; it can easily fit in your backpack. Since the screen is portable, you can use it for both indoor and outdoor purposes.
When it comes to material, the Mdbebbron is made of a natural high absorbance Polyester fabric, making it lighter, sharper, and brighter. Therefore, the screen is ideal for home theaters, public displays, outdoor movies, education, offices, etc.
Setting up the screen is very simple; you can fasten it in many ways, with ropes, nails, double-sided tapes, hooks, and of course, a wall mount. Or hang it in your backyard using a backyard stand. It also allows hand washing and machine washing if there are stains on the screen. Overall, it is very easy to clean and accepts normal cloth cleaning methods.
Pros & Cons: The Mdbebbron
What I like:
It's very compact and lightweight.
It has a lot of grommets to stretch.
120 inches screen size
Easy to setup
Its portability
What I don't:
There is nothing to dislike for the money.
The second video projection screen on the list is from the P-Jing brand. It is a great pick for the price; it costs less than 20 dollars. Like the Mdbebron projector screen, the P-Jing also offers double-sided projections. It's a 120-inch-sized screen; you can fold it or compress it into a tiny size for carrying.
The P-JING has designed the screen to serve both indoor and outdoor purposes with wide applications. It is bright enough to deliver a clearer, sharper picture in any situation. Moreover, the screen supports a wide 160-degree viewing angle, making it an ideal option for outdoor movies with a large group of people.
When it comes to installation, it's very easy to set up, comes with 12 metal-finished grommets for hanging. You can use hooks or cuttable rope included in the box for this purpose. For outdoor movies, you can use a backyard stand.
Pros & Cons: P-JING Projection Screen
What I like:
Its stretchable fabric
Lightweight, very portable, easy to carry
Foldable & washable
Inexpensive
Easy to install
What I don't:
Sometimes color bleeding issues.
The Elite VMAX2 is another great video projection screen. Unlike the other two, it is a motorized drop-down screen, comes in different screen sizes, from 84 to 170 inches. With a 180 wide viewing angle, this 1.1 gain projection screen supports various aspect ratios: 1:1, 4:3, and 16:9 for the full movie experience.
According to your taste, you have two casing options to choose from—A white casing and A black one. You can enjoy all types of content on this screen, from 3D content to 8k Ultra HD with HDR, with its IR & RF remote controls. Apart from the remotes, the VMAX2 series includes other accessories too with the screen, such as a detachable 3-way wall switch, Cat 5 cable, and built-in 5-12v trigger input.
Another noticeable thing is its material; it utilizes MAXWhite FG screen material backed by fiberglass to provide you with the finest screen surface. This MAXWhite FG material ensures wide viewing with accurate color reproduction and precise white/black contrast.
Pros & Cons: The Elite VMAX2
What I like:
Amazing build quality
Its excellent picture quality
It has good black borders
White & black metal frame casing
8K and 3D supported
A 3-year warranty
What I don't:
It doesn't come with mounting L-brackets.
Guide: How to choose the best projector screen yourself?
Even though you have an advanced projector with advanced features, you can't enjoy true entertainment until you have the best projector screen. It's quite common for people to use their walls as projector screens; they end up with low-quality images with inaccurate colors.
On the other hand, if you use an actual projector screen, your viewing experience will be top-notch. Because such screens are made of high-quality materials, and vinyl screen material is one of them. The vinyl screen material is affordable and powerful enough to deliver a smooth picture.
With different screen materials, projector screens also utilize different special types of coatings to add more flexibility to the light reflection properties of the screen.
Through this guide, I'll make sure you'll be able to choose an ideal projector screen for your needs as there are many types of screens available, such as fixed frame, motorized, tab-tensioned, non-tensioned, pull down, etc.
Screen Size: What screen size is recommended?
Go for the biggest screen size possible as long as you and your projector allow it because watching something on a large screen is next-level entertainment or theater-like experience at home. However, the screen size depends entirely on your projector's capabilities, the space where the projector will be placed, and your budget.
Viewing Distance: What is viewing distance, and how to measure it?
Another important factor that comes into play is the distance between your projector and the screen. This distance is also responsible for optimum viewing and determines the size of the screen.
You can use a basic formula to determine the optimum viewing distance according to your projector screen.
Viewing distance = 1.5 x Screen diagonal
Let's say you have a standard 1080p Full HD projector with a normal throw. On the other hand, if you have a 100-inch (diagonal) projector screen, your optimum viewing distance will be 12.5 feet, as per our formula.
Viewing distance = 1.5 x 100
= 150 inches or 12.5 feet.
Using the above formula, you can also determine the size of your screen. For example,
Screen diagonal = Viewing distance / 1.5
= 150/ 1.5
= 12.5 ft. (100 inches)
However, you can apply this formula only to normal throw projectors. In the case of short-throw and ultra-short-throw projectors, you don't need this much distance in between because they're designed for smaller spaces.
Location: What is an ideal location for my projector screen?
The location of any projector screen is very crucial; it may affect the overall picture quality in many ways if placed incorrectly. Ideally, you should mount the screen a couple of feet above the floor for optimum viewing.
Similarly, you should maintain a fair distance between the ceiling and the top of the screen. For example, let's say you set up a projector for a 100-inch screen in a room with eight feet ceiling. Leave at least three feet of space between the screen and the bottom. And maintain a one-foot margin at the top.
Different screens: Fixed-frame Vs. Retractable Motorized
There are two types of projector screens you can easily find on the market: fixed-frame and Motorized. Both have their advantages and disadvantages.
1. Fixed-frame: Who's it for?
A fixed-frame projector screen requires an empty wall to work; you can't roll such a screen down and up because of its fixed-surface property. As a result, you enjoy a very smooth image without seeing any ripples and waviness on the surface.
Another advantage comes from its material; a fixed-frame screen utilizes a thick metal frame over which the material of the screen is stretched. Most projector screens come with black metal frames to improve the image's contrast and absorb image overspill.
If you have a dedicated home theater, you should go for a fixed-frame screen.
2. Motorized: Who's it for?
A motorized projector screen is equipped with a built-in electric motor found inside its long metal case. Unlike fixed-frame, you can lower and raise the screen when it's your time to watch your favorite content. Its automatic functionality is possible with the remote control.
However, motorized screens are expensive and struggle to maintain the tension on the surface. Also, They don't have thick metal black frames to hide image overspill.
If you want something more elegant and modern, you have the option of a retractable motorized projector screen.
Screen Color: Why different colors of screens are there?
The color of the screen is responsible for the contrast of the image, and it can improve the perceived contrast of the image—different colors affect the contrast differently.
For example,
White screens ensure vivid colors and are good for brightness. However, such screens are only good if you have control over lights, such as a dedicated home theater, conference room, Etc.
The gray color is known for high contrast; therefore, gray color screens perform better for deeper black levels. However, these screens are not as popular as they used to be several years ago.
You also have black-colored projector screens; these screens are good for lots of ambient light, referred to as 'ALR screens' (Ambient light rejecting screen). However, such screens struggle to deliver darker whites and other light colors.
Screen Texture: Does it matter for a 4K image?
Normal projector screens are okay for high-definition content. However, a true 4K projector requires a 4K-rated screen with a slight texture for detailed and depth picture quality.
FAQs: What do most people ask about projector screens?
What screen size should I pick? 

It depends on you and the space where you'll place the screen. However, the viewing experience on a big screen is always pleasurable. Therefore, I suggest you check your projector's specs and go for the biggest one accordingly. 

Remember, a big projector screen requires more brightness to display the image, or your projector to be more involved in throwing a big image. Moreover, a large projection size won't give you top-notch picture quality compared to smaller screen size. 
I use projection sizes from 80″ to 120″ according to different types of content. 
Which is good for outdoor movie night? 

Outdoor movie screens should be portable and have the ability to deliver sharp and vivid images. These screens are designed differently; check out the best outdoor projector screens.
Conclusion: What is the best projector screen for you?
All three projector screens reviewed in this guide are perfect and can serve all types of purposes. Though, I picked them, keeping different price points in mind.
For example,
The first model, the Mdbebbron projection screen, is an excellent option for people looking for the overall best screen. It's a 120-inch screen, supports a 16:9 aspect ratio, utilizes a polyester matte-finished screen surface to bring you an immersive color experience at your favorite place. You can use it indoors and outdoors because of its lightweight, compact, and foldable soft material.
The second projection screen is from P-JING, an excellent screen for the price. Despite its price—under 20 dollars, it offers double-sided projection and a 160-degree wide viewing angle. With 120 inches screen size, it lets you enjoy full HD content with a 16:9 aspect ratio.
The third projector screen is an elegant pick for you – Elite Screens VMAX2; it's a motorized drop-down screen. You have different sizes to choose from, 84 to 170 inches, according to your needs. It supports 8K HDR and 3D content with different aspect ratios, including 1:1, 4:3, and 16:9. You can easily clean it with mild soap and normal water.
Still, confused? You can leave a comment below. I'll try to suggest to you the best projector screen according to your needs. Also, let me know how helpful was the article for you.