Everyone agrees that finding a suitable projector is a tough task, but I'm afraid I have to disagree. For me, getting the right projector for needs under budget is a tough task. If you have a certain amount to spend and want high-end features in a projector, you'll have to look at every aspect of the projector technology. That's why this article came into existence, sharing with you everything – my experience with these badass cheap/budget projectors.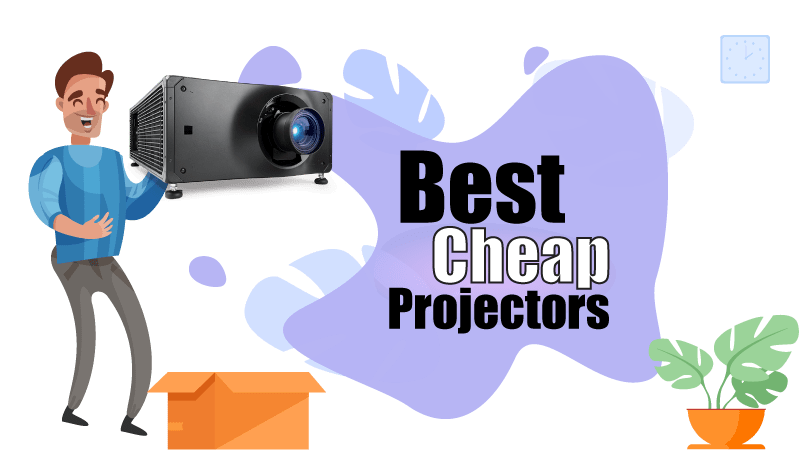 So you're here, looking for the best cheap projector that can fit your budget. Now, it's my turn to give you the best options to choose from; therefore, I have divided this article into two categories: budget and cheap.
First, take a look at the budget articles: from 200 to 500
Some mid-ranged to high-ranged projectors,
Now, some fairly inexpensive projectors,
What else?
If you're still here, take a look at these top inexpensive projectors with different prices.
5 best cheap projectors of 2023
PVO portable projector – Under 50 dollars
AuKing Mini Projector -Under 100 dollars
DBPOWER 8000L – Under 150 dollars
FANGOR Portable Wi-Fi – Under 200 dollars
Artlii Energon 2 – Under 300 dollars
The PVO Mini is a portable projector; it's an excellent choice for children because of its design and sheer value. Even though it's a cheap projector under 50, it packs high-end features. You can enjoy up to a 150-inch image—though; I recommend only 50 to 100 inches for better viewing—with a partial HD 800×480 resolution.
This mini projector is lightweight and small, measures 5.51×3.78×2.13 inches, and weighs around 0.70lbs; therefore, carrying it anywhere is like child's play. It comes with a carrying case and other accessories to make your traveling skyrocket. If it's used in the right environment, you can enjoy it outdoors and for camping, or take it to your friend's house.
The PVO YG300Pro comes with multiple interfaces, such as HDMI, USB, Audio input/output, AV, Micro SD, and TF. Therefore, when connecting different media sources to the projector, you won't have to think of buying external adapters to feed the content.
Another noticeable thing about the projector is that you can power the projector using a Powerbank—I used Ravpower Powerbank with no issues—adding more flexibility to its portability. However, the projector is not that bright when powered by a power bank—40% less bright. I advise you to use the wall outlet for the power supply to get an excellent picture with better brightness.
Pros & Cons: The PVO Portable Mini Projector
What I like:
Portable & Lightweight
Excellent picture quality
It's very easy to setup
Its carrying case
Value for money
What I don't:
The sound is okay. But acceptable for the money.
The Auking Mni projector is my second pick for the money. It's an excellent option for your home theater, equipped with a 2000:1 contrast ratio and boasts 2600 lumens of brightness—Auking claims this model to be 35% more bright than the previous model. It can project a large image of up to 170 inches, supports Full HD resolution. Though, its native resolution is 800×480 pixels.
This mini projector utilizes an LED light source and LCD as a display technology. Besides, it comes with 55,000 hours of lamp life; meaning, your viewing experience with the projector will last up to 15 years even when you use it for 5 hours a day.
Since the projector is designed to carry, it is lightweight and small, measuring 7.7x6x2.7 inches and weighing just 2.87 lbs. The projector has built-in dual-audio speakers for the sound; it's not that loud but clear and balanced. You might need to buy an external sound system for the job.
The Auking also takes care of your different media devices; you have all essential connectivity ports on the projector, such as HDMI, VGA, USB, AV, TF card, ETC. However, you'll need a lightning to HDMI adapter while connecting your iPhone with the projector. For Android phones, it requires a Micro USB or Type-C to HDMI adapter.
Pros & Cons: The Auking Mini
What I like:
Excellent picture quality for the money
Perfect brightness
Lightweight & small; easy to carry and setup
Its design
Cost-effective
What I don't:
Its manual needs improvements.
The DBPOWER 8000L is an excellent projector for outdoor movies lovers. It's a Bluetooth projector; you can sync your Android and iOS devices. The Bluetooth support on the projector becomes very handy when connecting Bluetooth-enabled devices, such as external Bluetooth speakers, headphones, earphones, Smartphones, Etc.
Unlike most projectors under 200, the DBPOWER boasts 8000 lux of brightness and is equipped with a 10000:1 contrast ratio. It's a full HD 1080p projector and supports true native 1920×1080 pixels resolution, resulting in detailed, sharp, and clear images.
Besides, You have both wired and wireless options to connect your media inputs to the projector. There is no doubt that the Wireless Connectivity on the projector can give more flexibility to the outdoors; it lets you mirror your smartphones to the big screen without carrying those annoying cables.
Pros & Cons: The DBPOWER Q6
What I like:
Excellent picture quality
Bluetooth & Wi-Fi connectivities
Simple and easy to setup
2 HDMI Inputs
Mounting options
Portable & lightweight, it comes with a carrying bag
Native 1080p resolution
What I don't:
The power cord is a bit short.
The FANGOR is a Full HD projector, supports native 1920x1080p resolution, and comes with a tripod for mounting. Like the DBPOWER, it has a 10000:1 contrast ratio that ensures excellent picture quality, especially for deep black scenes.
This FANGOR video projector offers Wi-Fi connectivity, lets you pair your compatible iOS and Android devices, making it more suitable for outdoor movies. Another option for making the wireless connection is its Bluetooth, which lets you connect your Bluetooth-enabled devices, such as an external sound system, earphones, headphones, smartphones, and many others.
The projector has a built-in stereo surround speaker – its 5W Hi-Fi stereotype speaker; it's loud enough and offers detailed sound for different types of content. However, it doesn't support Dolby; you might need a Dolby sound system for the purpose.
You have all the necessary ports for media input, such as HDMI, VGA, AV, Micro SD card port, and USB. However, I recommend HDMI over other ports for better picture quality and sound. What else? Its accessories include a projector case, an HDMI cable, a VGA cable, a user Manual, a Remote Control, an AV cable, an AC power adapter, and a Tripod in the box.
Pros & Cons: The FANGOR F506 Movie Projector
What I like:
Native 1920x1080p resolution
Picture quality; sharp & bright
65,000 hours of lamp life
Its maximum screen size of 230 inches
Bluetooth & Wi-Fi
Its carrying case and tripod
What I don't:
Keystone could be improved.
The Artlii YG620 pro is a good pick for home theaters; it has many advanced features for the price. Moreover, it's a full HD (1080p) projector and supports native 1920x1080p resolution. The good thing about the projector is that it supports 4K content and can project up to a 250-inch large screen. However, it downconverts the 4K content to its native resolution.
This Artlii YG620 offers 340 ANSI lumens of brightness that ensures a 17 million color gamut (80% of NTSC) and excellent picture quality. The reason behind its stunning picture quality is its Mstar performance chip, which produces a more bright and colorful image.
The Artlii Energon 2 offers a fast and stable wireless connection; it offers fast next-gen Bluetooth and dual-band Wi-Fi (2.4GHz & 5GHz), making it easier to synchronize your compatible smart devices. You can use external Bluetooth speakers, headphones, and other devices over Bluetooth.
Pros & Cons: Artlii YG620 Pro
What I like:
250 inches projection size
Native Full HD 1080p resolution
4K UHD supported
Picture Quality
Its touch-sensitive buttons
Supports Front and Rear projections
What I don't:
Its fan is a bit loud.
Buying Guide: Don't miss these factors before buying any cheap projector.
If you've known me, you already know I've never been in favor of buying a TV for home theater needs. It's hard to believe, but TVs are nowhere close to the entertainment you get from a projector. However, that immersive viewing experience is only possible when you have a good projector.
Unfortunately, it's a daunting task to choose a good projector that is inexpensive yet powerful. But, it won't be anymore; I've included all the crucial buying factors in this guide to help you choose the best cheap projector for your needs.
Brightness: The brightness of your cheap projector
The brightness of any projector is very crucial; it fights against ambient light. If your projector is not bright enough, you can't see a clear image on the screen. We measure the brightness of the projector in lumens—lux or ANSI lumens. For example, 1,000 lumens, 1,000 lux, or 1,000 ANSI lumens. Read the article, Lux Vs. Lumens Vs. ANSI Lumens, if you don't know the difference between lumens, lux, and ANSI lumens.
There is no doubt that a projector with a higher number of lumens will be brighter; it affects the overall cost of the projector. Therefore, I always suggest you choose the projector as per your needs. For example, let's say you set up your projector in a dark environment; you don't need that bright projector. Any projector with 1,000 lumens will work flawlessly without wasting money on the higher lumens projector.
In the case of ambient light, you should go for at least 2,000 lumens and more. For outdoor purposes, look for at least a 3,000-lumen projector. If it is outdoor daylight viewing, the suitable number will be 4,500 and above. Take a look at these articles:
Contrast Ratio: The contrast ratio of your cheap projector?
The contrast ratio is the brightness between white and black. If your projector packs a high contrast ratio, the darks will be more profound, and the whites will be brighter than a low contrast ratio projector.
It's simple to understand that a projector with a high contrast ratio will be producing a more detailed picture with an immersive viewing experience.
However, most people don't understand the contrast ratio; they think a projector with a 10,000:1 contrast ratio will be twice a 20,000:1 contrast ratio projector. That's not true because the projector's contrast ratio lets you know only about the brightness between black and white, not about the colors and grays.
I don't recommend picking any high-contrast projector unless you want it for dark scenes, such as movies and TV shows. Apart from that, any projector with at least a 10,000:1 contrast ratio is perfect for you.
Different types: There are many types of projectors
Yes, there are many types of video projectors, but we'll discuss only the popular ones: DLP, LCoS, and LCD. Considering the type can help you understand what type you're; therefore, I suggest you take this factor into your account before anything.
1. DLP Projector: What is a DLP projector?
Firstly, it stands for Digital Light Processing. The DLP type utilizes a series of tiny mirrors to create light—coming from the light source—on the screen. The chip that these DLP projectors have can be of two types: single-chip DLP or three-chip DLP.
The main advantage of getting a 3DLP projector is the rainbow effect; Single-chip DLP projectors utilize a color wheel to produce the image on the screen. Therefore, it's very common to see a rainbow effect on the screen with a single-chip DLP projector. On the contrary, 3DLP projectors have a dedicated chip for each color; meaning, a better viewing experience.
Overall, DLP projectors are suitable for producing sharp images compared to other types. However, they struggle to project deep blacks perfectly. So if you're a deep-black fan, choose other types.
2. LCoS projectors: What is an LCoS projector?
LCoS stands for Liquid Crystal on Silicon; the type uses a panel to create an image. Like 3DLP, LCoS type projector also utilizes three individual panels to produce the image. However, LCoS projectors can project deep blacks, or the deepest blacks, pretty well because of those individual color panels.
As with any projector type, LCoS projectors have a downside to not producing enough bright images. Moreover, such projectors are not suitable for larger screens or screens above 120 inches, as they struggle to produce enough light to fill the large screen.
3. LCD Projectors: What is an LCD projector?
LCD projectors are very common and cheaper than the other two types. The LCD type projector falls in between DLP and LCoS types. And, LCD projectors can produce more bright images than LCoS, but not as bright as DLP. Also, LCD projectors can project better deep blacks than DLP projectors.
Light Sources: Lamp Vs. Laser Vs. LED Light source
Like different display types, you also have different light sources: Lamp, Laser, and LED. But, of course, the most common light source is Lamp—from the cheapest to expensive projectors, you can find it everywhere easily. So let's take a look at them, one by one.
1. Lamp Projectors: The Lamp Light Source
Being the most common light source, it brings so many advantages. First, it's very affordable and replaceable. As with all light sources, a projector lamp also has a lifespan; it is typical for a lamp to last between 4,000 and 5000 hours.
2. Laser Projectors: The Laser Light Source
Laser projectors are costly and offer many significant advantages over Lamp projectors. One of their main advantages is that they're non-replaceable. Moreover, Laser projectors are maintenance-free when the projector light source is concerned.
Compared to Lamp, the laser is more bright and offers better contrast. If the money is not a concern, laser projectors are best for you.
3. LED projectors: The LED Light Source
LED projectors are a middle-ground between Lamp and Laser projectors. Such projectors offer a longer lifespan—often up to 15,000~20,000 hours. Besides, they're energy-efficient; compared to Lamp projectors, LED projectors to consume less energy. Therefore, LED projectors don't generate much heat and don't require a cooling fan for the purpose. However, the main problem with LED projectors is that they have limited brightness.
FAQs: What do people ask about cheap projectors?
How costly can a projector be? What projectors are considered cheap?
Projectors can be very cheap and very expensive; generally, it ranges from about $50 to $10,000. Any projector around $1000 or above is considered expensive. And in the range of $1000 to $500, it'll be a mid-priced projector. Moreover, projectors under 500 are considered cheap and inexpensive these days. 
How many lumens do I need?
As we all know, the lumens of any projector describe the brightness of that projector. Therefore, high lumen projectors are always better to have for daylight viewing. However, remember that the more lumens in your projector, the higher the price. 
Does cheap projectors have a composite input? 
Yes, most cheap projectors come with a composite input. However, it's an older standard for the video; the Composite has three connectors; the yellow one is for video, and the rest is for left and right audio channels.
Are cheap projectors can be 3D-ready?
Yes, most projectors above 300 dollars support 3D. However, they require compatible 3D glasses and other accessories. If you want an immersive 3D experience in your home, spend at least $500 and more on the projector.
Conclusion: Which one is the best cheap/budget projector for you?
All the projectors on the list are inexpensive; I picked them, keeping different prices in mind—from 50 to 500 dollars. I advise you to choose any of these cheap projectors according to your budget.
If you have any doubt, feel free to ask. I'd love to answer your questions in the comment section below. Have a nice day!