It's time to throw those lamp-based projectors into the dustbin as advanced light source technology exists. Here I am referring to a laser projector. But, 4k laser projectors are worth buying? Let's find out.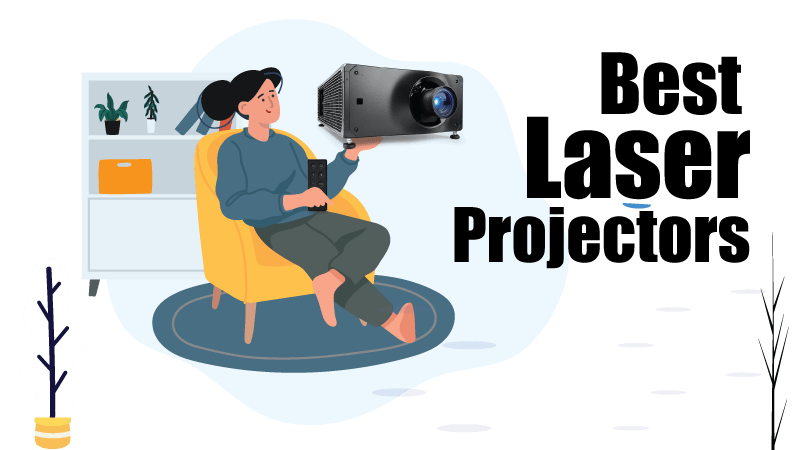 If you're planning to buy a projector, there is no better option than a laser projector. Moreover, lasers projectors are true alternatives to TVs because of their capabilities to sit close to the projected wall or screen. And, this capability of a laser projector refers to ultra-short throw projection. Therefore, watching your favorite content on the best laser projector is unimaginable.
However, there is a big problem. Buying a laser projector won't be that easy because an endless number of models are available on the market. Since the laser projectors are very expensive, choosing the wrong unit can be a lifetime punishment for you.
But, don't worry! I won't let you buy any wrong products, as I've prepared a list of top laser projectors for 2023. However, there were many factors that I took into consideration while creating that list, which I'll share with you in the buying guide below. Besides, I also took the different warranties of each projector into my account. So take a look at the list of top ones. 
3 Best 4K Laser Projectors For 2023
1. LG HU85LA Laser TV – Best Ultra HD (4K) Laser Projector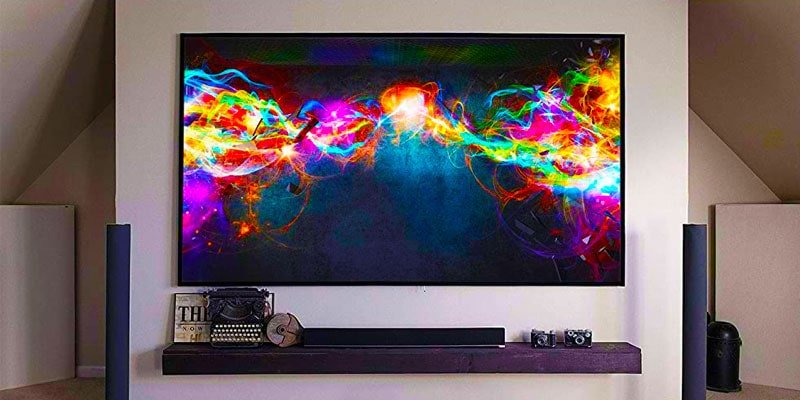 Key Highlights
Native 4K resolution (3840×2160)
2700 ANSI lumens
120 inches Max. screen size
Bult-in Alexa
HDR10 support
DLP display technology
2,000,000:1 contrast ratio
Overview: LG HU85LA
The LG HU85LA is my first pick or the best laser projector in 2023. It has to offer lots of features and technologies, deserves the first position on the list. One of the noticeable things about the projector is to support native 4K resolution (3840x2160p); moreover, it has 8.3 distinct million pixels, and XPR technology delivers precise and detailed picture quality.
Say goodbye to the typical HDR tone mapping technology, as HU85LA has something advanced called HDR10 with Dynamic tone mapping. Therefore, whatever you see on the screen is optimized, frame-by-frame, picture quality. In addition, it utilizes TruMotion technology known for generating animation frames between existing frames, which makes animation more realistic to absorb.
For stunning color accuracy with broader color coverage, The HU85LA has adopted three-channel laser technology to ensure 12-bit color reproduction performance. Besides, it includes easy screen adjustment; the HU85LA has a warping function that contains 12 adjustments to align the projected image.
The HU85LA can create up to 120 inches of projection size just from a 7.2-inch distance from the wall or screen. For 90-inch screen size, you have to put it 2 inches away from the wall. It's all possible because of its Ultra-short-throw technology.
When it comes to HU85LA's design, it's sophisticated and compact and designed to blend into your home perfectly, comes in white color.
Pros & Cons: The HU85LA
What I like:
Incredible picture quality
Fantastic sound quality, as good as any good external speaker
Short throw projection
4K HDR Input
Its design
What I don't:
Pricey
2. Optoma HZ39HDR – Budget Laser Home theater Projector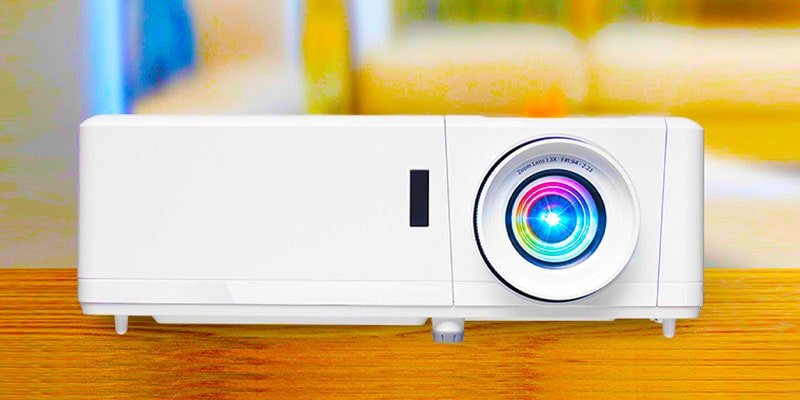 Key Highlights
4000 ANSI lumens
Native Full HD1080p (1920x1080p)
1.3x zoom
DLP display technology
HDR10 support
Support 4K HDR input
Laser Light source
300,000:1 contrast ratio
30,000 hours of laser life
Overview: Optoma HZ39HDR Laser
Optoma HZ39HDR is a fantastic projector under budget, offers native Full HD (1920x1080p) resolution. With the exceptional color depth, you can enjoy brilliant whites and darker blacks. It also accepts 4K HDR input with actual Ultra HD resolution. In addition to the HDR, the HZ39HDR also supports HLG technology enhances the overall image/video viewing experience.
Optoma HZ39HDR utilizes a DuraCore Laser light source, a maintenance-free technology, ensuring 30,000 hours of life. With a stunning 4,000 lumens of brightness, you can use the projector for both: day and night. Besides, it is bright enough to use in a room with ambient light or many windows.
Like expensive laser projectors, the Optoma HZ39HDR also lets you project a large screen size of up to 120 inches from just a 13′-10″ away from the wall. You can easily adjust the image with its 1.3x zoom and vertical keystone correction (+/- 30-degree).
Moreover, you have Full 3D support on the projector. It lets you play true 3D content from the various 3D compatible devices, such as your Blu-ray player, 3D broadcasting, or even a gaming console. However, you'll need 3D glasses to enjoy 3D content.
Pros & Cons: Optoma HZ39HDR
What I like:
4K HDR Input and HLG support
Very affordable
Laser light source
Easy installation
Its 3D viewing support
What I don't:
Its average sound quality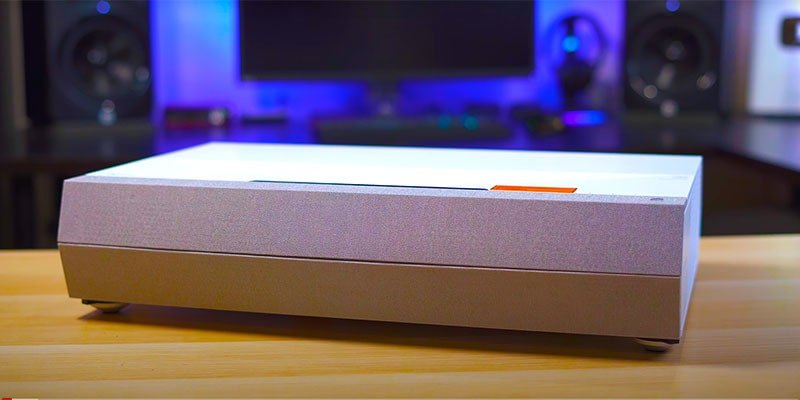 Key Highlights
Native Ultra HD 4K resolution
HDR10 support
3,000 ANSI lumens
2,000,000:1 contrast ratio
Ultra-short-throw projection
Up to 120″ projection size
six segments color wheel
Bult-in soundbar
Overview: Optoma CinemaX P2
One of the best ultra-short-throw projectors by Optoma supports native 4K UHD resolution with HDR10. As Optoma claims, the CinemaX P2 produces high-quality images with immersive color accuracy. Since the projector utilizes a six-segment color wheel, it delivers more bright and richer colors with enhanced brightness.
Optoma CinemaX P2 is a laser projector; it never loses its brightness with time, unlike the lamp light source. Besides, it promises up to 30,000 hours of life while maintaining the picture quality top-notch. The Optoma CinemaX P2 can be an excellent option for rooms with ambient lights, as it boasts 3,000 ANSI lumens of brightness.
With high brightness, it is also equipped with a 2,000,000:1 contrast ratio; never give up when it comes to cinematic home theater experience at home, as its brighter whites and deeper blacks join the race to achieve that high-quality image.
Moreover, The CinemaX P2 can create a gigantic image of up to 120 inches. As the projector offers ultra-short-throw projection, it just needs a few inches from the screen, making it suitable for locations with tight spaces. Moreover, you have a voice control option on the projector, which allows you to play with your voice using Amazon Echo and google home.
Pros & Cons: Optoma CinemaX P2
What I like:
Voice control (Alexa & Google)
Broad color Gamut
Incredible picture quality
Easy to set up
Sound quality
What I don't:
It doesn't support HLG.
The reasons: Benefits of buying a laser projector?
There are two common types of projectors, one with lamp technology and one with laser technology. Since cheap projectors utilize lamp technology, lamp projectors are widely available. On the other hand, the laser is an advanced technology, allows the projector to sit under the screen, just a few inches away from the projected wall or screen.
Therefore, laser projectors are always better to buy if your budget allows them. Some of its benefits include high contrast, better color accuracy, and crisper picture quality. However, the most significant role of laser light sources is to add more flexibility to ultra-short-throw projection.
Buying Guide: What to consider before buying a laser projector?
This buying guide ensures you get the best laser projector; moreover, you'll be able to pick the perfect one according to your needs if you pay attention to the following considering factors.
Display Technology: The primary aspect of your laser projector
It is pretty common finding projectors with two display technologies: DLP and LCD. However, both have their advantages and disadvantages. Still, I recommend you choose a projector with DLP display technology.
The DLP acronym stands for Digital Light Processing. The DLP type of display uses numerous tiny mirrors in order to reflect the light onto a projected screen or wall. Though, that light has to pass through a color wheel before reaching the screen. The projector's color wheel is considered one of the essential components responsible for projecting an image on the surface.
Brightness: The brightness of your Laser projector is another essential factor to consider
Your laser projector's brightness level is rated in lumens; any projector with a high brightness rating ensures the amount of emitted light. For example, 2000 lumens, 3000 lumens, 3300 lumens, Etc. Therefore, make sure your projector is bright enough to use in a room with ambient light.
There is no doubt that a projector with more lumens delivers a clearer and better picture. However, you'll also find projectors with high lumen ratings are expensive. Therefore, I suggest you pick the one that suits your needs.
Still, my recommendation for the ideal lumen count ranges for a laser projector ranges from 2,500 to 5,000 lumens. If your laser projector falls in this range, you're on the right track.
Contrast: What about the contrast ratio of a laser projector?
One of the good things about laser projectors is they are good at contrast quality. Projectors with a good contrast ratio should be your goal. The contrast ratio is determined by your projector's brightest white and the darkest black.
Protectors with a good contrast ratio deliver the clearest picture quality. Though, brightness also plays a big role in picture quality. Besides, a projector with a low contrast ratio won't project an image with clarity; it appears washed out.
That's why always pay attention to the contrast ratio of the projector. I recommend at least 10,000:1 or above.
Resolution: Your laser projector is native 4K or Full HD 1080p supported?
After the contrast ratio and brightness of a projector, the resolution is another crucial factor to consider. A number of pixels on a given space determines the clarity of a projected image. Therefore, the resolution of your projector determines how many pixels are to be displayed on the screen. It ranges from the basic resolution, SVGA @ 800×600, to the highest resolution 4K UHD at 3840×2160. Other common resolutions are XGA (1024x768p), WXGA (1280x800p), FHD (1920x1080p), and WUXGA(1920x1200p).
Note: Now, 8K projectors are also available, meaning 7,680 x 4,320 pixels.
Therefore, I advise you to choose the right resolution for your laser projector.
Throw Distance: Does your laser projector offer ultra-short-throw distance?
Buying a projector with an appropriate throw distance is as important as other buying factors. Therefore, it's always better to measure the location where you'll be using your projector. Once you measure the space, choosing the projector with the required throw distance will become easier.
Laser projectors offer different types of throw distances: long-throw, short-throw, and ultra-short throw. As their names imply, long-throw projectors require more distance between the projector and the projection screen.
Most cheap and mid-range projectors come with long-throw distances; moreover, they can project a gigantic screen size of up to 350 inches. You can mount such projectors on the ceiling or put them on a table.
Most mid-range projectors, from $500 to $1500, adopt short-throw projection. Like long-throw projectors, short-throw projectors can also be mounted on the ceiling. The throw distance of such projectors ranges from 3 to 8 feet.
Now, you have ultra-short-throw projectors, offer the shortest possible throw distance. Like long-throw and short-throw, you can install an ultra-short-throw projector into the ceiling or let it sit under the screen, depending on the projector's throw distance. Generally, these projectors carry a range from 0 to 4 feet.
Screen size: Screen Size of your Laser Projector?
The maximum screen size of your projector is worth considering as everyone wants a giant screen in their viewing room. As with most laser projectors and the reviewed ones in this guide, they all can project a 120-inch image. Moreover, For most people, the preferable screen size range is from 80 inches to 120 inches for laser projectors.
Another important thing is to think of the size of your room before moving toward your buying decision. You have to make sure whether it will fit into your room. Moreover, don't forget to consider the resolution and throw distance before screen sizes.
Warranty: Your laser projector must have a long warranty
It's always better to have a projector with a long warranty. And, it becomes more important when it comes to laser projectors as they're expensive compared to regular projectors. A warranty of any product ensures how durable the projector is.
It's quite common among laser projectors to offer 1-2 years of warranty. Most brands also offer a policy to extend the warranty if one applies.
FAQs: People often ask about laser projectors
Is it hard to set up a laser projector? 

Installing a laser projector is easier than regular projectors. Most laser projectors offer ultra-short-throw technology, such as LG HU85LA and Optoma CinemaX P2, allowing them to sit close or under the screen. Moreover, laser projectors don't require any technical knowledge, but it all depends on the projector you buy. 

If your projector doesn't offer ultra-short-throw projection, such as Optoma HZ39HDR, then check the recommended throw distance and the projection size of the projector. Once you know the ideal distance and screen size, choose the place accordingly so that your projector can fit into it. 
Do all laser projectors support voice controls? 

No, not all laser projectors have voice control ability. It entirely depends on the projector you choose. For example, LG HU85LA and Optoma CinemaX P2 are two models that allow voice control using Alexa and Google home. 

Since it is pretty common to find remote control abilities among laser projectors, the voice virtual assistant feature becomes more noticeable on the projector. Therefore, only expensive projectors include such features that enable users to talk to them. 
Do laser projectors are long-lasting than typical projectors?

Of course, they are. Yes, there is no doubt that laser projectors will last quite a long time compared to projectors equipped with lamps. It is also noticeable that laser light source technology is maintenance-free. 

When it comes to an estimated lifespan of laser projectors, they at least offer up to 20,000 hours of life. For example, LG HU851LA and Optoma CinemaX P2 both come with up to 30,000 hours of life. 
Conclusion: How do you pick the best laser projector for your requirement?
You have three laser projector recommendations in this buying guide. You need to go through the specifications of each one of them, such as throw distance, native resolution, brightness, contrast ratio, Ultra HD HDR input, 3D capability, display technology, warranty, and of course, price.