It's been a long time for BenQ to come up with an extraordinary home theater projector with short-throw projection under budget. Should it be considered as a solid rival to Optoma GT1080HDR and HD39HDR?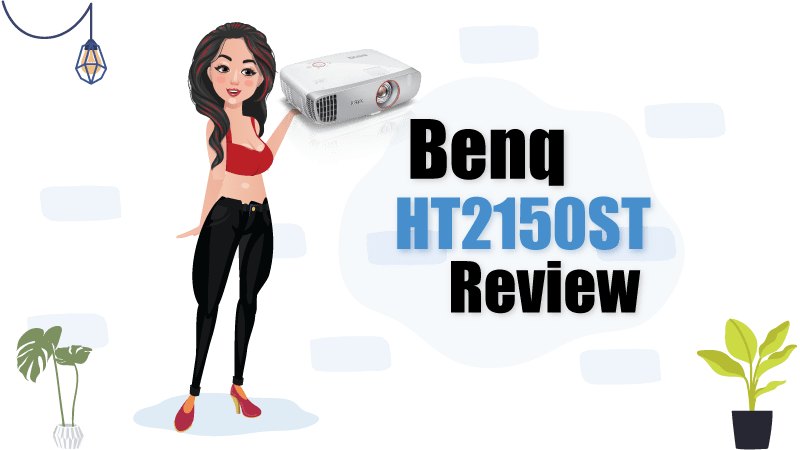 Pros & Cons: The BenQ HT2150ST
What I like:
Color accuracy
short-throw projection
3D viewing
A low input-lag & fast reaction time
Easy to setup
Inexpensive
What I don't:
It doesn't support HDR.
Verdict: My thoughts on HT2150ST
The BenQ HT2150ST delivers good color accuracy and contrast. Moreover, Its black levels are pretty impressive. With these home theater-packed features, its gaming performance is also above the bar. So recommending the projector for both purposes – gaming and home theater, won't be an issue for me, especially for the money.
Amazon: Check the latest Price
Overview: The BenQ HT2150ST
The HT2150ST is another projector from BenQ to join the home theater projector category. Even though it's primarily a home theater projector, it also has a low input lag—a fast reaction time. So cheers for gamers as they have the secret power hidden in the projector.
It's no doubt that gamers will have an advantage while gaming because of its fast response time. Apart from gaming, the projector produces impressive color accuracy, black levels, and contrast for the price.
Gaming: How good the BenQ HT2150ST is for gaming?
Compared to most projectors with the same price tags, the BenQ HT2150ST is above most gaming projectors, handles gaming pretty well with its low input lag and fast response time. I don't know why BenQ doesn't highlight HT2150ST's gaming potential on its official website.
In my testing, I measured its fast lag time at 16.4ms. However, its dedicated gaming mode (high brightness) couldn't increase/decrease the reaction time and remained the same at 16.4ms.
BenQ has included two gaming modes in the projector: the first for low brightness levels, and the second is for higher light levels of ambient light.
Moreover, I don't want to hide the fact that when you brighten up the darkest areas of an image using any of the brightest predefined modes on the projector, you'll also end up seeing hidden stuff in the shadows because of its bright version—even at low light levels.
Therefore, you can imagine yourself in a better position to spot items of interest in a game. As a result, you may attack a little faster your competitor. So now, it's up to you how you benefit from this projector as a home theater or gaming.
Brightness: Can HT2150ST handle ambient light?
Since the projector boasts 2,200 ANSI lumens, it won't be wise to use it in a room with ambient light. However, it's perfect for a room with low-light conditions.
To the question, the projector includes a predefined picture mode to boost the brightness. Therefore, the HT2150ST can handle ambient light to some extend. However, you also know that the lower brightness of a projector delivers better color accuracy.
So if you don't want to compromise on its picture quality, I never suggest you use its picture mode or the brightest mode in a dark room. Nevertheless, you're free to use it when ambient light or direct sunlight is in your room.
Picture Quality: The BenQ HT2150ST utilizes an RGBRGB color wheel?
As I said earlier, the brightness on the projector is low, but the overall color accuracy is pretty impressive. That's because of its six segments of the color wheel (RGBRGB). Moreover, you can quickly notice its color accuracy difference from a projector that offers a white panel.
BenQ also includes ISF day and night modes support known for professional color calibration. However, you will need to pay for it, which I never advise you because HT2150ST is not an expensive projector.
Instead, go for cinema mode, which delivers good color accuracy and detail for its native 1080p resolution. Besides, the cinema mode also offers a better 3D viewing experience, especially for close-up objects, with appropriate black levels, contrast, and shadow detail in the darkest scenes.
Design: Does the BenQ HT2150ST include essentials?
Since carrying a projector to loved ones or friends' houses is pretty common these days, the BenQ takes care of it and includes a soft carrying bag for you.
The HT2150ST measures 4.8x15x10.9 inches and weighs around 7.3 pounds. It's a normal-sized projector with average weight, which makes it a portable and easy-to-carry projector.
Image correction: How do you position an image on the HT2150ST?
As with most DLP projectors, The HT2150ST also includes a 1.2x zoom mode for positioning the image. Moreover, you can use its vertical keystone correction feature for the same.
Projection: What about short-throw projection on HT2150ST?
The other key feature you'll find on the projector is its short-throw projection, which allows you to put the projector close to the screen. Short-throw projection might not be a noticeable feature for you, but getting it from a projector under 1000 bucks is unbelievable.
To the question, a short-throw projector is an ideal option for a room with a tight space. Such projectors can create a gigantic image just a few inches from the screen because of their short-throw lenses. Moreover, You can't expect a large image from any typical projector with a standard throw distance in a small room.
Sound: The Sound quality Of HT2150ST?
The HT2150ST is equipped with 10-watt speakers, produces average sound quality, or yields enough sound for a small to medium-sized room. Moreover, the sound quality is pretty balanced with enough volume.
However, if you find yourself unsatisfied with these built-in speakers, you have a 3.5mm audio-out jack to connect your external audio system to it. In my opinion, consider using an external sound system only when the projector is used for an outdoor movie night. It's because the built-in sound is good enough to handle indoors.
Related: Best outdoor movie projectors
3D projection: How well does the BenQ HT2150ST perform for 3D?
As with any DLP projector, you'll also be able to watch content in 3D on the Benq HT2150ST. However, it requires DLP-Link glasses. And, don't forget to lower down the brightness of the projector for a better 3D viewing. Moreover, you can level up the 3D viewing experience by lowering down the ambient light level.
On the drawback side, there are slight 3D-related motion artifacts. Though, it is common with DLP projectors, especially with inexpensive DLP projectors.
Setup: How do you set the HT2150ST up?
You can set up the projector with ever-known essential steps, such as connecting the power cord, connecting your media input to one of its HDMI ports, and focusing the image using its controls located on the top behind the lens in a tiny compartment.
Besides, you have vertical keystone correction for image positioning.
Testing: What does it consist of?
I began my testing with a 90-inch projection screen size while maintaining a 4'4″ distance from the screen, then went through the basics, connecting the power cord, a media input to HDMI, and suitable image correction.
I had to tweak the image range—brightness, gamma, and contrast—to adjust hue, saturation, and gain using a color management system since I didn't find its out-of-the-box color calibration up to the mark.
As a tech person, I am very sensitive to color accuracy. Hence I needed calibration. Moreover, the projector doesn't require any calibration, and it's perfect out-of-the-box for the price. Furthermore, I recommend its cinema mode as its offers good color accuracy and detail for its Full HD native resolution.
Drawbacks: What should BenQ take into its consideration?
There were some minor issues with the projector I found while testing the projector. The first was with its 3D; there were motion artifacts. The second one was slight rainbow artifacts. Moreover, they can be seen in red-green-blue flashes.
These issues are very common with DLP types of projectors; moreover, you see them occasionally. Still, for me, an issue is an issue.
Specifications: HT2150ST – Key Highlights
2200 ANSI lumens
Native Full HD resolution (1920x1080p)
16ms low input lag
Short-throw technology
3D-ready
Different picture modes (Game, Game Bright, Sport, ISF Day/Night, Cinema)
REC. 709 color accuracy
Vertical keystone correction (+/- 20 degrees)
100 inches projection size from 4.9 feet
BenQ SmartECO technology
DLP display technology
Built-in 20W Speakers
A 6-segment color wheel
Conclusion: The BenQ HT2150ST
Keeping the price of the BenQ HT2150ST, there are some noticeable features, such as RGBRGB color wheel, different color modes, short-throw projection, 3D viewing, and low input lag for gaming.
Moreover, the HT2150ST handles average ambient lighting conditions pretty well. In a dark room, it can win everyone's heart. Therefore, I recommend the BenQ HT2150ST to watch movies and gaming for a home theater with light levels.