If you have 2000, then I would never suggest you buy a TV. Compared to 2000 bucks TV, your projector will offer more benefits, such as 3D capability, 4K resolution, cinematic experiences, more portable, a bigger screen size, more compact, and of course, the trademark shine at your home. What about the best projector under 2000? Further, the best projector under 500? Are they still worth buying?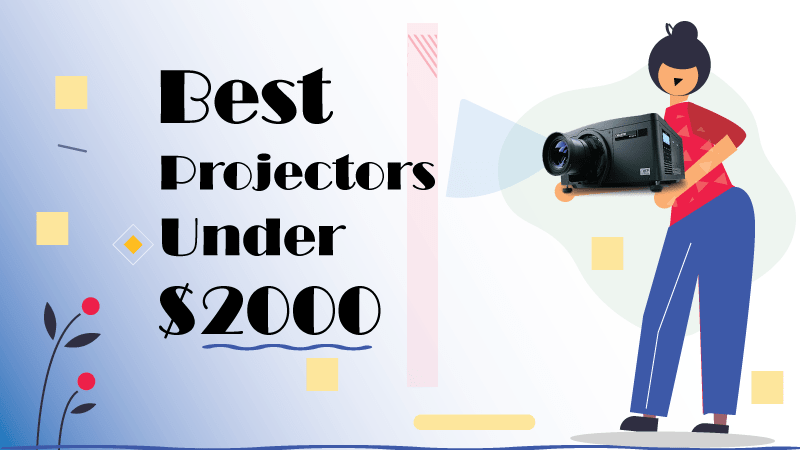 Those tiny TV screens don't work when it comes to business presentations, let alone targeting large audiences. Most people don't buy projectors because they find them expensive and can't afford them easily. However, it was the past since projectors these days are more affordable than ever before. Hence, You don't need to spend more than 2000 on a projector. And in this price range, You can expect a native 4K and 3D compatible projector, suitable for home, gaming, outdoor movies, home theater, and your business.
In this guide, I've prepared the list of the best projectors under 2000 so that you can choose the perfect one for your needs. Since I don't believe others' reviews and ratings, widely available on various eCommerce websites, I went through a detailed analysis of all five projectors and took critical features into account. It includes display technology, brightness, contrast, throw distance, native resolution (Ultra HD or Full HD), HDR support, built-in speaker, lens technology, screen size, installation, etc.
In the buying guide, You'll find some other essential factors that you should consider before buying any projector. In order to make your final decision smarter, I've answered some of the hot questions about projectors in the FAQ section below.
3 Top 4K Projectors Under 2000
| Optoma GT1090 | BenQ TK800 | Optoma UHD38 |
| --- | --- | --- |
| | | |
| Brightness 4200 Lumens | Brightness 3000 Lumens | Brightness 4000 Lumens |
| Resolution Native 4K | Resolution Native 4K | Resolution Native 4K |
| Throw Short Throw | Throw Standard Throw | Throw Standard Throw |
| Best For Home Theater | Best For Home Entertainment | Best For Gaming |
| Price on Amazon | Price on Amazon | Price on Amazon |
Best Projector Under 2000 Reviews 2023
1. Optoma GT1090HDR – Short Throw Projector under 2000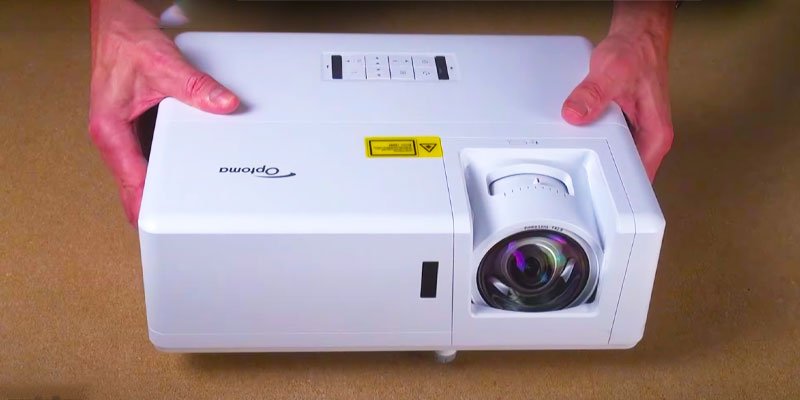 Key Highlights
Laser Light source
HDR10 4K input
Short throw projection
3D compatible
4,200 lumens
Max. screen size 120 inches from 4.3 feet
30,000 hours of lamp life
Native Full HD resolution
Overview: The Optoma GT1090HDR
Optoma GT1090HDR is one of the best short-throw projectors under 2000; it requires only a 4-foot to throw a large image of up to 120 inches on the screen. In addition, unlike most projectors with the same price tags, the Otopma GT1090HDR has adopted an advanced light source technology called laser; it promises 30,000 light source hours for the full HD content.
With the true Full HD native resolution (1920x1080p), the Optoma HT1090HDR welcomes 4K HDR input, keeping the input lag as low as possible. Even though the projector comes with laser light source technology, it offers 4,200 lumens of brightness. Plus, it boasts a 300,000:1 contrast ratio. Therefore, the image you see on the screen is well-detailed, clear, and sharp.
Pros & Cons
What I like:
Short throw projection, 100″ from 3.5 ft
Laser light source, no rainbow
Amazing picture quality
Very bright works in ambient light
Low input lag
Its quiet fan
What I don't:
No Zoom feature
Who's it for? The Optoma GT1090HDR
The Optoma GT1090HDR is for everyone; it's an excellent pick for people who love the bright and sharp image on the large screen. The price of the projector is worth every penny, be it indoors or outdoors; the Optoma GT1090HDR handles all sorts of environments. Besides, you can throw it in your home theatre to enjoy your favorite Full HD content with 4K HDR input.
2. BenQ TK800 – Home Projector Under 2000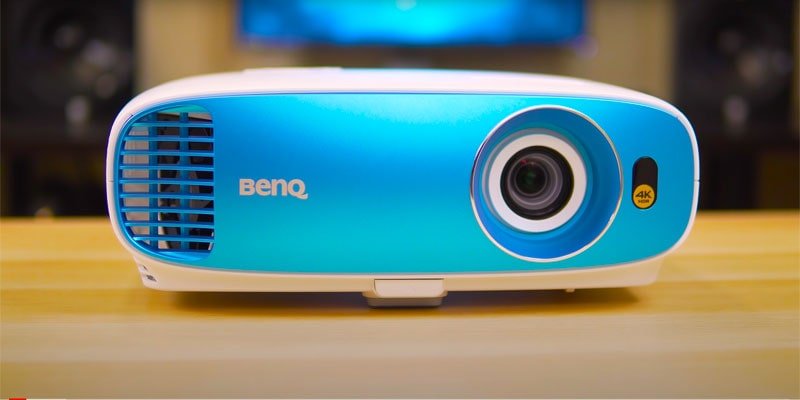 Key Highlights
DLP display technology
3000 lumens of brightness
10,000:1 contrast ratio
HDR10 & 4K Ultra HD resolution
The maximum screen size of up to 300 inches
10,000 Hours Lamp life
a 3-year warranty
Overview
The BenQ TK800 is a native 4K projector with HDR10 support, loaded with 8.3 million pixels. High pixel density means a perfect 4K image quality, especially while watching pixel-rich content, such as 4K movies and sports. Additionally, its HDR10 support enhances the projected image's brightness, contrast, and overall color tone as per your room's environment. Unlike others, The TK800 uses 4K color wheels and achieves 92% of Rec. 709 color space.
I love that it supports native UHD 3840×216 resolution or four times of Full HD 1080p even though its DLP chip takes only 1080p. Thanks to its optical system that throws superior image quality while minimizing chromatic aberration. It also utilizes 0.47″ single-DMD DLP technology to avoid multiple panels' alignment issues.
Pros & Cons:
What I like:
Incredible sharpness with colorful & detailed images
Low input lag for gaming
Motion handling
High Dynamic Range, HDR10
Dedicated picture modes (sports, football)
I don't like:
Shadow detail could be improved.
Verdict: Who's it for?
The TK800 is suitable for rooms with ambient light because of its vivid colors and high brightness. The color accuracy can clearly be seen while watching sports in 4K. It features dual HDMI and has other necessary connections.
Even though it is not claimed as a gaming projector, it handles motions pretty easily because of its low input lag. You can enhance your viewing experience by playing everything in 3D. However, you'll need to buy 3D glasses separately.
So if you want something to be crystal clear and sharp image quality on a big screen, the TK800 will be undoubtedly the cheapest 4K projector under 2000 .
Key Highlights:
Native 4K UHD resolution
HDR10 &B HLG support
Low input lag, 4.2ms @ 1080p ~ 240Hz
4,000 ANSI lumens
15,000 hours of lamp life
1,000,000:1 Contrast ratio
± 40° Vertical Keystone Correction & 1.1x zoom
The UHD38 is a gaming category projector by Optoma; it offers a native 4K UHD resolution and supports 4K HDR input. The noticeable thing about the projector is its picture quality; its deeper black levels and brighter whites are up to the mark—a fantastic high dynamic color range.
This UHD38 4k projector has 4000 ANSI lumens and a 1,000,000:1 contrast ratio. Besides, you can enjoy a large image of up to 120 inches from 13.1 feet approximately—the maximum projection size is 300 inches. Furthermore, you can correct the image using its ± 40° Vertical Keystone and 1.1x zoom features; however, this model doesn't include horizontal keystone.
When it comes to gaming, it includes enhanced gaming mode responsible for low input lag. The lowest input lag is 4.2ms for a 1080p image at 240Hz, while 8.9 for 1080p/120Hz UHD content, and as for HDR 4K/60Hz, it manages around 16ms. Unfortunately, it doesn't support 4K/120Hz.
Pro & Cons: The Optoma UHD38
What I like:
4000 lumens; Amazingly bright projector.
Supports a 32:9 ultrawide mode
Low input lag
HDR10 & HLG support
Picture quality
4K Native resolution
What I don't:
Standard throw
Who's it for? The UHD38 Gaming Projector
As it suggests, the UHD38 is primarily designed for gaming purposes; it is suitable for live sports events, gaming, and movies. If you want to play 4K content with deep black scenes, the UHD38 is perfect. Moreover, the projector has a high dynamic range for brighter whites.
Since the projector is equipped with 4000 ANSI lumens, you can use it for outdoor daylight viewing. And, If you use it as a home theater projector with a lot of ambient light, you won't have any issues.
4. Epson Home Cinema – Best Home Theater projector under 2000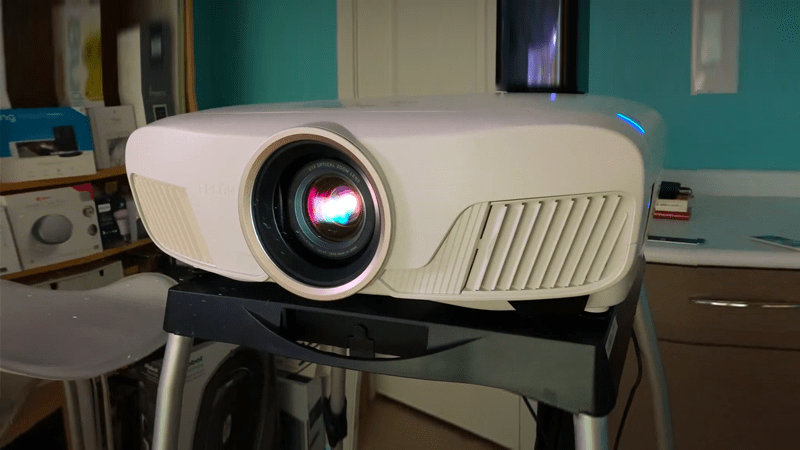 Key Highlights:
3LCD display technology
2400 ANSI lumens of brightness
200,000:1 contrast ratio
Native 4K UHD resolution
10-bit HDR support (partial 12-bit)
2.1x zoom with 3-Axis precision motor
Overview:
The Epson 4K Pro-UHD is my top pick for your DIY home theater, utilizing 3LCD advanced display technology to deliver 100% color accuracy. It boasts 2400 lumens of brightness and has a 200,000:1 contrast ratio. Thanks to its full 10-bit HDR capability for high dynamic color range and incredible picture detail in dark and bright scenes with zero light leakage.
Since the projector uses 3LCD technology, you can't see any rainbow effect and, of course, that irritating color wheel. Moreover, it supports lens shifting that can move up to 47% on the horizontal axis and 96% vertically. Despite partial 12-bit HDR support, its motion handling is amazing.
It has a decent lamp life of up to 5,000 hours. Since it has three different lamp modes (Eco Mode, Medium Mode, High mode), you can use them according to your room's lights.
Pros & Cons:
What I like:
Amazing color accuracy
Smooth transitions and motion handling
Sharpness and Brightness
DCI-P3 color space
What I don't:
No built-in speaker
Verdict: who's it for?
There is no doubt you have the best option for your home theater. It is perfect for watching movies, sports, and even enjoying 3D content. For 2D lovers, you have six different color modes, including Dynamic, Natural, Cinema, B&W Cinema, Digital Cinema, and Bright Cinema. On the other hand, 3D users have two such as 3D dynamic and 3D Cinema. However, it will require you to buy separate 3D glasses.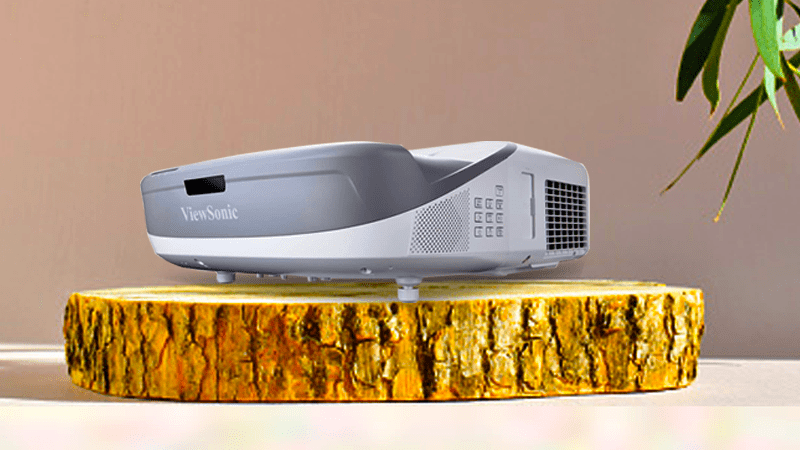 Key Highlights:
DLP display technology
2000 Lumens of Brightness
100,000:1 contrast ratio
Full HD resolution (1920x1080p)
2x10W Speakers
16ms input latency
Overview:
Viewsonic PX800HD is one of the best projectors for Ultra Short Throw. With a full HD resolution 1920x1080p support, it can throw theater-accurate Rec. 709 colors on a large screen up to 150 inches. For Cinematic colors, it utilizes the RGBRGB color wheel to produce lifelike image quality.
Even though it boasts 2000 ANSI lumens of brightness, the display is clear and bright in a well-lit room with windows wide open. So you can imagine the image quality when it is used in the dark. The key feature of this projector has been its ultra-short throw lens, and it can go down to the lowest is 0.23 UST. With a few inches from a screen, it can produce an incredible huge image.
When it comes to gaming, it features 16ms low input latency. Unlike others, it has three HDMI inputs for connecting various HDMI-enabled devices. These inputs are designed to handle 3D images directly from 3D-enabled devices such as 3D Blu-ray players. However, you'll need compatible 3D glasses for it.
Pros & Cons:
What I like:
Awesome image quality
Ultra Short Throw
Screen adjustment for keystone
Low input latency
Easy and quick setup
What I don't like:
Its speakers and Fan noise
Verdict: Who's it for?
If you want the best Ultra short throw projector under $2000, go for it. There can't be anything better than this on the market. It can produce around 120 inches large screens from just 11 inches. Without a doubt, consider it a true UST projector. If your room doesn't have much space and a place to hang a projector, You should consider it.
Those who want it for home theater and just for watching movies don't buy it as you can buy a 4K projector in this price range. If you want it for gaming and Full HD movies, this is the ticket.
Buying Guide: Crucial factors to consider before buying a 2000 projector
I tell you that you don't need to buy expensive projectors until and unless they are on your needs radar. First, the lamp life of these projectors justifies the invested money. Therefore, I advise you to focus on only factors and projectors that meet your requirements. For that, you need to go through my buying guide and understand the essential features that your $2000 projector must include.
1. Display technology
When we look at any projector's specs, there must be display technology of that projector. Since there are different types of projector display technologies available on the market, choosing the best one is quite tricky. However, it only applies to the cheap projectors under $100. Expensive projectors use expensive displays, and they're three types: LCD, DLP, and LCoS.
LCD:
Most of you already know it stands for Liquid Crystal Display. One of the oldest and cost-effective displays on the market. Even though it is the oldest, LCD technology is still the best option for a home theater projector. However, with time, it has upgraded to 3LCD—a better and advanced, for better image quality.
DLP:
DLP display is another common type of display, most common in the digital world. It stands short for Digital Light Processing. The good thing about the display is its 3D capability. You can't imagine the same from LCD types of displays. However, DLP is expensive and has a slight rainbow effect.
LCoS:
LCoS is a better type than LCD and DLP(in most cases). It stands for Liquid Crystal on Silicon. It uses the same technology as LCD but separates light into RGB. Therefore, the overall picture quality seems better on this type.
Verdict: Which display technology is the best for under $2000?
If you want a projector to be the best for 3D, DLP projectors will be perfect. On the other hand, LCoS and LCD are best for home theater projectors.
2. Brightness: How many lumens should your 2000 projector have?
Since LCD projectors offer better brightness and considered ideal options for home theater, we need to look at the number of lumens of a projector. Always remember, the brighter the image, the higher the lumens. The overall image quality can be determined by its two specs: color brightness and white brightness.
The recommended brightness and the number of lumens of your $2000 projector should be determined by the room lighting. If it has a lot of ambient light, you'll need a brighter projector. On the contrary, any dimmer projector will work.
Let's say you want it for a classroom with windows; you'll need at least 2500 lumens. On the other hand, if your room is dark, a low brightness projector will work.
For $2000, I'll suggest you look for at least a 3,000 lumens projector to cover any well-lit and daytime environments easily.
3. Contrast: The ideal number for a $2000 projector?
It's a ratio of light and dark of an image. You might have seen this ratio on the specs sheet of a projector. A weird-looking number, 10,000:1, 20,000:1. Most projectors offer anywhere from 10,000:1 to 500,000:1. The contrast ratio determines the color range on the screen so that it can be easily visible.
Now let's understand the number. For example, A projector with a 1000 contrast ratio will be 1000x brighter compared to the darkest black. For rich and crystal-clear quality, your projector should be high in contrast.
4. Resolution: 4K ultra HD or HD, what to expect under $2000?
We have reached the 8K resolution mark at the time of writing this article, therefore, buying at least 4K projectors should be our priority. For incredible picture quality, your aim should be finding the best 4k projector under $2000, rather than looking at Full HD.
Any good projector under $200 can offer native Full HD resolution with 4K media support. That's why people should check whether their projector is native 4K resolution supported or partial.
You can still go for 1080p projectors if they're used for business presentations and classrooms. If you're looking for movies, gaming, and other similar stuff, then 4K resolution is a must.
5. Screen size: The maximum screen size for your 2000 projector?
Most standard projectors can be anywhere between 100 and 150 inches or more, depending on the projector. Remember, the size of a screen is always measured diagonally. The maximum screen size for $2000 should be at least 150 inches and can go up to 300 inches or more. Projectors generally offer fixed recommended distances and screen sizes for an optimum viewing experience.
So when it comes to screen sizes, you should measure the size of your room. Never go made for the biggest screen size unless you need it. It's because a viewer suffers more when he goes for changing projector's settings and other things on a screen that is too big.
So whatever screen size you choose, make sure it is done by checking the recommended distance, screen size, brightness, and of course, contrast. For me, a 120-inch has been the best screen size. At this number, most projectors give their best. So that's my recommendation for the maximum screen size.
6. Throw Distance: Throw distance of your 2000 projector is everything?
Throw distance of a projector is another essential factor to take into account. Why? People with smaller rooms should turn their attention toward it more, or maybe to ultra-short throw.
Only a few inches away from the screen, you can enjoy watching your favorite stuff with a fantastic image quality produced. However, most projectors with ultra-short throw capability are expensive and go above our budget of $2000.
Don't worry! I've discovered the best ultra-short-throw projector for under $2000, the ViewSonic PX800HD. It is for your tiny rooms and people who don't want any distraction from others while the projector is in use.
7. Installation: Are your $2000 projector ease of use?
When it comes to ease of use, many things should be on your radar. It can be anything, from projector's weight to mounting. I always find a projector to be mounted on the ceiling a better option than placing it on a table or places similar to it.
Since almost all the projectors come with remote control, you might not need to think of operating it from different angles. Moreover, if your projector supports voice control, consider it a big plus.
FAQs: What do people often ask?
Which is the best projector for home use under 2000?

The BenQ TK800 is the best projector you can buy under 2000 for home use. It's a native 4K projector that supports HDR10. Besides, its highlights include motion handling, dedicated picture modes, and image quality.
Which projector brand is best?

You have the four best projector brands to choose from, BenQ, Optoma, ViewSonic, and Epson. These brands make projectors for different purposes; therefore, choosing the best one should depend on your taste.
Is it worth buying a 4K projector under 2000?

Yes! It's entirely worth it. Everything is in 4K these days; therefore, buying a 1080p projector is not an option, at least in 2023.
Moreover, If you're going to spend 2000 dollars on a projector, why not 4K? Since the resolution of any projector is the crucial buying factor, you should not ignore it at any cost.
How many lumens should a 2000-dollar projector have? 

Since the brightness of any projector determines the overall image quality, it should always be high. For 2000 dollars, your goal should be getting a projector with at least 3,500 ANSI lumens. Remember, ANSI lumens, not lux.
Conclusion
After testing hundreds of 2000 projectors, I found EPSON Home Cinema 4010 4K the best as a home theater projector. Its superior-quality 4K resolution with incredible brightness and contrast is incredible on a large screen that goes up to 300 inches.
When it comes to 3D and brightness, you have the BenQ TK800 under your budget. Amazing Hyper-realistic picture quality with a true 4K resolution and equipped with 8.3 million pixels to enjoy your favorite stuff, especially sports, even in the well-lit environment.
For those who don't like hanging, mounting, and cables all over their places, you have the Viewsonic PX800HD 1080p Ultra Short Throw projector. However, it is more like a gaming buddy. I don't recommend this just for movies as the market is full of 4K projectors for the same price range. If you want it for gaming and happy with full HD media content, you're most welcome.