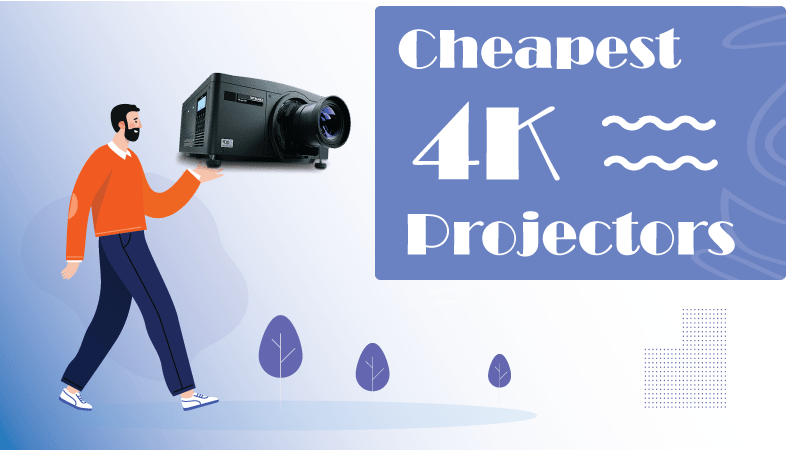 It's 2023; 4K projectors are cheaper than most smartphones these days. Before I walk you through my list of the cheapest 4K projectors, you should understand the meaning of 4K first; however, 4k also refers to Ultra High Definition. So don't get confused. A 4k display houses at least 8 million pixels, to be more precise, active distinct pixels.
Moreover, 4K resolution is standardized to 4,096 by 2,160. Meaning, it is four times of full HD 1920x1080p resolution. Therefore, if you go for an Ultra HD projector instead of a 1080p projector, you can enjoy clearer, brighter, and more detailed picture quality on a big screen. Consequently, A 4K projector the dominant standard for digital cinematography.
Since 4K projectors are more affordable now, you don't need to spend much money. For that, I have reviewed the three best budget 4k projectors with projector buying guide and FAQs.
Now the most common question,
What to expect from an affordable 4k projector. What are crucial factors to consider while picking one?
There are hundreds of considering factors when choosing any cheap 4K projector. However, I'll talk about only important ones.
1. Display: Is your projector a native 4K?
Since we're after 4K technology, our main goal is to find a projector that displays 4K content with better brightness, better contrast, and overall greater clarity than a Full HD projector. What else? a good projector equipped with an enhanced color gamut and reproduces more tones and shades to deliver more vivid and sharper images. However, it'll only be possible if a projector has a powerful processor in order to produce a smooth 4K image projection.
Note: your projector should be a native 4K projector, not the one that partially supports 4K.
2. Performance: Does your projector support HDR?
Modern 4k projectors are packed with HDR capabilities to enhance the overall quality of an image. For example, let's say you're watching your favorite sports; it will adapt images based on the sports you're up to. However, if it is a wildlife or nature documentary, its image viewing experience will be different than sports. So make sure your 4K projector offers different viewing modes, such as gaming, picture, movie, and presentation mode, for a better viewing experience.
3. Different usages: Is your projector suitable for indoor or outdoor use?
As manufacturers design projectors for different uses, it is important for us to understand our needs. It is because the brightness level of a projector varies from projector to projector. For example, projectors used for outdoor purposes required more brightness compared to indoor. Moreover, they feature adjustable brightness settings for various usages so that you can enhance its brightness tone according to the environment.
4. Screen size: The larger the screen, the better the viewing experience. Can your 4k projector cast a larger screen?
Everyone loves watching their favorite stuff on a bigger screen that can go up to at least 300 inches. An excellent 4k projector offers bigger screen sizes with every last detail. Therefore, you should check whether your 4k projectors can throw a screen size of up 300 inches and more.
For other vital factors, go through the buying guide below. It includes everything about 4k projectors.
1. BenQ HT3550 4K – Cheapest 4k Home Theater Projector
Key Highlights
Native 4K UHD (3840x2160p)
2000 ANSI lumens Brightness
30,000:1 Contrast Ratio
DLP display technology
Built-in 5Wx2 Speakers
3D compatible
Overview: BenQ HT3550
The BenQ HT3550 is a dedicated 4K (UHD) projector promising 8.3 million pixels in every frame. A True 4K resolution and DLP display ensure accurate colors and crisp picture quality without the dreaded rainbow effect. Moreover, with ISFccc certified calibration, its high native contrast ratio (30,000:1) with DCI-P3 CinematicColor technology produces incredible cinematic quality and brilliant display.
One of the best features of the projector is its HDR-PRO technology support. It is responsible for Auto Tone and color Mapping. Moreover, it enhances digital content with the support of HLG. Therefore, you'll be able to enjoy normal SDR content with deeper black and brighter whites levels.
When it comes to Zoom and focus, it is packed with built-in zoom adjustment. I also liked its Auto Vertical Keystone Correction and Lens Shift adjustment.
Pros & Cons:
What I like:
Contrast and Black Levels
Color accuracy with Rec.709 & DCI-P3
3D capability
Dynamic Iris & sharp 4K image
HDR10 support
Design
What I don't:
Average Input lag
Verdict: BenQ HT3550
The BenQ HT3550 is one of the best 4k cheapest projectors for home theater. It can deliver razor-sharp picture quality under your budget. However, its input lag could be improved for gaming. Having said that, it can handle casual gaming without a problem. So for me, it is a perfect and affordable 4K projector for people looking for a home theater setup.
2. Optoma UHD38 – Affordable 4K Gaming Projector
Key Highlights
True 4K UHD resolution
4000 Lumens brightness
Enhanced Gaming Modem
16ms Low Input Lag, the lowest 4.2 response time @ 1080p
HLG & HDR10 support
Contrast ratio 10,00,000:1
Lamp life of up to 15,000 hours
Overview: Optoma UHD38
The Optoma UHD38 is the next-level true 4k projector—true 4K means active 8.3 million distinct on-screen pixels—to deliver a high-quality home theater feel at your home because of the support of HDR10 and HLG. The HDR tone mapping enhances the overall picture quality and delivers an optimized image with accurate and more realistic colors. It is also responsible for brighter whites and deeper black levels, as its Dynamic black technology works with HDR10 perfectly.
The Optoma UHD38 is more like a gaming projector. With the lowest response rate, 4.2ms at 1080p @240Hz, it offers a dedicated enhanced gaming mode. Though it takes 16ms for full 4K UHD resolutions, you have both options, gaming at 1080p with the lowest 4.2ms response time or UltraHD at 16ms.
Moreover, gamers have the advantage of using their modern gaming consoles with an array of extensive connectivity options the projector offers, including dual HDMI port 2.0/2.2 and VGA. In addition, you'll be able to use your Amazon 4K fire Stick, Apple 4K TV, 4K Blueray player, Google Chromecast Ultra, and many other modern HDMI-enabled media devices.
The projector works incredibly when it comes to Daytime viewing. That's because it has 4000 lumens of brightness combined with a high contrast ratio of 1000,000:1. So no matter where you set it up, be it your living room, home theater, or even backyard, provided there is no direct sunlight.
Pros & Cons:
What I like:
Incredible gaming experience
HDR10 & HLG
True Native 4K UHD (8.3 million active distinct pixes)
8-seg color wheel
Easy Setup
What I don't:
No horizontal keystone correction
Verdict
The Optoma UHD38 is primarily designed for gamers or optimized for serious gaming. Its specs entirely indicate the purpose of the projector, from the lowest input lag to enhanced gaming mode. Despite being a gaming projector, you can set up your home theater and enjoy a true 4k viewing experience, be it your favorite movies, web series, or other 4K-demanding media content.
However, I don't recommend the projector for outdoors, especially surfaces getting direct sunlight. Once the sun goes down, you're ready to go with it.
3. LG HU70LA – Best Value 4K Projector
Key Highlights
4K UHD (3840x2160p)
DLP display technology
Screen sizes from 60″ to 140″
1500 ANSI lumens
HDR10 support
30,000 hours of lamp life
Overview: LG HU70LA
The HU70LA from LG is a true-4K projector and offers a native UltraHD resolution (3840x2160p). In order to give you a real Cinematic experience, LG is using new 4K UHD Cinebeam LED technology with XPR, which is also known as Wheel-less technology, to produce richer and deeper colors.
Therefore, most DLP projectors with wheel-less LED technology invite serious color issues such as a rainbow effect and discoloration. That's where LG HU70LA has been making an effort to cement its position in the display segment. Moreover, It supports HDR10 with dynamic tone mapping to deliver optimized picture quality.
Another noticeable feature of the projector is its ThinQ AI, through which you can communicate with it over voice commands using Alexa and Google Assistant. Besides, you can stream content from Amazon Prime and Netflix with its webOS Lite.
Since the projector has built-in Bluetooth connectivity, you can enjoy wireless mirroring to project your favorite media onto a large screen of up to 140 inches.
Pros & Cons:
What I like:
Its picture quality, super sharp and vivid
Incredible color production, deeper & richer
Its easy setup
Wireless connectivity
LG's magic remote
Lamp life
What I don't:
Its sound
Verdict: The LG HU70LA
The LG HU70LA is suitable for home cinemas. It'll be perfect for your home theater because of its incredible picture quality and CineBeam LED technology. It can project the largest screen size of 140 inches with a 16:9 aspect ratio from an ideal projection distance of 185.7″.
However, if you set it up in a room with some light, you might not get up to the mark picture quality. I'd suggest you use it in a darker place for a crystal clear image.
Buying Guide: Features to take into account before buying any cheapest 4k projector
Since a projector is equipped with many features and technologies, such as 4K display, brightness, contrast, resolution, throw distance, screen size, lamp life, speaker, noise level, price, and warranty, choosing the right projector for the right purpose is not easy. Moreover, manufacturers introduce new technologies with their new projector launched.
In this buying guide, I'll make sure you understand every feature of a projector in the simplest possible way. So take a look at the following features.
Display technology: DLP, LCD, or LED? Which one will be ideal for a 4K resolution?
I'd love to start with the fact that LED is not in the picture anymore. Instead, projector manufacturers prefer DLP and LCD. However, both are known for different projection approaches. Since our goal is to find the best affordable 4k projector, I recommend DLP without a doubt. If it were a projector under 500 bucks, then both would work.
Related: Best 4k projectors under 500
Why is DLP better?
Compared to LCD, DLP provides better image resolution and overall picture quality. In order to achieve it, the DLP chip or DMD chip is packed with several million mirrors—for projection. The most expensive projectors offer around 8.3 million pixels. Therefore, projectors with 8.3 million pixels are considered the true 4k projectors.
On the other hand, LCD has fewer mirrors or as many as 2 million, while a true 4K projector requires 8.3 million. As a result, the image quality of the LCD projector appears very saturated. Besides, LCD types can't produce a 3D image. However, 3LCD is next-generation technology loaded with 3D compatibility and delivers better picture quality.
Resolution: Is it true native 4K resolution?
In 2023, the content available on the various media platforms (Netflix, Amazon Prime, etc.) is UltraHD. Therefore, FullHD or the resolution 1920x1080p is not in the game anymore; instead, our main focus should be checking whether a projector is 4k or a true 4k, especially when building a home theater system. 
Most brands offer a projector with the term 4k enhancement, offering around 4.1 million active pixels. These types of projectors double a FullHD 1920x1080p resolution and display a total of 4.1 million active pixels.
On the other hand, you have a true 4k resolution, promises to display at least the total number of 8.3 million distinct pixels. When horizontal pixels are concerned, it comes out as 3840×2160. While vertically 4096×2160 pixels. Moreover, only the DLP type of projector display can handle the number of pixels.
Throw Distance: Is it short or long?
A short-throw projector, as it implies, can create a huge screen from a short distance. On the other hand, a long-throw projector requires a comparatively long distance to create the same screen size. Depending on your budget and preference, you have both options to choose from. Since short-throw projectors are very expensive, most people can't afford them. Having said that, they are well-suited for people who want big screens in small rooms.
I prefer long-throw projectors if there is no space issue in my room, as they're more flexible and offer more options to project big screens from any distance with more installation options.
Conclusion
I hope you have found your perfect cheapest 4k projector. If you're still struggling, go through the buying guide and take assistance. Also, check the FAQ section for the most common doubts of the cheapest 4K projectors.