The synonym of social activity should be gaming. If you're a gamer, you know what I mean. A serious gamer loves chatting, talking, and hosting gaming parties with other gaming buddies. In other words, a gamer requires multiple displays for the job. Alternatively, you can enhance your gaming experience with the best gaming projector.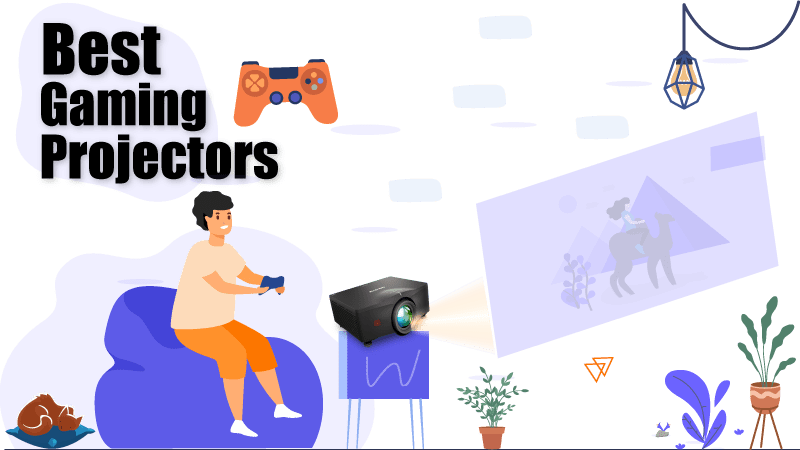 So, if you're a serious gamer like me and ready to host a gaming party in your home, your first step should be towards getting one of the best gaming projectors on the market—A projector that fits your needs and is suitable for your place.
However, gaming projectors carry two important specs compared to the other projectors: Input Lag and Refresh Rate.
Input Lag: What is Input lag On the gaming projector?
The Input lag of your gaming projector is the total time between the controller/keyboard action and the reaction on the screen. In other words, The overall time that your projector takes after pressing a button on the controller to get the corresponding action on the screen is called input lag.
If your projector does this job under 40ms, you have a good gaming projector. However, if you have the best gaming projector, you can expect Full HD (1080p) @120Hz in 8ms and 4K UltraHD @60Hz in 16ms.
So these are the recommended numbers for competitive multiplayer gaming.
Refresh Rate: What is the refresh rate on the gaming projector?
A refresh rate of any projector lets us know about the number of frames per second. The latest gaming consoles, such as PS5 and Xbox x, have set a new benchmark for gaming projectors in terms of refresh rate. Also, the modern gaming projectors' specs show that 60Hz is the minimum refresh rate. It means your gaming projector must offer sixty frames per second at any cost.
So, the Input lag and Refresh rate are two of the crucial factors for gaming projectors. Other vital buying factors, such as brightness, throw distance, and resolution, are also important for a gaming projector, which we'll discuss in a buying guide below.
Now take a look at my top gaming picks,
The Optoma UHD38 is a native 4K UltraHD gaming projector; it offers 8.3 million distinct on-screen pixels and gives you a high-quality home cinema feel at your home. It handles HDR10 and HLG content and thus displays 4K vivid UHD content on the screen; moreover, you get an optimized image because of its Dynamic Black and HDR tone mapping technologies.
Such technologies are also responsible for deeper black levels and brighter whites; therefore, the visual you see on the screen while gaming is immersive and astonishing. You'll enjoy gaming more on this projector with modern gaming consoles, such as Xbox series x and PlayStation 5, as these next-generation consoles ensure 1080p @120Hz and 4 Ultra HD @60Hz.
Since this Optoma UHD38 is mainly designed for gaming, it brings lots of gaming-optimized features and dedicated enhanced modes, such as gaming mode, which helps the projector achieve the lowest input lag 4.2ms @1080p 240Hz. If it is 4K HDR Ultra HD resolution gaming, this UHD38 ensures 16ms input lag but with detailed picture quality.
Another reason that stands the Optoma UHD38 out from the rest is its high brightness; it has 4,000 ANSI lumens of brightness. Meaning, you can enjoy it in your room with lots of ambient light, even in your backyard as an outdoor gaming projector.
Pros & Cons: The Optoma UHD38
What I like:
Its excellent picture quality
4K native resolution
Long battery life up to 15,000 hours
Connectivity ports
4.2ms Input lag @1080p & 16ms @4K
HDR10 & HLG supported
What I don't like:
Standard throw projection
The Benq TK700STi is Benq's one of the popular gaming projectors, packs excellent gaming features and specs. It's a 4K gaming projector (UHD 3840×2160 with 8.3 pixels), also accepts 4K HDR content—With built-in Android TV allowing up to 5000+ Android Apps, you can take your gaming experience to the next level. Besides, you can cast your favorite content via Chromecast or Airplay on the screen.
Remember those two crucial gaming factors: input lag and refresh rate. The BenQ TK700STi offers low input lag: 4K @60Hz in 16ms and 1080p @240Hz in 4.16ms. Moreover, you can use its Preset Game Modes, such as FPS (dark scenes with surround stereo sound), SPG (Cinematic color with Cinema sound), and RPG (diverse skin tone with clear vocal) designed to handle different types of games.
The BenQ TK700STi slams 3000 ANSI lumens of brightness, ensuring the finest visual gaming quality even in bright environments. Besides, the projector is compatible with all the modern consoles, such as PS5, Xbox Series X, Nintendo Switch, Google stadia Etc. You get two HDMI 2.0 ports and AV controls.
Unlike most gaming projectors with standard throw, the BenQ TK700STi offers a short-throw projection, allowing you to project up to 100 inches large image just from 6.5 ft.
BenQ also recommends other screen sizes with their throw distances, such as an 80-inch image from 1.59m/5.2ft, a 90-inch image from 1.79m/5.9ft, and a 120-inch image from 2.39m/7.8ft. The short-throw projection comes in handy for gamers with limited room.
Pros & Cons: The BenQ TK700STi
What I like:
Incredible picture quality
Ultra HD resolution
4K @60Hz, 1080p @240Hz
Short Throw Projection
Low Latency
Easy setup
What I don't:
No lens shift
3. XGiMi Horizon Pro – Best Portable Gaming Projector
The XGIMI Pro is one of the best 4k portable gaming projectors on the market. It runs the Android TV Operating system, supports more than 5000 Android apps; you can download them directly from Google Play Store. Moreover, you can use its built-in Chromecast feature to cast your content, supporting both Apple and Android devices.
This portable gaming projector can project up to a 300-inch image from 25.9ft. You can enjoy a 30 to 300-inch screen display from 2.59ft to 25.9ft, respectively. Moreover, you don't need to adjust these screen sizes manually; they adjust automatically. The projector also has the 3D projection capability; however, you'll need to buy supported 3D glasses separately.
Even though the projector is native 3840×2160 resolution supported, it also accepts content with 4096×2160 resolution. Moreover, this mini projector supports HDR10 and HLG to give you more realistic images in all environments, be it dark or bright.
Since our main concern is gaming, the Horizon Pro has adopted an advanced technology for gaming called MEMC frame interpolation—it handles dynamic content by preventing image flutter and tailing. Therefore, the overall picture quality you get on this gaming projector is very sharp and clean with more realistic colors.
Pros & Cons: XGIMI Horizon Pro
What I like:
Native 4K resolution
Built-in Chromecast
Super portable and easy to use
2x HDMI(ARC) and 2x USB ports
HDR10 & HLG support
3D projection
What I don't:
It doesn't support the native Netflix App. You'll need to use a streaming device.
Related: Best Streaming Device for a Projector
Guide: How to choose the best Gaming Projector?
After two vital factors of a gaming projector, you'll have to take some other factors into account too. Since these were the technical specs of a projector, I tried to explain them in a simple way.
1. Resolution: Does a gaming projector with low resolution affect the image quality?
Most projectors come with a large projection size but low native resolution. Therefore, you get a low-quality image on the screen. Always remember, a large screen requires a high native resolution to produce a clear, sharp, and vivid image.
So say 'no' to those gaming projectors that offer a low native resolution. Most cheap gaming projectors offer a large screen size of up to 100 inches with native 720p resolution—avoid them in the first place because of their pathetic image quality.
A 100-inch screen means you need at least 1080p or Full HD resolution to keep an image clear and sharp.
2. Brightness: How bright your gaming projector should be?
There is no fixed time for gamers to play games; they play whenever they feel so. Therefore, your gaming projector should be bright enough or have robust light output to handle lots of ambient light. Most people fall in love with projectors that offer high-end specs but low brightness; therefore, they can't enjoy the content at night, let alone daylight. Besides, I never suggest you play games in a dark room if you want your eyes to work until your last breath.
Now, let's discuss how bright your gaming projector should be? The very first thing to understand is that projectors denote brightness in lumens. It means, the more the lumens, the higher the brightness. However, it's not always a good idea to have a projector with lots of lumens; they're expensive and wasted if you don't buy them for your needs.
For example, a 100-inch projection size requires 2000 to 3000 lumens, depending on the lighting conditions of your room. As for outdoor daylight viewing, make sure your gaming projector offers at least 4000 lumens.
So with high resolution, your next goal should be the projector's brightness.
3. Throw Distance: The Throw distance plays a significant role in gaming projectors
The distance between your projector and the projection screen is called throw distance. You might have already guessed by now why a projector's throw distance is so critical when it comes to gaming. I don't want you to throw your gaming controller out of a window just because your projector has a long-throw distance.
Compared to older projectors, modern projectors come with reasonable throw distances. Besides, if you have the best gaming projector, chances are it operates with a short throw to produce a large projection size.
Let's move to the recommended throw distance. As with most modern projectors' throw distances, your projector should be capable enough to produce a 100-image from as little as two meters or six feet.
4. Sound: The incredible sound can take your gaming experience to the next level.
The fact is that cheap gaming projectors can't provide a good quality sound. On the other hand, expensive gaming projectors can give immersive sound, providing you don't use them in a big place.
Most laser projectors offer built-in soundbars with multiple audio channels, such a 2.1, 3.1, etc.; however, these projectors are costly.
Generally speaking, Mid-ranged projectors struggle to produce good quality sound. Therefore, choosing an external sound system can be an intelligent and more cost-effective decision for you. However, you'll need to consider a few things before buying any gaming projector.
Since most projector soundbar/speakers use HDMIs as standard connectivity, make sure you check HDMI ports on the projector. I advise you pick the model that has at least two fast HDMI 2.0b ports. The HDMI 2.0b port easily handles 4K @60Hz and 1080p @120Hz content. You can't imagine reliable visual content from the older HDMI 1.4 version.
Conclusion: What is the best projector for gaming?
You've three best gaming projectors to choose from in this guide. However, all three serve different purposes; you'll need to determine what suits you the most. Take a look at them one more time,
In a nutshell,
#pick 1: Optoma UHD38
The first projector on the list is Optoma UHD38. It's a 4K UHD gaming projector, boasts 4000 lumens of brightness and a 1,000,000:1 contrast ratio, and supports HDR10 & HLG content. Its response time for 1080p content is 4.2ms with a 240Hz refresh rate. Moreover, you can use preset gaming mode to enhance your gaming experience.
However, the Optoma UHD38 comes with a standard throw projection; you'll need at least 13.1 feet distance between the projector and the screen to project a 120-inch image.
The Optoma UHD38: Who's it for?
It's pretty much for everyone. Since the projector has incredible brightness, you can use it in all environments. If you want a projector for daytime viewing and ambient light, you have the Optoma UHD38.
#Pick 2: BenQ TK700STi
The second gaming projector on the list is the BenQ TK700STi, another excellent option for gaming. It has 3000 lumens of brightness and supports native 4K UHD resolution. It offers low input lag, 4.16ms response time for 1080p @ 240Hz and 16ms for 4K @60Hz. Unlike Optoma UHD38, it offers short-throw projection, requires only 6.5ft to project a 100-inch image.
However, compared to Optoma UHD38, it has low lumens of brightness. It doesn't include a lens shift feature.
The BenQ TK700STi: Who's it for?
The BenQ TK700STi is entirely worth the money; its picture quality is incredible on a large screen with a short-throw distance. If you want to enjoy UHD content, such as gaming and movies, you have the BenQ TK700STi.
#Pick 3: XGIMI Horizon Pro
The third gaming projector on the list is XGIMI Horizon Pro, a super portable projector, weighs only 6.39 pounds and measures 8.2×8.6×5.26 inches. It's a native 4K 3840×2160 UHD projector and utilizes an LED lamp with a lifespan of up to 25,000 hours. Since XGIMI Horizon pro is a multi-media type of projector, it has built-in dual 8W Harman/Kardon speakers—it's loud, clear, and delivers immersive sound.
It has the built-in Android TV OS; therefore, you get the support of more than 5000 Android Apps, which you can download directly from the Android Play Store. What else? It supports 4K HDR and HLG content, offers Auto keystone correction for the image correction.
For gamers, this mini portable gaming projector offers Low Latency. It utilizes MEMC frame interpolation technology that ensures a clear and sharp image while watching dynamic content, such as games, sports, movies, Etc.
However, it's an expensive projector and offers mediocre contrast. Plus, you'll have to use a streaming device for the native Netflix app.
XGIMI Horizon Pro: Who's it for?
The XGIMI Horizon Pro is an excellent choice for portability, a flagship 4K portable projector for gaming. You can carry it anywhere you care to go. It has pretty much everything for you, from built-in Google assistant to 3D viewing. So if you think you're this type, go for it.
If you doubt these gaming projectors, let me know in the comment section below. I'd love to answer your queries. Thank you!