Are you ready to enjoy a high-quality viewing experience at 400? I've three affordable projectors for you.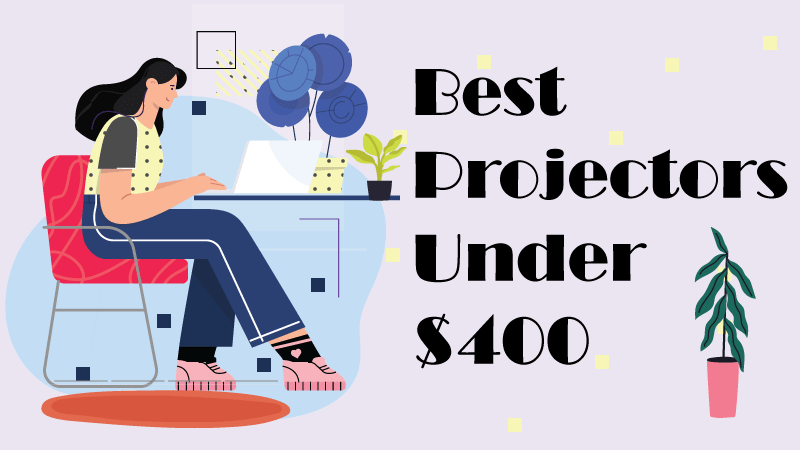 If you have 400 dollars in your pocket, I'll get you the best projector for 2023. It is a solid price tag for a projector. Even though it is an attractive price range, people buy out-date projectors. It is because they don't have knowledge about projectors and their attributes. 
I don't know about others, but I won't let you buy the wrong projector. That's why I've reviewed the best projector under 400 for 2023. 
A good projector should have a good contrast ratio and brightness to produce a better image on a large screen. A projector's resolution also plays a significant role, whether it is your laptop, TV, or your desktop monitor. The higher resolution always works. With higher resolution, you'll need to look at the screen size so that it can match up with your projector's optimum settings. There are some other factors, too, such as compatibility and connectivity, which I'll cover in the buying guide below.
So you can see how tough it is to find the best projector these days. Don't worry! You don't need to get into this stuff.
Take a look at my list of three best projectors under 400
1. ViewSonic PA503W – Best for Home & Office
Overview:
ViewSonic PA503W is my first pick when it comes to under a $400 budget. It is because all the things about the projector are very impressive, such as design, DLP technology, 3600 lumens, 22,000:1 ratio, 3D Blue-ray HDMI input, and many more.
Since the projector is using DLP technology, you won't have any problem while playing 3D content. Compared to other $400 projectors, PA503W offers a higher contrast ratio.
Pros & Cons:
What I like:
Its color accuracy is very impressive and provides a wide color range.
The brightness of the projector is fantastic, even in a well-lit room with high resolution.
It doesn't make any noise – a very quiet projector.
Lamp life is impressive and promises up to 15,000 hours.
What I don't:
The sound is not that good. You might need an external sound system.
Verdict:
For under 400 dollars, there should not be any doubt in your mind about the projector. You will be surprised with its keystone correction, brightness, contrast ratio, etc., making it an ideal option for education and small businesses.
Since the projector is good at brightness, you can use it in a well-lit environment too.
2. YABER Y31 Native 7200L – Best for home entertainment
Overview:
The YABER Y31 is another good option for you if your budget is under $400. It uses advanced German LED technology as a light source. Its body is made of a high-quality material that feels quite solid. With excellent color accuracy, you will experience outstanding picture quality.
One of the top features of this projector is its innovative 4D Keystone Correction. It includes four functions primarily – vertical correction and ± 50° horizontal, one-click to brighten, auto vertical correction, and one-click to restore.
Pros & Cons:
What I like:
Picture quality is up to the mark with balanced color accuracy.
A wide range of adjustability options with smooth vertical and horizontal lens shifting.
It features a double-sided cooling system, making it noise-free and quiet.
Full HD 1080x1920p native resolution, while supports 4K videos through smartphone and laptop directly
Three years repair warranty and YABER's lifetime technical support.
I don't like:
Built-in speakers are not loud.
Verdict:
With over 300 inches giant screen and a wide range of functions, one can't find any better on the market as far as under $400 is concerned. To be more precise, it is one of the best projectors under $200 you have.
After testing it for a couple of months, I found this projector to be suitable for home movie entertainment, be it a backyard or indoor.
3. Optoma X343 XGA – Best for Business Presentations
Overview:
The third projector for $400 buddy is from Optoma called X343. It is, without a doubt, going to be an intelligent pick. With over 3,600 lumens and balanced color accuracy, it is suitable for business presentations, homes, classrooms, and even backyard movies.
Why on my list? Compared to the same range projectors, its picture quality, brightness, connectivity options, lamp life, speakers, design, throw distance, and installation is unbeatable.
Pros & Cons:
What I like:
A wide range of connectivity and compatiblity options.
Audio quality is up to the mark; it boasts a 10-watt speaker
It is light-weight, portable, and compact in size.
Advanced and high-end DLP display technology
Its flexible and easy setup
What I don't:
Autofocus
Verdict:
This projector is very powerful when it comes to features and technologies. It offers all the connectivity options with easy setup. Since it works perfectly in bright places, you can use it in a well-lit room or your backyard with direct sunlight.
Unlike other under $400 projectors, it is suitable for everything, Whether it is your business presentations, classrooms, home, or even your backyard movies. Moreover, you can use it for gaming because of its advanced DLP display and low latency.
Buying Guide: How to choose the best projector under 400?
$400 is quite good money to buy a decent projector. However, you can't expect those high-end advanced features and technologies you get from more expensive projectors, such as projectors under $1000 and projectors under $2000. Take a look at the following guide below for a better understanding.
Display technology: Can I expect high-end display technology from a 400 projector?
Since there're different types of display technologies, I'll discuss only what fits your budget. Around $400, we have two display options, such as DLP and LCD.
DLP is known as digital light processing, while LCD stands for liquid crystal display. A DLP projector use a wheel (sort of spinning color wheel) to project images. Some of the significant advantages of buying DLP projectors are 3D capabilities, higher contrast, more compact, and light-weight. However, you've to spend more on a DLP projector than an LCD projector. Plus, you might see a rainbow effect (sometimes) because these types of projectors use micromirrors.
On the other hand, you have an LCD that offers sharper images with exact colors. Unlike DLP projectors, these types of projectors have no moving parts. Therefore, LCD is cheap compared to DLP. However, it also has some disadvantages like 3D capability, bulkiness, and lower contrast.
Now come to the question, what display technology is better for your $400 budget? It depends; both displays have their own advantages and disadvantages. You can choose one that fits your needs.
Brightness: What to expect from a 400 projector?
When you buy any brighter projector, you'll get a more visible image even in the daylight or ambient light. Therefore, I never recommend projectors that don't offer good brightness. Otherwise, you will end up using them in darker rooms.
So make sure your projector is offering enough lumens to produce more visible images. You can also choose from my list since all of them provide excellent brightness and come in your $400 budget as well.
Contrast Ratio
Similar to brightness, your projector should be good at contrast as well. DLP projectors offer more contrast than LCD ones. For example, ViewSonic PA503W has a contrast ratio of 22,000:1, while Epson EX3260 has a 15,000:1 contrast ratio. Therefore, It is expected to have a higher contrast ratio from ViewSonic PA503W because of its DLP display technology. In contrast, Epson EX3260 is an LCD projector offering a lower ratio.
So an ideal ratio for your 400 projector should be at least 15,000:1.
Resolution
The resolution of a projector should be considered according to your needs. Let's say you're a serious gamer; you will require a higher resolution projector, such as Full HD and 4K.
On the other hand, if you want it for presentations, a lower resolution projector might be enough for you, such as (800×600). However, I never suggest anyone buy any lower resolution projector since it will lower the image quality.
So make sure your $400 projector is native FullHD resolution supported.
Throw Distance
Since we're going to spend 400 dollars on a projector, it's our duty to check its throw distance as well. The throw distance of a projector is an optimum distance between the projector and the screen. And it varies from one to another.
If your room is small, pick the one that offers a short throw distance. Otherwise, you'll end up seeing blurry images. So calculate it first, then take the decision.
Conclusion: Which one is the perfect under 400 for you?
All three projectors are best for under 400. Still, if you're confused about choosing the one for your needs, the following paragraphs are for you.
In a nutshell,
I picked the first projector for those who want a versatile projector at their favorite place. Let's talk about its highlights. 3,600 lumens, 2W internal speaker, low latency, 3D Blu-Ray ready, 22,000:1 contrast ratio, and 1280×800 WXGA resolution.
Who's it for?
Its advanced visual features make this projector suitable for home, office, and small business environments.
The second pick is a mid-range projector offering all the powerful features that you get from high-end projectors. It is YABER Y31 7200L. Some of its highlights, Native Full HD 1080p resolution, 7200 lux, 10000:1 contrast ratio, 4D keystone correction ±50°, and giant screen up to 300 inches.
Who's it for?
The YABER Y31 is a fantastic projector; you get around $200. Keeping the price tag in mind, I can recommend this for home movie entertainment. You can use it in your backyard. Since it is bright, you can use it in any bright room without any problem.
The third projector is very powerful; thus, it requires heavy users. I am talking about Optoma's trendy model called Optoma X343 XGA. It is a beautiful projector offering tons of advanced features and technologies.
For example, 3600 lumens, XGA 1024×768 resolution, 22,000:1 contrast ratio, many connectivity options, super-fast installation, 10watt built-in speakers, and many more.
Who's it for?
It is for everyone. Since it is a DLP-type projector, you'll have the next level of experience; Whether you use it for home entertainment, business presentation, or even small-sized to medium-sized classrooms.
Now it is all up to you, which one you pick. Even though all three projectors are best and worth the money, you should choose one that fits your needs.
Final Words: My Request
Below you have a comment section; you can ask if there is any doubt. I'd love to answer your query as soon as possible.
I request all the readers to share their opinion about the article. It will help me to improve it accordingly.