Everyone wants to take their favorite gadgets along with them, wherever they go. Though, taking projectors anywhere you go was not possible in the past. Now, it's 2023, and the good news is that you can take your projector anywhere you go, like your smartphone. The type of projector I am talking about is Pico; such projectors are designed for portability. Therefore, In this guide, I have the three best Pico projector Reviews for you.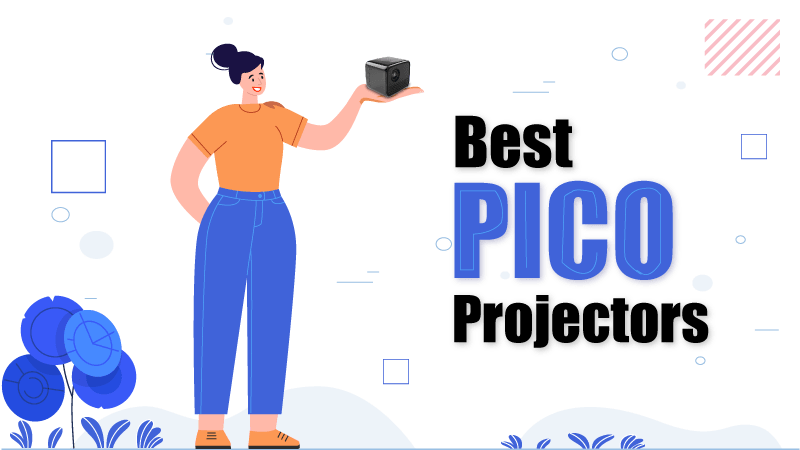 Compared to TVs, projectors have become an essential tool for everything—be it your business meetings or partying with your friends at your favorite place. However, projectors were limited to their particular places, such as your home, office, conference room, Etc, because of their portability.
The portability of a projector has been a big concern for most people, as for the manufacturers. However, they have designed something very portable, light, tiny, and compact, called Pico projectors. If you have the best Pico projector, you can slide it into your pocket and, of course, into your backpack.
Note: Since such projectors can fit in your pocket, they're also called pocket projectors.
But, the main problem is how to find the best pico projector? Since there are many factors involved, finding the perfect one is not that easy. Therefore, I have brought you this guide containing the three best pocket projectors for your needs. I selected these pico projectors after considering their crucial features.
Moreover, you can find the best one yourself using the buying guide below, which contains all the must-have projector features—for example, display technology, brightness, contrast, price, Etc. Since the brightness and contrast are the significant factors for pico projectors, don't skip them at any cost. Now, take a look at my recommendations.
Three Best Pico Projectors 2023
You can't imagine any better projector than this Anker's pico projector, Anker Nebula Capsule; it's like an entire cinema in your hands. As its name suggests, it's a soda can-sized pico projector that can fit in your pocket with ease. Even though it is tiny, you can enjoy a 100-inch image just from 9.42 ft. As for a 60-inch image, you put the projector around 5.6ft away from the screen.
This Anker Nebula Capsule uses DLP projection technology and packs 100 ANSI lumens. It supports a 16:9 aspect ratio and comes with a native 854×480 resolution. You have a range of recommended projection sizes and their appropriate distances—from 40 to 100 inches. For example, from 2.87m, it projects an 80-inch image. From 2.29m, it can throw a 60-inch image, and from 1.72m, you can enjoy a 40-inch image.
This pico projector runs on the Android operating system; you can easily download apps from its own Nebula Manager Store. You can feed content to the projector using a wired or a wireless connection. When it comes to wired connectivity, you have an HDMI and a USB port on the backside. As for wireless connectivity, you can use Airplay, Miracast, or simply Bluetooth.
Since the Anker Nebula Capsule is a portable projector, it also runs on battery power. It's around 4 hours of battery backup; though, you get 2.5 hours in standard mode. It means you can enjoy a couple of full movies in one go.
Pros & Cons: The Anker Nebula Capsule
What I like:
Android-based OS
The user interface is very smooth
Sound loudness
Design, small & portable
Battery backup
What I don't:
Its native resolution
If you want something better – better brightness, better contrast, better resolution, or better everything than Nebula Capsule, you have XGIMI's MoGo Pro pico projector. The XGIMI MoGo Pro is a full HD projector that utilizes DLP lamp technology and supports front and rear projection.
The MoGo Pro packs 300 ANSI lumens of brightness to display enough vivid colors on a large screen. It can project the largest screen of up to 100 inches just from 2.66m. As for 80 inches image, you'll need to put the projector around 2.17m away from the screen. Another suitable size is 60 inches, which you achieve by putting the projector 1.59m away from the screen.
Since this portable projector is primarily designed for outdoor movies, it has good throw and thus produces the immersive 100-inch giant cinema from the shortest distance possible. As for the image correction, the projector offers an Automatic keystone feature (~40°) with manual 4-point keystone correction.
You can enjoy up to 5000+ Apps because it has an Android-based operating system and comes with the Android 9.0 version. It means you can download apps directly from Google play, such as Amazon Prime, Youtube, Hulu, HBO, Disney+, and many others. Remember, you don't get native Netflix stream support on the projector.
As it's a portable projector, it can run on battery power too and has a powerful built-in battery. As per the claim, you can enjoy up to 2 hours of entertainment in one go. In my testing, I found its battery backup good; it could play a couple of movies on a single charge. Its built-in two 3W speakers are good and loud enough. Since the projector is equipped with Bluetooth, you can connect Bluetooth-enabled soundbars and other devices.
Pros & Cons: The XGIMI MoGo Pro
What I like:
Its portability, small and light
Full HD resolution
Beautiful design
Android Operating system
Projection size
It's lightweight and easy to use remote
What I don't:
It's a bit pricey
3. Optoma ML750ST – Best Pico Projector For Businesses
The Optoma ML750ST is an incredible pico projector for your business. It's very compact, tiny, and lightweight, measures 4.4×4.8×2.2 inches and weighs only 0.88lbs. This tiny pico, palm-sized projector is primarily designed for business purposes. It uses LED technology as a light source and promises up to 20,000 hours of lamp life; meaning, you can enjoy your favorite content 5 hours a day for about 10 years.
Since business projectors are known for their throw distances, the Optoma ML750ST offers short-throw projection; it can throw a 100-inch large image just from 6 feet or less. Besides, it boasts 700 lumens of brightness to fill that large image, be it your conference room, classroom, meeting room, training room, or else—you won't have any image quality issues.
The Optoma ML750ST is a WXGA projector, offers partial HD (1280×800) resolution with a 20,000:1 contrast ratio. Therefore, the image it displays on the larger screen is very sharp and clear. Moreover, its color reproduction is incredible, produces vibrant, vivid, and detailed images. It's all possible because of its REC.709 color support.
As with most pico projectors lacking connectivity ports, the Optoma ML750ST has done a great job in this department; it includes all essential ports, such as HDMI + MHL v2.0, VGA (Universal I/O), USB-A, MicroSD card slot, and Audio Out. Besides, you can screen mirroring to share your favorite content directly from your smartphone to the projector.
Pros & Cons: The Optoma ML750ST Mini Short-throw Projector
What I like:
Its brightness; handles dim light
Its design; Small, compact, palm-sized, lightweight
Short-throw projection
REC.709 color support
Super easy to set up
What I don't:
No zoom
What is Pico Projector? Advantages & Disadvantages
As it suggests, something that is very light and small in size. A Pico projector is like a mini projector or as tiny as your palm. You can carry them along with you, slide them into your jacket pockets, or throw them into your backpack. You can do whatever you want with such a projector when it comes to portability. However, with great portability, they pack limited projection capabilities compared to typical projectors.
Most pico projectors come with built-in batteries to power them for extended sessions, and you can get around 3 to 5 hours of battery backup if you have the best pico projector. In simple words, such projectors—Pico projectors—are designed for traveling or transporting.
What are the advantages of buying a Pico projector?
Without a doubt, the main advantages of a pico projector are its tiny, light, and compact design—it's cheap compared to other types of projectors; Generally, the cheapest pico projectors come in a 25 to 50$ price range. You can enjoy such projectors while traveling, camping, and other places that require quick action.
What are the disadvantages of a Pico projector?
Since pico projectors are very small, they can't produce enough bright images, resulting in mediocre picture quality. Compared to other types, brightness and resolution are very limited on pico projectors; most offer 100-200 lumens of brightness and 480p resolution.
Related: Best Portable Projectors 2023
FAQs: People ask such questions very often about pico projectors
What connectivity options do a pico projector offer? 

I am afraid that pico projectors don't have many connectivity options. However, an HDMI port is the standard connectivity option. These days, smart pico projectors are very popular; they offer Wi-Fi and Bluetooth to feed media content to the projector. 
Can I use a pico projector for my PowerPoint presentations?

Yes, you can buy a pico projector for PowerPoint presentations. They're worth buying for this purpose since a good pico projector can project enough bright images for you. 

Generally, PowerPoints require good contrast as they have a white background with black texts. Therefore, whenever you shop for a pico projector for PPTs, go for a high-contrast projector. 

The Optoma ML750ST will be an incredible pick for presentations, as it has a 20,000:1 contrast ratio and supports REC.709 color. 
Are Pico projectors good for projecting large images?

Pico projectors' recommended screen sizes vary from 40 to 100 inches, diagonally, depending on the projector. Expensive pico projectors can go beyond 100 inches, whereas cheap ones struggle to project even a 40-inch image. 
Conclusion: What is the best pico projector for you?
In this guide, you have three best pico projectors to choose from: Nebula Capsule, XGiMi MoGo, and Optoma ML750ST. However, these three serve different purposes.
For example,
The Nebula capsule is the overall best, cheap, compact, soda-can-sized, and super portable. Its design is excellent, houses a 360-degree speaker that delivers an immersive sound quality.
The XGIMI MoGo Pro is ideal for outdoor movie nights; It packs powerful features, boasts 300 ANSI lumens, front & rear projections, 5000+ app support, DLP display, and Full 1920x1080p resolution, making it an ideal option for home entertainment.
The Optoma ML750ST Ultra is an excellent option for your business purposes because of its WXGA DLP chip. It has 700 ANSI lumens of brightness, a 2,00,00:1 contrast ratio, and native 1280×800 resolution.
Now, you can easily choose any one of these pico/pocket projectors. Still, you have any doubt, do let me know in the comment section below. I'd love to clear your doubt. Thank you!