Have you ever thought about recreating the whole cinema feel but at your house? If you have, then you likely turned to projectors and a screen to create that lights out, cameras roll aura within the confines of your own home. A projector and a screen, then wait for nighttime and grab some popcorn – great, right?
However, here's another thought: how about trying to recreate the cinema feel in your home in daylight? I am sure the first problem that comes to the mind of anyone who has used a projector screen is light.
Using a projector even at night requires a pitch dark room so that no other source of light interferes with the light from the projector.
You must block all the light sources, and every ray blotted out so that the lighting does not interfere with the light from the projector and the picture on the screen.
It is hard to blot out all light; even in the dark, it will be almost impossible to block out light in daylight completely. Therefore, in order to use a projector and screen in daylight, a solution to the problem of lighting must be found.
This is where ALR screens come in. Yes, I am talking about Ambient Light Rejecting Projector Screens (ALR).
What Are ALR Screens?
ALR stands for Ambient Light Rejecting screens. As the name suggests, ALR screens reject ambient light, which is simply all other light sources in a room apart from the projector light. ALR screens are a result of a special material that enables them to reflect light selectively.
Ambient light impacts the quality of a picture a projector can produce. It does so by weakening the light coming from the projector, thereby reducing the picture quality on the screen.
One way to avoid the problem caused by ambient light is to buy extremely powerful projectors that are able to provide extremely high levels of luminosity or brightness.
However, compared to the cost of simply buying an ALR screen to use with any projector, projectors with that level of luminosity are extremely expensive. So, ALR screens are the cheaper, versatile, and definitely better solution to the problem of ambient light.
How Do ALR Screens Work?
ALR screens selectively reflect light; the projector's light is reflected on the screen and back to the audience. The ambient light from other sources in a room is reflected away at an angle that is away from the audience.
ALR screens are different from regular projector screens because they are made from special CineGrey material, which has unique capabilities.
CineGrey material is made in such a way that it reflects light at significantly more angles than the regular screen. It also has the capability to accept light from certain angles and reflect them away within certain limits.
You should align your projector and ALR screen at a certain angle in order for the ALR screen to reflect away the ambient light and reflect the projector light back to the audience. The only way ALR screens can reflect away ambient light is when the projector light and the ambient light in the room are not coming on the screen from the same angle.
When the projector and the ALR screen are at the correct angle, the ALR screen reflects only the light from the projector back to the audience even though there are other sources of ambient light hitting the screen.
This makes it possible to create your "cinema-at-home" project and do it in daylight without compromising picture quality or having to blot out all the light.
ALR screens are especially useful in places where ambient light cannot be avoided altogether. For example, in classrooms, especially when the students need to write down things while the projector is in use. Places like conference rooms are also very likely locations for an ALR screen.
Choosing An ALR Screen: What to look for while choosing the best ALR screen for your projector?
In order to select a good ALR screen, there are a couple of things that should be considered.
You should try and purchase a black or gray screen because darker colors reflect light better. Of course, if you cannot purchase black or grey, there is absolutely nothing wrong with a white screen.
Also, check the material before purchasing it to make sure it has a 'Cine' prefix before any numbers representing dimensions. So you should expect to see labels like CineGray 4D and so on. Cine means that the quality of the material used in making the screen is the same as making cinema screens.
There are really several different materials used for ALR screens ranging from CineWhite to CineGray. There are really no significant differences between one type of material and the other. Each one of them is a much better pick than the average standard projector screen.
How Expensive Are ALR Screens? Are they worth buying?
ALR screens come in a vast array of sizes and price points. The prices can range from as high as $1000 to as low as $200 depending on several factors.
Considering that ALR screen materials' quality does not vary significantly, the factors that truly affect an ALR screen price are usually size and brand.
VIVIDSTORM, Delux Screens, Silver Ticket, Screen Innovations, and Elite screens are some of the more popular brand names for ALR screens.
However, apart from the big brand names, there are also a lot of smaller independent vendors of ALR screens, and they usually sell at a discount.
Ultimately the most significant consideration has to be the size you want to purchase and not necessarily the brand since the materials are similar. For any size you go for, there are a number of prices for which you can get it.
This might seem like a problematic fact, but in reality, it is not. The fact that the price ranges vary widely and that the quality of the materials is largely the same means that you will be able to get yourself a very good ALR screen whatever your budget is.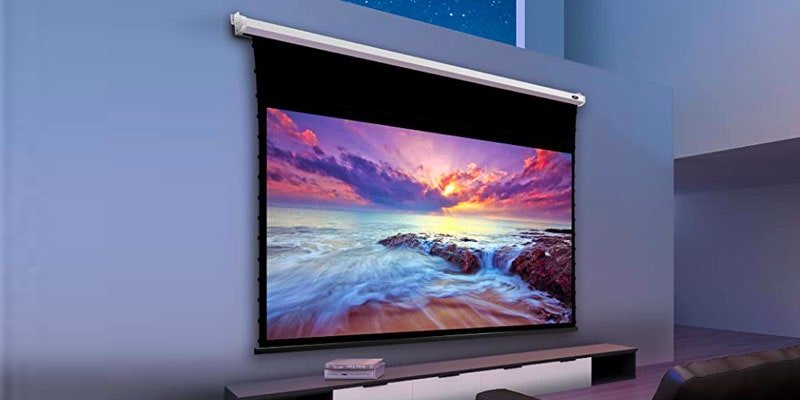 The VIVIDSTORM 8K UHD screen offers some of the most stunning image quality possible for an ALR screen. It has a fantastic 16:9 aspect ratio, which alone already gives you an idea of what to expect in terms of picture quality. The material has a distinctive silver color, and it offers better picture quality than regular CineGrey and CineWhite ALR screens.
The VIVIDSTORM 8K UHD is fairly expensive, although this screen's cost is greatly offset by the fantastic quality it offers. The range of available sizes begin at 120 inches, and they get more expensive as they increase in size.
Although it is fairly expensive than the other 4K and 8K resolution screens of the same size, it is highly durable and offers superior picture quality.
Unlike most other screens, this screen works exceptionally well for the passive 3D projection of images. This is an added perk and a really important one for people who intend to use their ALR screen for watching 3D videos. So, if you are a moviegoer who is fond of 3D movies, and you are trying to bring the cinema home, the VIVIDSTORM 8K UHD is an excellent investment to make.
Unfortunately, this screen is not compatible for use with short throw projectors. The projector in use must be projecting from a distance greater than 3ft in order to get the optimum experience of this screen.
The Delux Screen is one of a kind ALR projection screens. It offers breath-taking picture quality at a 1080p resolution! You most certainly do not need a 4K or 8K resolution screen to have stunning image quality. As a matter of fact, the Delux Screen's picture quality is so good that it is practically the same as that of a 4K resolution screen.
In order to protect the edges of the screen and increase its overall durability, the Deluxe Screen has a velvet finish border. The velvet finished border is protective, and it also has aesthetic appeal, making the Deluxe Screen look like television when it is mounted.
The Delux Screen also has the option of being specifically customized to suit your preferences. It has a motor pull-down feature as well as a manual one. However, the price is significantly affected by which feature is chosen and so it might be better to simply let it hang down even when it is not in use.
There are also quite a number of different types of material to choose from where the Delux Screen is concerned. The options include the silver material, the white matte material, and the acoustic transparency option. Unfortunately, it does not have a black material option.
In addition to all these excellent features of the Delux Screen, it comes at a very decent price for such incredible material; it also has a 3-year warranty, which makes it an ideal investment at any rate.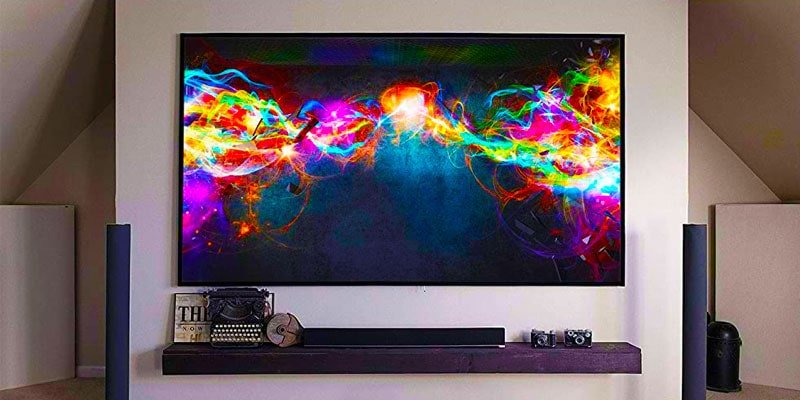 The Elite Screens offer a wide range of excellent ALR screens in a variety of sizes, dimensions, and materials. In fact, you get to choose your preferred material, style, and even color when picking out an Elite Screen. The material is so excellent, and works great in indoors or outdoors without reducing the quality of the picture as it counters the effects of light pollution excellently.
This screen's quality makes it practically a one-stop solution for projection needs in any environment that has to factor in ambient light. Whether at home in a viewing room or in an outdoor theatre, the Elite Screens will prove to be an excellent choice.
The border features a fixed frame edge that serves to protect the edges of the screen and enhance the viewing experience. There are also a number of options for buyers to customize their screen how they see fit. For example, there is the choice of an LED backlight containing 16 different color options if you should so desire.
The Elite Screens also offer really cool wireless connection capabilities, which is a very useful feature for a projection screen. It is also an aesthetically pleasing screen with a floating screen appearance that is nothing other than stunning.
What to consider?
As always, consider the black or grey color material over the white material where possible because of the extra benefits against ambient light.
Due to the Elite Screens' several customization possibilities, it is much better to make a purchase either from the website or even better at a physical store location.
Both the online and physical stores offer customer support for installing the screens and whatever customization process you may desire. The website provides a detailed analysis of each customization option in addition to customer support.
The Elite Screen is pretty expensive for a projector screen, which is, of course, not surprising given the number of exceptional qualities packed into one screen. One thing is clear though, if you have got the money for it, you cannot go wrong with an Elite Screen.
Which ALR Screen Is The Best?
Given the wide range of available choices when it comes to picking an ALR screen, you might be wondering which screens are the best? Which screens offer the best combination of quality, size, and price?
BestReviews.Guide (BRG) is a website that acts as an assistance tool for online shoppers by collecting and analyzing data about various products online. BRG's list of the best ALR screens is dominated by the big brand names like VIVIDSTORM and Elite Screens.
The list includes different ALR screens with different strengths. Some offer relatively excellent performance at a relatively low price, while others deliver stunning performances at higher costs. Of all the screens listed there, the three best ALR screens currently available are as follows.
Final Thoughts
So, now that you know what an ALR screen does, and you have had a look at three of the best ALR screens out there, one question remains – which one is the best choice?
Of course, the best screen for each person varies based on his budget. However, the Elite Screen is clearly the best ALR screen. The combination of unbeatable picture quality, several add-ons like wireless capabilities, and the several customization options make the Elite Screen unbeatable.
If you have the money for it, I definitely recommend the Elite Screen.