BenQ's one of the popular projectors – BenQ TH585. Is it the best full HD home entertainment projector at an affordable price? Here is the full review of BenQ TH585.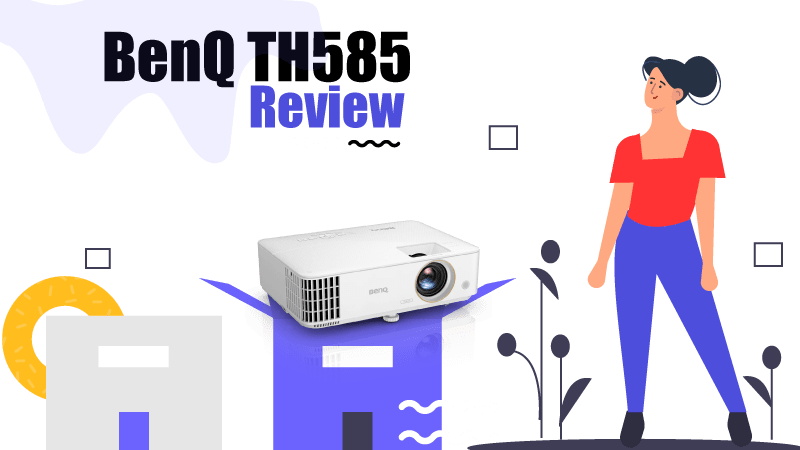 The model TH585 is a mid-range Full HD home theater projector of BenQ. With a price tag of under 500, the BenQTH585 has a broad range of features to offer. Compared to other same range projectors, the TH585 wins the race of home theater category for the money we put in.
Though, when you stare at the projector for the first time, you'll get to know that it is designed for home entertainment—watching media content and gaming. Moreover, you can use it in daylight or in rooms with ambient lights.
What else you get at a reasonable price?
The TH585 utilizes a DLP chip as display technology, packed with a resolution of 1920×1200 pixels. However, unfortunately, it doesn't go that far; instead, it settles down with Full HD resolution 1920×1080 pixels in this real world.
Furthermore, unlike most projectors, the TH585 has a six-segment color wheel, RGBWYC—red-green-blue-white-yellow-cyan, resulting in brighter and vibrant picture quality.
Since most projector comes with a three-color-segment, they can't produce enough bright image. On the other hand, pairing the DLP chip with a yellow segment, The TH585 has the advantage of producing more vibrant yellow than the ones with a three-segment.
Take a look at the latest price: Amazon
Gaming with Low Input Lag
TH585 claims a 16ms response time as a gaming projector, a considerable slow input lag for enjoying gaming on various gaming consoles, such as Nintendo, Playstation, or Xbox. Moreover, you have exclusive gaming modes to enhance your gaming experience—You can turn it On/Off as per your content.
When it comes to console gaming, the TH585 has a lot to offer for each type of gaming, such as role-playing games, party games, sports games, and action games. Besides, the projector lets you enjoy multi-source entertainment, from a gaming console to a blue-ray player.
The key specification: BenQ TH585
Let's start with the fact that it's a full HD projector (1920x1080p) equipped with 3500 ANSI lumens of brightness. Instead of focusing on 4K resolution, BenQ has worked on large-screen projection—a primary factor for a majority of the people who want to enjoy their family time on a big screen.
Brightness: What does it offer?
As BenQ has claimed the brightness in ANSI lumens, it boasts ANSI 3500 lumens. Since I always prefer nits to measure the brightness of a projector, The TH585 reaches 1000/500 nits. Yes, you read it right. It is better than what you from an expensive TV, most go about 800-1000 nits.
Let's see different nits that I got with varying conditions of lighting: pitch black was below 50, 100-250 for Dusk to Night, 250-500 for daylight (indoor), 450-550 for ambient lights (indoor office), partial sunlight (in the shade) for 500-600, 700-900 for indoor ambient light, 1000 and above for outdoor daylight.
For the summary, I found that it was a struggling task for the projector when it came to ambient light. It requires a darkened room or place in order to give you real picture quality with proper accurate brightness. Other than that, its brightness in the dar is unbeatable.
Note: If you're confused with the terms lux and lumens, please check lumens vs. lux.
Contrast: The contrast ratio of BenQ TH585
As you know, the contrast ratio of a projector is just the difference between black and white, or better say – 100% black and 100% white. However, these days, projector manufacturers lean more towards a different measurement called FOFO (Full-on/Full-off) when the projector's contrast is concerned. So, just like ANSI for brightness, there is FOFO for the contrast of a projector.
The BenQ TH585 is a 10,000:1 FOFO, beats the competition for the price.
Sound: A 10W-spaker
It comes with a 10W-speaker, a mono speaker, that reaches up to 70dB. Thus, it is okay for normal usage. However, for home entertainment, you'll definitely need an external sound system. For the suggestion, go for atleast a 2.1 soundbar.
Besides, you get the support of a 3.5mm stereo port. However, I suggest you connect your soundbar using HDMI.
The placement & Mount: BenQ TH585
The placement of a projector is not a big thing; you can easily place it on your favorite place or ceiling mount. Though, unfortunately, you might see some projection offset while setting up the projector. As a solution, you have a remote control with a digital lens shift feature, allowing you to correct it digitally in no time.
Verdict: BenQ TH585, An Entry-level powerful home theater
The BenQ TH585 is your best home theater projector under 500 in 2023. If gaming and watching movies is in your mind, you can't find any better projector in this price range. 
When good stuff is concerned, you get high brightness, low input latency, and it handles fast-paced action smoothly. However, I don't think the deepest blacks are up to the mark. Besides, a slight rainbow effect hurts too, which is obvious when the DLP display is in action.
So overall, I declare, for the price, that BenQ TH585 is an attractive and robust entry-level home theater projector for gaming and watching content.
Pros & Cons:
What I like:
Brightness & Sharpness
Low input latency
Fast-faced action games
What I don't:
Deepest blacks
Comparisons: BenQ TH585, BenQ HT2150ST, Optoma GT1080HDR, Optoma HD39HDR
BenQ TH585 Vs. HT2150ST
Since the projector offers high brightness and contrast, you'll enjoy your favorite content even in the ambient lights. Moreover, The BenQ TH585 is a sister model to BenQ HT21050ST and is primarily designed for home theater setup with ambient lights.
The model BenQ HT2050ST is for dark rooms. If you prefer to watch movies and play games in a dim room, you can pick HT2050ST, as it is a cheaper projector for the exact features you get from BenQ's TH585 model. Comparatively, I found color accuracy and sound system to be better on the HT2050ST.
Optoma GT1080HDR Vs. Optoma HD39HDR
On 2023's home theater projectors' comparison list, you'll find these two projectors as well. Like BenQ TH585 and HT2150ST, the Optoma GT1080HDR and HD39HDR are also designed for home theater purposes—gaming and movies—but with higher brightness, contrast, and of course, higher prices.  
In the end, the price of a projector is everything.
Confusion Buster
Even though these are two expensive alternatives (GT1080HDR and HD39HDR), the BenQ TH585 has a lot to offer for the price tag it carries.
My Take On BenQ TH585: The Conclusion
There is no doubt that BenQ has done a great job and packed the projector with greater features (Ti DLP single-chip & 6x color wheel) in order to match the expectations of true home theater entertainment, especially for the price.
Therefore, BenQ TH585 has deserved the first position on my list. Yes, it the best home theater projector under 500. However, those who have more funds have a better option to move to 4K and models such as TK850K or TK800M. For more, you can check out my list of best 4K projectors under 2000.