Your question sounds good – how to use a Projector as a TV?. Yes, it is possible; however, it requires additional hardware. So, get ready to watch your favorite TV shows on a giant projector screen.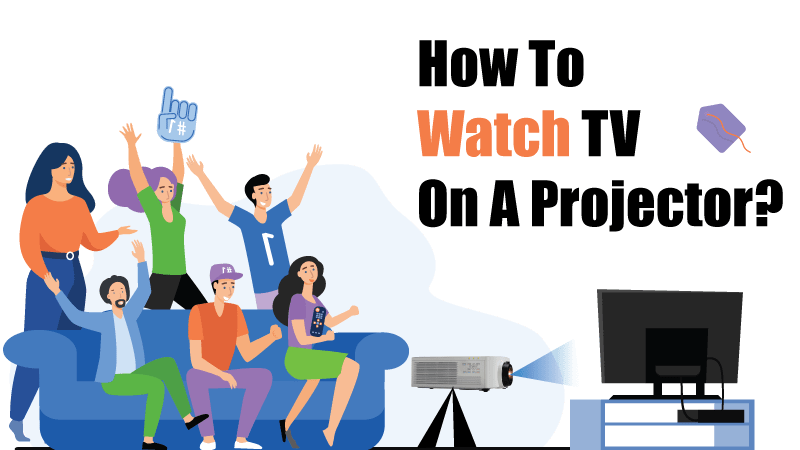 Setting up a home theatre is one way to improve your viewing experience. It's like having a cinema right at home. It is also relatively easy to do. However, it gets tricky for most people when it's time to decide whether to get a TV or a projector.
If you fall under the category of people facing this dilemma, I have written this article to help you make an informed decision. Here I list the pros and cons of both TVs and projectors. I also wrote down details on how you can use your Projector as a TV.
Stay tuned; see you at the end!
How to watch TV on a Projector?
Although playing games, streaming blockbuster movies, etc., with a projector dramatically improves the viewing experience better than a TV, Projectors cannot entirely replace TVs. The main distinction is that TVs have built-in TV tuners to receive over-the-air broadcasts. To this end, watching over the air broadcasts with a projector requires additional gear.
The available options include,
1. Native Apps: Bult-in Apps ensure smoothness for streaming
Modern projectors ship with in-built streaming applications. These applications allow live stream shows and viewing TV content on a projector.
2. Cable Box: A traditional way to enjoy TV on your Projector
You can connect your Projector to a cable box via HDMI. The HDMI lets you use the Projector as a traditional TV and enjoy quality entertainment.
3. TV Tuner: TV tuners play a significant role in broadcasting
TVs can receive over-the-air broadcasts because they have inbuilt tuners. To replicate this functionality in a projector, you can connect an antenna to a tv tuner and connect this tuner to a projector. The result is an endless stream of local broadcast television channels for your enjoyment.
4. Streaming Devices: Modern Streaming devices offer modern features to uplift your entertainment
If like me, you rely on streaming devices for your video content, you can raise your entertainment levels by connecting it to a projector using an HDMI cable. You can stream live television doing this. YouTubeTV and FuboTV are my favorite options.
Related: the best streaming device for your Projector
How to Use a Projector as a TV: A few simple steps to follow
From the methods highlighted in the previous section, you need to choose which best suits you. Pricing should be an essential factor to consider in doing so.
In my opinion, I prefer the use of cable boxes. It is sort of like killing two birds with one stone. I can either use my cable box with my TV or Projector with a one-paid subscription. On the other hand, other methods may involve buying a new device or subscribing to a different plan.
Once you have decided on the method, you can set things up using the following steps.
#1. Choose a suitable location in your space and set up your Projector as you usually would. The farther your Projector is from its screen, the larger the image produced.
#2. Connect your Projector to a TV tuner, cable box, or streaming device using HDMI.
#3. For an immersive experience, connect the Projector to speakers or home theatre.
#4. If you opted in for a cable or tuner, you need to wait a while for them to perform searches and receive channels.
#5. If you opted for a streaming device or a native app, download a television streaming application. My favorites are YouTubeTV and IrokoTv.
You have done it! You can start enjoying your favorite TV channels using your Projector.
Which is Better, a Projector or a TV?
Using the methods described in the earlier sections of this article, you can use your Projector as a TV, but does that imply that projectors are better than TVs? Not necessarily. I have used both devices, and I would recommend a TV because of the following reasons:
The picture detail of a TV is much better than a projector; you need not worry about ambient light when using TVs, unlike projectors (They only thrive in dark rooms). It would be best to get blackout blinds or curtains to stop the extra light, attracting more cost.
The display quality of projectors depends on their lamp life. Therefore, you have to change the projector lamps periodically. TVs, on the other hand, remain crisps throughout their lifespan.
You can efficiently manage your space using a TV than a projector. To get the most from projectors, you need a bigger space.
In a nutshell, I believe both TV and Projector have their advantages and disadvantages. If you love watching stuff on a big screen, buying a TV is not an option for you. So choose as per your taste.
Related: Projectors vs. TVs
Conclusion
Projector or TV? or Projector as TVs. Thanks for sticking to the end of this piece. With the information contained in this article, I hope you can choose between TVs or projectors when setting up your viewing station or setting up your Projector to be used as a TV.