The Optoma CinemaX P2—one of the popular Ultra-short-Throw projectors on the market— is an incredible UST projector for the image. However, there is something that you might not like about the Optoma P2. Therefore, reading the entire article is the only option for you.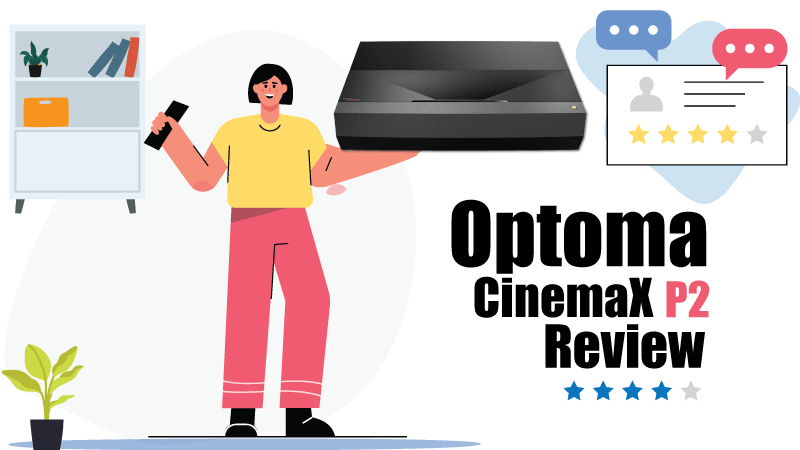 Verdict: Who's it for?
Optoma CinemaX P2 is undoubtedly a great projector. Some of its main qualities are its color accuracy and contrast. The overall picture quality is excellent even in the daylight. Besides, I also found its sound quality up to the mark as a projector. However, this projector also welcomes rainbow artifacts because of the DLP display technology.
Pros & Cons: The Optoma CinemaX P2
What I like:
Its incredible color accuracy
True 4K native resolution
Color management options
Laser light source
Ultra-short-throw projection
Brightness & Contrast
What I don't:
Slight rainbow artifacts
What do I suggest?
If you want top-notch picture quality, make sure you buy an excellent CLR projector screen for the projector. Don't be afraid to spend an extra 1000 to 1500 on the screen, as it can change the entire game.
Price: Check the latest Price on Amazon
Design & Hardware: Has Optoma tried a different approach for the P2?
The Optoma CinemaX has adopted two colors: white and black, for this P2 model. However, the black one has never been that popular among people; most prefer the white color. This P2 measures 5.1×22.1×15 inches and weighs around 24.3 pounds; the model carries decent weight compared to other UST projectors.
Projection Size: A giant screen size from the lowest distance
Like most UST projectors these days, The Optoma CinemaX P2 also offers a maximum 16:9 120-inch projection size. Since the projector has a good number of lumens—P2 is rated at 3,000 ANSI lumens—of brightness, it maintains the picture clarity even in moderate ambient light.
I advise you use a suitable ALR projector screen to enhance your viewing experience.
Sound: P2's built-in Stereo Soundbar
The Optoma CinemaX P2 has a built-in soundbar inside the front panel; it's a stereo sound system. This soundbar has two 19 watts speakers that are loud enough to fill a large-sized room.
Compared to its top competitors, the sound system of P2 is far better in terms of volume and overall quality. Still, you think of adding an external sound system, use either a S/PDIF audio-out port or an HDMI 2.0b port with ARC support.
Related: Best Stereo Soundbars for a projector
Light source: Is Optoma CinemaX P2 a true laser projector?
The P2 is a true laser projector; it utilizes laser-phosphor technology as a light source; Optoma claims different lifespans according to modes, such as 30,000 hours in Eco mode and 20,000 hours in full power Mode.
Picture Quality: What about the color Accuracy of the Otopma P2
Optoma CinemaX P2 packs five different picture modes. However, these predefined modes are designed to work around 1080p SDR content. Unlike other 4K UST projectors, the P2 lets you perform a full calibration as per your taste.
Out of the five presets, the Cinema mode is an excellent mode for viewing. It stands out because of its impressive color accuracy, good contrast, the deepest black level, and the darkest shadow detail.
1080p SDR Vs. 4K HDR10: How Optoma CinemaX P2 handles different materials differently?
1080p SDR Input
Undoubtedly, the P2 handles Full HD SDR material beautifully; it doesn't hesitate to deliver good color accuracy and contrast. Compared to 4K HDR material, you might notice it losing shadow detail in dark scenes for 1080p SDR. The difference can only be visible if the viewer is techy, as it's very subtle to notice.
Another noticeable thing for 1080p SDR content is its brightness in moderate ambient light levels. Surprisingly, bright enough to deliver an excellent picture, even for the darkest scenes.
4K HDR10 Input
On the contrary to 1080p SDR input, you have only one HDR predefined mode. However, you have four HDR picture mode settings to tweak. Since optimal picture setting entirely depends on your room's lighting conditions, you should not hook up to the same picture setting all the time. Even though the Optoma Cinemax P2 delivers more shadow detail for SDR versions, 4K HDR versions show more fine detail with better color reproduction.
3D: 3D compatibility of Optoma CinemaX P2
When it comes to 3D, The Optoma P2 passes all the 3D tests. In my testing, I used compatible 3D glasses, DLP-Link, to see whether there were any crosstalk and motion artifacts. I could see 3D-related artifacts while testing; however, they were mild compared to other same range projectors.
I am not sure what Optoma has done to its 3D Picture mode to make it brighter than 2D modes because it's a noticeable brightness difference between the two. Therefore, when watching content in 3D with the lights on, you don't have to compromise on its picture quality.
Setup: Optoma CinemaX P2 can be set up in no time
Unlike most expensive and high-end projectors, Optoma CinemaX P2's setup is relatively straightforward. After plugging in the power cord, turn on the projector, then an HDMI cable from your source device to the projector. That's it.
For the internet connection, you make it via Ethernet LAN cable that you connect to your home network and the projector. Once your internet and HDMI connections are made, it comes time to image correction. You position the image using the remote control to fill the screen.
If you're someone with a non-flat screen, use the Warp correction feature to avoid the distortion, and then adjust the focus for a clear image. The menu also offers an automatic screen-fit feature to fill the screen automatically as per the screen size. Though, I never suggest people use digital correction until it is required, as it invites artifacts and lowers brightness.
Streaming: Optoma P2 utilizes an integrated Aptoid Version for Streaming
Compared to the most 4K ultra-short-throw projectors that come with an integrated TV, the Optoma P2 has adopted an integrated version of Aptoid for the purpose. If you have ever used Aptoid, you might already know that Aptoid doesn't need setup. However, it has the disadvantage of not having many apps than the Android-based TV app store. Another drawback is apps smoothness; sometimes, they lag.
I advise you guys to use a suitable streaming device for a better streaming experience. However, The Cinemax P2 offers only a single HDMI 2.0b port. Though it does have an additional 1.4a port, you can't connect a 4K streaming HDMI dongle to it. The HDMI 1.4a port only supports 1080p content; forget 4K HDR at a high rate and ARC for an external sound system.
That said, you can use this HDMI port for connecting various video devices while leaving the other HDMI port for connecting a streaming dongle.
Note: Optoma has rolled out its firmware upgrade to fix the app lag issues. Also, they've improved other streaming issues with this upgrade.
Gaming: How does the Optoma CinemaX P2 perform for gaming?
The Optoma P2 is not a gaming projector; its gaming performance is not up to the mark. Even though it offers a dedicated predefined gaming picture mode and gaming mode setting to enhance the gaming experience, it struggles greatly.
Also, while going through various forums discussing P2's gaming performance, I found most people confused with its Game Picture Preset, thinking it'd shorten the lag time.
Therefore, I want to clarify that the Game Picture Preset increases the brightness and contrast, not shortening the lag time. My tests showed me 70ms for 1080p @60Hz and 62.5ms for 4K @60Hz. It might seem a joke to you, even for casual gaming.
Drawbacks: Things that are on the improvement side
As with most UST 4k projectors with a DLP chip, the Optoma CinemaX P2 invites more rainbow artifacts. I could see those RGB (red, green, and blue) flashes on the screen while testing. If you're someone who doesn't care much about artifacts, you won't find yourself in trouble. If yes, make sure you keep it in your mind while buying this projector.
Availability & Price: The price of Optoma CinemaX P2
Since the CinemaX P2 is a popular model by Optoma, it is widely available on online and offline platforms. However, its prices may vary from area to area. Generally, it's sold out around 3000~3500 dollars even though it carries a $5.799 MRP price tag.
Competition: Head-to-Head competitors to Optoma CinemaX P2
When we deep dive into the same category, we'll find the main competitor with the same price: BenQ V7050i. The Xgimi Aura also belongs to the same category—4k home UST Laser Projectors—but is cheaper than the other two. One of the noticeable things about these three projectors is their color accuracy; they all deliver a fantastic picture.
However, we can't ignore the fact that they're DLP-based projectors; showing rainbow artifacts—you might see red, green, and blue flashes on the screen—is common.
FAQs: Questions that most people ask about the Optoma CinemaX P2
Are there any rainbow Artifact on the CinemaX P2? 

Yes, you might see rainbow artifacts on the screen because of its DLP display technology. However, compared to other DLP-based projectors, artifacts on the Optoma CinemaX P2 are acceptable and ignorable.
Is the BenQ V7050i better than the Optoma CinemaX P2? 

It's hard to say that BenQ V7050i is better than the P2 because both have advantages and disadvantages. For example, BenQ V7050i works fantastically for HDR, while the CinemaX P2 delivers an excellent image with better color accuracy. Therefore, choosing as per taste might help you.
Is the Xgimi Aura better than the Optoma CinemaX P2?

The answer entirely depends on what you're looking for in these projectors. If it is image quality, you have the Optoma CinemaX P2. If you want streaming and movies on disc with fewer rainbow artifacts, you should go with the Xgimi Aura. 
Conclusion: What do I think about the Optoma CinemaX P2 4K UST Projector?
Apart from a few drawbacks, the Optoma CinemaX P2 UST projector is impressive; you get incredible color accuracy and mind-blowing audio. For those who love artifacts, I'll suggest you choose either Wemax Nova or Xgimi Aura for fewer rainbow artifacts. However, don't expect the same or better picture quality from these projectors.
Since the Optoma P2 is my top choice for image quality and out-of-box color accuracy, I advise you to keep its pros & cons in mind mentioned above in this article before reaching your wallet.