One of the best portable Full HD projectors runs Android TV OS and brings lots of high-end features to the table. However, there is something where Xgimi is not transparent about the projector. Wanna know?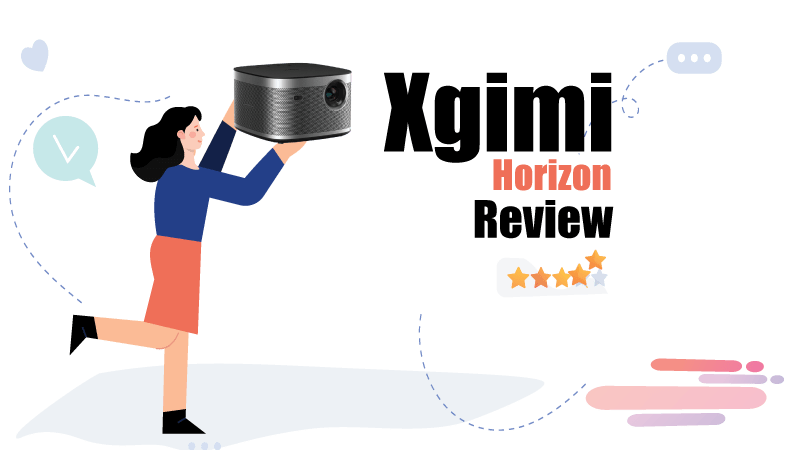 Who's it for? The Xgimi Horizon
This portable Xgimi Horizon projector is suitable for those who wish to have a projector with a built-in Android TV for their day-to-day streaming. Unlike most portable mini projectors, this Xgimi Horizon has the potential to replace your TV—of course, a 1080p TV. Nevertheless, you can use this projector in your backyard to stream your favorite content.
Pros & Cons: The Xgimi Horizon
What I like:
Its native Full HD (1080p) resolution
Built-in Android TV OS
Very portable and lightweight
Its straightforward, easy setup
LED light source
What I don't:
It utilizes DLP, thus inviting rainbow artifacts
It doesn't support Optical Zoom
Price: Check the latest Price on Amazon
Overview: The Xgimi Horizon
The Xgimi Horizon belongs to the portable projector category; moreover, it's a portable home projector. The Xgimi Horizon is lightweight and portable; it measures 6.4×8.6×5.4 (HWD) inches.
I used this mini projector on a 1.0 gain screen in both dark and ambient light conditions; it produced enough bright images with good colors. It has the potential to fill a large screen of up to 90 inches in low levels of ambient light. However, I'll advise you to use an 80-inch projection size if you plan to watch the content in a room during the daytime.
Light source: LED Light source of Xgimi Horizon
The Xgimi Horizon is equipped with a single DLP chip—1920x1080p, that utilizes an RGB LED light source. The company rates its life at 25,000 hours.
Android TV: The integrated Android-based TV OS
As with most media-type portable projectors, the Horizon also has a built-in Android TV OS. The Android TV setup is not complicated and offers a basic Wi-Fi connectivity option. Moreover, you can use its LAN port via Ethernet cable for a wired internet connection.
Sound: Horizon's audio is up to the mark?
Both Horizon 1080p and Horizon 4K pro have the same Harman Kardon sound system. It has two 8-watt stereo-type speakers that deliver enough loud volume to handle a medium group of people with excellent sound quality. This portable projector also supports DOLBY and DTS audio.
If you want higher quality and louder sound, you're free to connect an external sound system via 3.5mm audio out. Besides, you have an optical audio-out port for the purpose.
Set up: The Xgimi Horizon comes with a simple setup
The physical setup of the projector is super easy; it's like plug-and-play; it requires you to connect the power cord and then a touch of the power button. The back panel of the projector has some physical ports, including two HDMI 2.0 ports to feed the content. Others include:
Two USB 2.0 ports.
An audio port.
An Optical port.
A LAN port.
A DC port for power supply.
Features: What features does Xgimi Horizon offer?
The Xgimi Horizon has many features. However, the most noticeable is its auto-focus, which delivers a sharp image by default. It also offers a digital zoom feature, which I don't particularly appreciate as it introduces artifacts.
Picture Quality: Different Picture Modes On the Xgimi Horizon?
Even though the Xgimi Horizon includes four predefined picture modes, it has limited customization options. By default, the picture is sharp and overall good that doesn't require any customization. And, to be honest, the default one can easily outrank the other predefined picture modes when picture quality is concerned.
However, you have a custom mode to fine-tune the image as per your taste. This custom mode has lots of customization options or settings for you.
Four Different picture modes: Movies, Football, Office, Game
1. Movie Mode: This Mode delivers a good image with saturated color; therefore, a good preset for movie lovers
Among the four presets, the Movie mode is one of them. As it suggests, this preset is designed for movies kinds of stuff. The company, Xgimi, has tried to play with blues and reds to deliver you excellent images with nicely saturated colors. They, sometimes, are too vibrant that most people don't like as they cause eye strain. That said, most people like watching stuff with oversaturated color. If you belong to this category, you'll love this preset.
Xgimi's work on frame interpolation—refers to FI, used for smoothing motion—for this preset is the key difference compared to other modes. It involves three different interpolation levels; moreover, it offers an option to switch it off.
2. Football Mode: Quite close to the Movie mode but utilizes a single FI level.
This Football mode is well-suited for watching sports as it's designed for digital videos, such as your recorded videos. Compared to the movie mode, you'll find somewhat identical images. However, it might only give you a slight enhancement when a digital video comes to play.
3. Office Mode: Its accuracy is comparatively quite good because it doesn't offer FI.
As I said earlier, FI or interpolation is used for smoothing motion. Presets with FI levels try to enhance the look; therefore, they struggle to deliver an image with color accuracy. This office mode has a different approach to deliver more accurate color because it doesn't have FI levels. So, If you're a fan of the accuracy color club, you'll surely enjoy this Mode.
4. Gaming Mode: A good selection for gamers?
As it suggests, the gaming mode is an ideal option for gamers because this Mode has the lowest input lag than the other ones. It has two gaming modes: Standard Mode and Boost mode. In my testing with the Standard Mode, I measured the input lag at 40ms at 60Hz for the 1080p content. When it comes to playing in Boost mode, you'll get around 18ms input lag for the same 1080p at 60Hz. Yes, you'll love this Mode for gaming if you want to get the most out of this little portable projector.
Things where this Xgimi struggles and can't compete with the standard projectors
Even though this Xgimi Horizon offers four different presets for different types of content, you won't get good contrast and shadow details in any modes compared to the standard projector. Moreover, none of the presets let you customize the brightness and contrast settings. For this purpose, you'll have to choose its Custome mode. Using this Mode, I'm sure you'll be able to lift the overall shadow detail quality from poor to good or somewhere to acceptable.
Since this projector supports the HDR10 and HLG, I tested it for 4K HDR and 1080p versions of media files. Results were socking, as HDR versions were amazing compared to SDRs, especially for dark scenes. Besides, I found the greenish image for SDR versions. And those greenish skin tones came into existence because of the projector's color temperature utilized for SDR versions. When I changed the color temperature setting to Warm, I saw a huge difference in green skin tones.
Another noticeable thing on the projector was the manual operation for 2D and 3D modes. I wished it had an automatic switching between the two. That said, my testing of its three-dimensionality with the compatible 3D DLP-Link glasses had been excellent. Yes, those 3D test results were up to the mark, or say, this mini projector handled 3D pretty well. Motion artifacts were still there; however, in the typical range.
The Test: What about Xgimi Horizon's testing?
The Xgimi Horizon catches shadow detail pretty well or even better than the pro model. Therefore, whenever dark scenes introduce, this mini projector will surprise you. However, bright scenes are on the average side but better than most portable projectors I have tested.
Overall, I loved its picture quality for the price. Also, the design is appreciable, adding more flexibility to its portability.
Note: I don't want to ignore that this projector introduces rainbow artifacts. To be honest, I found them a bit more compared to other projectors with the same single-chip DLP chip. Therefore, my suggestion for those planning to buy this projector is to make sure they buy it from the only source that accepts returns.
The Comparison: The Xgimi Horizon Vs. The Xgimi Horizon Pro
When you examine these two different models, you'll find everything similar except the only fact that one supports native 4K resolution. The Xgimi Horizon Pro is a true 4K supported projector, while the Xgimi Horizon has full HD 1080p support. It also accepts 4K content but downconverts to the native resolution, which is Full HD.
Therefore, this only reason makes the difference to their prices. For example, the Pro model is 700~800$ more expensive than the regular one.
Other than that, these two are entirely similar, from design to features. But, you'll have to understand that the resolution of any projector has a significant impact on the picture quality. The Horizon pro delivers a sharper and more detailed picture with better color accuracy. That's why you pay extra or double the non-pro model.
The Competition: The Xgimi Horizon Vs. Epson EpiqVision Mini EF12
The Epson EpiqVision Mini EF12 and Xgimi Horizon are on the same table. Of course, both have their pros & cons. However, the significant difference is in their built-in chips. For example, The EpiqVisioin EF12 has zero rainbow artifacts because of its three-chip design, while the Horizon invites rainbows as it utilizes a single-DLP chip. Besides, both share the same price and offer the exact native 1080p resolution.
Conclusion: Is Xgimi Horizon worth the money?
Yes, undoubtedly, the Xgimi can be an ideal replacement for your 1080p TV. You can enjoy everything that you do on a 1080p TV; it has Android TV built-in for streaming and enough powerful built-in speakers for your family. Moreover, its good brightness and contrast ensure an overall good image with colors accuracy. Considering its portability and compact size, it is worth the money.
However, if you're a pro with the extra cash, you have better options that support native 4K and offer better features, such as the Xgimi Horizon pro.
If you're a 1080p lover, you have two options: the Xgimi Horizon itself and the Epson EpiqVision EF12. The Epson EpiqVision EF12 has no rainbow artifacts to show, while the Horizon delivers an excellent image.
So, it's all up to you. Compare both projectors and pick the one that suits your place and your wallet more.