Let me share the 5 easy ways to hide your projector wires. Don't worry! It will take only 35 minutes or less. However, you'll have to go through some Precautions before the process.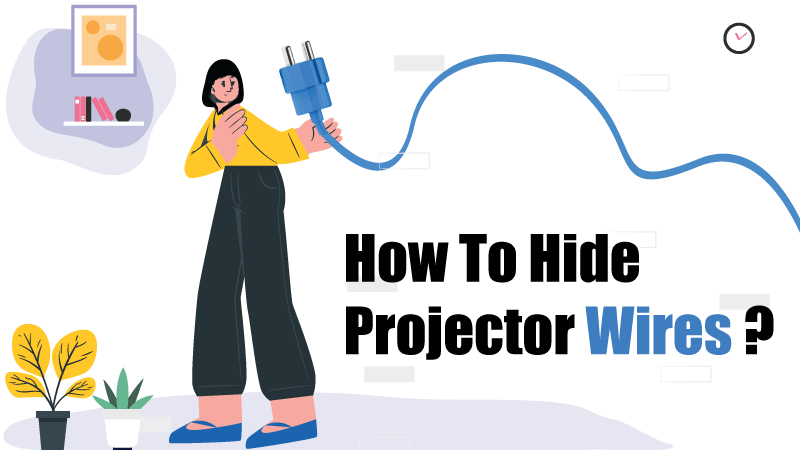 If you want to experience the most of a home theatre, you should have a projector and a projector screen installed in your living room. There are no second thoughts that a projector enhances your viewing experience but minor mistakes while installing a projector in your room can cause a fatal accident. It can also become your eyesore and ruin your happiness completely.
You must be wondering what can go wrong with a projector?
A projector must be placed in the right direction not to obstruct your viewing. Most importantly, whenever you are connecting a projector screen with the projector, there are a lot of wires involved.
A bunch of unsorted wires distracts your vision from the screen and becomes highly irritating. Moreover, you can trip over the cables trying to avoid them, and you are also leaving room for an electrical disaster by letting the wires loose on the ground.
In this article, I will tell you some easy ways of hiding projector wires so that the house looks neat and you don't need to worry about accidents.
But before we do that, let me first tell you why it is essential to hide projector wires.
First and foremost, when you leave wires on the floor, it distracts you while you are watching something on the projector screen and hampers your concentration.
Secondly, loose wires that lay on the floor can also affect the sound quality of your projectors. It has been observed that too many cables, when left open, disrupt the sounds coming from the projectors.
Finally, if we do not hide projector wires, then the room's entire look goes for a six. Projectors are generally used for official purposes. But if you leave the cables on the floor, the very sight is very annoying and unprofessional. Most importantly, you need to watch your step every time you step on the floor; otherwise, you are dangerous to tripping over the wires.
The overall shelf life of the wires also decreases if they are not appropriately kept.
5 Easy Ways Of Hiding Projector Wires
1. Get some suitable cord covers
Chord covers are casings made of plastic. This casing is used to cover the wires. Once you align the wires neatly inside the chord covers, they are sealed and fixed in the walls. The most significant advantage of using chord covers is that they are also partially protected against water damage and external weather exposure and hide the chords. Therefore, the shelf life of the wires increases with time.
2. Use a wireless projector instead
In case the projector wires irritate you, and you tend to trip over them, or you have pets at home, it is always better to opt for wireless projectors. When you don't have wires, you don't need to hide them. Even though it has been observed that projectors with wires are hardy, the risk of accidents is always there. And, if you stay in a big house, you need to buy a lot of wire to run the projector. With wireless projectors, the cost of chords is a bare minimum, because of which the overall cost of the projector also varies.
3. Use the wall to hide projector chords
If you wish to hide projector wires permanently, you can use the wall conveniently to conceal the projector wires. Even though there is a specific labor cost included, it comes cheaper in the long run. This particular solution to hide projector wires is highly effective and, at the same time, permanent.
4. Keep your projector on a shelf and stash the chords under the frame
Unlike flat-screen TV, a projector can never be installed on the walls of your house. Instead, you can use a tall shelf to place the projector and stack the excess wires below the frame. If you feel the wires are still visible, you can also use a piece of cloth to hide the wires perfectly. It all depends on how you place your furniture.
5. Guard the projector wires with a soundproof material
When watching a movie on a projector screen, it is essential to properly see and hear the film. Therefore, soundproof material is necessary, especially when setting up a projector at home. These soundproof materials are mats that can absorb sound and reflect it. It would help if you placed these mats on the walls and floors of your room to ensure you can hear sounds. When using soundproof materials in the projector rooms, you can conveniently hide projector wires beneath the soundproof mats. It makes the rooms look tidy and also eliminates the risk of accidents.
Other Essential Factors To Keep In Mind When You Are Hiding Projector Wires
Now that you have detailed knowledge about how you can hide projector wires, here are a few essential points to keep in mind before you start taking the necessary steps to hide the projector wires.
If you think of hiding the projector wires in the walls, you need to know that it involves a specific labor cost. I suggest evaluating the total cost before going ahead. If you don't do that, you might spend much more than what you invested on the wires. It is essential, especially if you are already low on cash.
Secondly, every house has a certain number of outlets. Before you start drilling the walls of your home, make sure you use the house's outlets. It saves on infrastructural costs and also saves a lot of time.
Thirdly, before you start taking any measures to hide the projector wires, it is essential to evaluate your need. I suggest you ask yourself how important is it for you. Some people go through the pain of hiding projector wires because they want their house to look beautiful. They land up spending a lot of money and then regret it later. While on the other hand, some people cannot stand the sight of projector wires at all. If you ask me, I'll tell you that if you have recently converted your leisure room into a home office and have kids and pets at home, it is highly recommended that you hide the wires of the projector. It will save you from unwanted accidents and give your room a professional look.
Not all house owners allow you to drill the walls of your room. If you have rented a room and plan to install a projector in the room, it is always good to seek permission from your landlord. I suggest you speak to them and tell them the importance of installing a projector in the room. If you feel they are not allowing a projector inside the room because it makes the room messy and inaccessible, I suggest you opt for a wireless projector instead of a wired projector. It will help you avoid confrontation.
Precautions You Must Take while Hiding The Projector Wires
Below are a few precautions you must take while hiding the projector wires.
Keep your hands dry when aligning the wires inside the wire case.
Ensure the electrical points are switched off when you are hiding the wires.
When hiding the wires at a height, don't forget to use a ladder. The ladder will help you stand still while you will make arrangements to conceal the cables.
For more safety, you may use electrical staples. You need to keep in mind that you do not staple the wires in a hurry.
After you have hidden the projector wires, you need to switch on the electrical supply and see if the cables are in working order. I suggest getting the wires checked by a professional if you find any wires are not working. They also give you excellent ideas about where the cables can be hidden.
FAQs: Most Frequently Asked Questions
Is it necessary to hide the projector wires?
It's essential to hide projector wires because it makes the room look clumsy and unprofessional and increases the risk of accidents, especially if you have kids and pets at home.
Can Projector Wires affect the viewing experience?
Of course, they can affect your viewing experience to a great extent, whether it is a picture or sound quality, especially when you use your projector in the daytime. Therefore, people must hide the projector wires once the projector is installed. 
Final Takeaway: How do you hide the wires?
You can either hide projector wires using the tips given in this article or otherwise call for a professional who can conceal the cables for you. The most significant advantage of seeking help in hiding wires is that there is no risk of accidents. It is entirely safe, cost-effective, and looks professional. Whether it is work or pleasure, hidden projector wires have a more excellent shelf life than those that are not.
If you are tired of changing the cables of your projector for the fifth time, make sure you hide the projector wires when you fix them. You can also use a wireless projector instead. It will save you from the hassles of projector wires. It also helps you save some extra bucks.
Finally, if you are worried about the aesthetics of your house, you can use beautiful soundproof mats to hide the projector wires in your room.