BenQ TK700STi is one of the most awaited and requested reviews on projectorwar.com. Since there are tons of reasons for gamers to put it beside them, there is a lot to discuss this gaming 4K projector. However, there is something that most people are not aware of. Also, Why do I include TK700STi in my list of top gaming projectors? Tune In!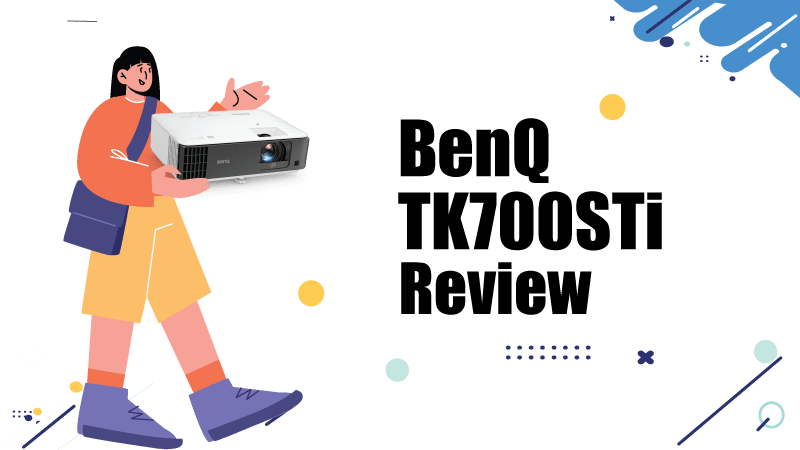 The BenQ TK700STi qualifies as a true 4K (3840x2160p) HDR gaming projector because of its fantastic performance and low input lag for 1080p and 4K inputs at 60Hz. As a gaming projector, it also handles ambient light well for watching movies and videos.
What else?
Let's move to its pros and cons first,
Pros & Cons: The BenQ TK700STi
What I like:
Its native true 4K resolution
HDR10 & HLG HDR support
Its Android TV OS
Preset colors accuracy
Good input lag for both 1080p and 4K
What I don't:
Imbalance high black level
Rainbow artifacts
Verdict: The BenQ TK700STi
The BenQ's TK700STi is meant for gamers. You have low input lag for 4K and Full HD (1080p) resolution. It handles HDR10 and HLG HDR pretty well. I loved its integrated Android-based TV OS, especially for streaming. Therefore, not considering it a suitable pick for solid home entertainment will be a crime.
However, its DLP display technology also invites rainbow artifacts with open arms. It's one of the major cons after high black level.
Undoubtedly, I recommend the TK700STi for occasional gamers. Moreover, people searching for a 4K home entertainment projector can also put their hands on it.
Let's Review the BenQ TK700STi 4K Gaming Projector
Design: Is the projector BenQ TK700STi portable enough to carry?
You don't have to worry about carrying it out or to your friends' homes for a gaming party as it is not that heavy, weighs 6.8 pounds, and measures 4.3×12.2×9.6 (HWD) inches.
Setup: BenQ TK700STi follows a simple setup
There is not much when it comes to setting up the BenQ TK700STi. It's a standard setup. You have 1.2x zoom and a manual focus on the projector. You have two HDMI ports (2.2) on the back to connect HDMI-enabled devices to the projector.
Throw Ratio: How far the BenQ TK700STi is positioned from the screen?
Even though the TK700STi is not labeled a short-throw projector, it lies between short and standard throw. Therefore, calling it a short-throw gaming projector won't be unfair.
Screen Size: The maximum screen size on the TK700STi
The BenQ TK700STi can fill up a 250-inch diagonal screen if set at 3,000 ANSI lumens. However, lower brightness mode will light up the screen accordingly. For example, Cinema picture mode lights up 90 inches 1.0-gain screen perfectly. If you want to use the projector in the daytime, an 80-inch 1.0-gain of the screen size should be the maximum. Otherwise, the projected image will be washed out.
Gaming: How is the BenQ TK700STi's performance for gaming?
Even though the company has introduced the TK700STi's like a gaming projector, it struggles for low input lag, especially 4k input. For example, it has a 16.66ms input lag for 1080p standards. My test for the lag input using Bodnar meter was 16.9ms, 0.33ms higher than the company claims. That said, the BenQ TK700STi has a faster response time compared to most 4K projectors.
Compared to the 4K input lag, the TK700STi had a shorter input at 1080p, measured 8.5ms at 120Hz. However, at 240Hz, the TK700STi performed well and achieved a faster refresh rate of 4.16ms in my test.
Picture Quality: What TK700STi's color Accuracy?
The BenQ TK700STi is equipped with eight-segment color wheels (RGBWRGBW) red-green-blue-white-red-green-blue-white. Why white panels? White panels are meant for ambient light. In other words, these additional whites boost brightness. However, they harm color accuracy because of high brightness. That said, additional panels don't hurt the overall picture quality, and the TK700STi performs well in this segment.
Still, sensitive people have a color management system for calibration; they can play around and calibrate for their desired color accuracy. Or, don't hesitate to hire a technician for the job.
Color Accuracy: Different picture modes on the BenQ TK700STi
As with most gaming projectors, The BenQ TK700STi also offers several predefined picture modes, such as Bright, Living, Game, Sports, Cinema, 3D, user mode.
1. Bright Mode: Color Accuracy for the Bright Mode?
The bright mode on the projector is the brightest mode among all. Being the brightest, you'll have to compromise on the color accuracy. If you're color-conscious, I suggest avoiding this bright mode. However, other modes are more suitable and entirely acceptable for color accuracy.
2. Cinema Mode: It offers impressive saturated color
Another noticeable mode is the Cinema mode; I found it to be the most accurate for color accuracy. Undoubtedly, the Cinema mode is my recommendation for viewing video and film as it offers good black level, contrast, and shadow detail.
3. Game Mode: Enhanced Music Quality and greater Visuals with Cinematic Color
As it suggests, This game mode is dedicated to gamers. Choosing this mode brings you three different gaming settings (RPG, FPS, SPG), allowing you to adjust audio, latency, and image as per the game type.
The RPG stands for Role-playing Game, which offers better color and music quality.
The SPG stands for Sports Player Game increases color accuracy; therefore, skin tones, characters' uniforms, and other things are eye-catching. Also, you'll notice an enhanced voice quality.
The FPS stands for First Person Shooter is designed to enhance shadow detail. Games meant for darkness are more enjoyable if FPS mode is enabled.
Verdict: What do I prefer?
If you wish to watch 1080p SDR content, such as videos and movies, I suggest using its Cinema Mode. Why? The Cinema Mode delivers better color accuracy and good shadow detail and contrast. Moreover, I noticed its black levels to be up to the mark in my test for both 2-dimensionality and 3-dimensionality.
Sound: Sound quality of BenQ TK700STi?
BenQ TK700STi utilizes a 5-watt in-built speaker for audio and delivers decent sound quality, loud enough for a mid-sized room. However, if you're a serious gamer, you might need an external sound system. You can pair your favorite audio system with the projector using the standard 3.5mm audio-out port. Again, I suggest connecting an HDMI-enabled audio system to it for better sound quality.
Operating System: An Integrated Android-based TV OS on the TK700STi.
The BenQ TK700STi is built around an integrated Android TV 9.0 OS that requires Wi-Fi to set up. First, however, you will need to connect a BenQ dongle to one of its HDMI ports for Android streaming.
Testing: What did I find in my testing?
There is no doubt that the TK700STi offers amazing color Accuracy out of the box. However, the bright picture mode sacrifices color accuracy and is unmatched compared to other picture modes when it comes to color accuracy.
My test for HDR content had been exciting; the TK700STi handled both HDR10 and HLG content pretty well. First, I tested the TK700STi for 4K HDR content with an HDR10 4K input source—even though the projector has two different color mode options for 4K viewing, I used the SDR—colors were up to the bar with good shadow detail. Unfortunately, the black level was a little lower than the HDR version.
Note: You must use TK700STi's HDR brightness setting according to your room brightness. Even as per the different video sources.
Competition: Top rivals to BenQ TK700STi
Optoma UHD35 Vs. BenQ TK700STi
When it comes to direct competition, the Optoma UHD35 tops the list. Since both the projectors are from the same category, I compared their input lags at 4K. Surprisingly, I measured the same 16.9ms input lag with my Bodnar meter on both models; benQ TK700STi tied the Optoma UHD35. However, at 1080p input, both offered shorter lags.
Looking at these two models closely, you'll find most of the design features similar, such as their lamp-based technology, eight-segment (RGBWRGBW) color wheels where white panels handle ambient light, and DLP display technology.
Xgimi Aura Vs BenQ TK700STi
Compared to the previously reviewed entry-level gaming projector, the Xgimi Aura, measuring 34ms input lag, is nowhere close to TK700STi. I don't understand why people compare them as both have different workings. Remember, I recommended the Xgimi Aura, the best entry-level short-throw projector for TV replacement, not for gaming.
Drawbacks: What about the drawbacks of the BenQ TK700STi?
Compared to most same-range gaming projectors using the same DLP single-chip, the rainbow artifacts on the BenQ TK700STi are more noticeable. They come in red, green, and blue flashes. However, if you're non-techy or non-sensitive to rainbow artifacts, you won't find them as bothersome. Yet, I suggest you buy the projector from the source that allows returns.
Troubleshooting: How to troubleshoot BenQ TK700STi?
There are so many problems that can occur while using the BenQ TK700STi. Hence, I've picked four common issues such as,
Projector refuses to turn on
No picture on the screen
Blurred Image
Remote doesn't work
Problem #1. When the TK700STi doesn't turn on
Causes: It generally happens because of two common mistakes: a faulty power cord and when the projector heats up.
#1 If it is the power cord, make sure you check the connection between the projector's AC power jack and the power outlet.
#2 The remedy to the second cause is to let the projector cool down.
Problem #2: What if there is no picture on the screen?
Causes: There can be two reasons inviting such a problem:
First, when the video source is not connected correctly; second, selecting the wrong input signal device.
#1 The solution for the first cause is simply to check whether the signal cable is connected correctly to the video source. Also, make sure you turn the video source on.
#2 Make sure to select the correct input source.
Problem 3#: When your TK700STi shows you the Blurred Image
Causes: It's possibly happening because of two reasons: first, when the TK700STi's projection lens is not focused correctly; second, both the TK700STi and the screen are not aligned perfectly.
#1 Answer to the first cause is adjusting the lens focus. You do it using the focus ring on the projector.
#2 For the second cause, make sure you adjust the projection direction and angle. Most cases also include the wrong height of the projector.
Problem 4#: When the remote control of the TK700STi doesn't work
Causes: It includes three reasons: first, when batteries have no power; second, when an obstacle comes between the remote control and the projector; third, there is much distance between the projector and the remote control.
#1 Make sure you check the batteries and replace them with the new ones if you doubt them.
#2 Make sure there is no obstacle between them.
#3 The remote control can be used 26 ft. away from the projector.
FAQs: What people ask about the BenQ TK700STi
Does the BenQ TK700STi support 3D?
Yes, the TK700STi supports Full HD 3D. However, it only supports frame-packing and frame-sequential formats. Moreover, the projector requires you to use DLP-link glasses. 
What is the maximum screen of the BenQ TK700STi?
The TK700STi can light up a maximum 250-inch 1.0-gain screen at 3,000 ANSI lumens. 
Conclusion: What does Projectorwar.com think about the BenQ TK700STi Gaming Projector?
Undoubtedly, the TK700STi is worth buying for watching movies and gaming. If you want to buy a projector for under $2500, you have the best option available. The TK700STi can be a suitable option for those who wish to replace their 4K HDR TV with a projector.
Ultra-short-throw projector lovers should look at its competitor Xgimi Aura. Or, if you are a laser lover, make sure to check the list of top laser projectors.