Over the years, the demand for smart projectors by consumers has skyrocketed. To meet this demand, many companies now go head to head in order to dominate the smart projector market. Innovative features are added to each new release, making the use of smart projectors more seamless. Let's see why.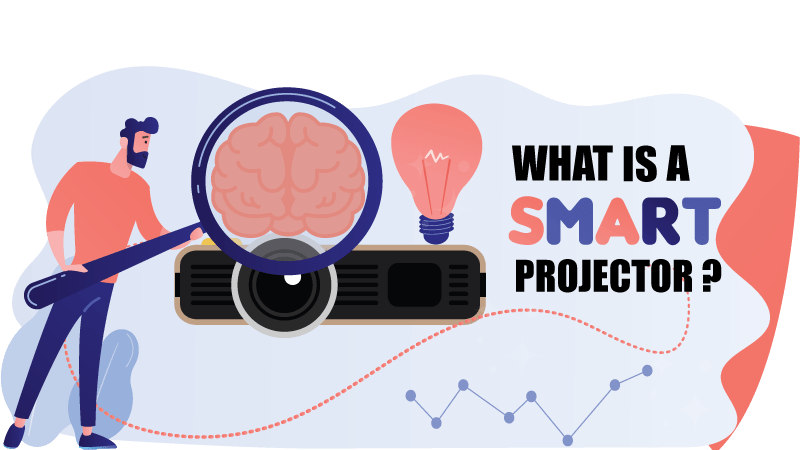 You've probably heard the phrase 'we're living in the era of smart devices' before. From your handy mobile phones to more sophisticated computers, the era of smart devices has come to make living better for all of us. Well, projectors are not left out in this shift to smarter systems. Yes, now we have smart projectors everywhere.
Now here's the catch. With so many options available in the smart projector market, it becomes rather difficult for consumers to make a choice that suits their tastes and needs. However, this does not have to be the case. Hence this article. Let's get right into demystifying smart projectors. Shall we?
What is a Smart Projector?
Consider combining a speaker, a projector, a DVD player, and a streaming box into a single device. Talk about cutting down the cost of purchasing these devices separately and, of course, utilizing room space. With smart projectors, you get all these functionalities and many more shipped in a single device. 
The term "smart" isn't merely a marketing ploy (though it certainly is one). For example, when you hear the term "smart projector," you're referring to a projector that comes with its own operating system and interface. 
What can you expect from a smart projector?
A smart projector can perform most functions of handheld devices, like browsing the internet, installing applications, playing games, shopping online, and streaming content. 
Like traditional projectors, they perform the task of transferring different jobs or media onto a screen. Smart projectors are the way to go, especially in this age of digitalization.
The Advantages: What are the benefits of buying a smart projector?
Smart Viewing:
A smart projector has the ability to modify data for viewing. If there is anything like it, your information becomes "smart," so to speak, as it can be manipulated on-screen, and the output from the projector can be entirely different from what has been fed previously into it. These projectors are very useful when hosting business meetings where sophisticated models are presented and live edits are made.
Smart Controlling:
Most of the projectors being produced these days come with their own kind of remote. Everything is now automatic, as there is no longer a need for a lot of manpower needed to man the projector stands. You can fully operate these projectors without worrying about who is going to control them. With these pointer-like remotes, accompanied by a smart screen, everything from the feed can be well manipulated and controlled.
Smart Content:
There is also the function of a smart projector to process more than one piece of information. Two or more data can be fed into the system connected to the projector and transmitted separately onto a screen depending on the partition of the smart screen.
Also, a smart projector can ease communication in any form. Its functions include storing information that needs to be transmitted in virtual memory, just in case data is lost or an unplanned technicality occurs during operation, like a power outage.
How to choose the right smart projector? Factors that matter?
Most of the time, making the right choice relies on many factors, which may or may not depend on the user solely. Besides the fact that only a professional can ascertain a perfect projector, any user can, by inept observation, choose a very suitable projector.
Therefore, there are many factors one needs to observe to ensure that the best quality. Suffice it to say that you can't be too careful during this selection process, as different projectors come with different default settings or attributes. Below are the buying factors, don't ignore these at any cost. 
1. Operating System
Professionally, smart projectors that are recommended are compatible with different kinds of operating systems and can be operated across various platforms. Many smart systems and personal computers run on different operating systems with different RAM and graphic cards. So therefore, compatibility with various OSs should first be considered.
2. Processor
Consequently, another factor that should be considered is its processing power. The quality of images that a projector can and will produce goes a long way in determining the success of many transactions. Because of the competition in the industry, many manufacturers apply the latest technologies to secure clear-cut imagery and colorful presentations. So what is the beauty of a high-quality presentation with image qualities like HDD and saturation?
3. Compatibility
Because a slide always goes along with a projector, a situation to be considered is that of the projector's compatibilities with many slides. Since recently, slides are also built in such a way that they operate smart functions. Getting a new projector that operates efficiently with different slides is a perfect choice. Compatibility includes being able to work with models of another brand.
4. Hardware
Since the main reason we tag it smart is the ability to process its information and possibly save information, selecting an excellent projector also means getting more than just a projector. This implies that it must be multi-purpose, and thus processor speed is critical. The faster the processing speed, the more efficient the projector becomes. The speed of a smart projector should be high, as this will make up for all other functions it carries.
FAQs: What do most people ask about smart projectors?
Does the size of a smart projector matter? 

Aside from the fact that most of them are built to be portable, size being a major factor in considering them, they have inbuilt properties that, as a norm, cannot be found in the previous models or typical projectors. So yes, it matters. 
Do I need to buy a smart projector? 

In this era, money well spent is valued by how fast work is done, how remote it can be done, and the mode of transmission of the job. In straightforward terms, a smart projector helps to process and project information that has been pre-documented faster to help business outfits, class projects, and research work, amongst
What distinguishes a smart projector from a standard projector? 

The main concept of being smart is the ability to exhibit various functions that previous projectors can't, and at the same time serve various other functions that will, in most cases, demand having other equipment. 

This isn't cost-effective, nor is it most efficient, as the technicalities involved in carrying so much equipment will now be a consideration factor.
Conclusion: How to choose the right smart projector for needs?
One may ask how a smart projector functions, and how it can be dutifully operated. Questions like, is it user-friendly? How fast and how quickly can unskilled people operate it without supervision? All these questions are answered by the mere fact that this gadget is smart.
The need to be selective when choosing a smart projector cannot be over-emphasized, as the output of any processed data is usually the determining factor.
Making a good choice is dependent on many factors, which are beyond our conscious efforts. So you should take careful deliberation and select the quality you seek out from a projector. 
Related: Best smart projector under 200