One of the best Ultra-short-throw 4k projectors in the market. You guessed it right, Wemax Nova 4K UST projector. But, do its claims have honesty? Here is the full review of Wemax Nova 4K.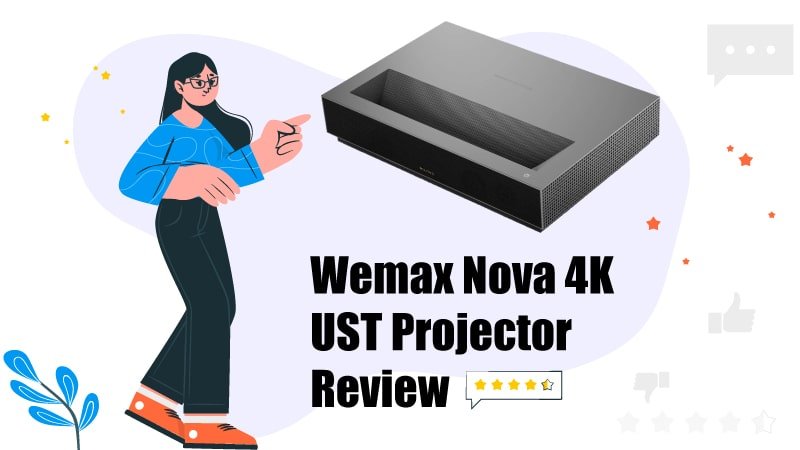 The Wemax Nova 4K projector has changed the game entirely in the UST projector industry, competing with Xgimi Aura and Optoma CinemaX P2 in the open field. But do you think it has the same potential? Let's find out.
Verdict: Who's it for?
The Wemax Nova 4K is an excellent ultra-short-throw projector for streaming and watching live videos. Unlike CinemaX P2, its rainbow artifacts are rare and equipped with a fully integrated Android TV. However, the image quality for movies on Blu-ray discs is average and doesn't support 3D and HLG HDR.
Pros & Cons: The Wemax Nova 4K
What I like:
Its native Ultra HD 4K resolution (3840x2160p)
Sound Quality
Rare rainbow artifacts
Laser light source
HDR10 support
Fully integrated Android TV
What I don't:
The support for 3D & HLG
Limited image customization options
The Review: Wemax Nova 4K Ultra-short-throw Projector
What do I think about the Wemax Nova 4K?
The Wemax Nova 4K is not a high-level UST projector; I'd place it between the entry-level and mid-level UST projector categories. However, this Nova 4K can be a suitable replacement for your smart TV, especially for those who love streaming and watching live TV. Plus, You get the support of a fully integrated Android TV that adds more flexibility to the live streaming.
Laser-phosphor: The Light Source
This projector utilizes TI's fast-switch pixel shift technology to work with a single 1920x1080p chip. And, with a promising 25,000 hours of life, the Wemax Nova has a great working with laser-phosphor light technology. However, this hours-of-life rating is for the view mode, not the high-brightness mode.
Related: Best 4K Laser Projectors
Brightness: How bright the Nova 4K is?
The Wemax Nova 4K is rated 2,100 ANSI of lumens; you won't find any issue lighting up a 110-inch screen at a 16:9 aspect ratio. Most people can find a 110-inch screen size a bit small for their home theater. However, in my opinion, anything greater than 100 inches is fairly a good size for a home entertainment projector.
Another thing to point out is its tone mapping for on-disc movies; the Nova tries to adjust its tone mapping for each frame to produce a bright image on the screen. Though, the projector handles it well for the overall image brightness.
Design: Wemax Nova 4K
Compared to most ultra-short-throw projectors, the Wemax Nova is lighter. It feels compact, measures 3.6x18x12 inches (HWD), and weighs 16.5 pounds.
On the back panel, the projector includes three HDMI 2.0 ports and an Ethernet connector.
Screen Size & Throw Distance:
Like most UST projectors, Wemax Nova 4K lets you project a maximum screen size of up to 150 inches from 19.3 inches. Moreover, The 80-inch standard screen size requires 5.5 inches from the screen.
My testing for a 110-inch 1.0 gain screen was up to the mark. Even though I tested in moderate ambient light, the Wemax Nova did a perfect job lighting the screen up with enough brightness.
Ultimately, I was completely satisfied with the overall picture quality the Nova 4K delivered.
Setup: It is easy to set up
Since the projector is lighter, handling the projector is quite easy. For the wired setup, you'll need to work with HDMI cables. After connecting the power cord, you connect your HDMI cable to your main device. You have other HDMI ports on the projector's back panel to connect more devices, such as a streaming device, an internet-connected network, ETC.
The Wemax nova 4K is based on Android TV OS; therefore, access to popular Android apps is not a big thing.
Sound: You might not need an additional sound system for the Wemax Nova.
The Nova 4K projector has a robust onboard sound system and supports DTS-HD and Dolby audio. If you count the speakers, you have two 5-watt tweeters and two 10 watts speakers inside the projector.
Moreover, you have a 3.5mm audio out to connect an external audio system to the projector for better sound quality and higher volume. However, the onboard system produces enough sound to fill a medium-sized room.
Additionally, this Wemax Nova projector houses S/PDIF optical audio out input. Moreover, like a multi-media projector, you can also use this projector as a Bluetooth speaker.
Testing: What do my tests say about the Wemax Nova 4k?
Streaming Vs. On-disk movies
I watched the movies on disk to test the projector's image quality; surprisingly, this nova 4K projector performed poorly in projecting an optimum image on the screen.
However, streaming the content, such as video and film, is as smooth as we expect from a good streaming projector. Taking the test to the next level, I watched the same content both ways; still, the streaming was smooth and looked better even for the same format.
Therefore, choosing the Wemax Nova for streaming is wise for the best image quality.
Brightest Vs. Darkest scenes
In the brightest scenes, the Nova handles each frame with a slight adjustment in its tone mapping for the image's brightness.
Drawbacks: What could be improved?
Compared to the Optoma CinemaX P2 and Xgimi Aura, its image quality for movies on blu-ray discs could be better for the money. Though it is acceptable and qualifies as entry-level, it has an expectation and reality gap.
Another downside, the projector doesn't include an optical zoom feature. Hence, when it comes to image position, you'll need to adjust the position of the image to match the screen size. Plus, you have the geometric adjustment—an eight-point adjustment to do the same job. However, I never suggest using this feature, as it invites artifacts and results in lower brightness.
Comparison: Xgimi Aura Vs. BenQ V7050i Vs. Wemax Nova 4K
Nova 4K struggles in dark scenes for the disc-based material but handles brightly lit scenes nicely. However, Xgimi Aura and BenQ V7050i handle dark scenes better for discs. Since BenQ V7050i is an expensive UST projector priced at $3,499, it delivers better image quality, comparatively.
Conclusion: Wemax Nova 4K Review
After detailed testing, I can't recommend this 4K projector for those who love watching content on discs, especially in dark scenes.
On the other hand, when it comes to watching well-lit scenes, such as animated and live-action movies, the Nova 4K will give you up-to-the-mark quality.
What do I think, again?
I can't doubt the overall quality of the projector for casual viewing; it is completely acceptable for the price. Moreover, it introduces fewer rainbow artifacts. So, I can recommend this Nova 4K projector for people who want a solid replacement for their TV.