A portable, very compact, more bright, well-designed, and comes with a carrying bag, making it better than Apeman at some point — The Vankyo Leisure 3.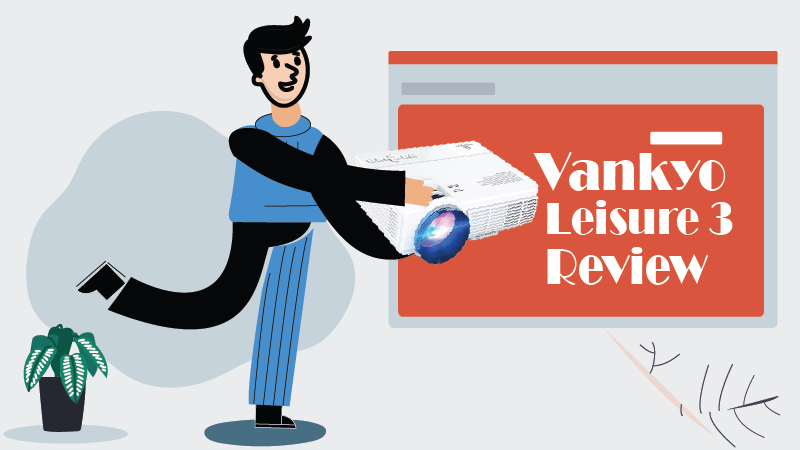 Key Highlights:
Resolution: 1080P supported
Throw Distance: 4.9 ~ 16.5 Feet
Contrast Ratio: 2000:1
Screen Size: 196.4 Inches
Connectivity: VGA, USB, HDMI
Lamp Life: 40,000 hours
Pros:
What I like:
It comes packed in a very lightweight carrying case.
Its setup is effortless and straightforward.
Value for the money.
Very compact, lightweight, and portable.
Design is perfect, and its fan is quiet enough.
Cons:
What I don't like:
Sound quality is not that good, need external speakers for a better experience.
Verdict:
A great budget projector. The picture quality we get from the VANKYO LEISURE 3 is excellent, which is under 100 bucks. I can't avoid the fact that you can focus the image with itself. If you're on a budget, go for it.
Note: I don't recommend this projector for a presentation and conference room, as it is not that bright to produce high-quality projection.
VANKYO LEISURE 3 Mini Projector: Set Up
When it comes to setting LEISURE 3, it is effortless and quick. It only requires you to plug in the power cord. In my testing, I connected the projector using an HDMI cable to my PC laptop.
You don't have to buy HDMI cable from the market as the projector contains some high-quality cables, such as HDMI cable, VGA Cable, and AV cable.
In addition to the setup of the LEISURE 3, Mac users might need to buy an adapter — a lightning-to-HDMI. However, I didn't try to set up the projector with Mac. I read through some of the reviews saying the same thing that the straight connection between Mac and the projector is undetectable.
Sound of VANKYO LEISURE 3 MINI projector
VANKYO LEISURE 3 doesn't include built-in speakers. Therefore, the audio quality is not up to the mark; furthermore, overpowered by its fan.
On the other hand, the projector is quiet compared to the competition, or any other projector carrying the same price tag. Though, you can clearly hear the noise of its fan.
In order to avoid such disturbances, I suggest you connect external speakers via the AUX cord.
Picture Quality of VANKYO LEISURE 3
I actually liked the image quality of the projector for the price. However, it is not a full HD projector. It offers a native resolution 840×400. Though, it supports 1920×1080 and allowing you to project a full HD image from your computer directly instead.
A good thing about LEISURE 3 is it lets you adjust the image and decrease the screen's size.
Design: VANKYO LEISURE 3
The overall design of the projector is not unique and special. But, for the price, it looks quite premium. It comes in white color and a rubber cap for the lens, making the projector more professional.
Moreover, VANKYO LEISURE 3 is very portable and compact and measures 12.24×9.43×4.63 inches. It weighs only 2.4 pounds, consider it a lightweight projector.
Unlike its ports, the projector houses physical buttons with their label on the top, such as arrow keys, menu buttons, an okay button, and a Power button.
On the other hand, its backside contains a wide range of input ports, including HDMI, AVI, USB, VGA, and TF. However, there is no DisplayPort.
Software: VANKYO LEISURE 3
When it comes to software, VANKYO LEISURE 3 has many options to choose from as it uses custom software. The overall interface is quite simple, straight forward, and quite easy to navigate.
You can use its remote, and there are some hardware buttons too on it. A wide range of adjustment options includes contrast, luminosity, and brightness adjustment. However, these settings and interface seem to be the same as we see on our TVs.
The default setting is okay, but I'd suggest you prefer setting your own custom settings. Setting your personal preferences can make a big difference and can improve the overall quality of the image.
Price: Great price
Vankyo Leisure 3 is one of the best projectors under $100. It is very affordable. However, I am not saying this the only projector that falls into the best cheap projectors category. There are many others, too, such as the Apeman Mini.
I know the kind of projectors that are budget-friendly sacrifice brightness, contrast, and projection size. These types are designed for home entertainment and occasional use.
However, if you want better quality and, you should spend a little more. There is another projector from the same series called LEISURE 430.
VANKYO LEISURE 420 has several more options and features compared to LEISURE 3. For that, you need $20 more in your pocket. But, trust me, it will be worth upgrading to Leisure 420.
Conclusion
There is no doubt that vankyo Leisure 3 is the best option for those looking for a pocket-friendly projector. Vankyo is a very reputated and respected brand in the projector industry.
However, I will suggest you using leisure 3 in a dark room for a better experience.