A truly affordable home entertainment projector from Optoma called Optoma HD146x promises a lot. But does it really stand for what it claims? What Optoma has to say about the projector? Let me answer all of your questions as I've reviewed Optoma HD146x.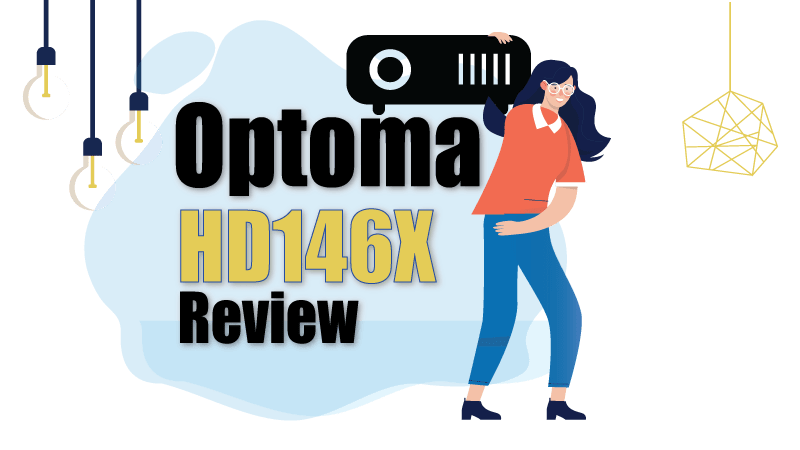 Before I start, Let me tell you that Optoma HD146X is one of the popular models from Optoma. Primarily, It has been designed for home entertainment purposes. Therefore, other projectors from the same category—home theater—are on its radar, head-to-head rivals. It includes ViewSonic PX701HD and BenQ TH585.
There is no doubt that all of these entry-level projectors offer lots of features for an affordable price. However, most of the features are common, such as a number of ANSI lumens, resolution, Etc.
Pros & Cons: The Optoma HD146X
What I like:
Fantastic picture quality, especially black level
Balanced color accuracy
What I don't:
Only a single HDMI port
It lacks the image shift feature
Design: It's black and looks quite a decent
Let's start with its weight; it's around 6.2 pounds, measures (4.3×12.4×9.5) (HWD). Still, the dimension of the projector is acceptable for portability; it is easy to handle. I am pretty much sure that you won't have any problem while taking it to your friend's house.
Keystone: Keystone correction & adjustment of HD146X
Once you set the projector in place, adjust its zoom, just a manual 1.1x zoom adjustment, and its focus. When it comes to a square image, you have +/- 40-degree vertical keystone control, allowing you to tilt it at your desired angle.
Optoma's Recommendation: The standard throw projection distance of HD146X
For a 100-inch projection size, you'll need to put the projector at least 10.65~11.75 feet or (3.25 ~ 3.58m) away from the screen.
Another standard is to put the projector 12.87~14.17ft or (3.92~4.32m) away from the screen for a 120-inch image.
I tried it for a 90-inch image while the projector was around 9 feet and 8 inches from the projected wall. Moreover, I used the maximum zoom setting possible.
Resolution: It a native Full HD 1920x1080p projector?
Optoma HD146x is a native FullHD projector that supports full HD resolution (1920×1080)p, unlike its main rival ViewSonic Px701HD, limited to 1920x1200p resolution PCs. It generally happens because of the chip used by the projector.
The Optoma HD146X is equipped with a 1920-by-1080-pixel DLP chip, while the PX701HD uses a 1,920-by-1,200-pixel DLP chip to achieve full HD 1080p resolution. However, there is room for image shift, which HD146X lacks.
The Color: Is Optoma HD146x color-accurate?
Unlike a three-panel color wheel, Optoma HD146X has RYGCWB (red-yellow-green-cyan-white-blue), a six-panel color wheel. The extra panels of color allowing the projector to produce a balanced color image with greater accuracy. Moreover, the extra panels—Cyan & Yellow—minimize the color errors caused by the white panel.
Setup: Is Optoma HD146X easy to install?
There is nothing special about its setup. Its follows the same what most projectors do. However, the default setting you get with the projector requires zero tweaks. You need to plug it and press the play button to enjoy an excellent image quality.
Gaming on Optoma HD146x: What should gamers expect from it?
Since the projector is not gaming-centered, it doesn't offer a low input lag. However, you might see some improvements when enhanced gaming mode is on, as it clocks in at 16.4ms.
Connectivity: The connectivity options you'll find on the Optoma HD146x
If you pay attention to its backside, you'll find that its panel is very clean and neat as it doesn't include many connectivity ports. It contains only three primary ports, such as a single HDMI 1.4a port for connecting your laptop or other HDMI-enabled devices and a USB-A connector (which can be used for powering your streaming dongle).
Next to these two ports, you'll find a 3.5mm audio out port for pairing an external sound system. However, the projector has a 3-watt built-in speaker for you.
HD146X's Speakers: Are they up to the mark?
I can't go wrong if I said there is room for improvement when it comes to the overall sound produced by the projector. It has a 3-watt built-in speaker that gives you a pretty much low volume. Therefore, whenever you go out with the projector to your loved one's house, make sure you pack an external sound system or portable speakers with you.
Issues: Some common issues I faced while using the HD146X
Its remote control was confusing the on-screen projector settings because of the response time difference. It was like moving faster for a single button click. However, after a few searches on google about the issue, I found its firmware in trouble and outdated. And then, I could fix it with a simple firmware update.
Conclusion: My verdict for Optoma HD146X
Compared to its competitors—ViewSonic PX701HD and BenQ TH585, Optoma HD146X carries the same price tag. Besides, most features are on the same plate and targeting the same audience. However, its overall performance for watching media, such as video, movies, and gaming, is impressive and uncomparable in ambient light. Further, Its color accuracy is up to the mark, where most projector struggles.