Should you opt for a mini or a standard projector? Keep these points in mind before you take the final call.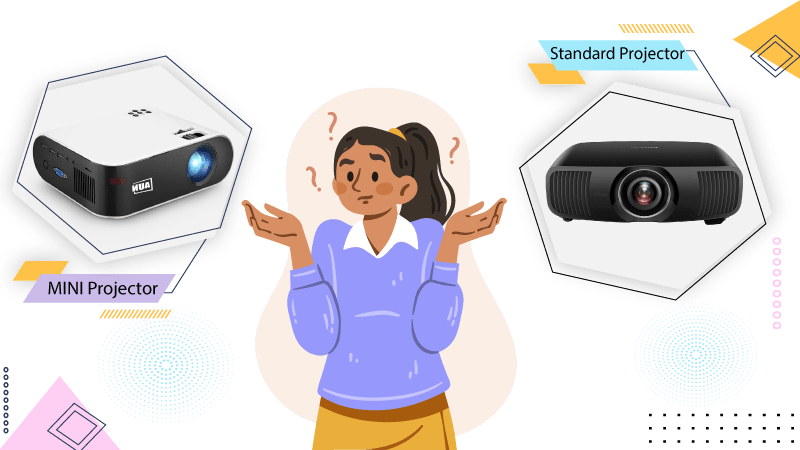 Are you confused about whether to buy regular projectors or mini projectors?
Don't worry.
I have listed the fundamental difference between mini and standard projectors and the advantages and disadvantages of using both to decide which works best for you.
What are standard projectors?
Standard projectors are full-size projectors that project larger images and give you awesome picture and sound quality. However, you need more room to project images with ordinary projectors.
What are mini projectors?
Most Mini projectors, on the contrary, are small projectors not bigger than 8″x 8″ x 4″. If you are looking for portable projectors that can be easily carried from one place to another, mini projectors are ideal.
Both are useful in one way or the other, and both come with certain constraints. However, choosing between regular and mini projectors, you must be aware of both pros and cons.
Standard Projector: Pros and cons of ordinary projectors
Pros: What are the advantages of standard projectors?
1. Viewing Experience: Superb Image Quality
The most significant advantage of using ordinary projectors is outstanding image quality. This is because these projectors are specially designed to project large images. As a result, you see bright pictures on the screen with just the proper contrast that makes viewing a pleasure.
2. Resolution: Picture Resolution is higher compared to Mini Projectors
Another reason why you should opt for ordinary projectors is the resolution. Because of more light created from the bulbs, you get to see every specific detail of the images.
3. Better Visibility: A true alternative to your Smart TV
Most importantly, you don't have to worry about visibility when projecting images with a standard projector. You can easily host more people in a room because these projectors can project images at all angles.
Therefore, the person standing at the end corner of the room can see the images as clearly as the person standing right in front of the projector screen.
4. Connectivity: You can connect the projectors using traditional inputs
You get multiple input options with traditional ordinary projectors, which are unavailable in mini projectors.
Some standard input options with ordinary projectors are – USB, DVI, VGA, RCA, and HDMI. You can also use an optical cable to connect ordinary projectors.
5. Longevity: Ordinary projectors have a longer shelf life
It is true that when we are thinking of investing in projectors, the one concern that bothers us is their longevity.
Since the components used to build a standard projector are more extensive and of better quality, the overall shelf life of these projectors is also more.
6. Mountable: You can conveniently mount ordinary projectors on the ceiling
For a better viewing experience, it is essential to see that the projector's light is not obstructed by anything while it hits the screen. Since ceiling installation is possible in ordinary projectors, the image quality is unaffected, and the projector remains out of sight.
As a result, you get a lot of leg space and can see the projected images from almost all directions.
7. Care: Maintenance is easy and possible in ordinary projectors
The bulbs in regular projectors can be replaced, and so are the other components. Maintaining a standard projector can involve additional expenditure, but it ensures the projectors are in perfect working condition for extended periods.
Related: Best Full-size Projector Under $500
Cons: What are the disadvantages of Mini Projectors?
1. Portability: Ordinary projectors cannot be moved at your discretion
Ordinary projectors are immovable. It is not possible to move these projectors as often as mini projectors. If you need to move these projectors, you are advised to call for professional help as and when required.
2. Wires: You may need additional wires for error-free connections
Because you need additional screen and speaker systems with these projectors, you need to plug in additional wires to ensure the projectors are running smoothly.
If you do not organize these wires properly, they make the rooms look messy. Moreover, because of these wires, installation takes time, and the process is complicated.
3. Extra room: Additional screens and Audio sources require more space
As I have stated above, when using a standard projector, you need extra room for additional screens and speakers, as most normal projectors do not have good built-in speakers.
Even though the additional big screens attached to these projectors give a cinematic view, they are expensive and need adequate room for installation.
4. Bulb: Traditional projectors come with traditional bulbs.
Another drawback of ordinary projectors is that in most of them, the bulbs need to be replaced very often, depending on the usage. So it would help if you kept a count of the hours you play the projector.
Mini Projector: Pros and Cons of Mini Projectors
Pros: Advantages of Buying A Mini Projector
1. Size: Mini Projectors are lightweight and slim
Mini projectors are incredibly lightweight and slim in design. They look trendy and are also easy to handle.
If you want a sophisticated projector that would go with the modern decor of your room, you can opt for mini projectors.
2. Portable: Mini projectors can be carried
Mini projectors are portable. If you need to carry your projector to a business meeting, mini projectors are ideal. The slim design and lightweight make it possible to carry your projector wherever you go.
3. Battery-powered: They come with a rechargeable battery
One of the best things about these projectors is that they come with in-built rechargeable batteries. So these projectors can hold a charge for a considerable amount of time.
As a result, you don't need to plug in the charger now and then. Instead, carry the charger to ensure your projector never runs out of charge.
4. Budget-friendly: They are pocket friendly
Initially, mini projectors were expensive and not readily available because few people used them. But with time and the industry's growing need, mini projectors are readily available in both online and offline counters. So today, we get mini projectors in different price ranges.
5. Connectivity: Hassle-free wireless connections
With mini projectors, you don't need additional wires. Instead, they can be connected to your smartphone or laptop using Bluetooth. Even though the input connections are limited, these projectors can quickly connect to the screening devices without many hassles.
6. Lamp life: The bulbs of mini projectors last for 20000 to 30000 hours
The latest mini projectors come with high-end bulbs lasting 20,000 to 30,000 hours. So you do not need to change the bulbs as often as in ordinary projectors.
7. Sound: They have built-in speakers
You'd be happy to know that mini projectors have built-in speakers. However, mini projectors are ideally suitable if you don't have the budget to buy additional speakers.
Related: Best Mini Projector
Cons: Disadvantages of buying a Mini Projector
1. Projection: The image size is small
If you want a projector that can project clear and crisp images and is not that particular about size. Then opt for mini projectors because the image size is smaller than standard projectors.
2. View: The visibility is less
You cannot view images from all angles in mini projectors. So if you have a room full of scattered crowds projecting images through mini projectors is not ideal.
3. Resolution: The images appear dim
Most importantly, the resolution in mini projectors is inferior to ordinary projectors.
Even though there are specific high-priced mini projectors that deliver sharp images, it is nothing compared to ordinary projectors. The images appear dimmer.
4. Connectivity Options: The input options in mini-projectors are limited
Most importantly, you do not get as many input options as in ordinary projectors. The options are much fewer.
5. Controls: The image control features are lesser compared to ordinary projectors
You do not get complete control over image quality as in ordinary projectors. In addition, the features that help you customize the image settings, color, and contrast are lesser than expected.
6. Life: The battery and the projectors' overall shelf life are lesser than average
If you ask me which lasts longer, I would say ordinary projectors. When you compare the shelf life of both, you will see that ordinary projectors have longer shelf lives.
Conclusion: Mini Projectors Vs. Standard Projectors
Therefore, I can say that if you want a projector that can give you a cinematic experience and have enough room to place a giant size projector screen and external audio devices, then you should opt for a standard projector.
On the contrary, if you are looking for a sleek, lightweight projector that you can use while on the move or in small conference rooms for business purposes or personal entertainment, then investing in a mini projector is best for you.
Assess your requirements and analyze the advantages and disadvantages of both thoroughly, then make a buying decision.
If you still have questions about mini or regular projectors, feel free to contact me; I'd be happy to help.