Do you wish to relive the theatre experience at home? These tips will surely help you set up your personalized home theatre in the backyard of your house.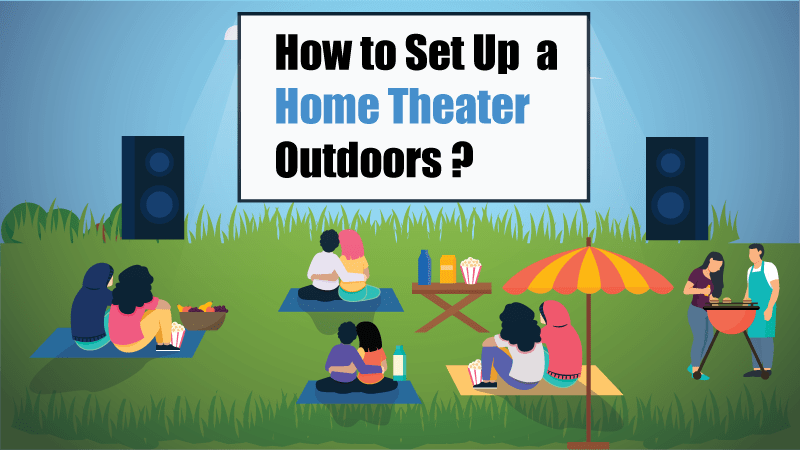 I have always enjoyed watching a movie on the silver screen, and I know many people like me who missed the movie theatres the most during the pandemic. Kind courtesy of the social distancing norms, we were not allowed to go to any theatres during the pandemic.
The threat of the virus forced us to change our lifestyles. People who loved eating out started preparing restaurant-like food at home, Usual office goers started working from home, and people like me who were movie bugs thought of setting up home theatres outdoors.
Wondering is it possible? Yes, of course, with a little bit of hard work, you can make your movie hall in your backyard and enjoy your favorite shows with your loved ones without spending thousands of dollars on movie tickets and popcorn.
This article will tell you everything you need to set up an outdoor home theatre.
Basic things to know
Ensure you have all the essential items, such as an outdoor projector, an outdoor projector screen, a streaming device, a good Wi-Fi connection, an external sound system, cables/wires, and a Socket Extension Board.
Make sure the screen and the projector are kept at a recommended distance.
External speakers play a major role in an outdoor setup.
Make a comfortable seating arrangement.
Cautions: Keep In mind Before the Setup
Pick a noise-free large enough space for your home theatre.
Choose a good outdoor projector ideal for daylight.
Buy a suitable projector screen meant for outdoor use.
Look for the ideal location for the setup, as a normal throw projector requires at least 20 feet from the screen. You can experiment with the distance for the best image quality.
Related: Needed Equipment Meant for Outdoor
To set up an outdoor home theatre, you need specific equipment that is a must. Also, it would help if you kept certain things in mind to enjoy the program to the fullest.
Before I get into the details, let me first tell you what you need to set up a home theatre outside your house.
#1 A Projector: A suitable video projector for your backyard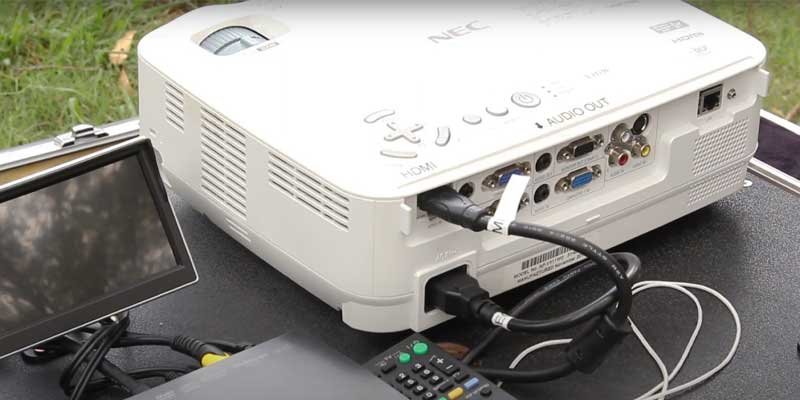 First and foremost, you will need a video projector to project the movie on the screen or the best outdoor movie projector. Make sure you keep the projector at a recommended distance from the screen for the best picture quality (normal throw projectors require at least 20 feet).
However, you won't need to worry about it if you own a short-throw projector or ultra-short-throw projector.
If you have an outdoor TV, you can also use that to watch the movie, but it will limit the screen size. Therefore, I suggest a video projector instead.
Note: Always remember that the distance between the projector and the screen decides the quality of the image on the screen.
#2 Projector Screen: Look for the compatible backyard projector screen
The second most important thing is to buy the best outdoor projector screen, compatible with your projector. Not all projector screens are meant for outdoor use. Therefore, whenever you are thinking of setting up a home theatre outside, make sure you get a projector screen meant for outdoor use.
Alternatively, you can use a white bedsheet or a white wall to project the picture, but that is not recommended if you truly want to enjoy your movie. This is because neither the wall nor the bedsheet will give you the picture quality that you will get on the projector screen.
#3 A Streaming Device: Grab the best streaming device for the job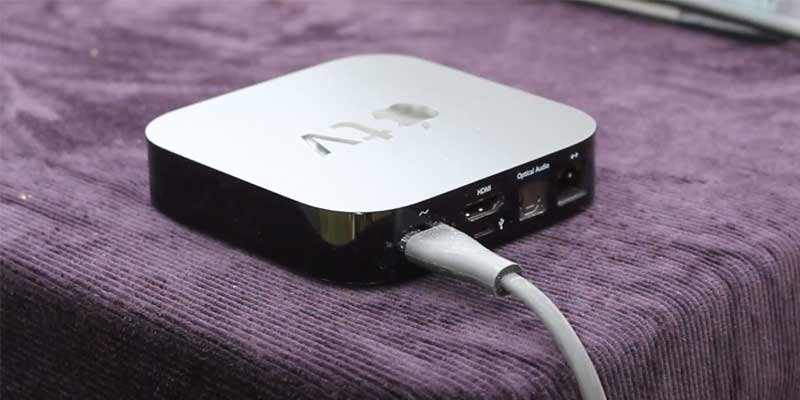 The third thing you need to pick any one of the content source devices. If you use an outdoor TV with a built-in converter, you can opt for a TV antenna. But if you are using a projector to set up a home theatre, you can either use a DTV converter box or a media streamer.
If your projector does not have built-in TV turners, you can use a DTV converter box, and if you wish to watch the movie on an OTT platform, you'll need a streaming device instead. You can read the article, the best streaming device for a projector.
#4 A Sound System: An External sound system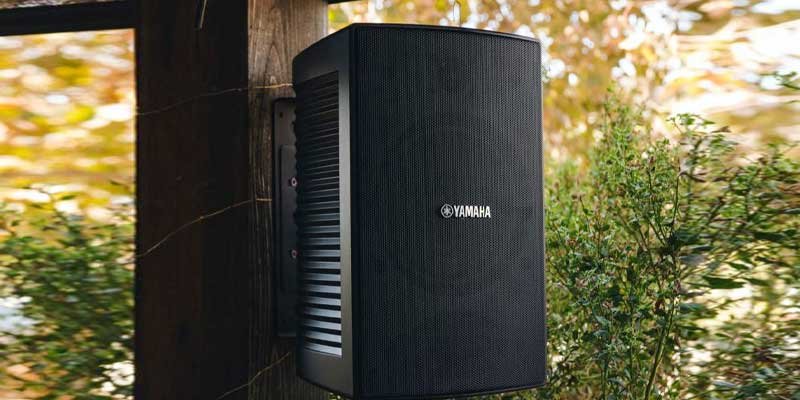 For better sound quality, you may use the external audio system or use the internal audio system of your projector. Inside the house, you can avoid the external sound system. However, ignoring an external sound system for your outside home theater setup won't be the right decision.
Once you have these things—an outdoor video projector, an outdoor projector screen, and outdoor speakers—in place, it's time to set up an outdoor home theatre.
However,
If you feel just connecting these systems will give you a movie hall, let me tell you, you are halfway through. Setting up an outdoor home theatre requires other additional things as well.
What external factors to consider while setting up a home theatre outside?
It is evident that whenever you are setting up a home theatre outside, you need to consider many external factors that can interfere with your show and ruin your efforts. Some of them have been listed below for your benefit.
1. Pick cables and speaker wires
Unlike your living room, where you have everything in place, you need to set up everything from scratch when the backyard/outdoor is concerned.
First and foremost, you need to pick cables and speaker wires for two reasons wisely.
The Outside of your house is susceptible to external weather conditions; therefore, whenever you choose electrical wires and cables, choose them wisely.
It is normal to have connectivity issues outside more than inside because most electrical connections and sockets are inside the house. Make sure you choose long wires that can comfortably reach the sockets inside the house. You may also use extension cords if required for uninterrupted viewing.
2. The backyard should be big enough
Not all backyards are suitable for outdoor home theatres. Make sure your backyard is big enough because, as mentioned above, in the case of a long-throw projector, there should be at least 20 to 30 feet between the projector screen and the projector. Moreover, it should be adequate space for your family members to sit and enjoy the movie.
3. The climate should be in your favor
If you are planning to set up a home theatre outside, do it on a day when the weather is pleasant. It's not going to rain. I suggest going through the weather forecast once before setting up your backyard. Watching a movie in your backyard can be a memorable event if the weather is in your favor; otherwise, it can be a disaster.
4. Choose a peaceful place to set up a home theatre
I once went out to see a serious movie, and a lady was sitting behind me with a child. Throughout the movie, the child cried, and I came home with a headache. It can be highly annoying if you have external noises in the background, especially when watching a film sitting in your backyard. Therefore, you need to keep certain things before setting up a home theatre.
There shouldn't be any bright light reflecting on your projector screen. Make sure you place the screen where it is not interrupted by street lights or traffic lights.
Ensure your backyard is free from external noises.
You must have a comfortable seating arrangement when watching your favorite content, especially if you have called guests over to your place.
FAQ: Frequently Asked Questions
How Big a screen should I get for an outdoor home theater?
The answer is contingent on your preferred seating arrangement and the room's size. I recommend a screen size of atleast 120 inches (measured diagonally) for your outdoor home theater setup. 
Can I use a flat-screen TV for outdoor purposes?
A TV may be an excellent fit for tight areas. Moreover, OLED TVs offer excellent color reproduction and dark levels. However, keep in mind that the TVs limit the screen size and are more expensive than projectors. 
What essentials do I need for an excellent outdoor home theater? 
You must have a good quality outdoor projector, extension cords/cables, a high-end projector screen specially designed for external use, an external sound system, fast WIFI connection, a streaming device, and a proper place that is big enough to be converted into a home theatre.
Final Takeaway: Backyard Home Theater Setup
Setting up a home theatre outdoor for the first time can be difficult. However, If you can keep all these things in place, watching your favorite content in the backyard of your house can be a truly fantastic feeling. But if any of this fails, it can be a disaster. I am sure the points I have mentioned in this article will help you make this task super easy.